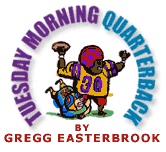 I don't know about you, but I can't tell the difference between the NFL MVP award and the Heisman Trophy since both go exclusively to running backs and quarterbacks. In the 45 years the Associated Press has been choosing the MVP, just five selections have been players other than QBs and RBs while in 67 years the Heisman has tabbed a mere four non-QB/RB gentlemen. This comes to 103 quarterbacks and running backs honored, versus nine players at all other positions, though 86 percent of football starters are not quarterbacks or running backs. And perhaps you need not be told that no offensive lineman has ever won the Heisman or MVP.
Well, there's a pretty good chance these highly honored QBs and RBs were not blocking for themselves. So Tuesday Morning Quarterback inaugurates its NFL Non-QB/RB MVP, and the first recipient is guard Alan Faneca of the Pittsburgh Steelers. Yes, Kurt Warner had a fabulous year, as did Marshall Faulk and several other backfield types. TMQ would sure want Warner and Faulk on his team, especially if they offered to loan a pair of the special glasses that allow you to see the superstring portals they used to travel here from their homeworld. But to TMQ's mind, no gentleman in the NFL this season more than Faneca epitomized the "most valuable" tag—an irreplaceable player for a top team. That makes him the TMQ NFL Non-QB/RB MVP.
Just as St. Louis graduated this season from offense-only to a balanced team, Pittsburgh graduated from defense-only to balance, and a great offensive line play was the key. The Steelers finished first in rushing, first in time of possession (a mildly overrated stat), first in third-down conversion (impossible to overrate), and third in total offense. All the media attention regarding the Pittsburgh ground game went to Jerome Bettis, but Steeler rushing barely declined in the five games Bettis sat out, and the non-household-names Chris Fuamatu-Ma'afala and Amos Zereoue did the carries. That tells you line play was the essence of Pittsburgh running success. Faneca was Pittsburgh's best offensive lineman and soon will be receiving his Cartier trophy (or, possibly, stylish TMQ cap) as the Tuesday Morning Quarterback NFL Non-QB/RB MVP.
In other NFL news, City of Tampa may soon have the Super Bowl-winning Bill Parcells as coach, but fans should bear in mind what they are getting—a gentleman who cares only, solely, and exclusively about Bill Parcells.
Parcells first practiced the art of stabbing his own team, owner, and fans in the back by suddenly resigning from the Giants in late spring 1991, long after all available top coaches already signed elsewhere. Desperate for a body, the Giants had to hire the regrettable Ray Handley. Parcells, who had just won the Super Bowl, seemed to time his resignation to ensure that the Giants went south—as they did, with two losing seasons—since this would make it seem he was an inimitable genius.
Officially Parcells quit the Giants because of heart problems, but two years later he was miraculously healed and hired with a hefty raise to coach the Patriots. As his Patriots were preparing for the 1997 Super Bowl, Parcells openly urged the sports media to cover his unhappiness with New England owner Robert Kraft and his desire to jump to the Jets. The Patriots were distracted by the sideshow and lost; Parcells instantly switched allegiances, winning a huge raise. Thus Parcells screwed his team, employer, and his city's fans for personal gain—and to keep the media spotlight on himself, not his team, during Super Bowl week. Any player who did the same would have been denounced. Somehow, Parcells got away with it. (Then, of course, later quit the Jets, too.)
Flash forward to last week, the Bucs and Tony Dungy preparing for a playoff game. Parcells was negotiating for Dungy's job while issuing tepid non-denial denials calculated to keep the attention on him. The distraction screwed the Bucs, their fans, and Dungy: Parcells knew perfectly well that what he was doing would increase the chance of Tampa losing and Dungy getting canned. Thus his opening move in City of Tampa is to help cause a humiliating defeat while stabbing a good man in the back. But it all benefits Parcells, and that is the sole, exclusive, and only thing on this gentleman's mind. Hark unto these words, fans of Tampa, and do not lament to the football gods if Parcells turns against you as well.
In still other NFL news, Jerry Rice has nine catches for 183 in the playoffs. Wow, they must be celebrating in San Francisco! Say what?Are you seriously trying to tell me the Forty-Niners cut Jerry Rice?Are you seriously trying to tell me that Jerry Rice is advancing in the playoffs, but the Forty-Niners are not?
Game-by-game reviews:
Tampa at Philadelphia
TMQ's law that the further you go in the playoffs, the more important coaching, game plans, and psyche-up become was put to the test as for the first time ever, management blew a game.
Bucs owner Malcolm Glazer negotiated with Bill Parcells during the run-up week, refused to issue a vote of confidence in Tony Dungy, and then in case anyone missed the point, refused to ride on the team plane to Philly, though he always rides the team plane to away games. To TMQ's knowledge, this is the first time an NFL owner has actively wanted his team to lose a playoff game. Glazer and Parcells are made for each other!
Best Non-MVP OL Play: Eagles center Hank Fraley's fantastic block sprung Duce Staley for a 23-yard touchdown on a hitch screen on third and 13 as the half wound down. This dinky, dunky play should have gone nowhere, allowing the Bucs to hold Philadelphia to a figgie. Instead a great block caused a 17-9 halftime lead.
Worst Play Design: Intercepting the Eagles on their first possession, Tampa faced third and eight on the Philadelphia 18, with a chance to take the crowd out of the game by scoring an early touchdown. The Bucs lined up in a trick formation with bruiser back Mike Alstott split as a wide receiver left. But as TMQ has pointed out many times, defenses can safely ignore unusual personnel split wide in trick formations, unless the gentlemen in question have proved they can catch the ball. Alstott is a horrible receiver and was ignored by the Eagles defense, which smothered a dinky, dunky hitch screen right. Everything went downhill from there for Tampa.
Worst Death Wish: Trailing 24-9 with seven minutes left, Tampa had second and inches on the Eagles'$2 39. The Bucs could have requested a measurement to stop the clock. Instead they acted like they were trying to kill the clock and lackadaisically let 48 seconds run off before snapping the ball. Of course, Malcolm Glazer approved!
Best Use of the ESPN Highlights Show: Last week TMQ noted that Green Bay got a touchdown with a new variation on an old action—fake end-around, man up the middle but straight-ahead blocking, no pulls to "sell" the fake. Philadelphia coaches must have watched the ESPN Primetime show because they installed the play, and Correll Buckhalter carried it 25 yards for the touchdown that put the Eagles into a firm 24-9 lead. Bucs defenders, apparently, neglected to watch ESPN.
New York/B at Oakland
Ted Cottrell, the Jets' defensive coordinator, has made a career of showing that TMQ is correct to proclaim, "Stop me before I blitz again!" Cottrell's Buffalo defenses finished first in 1999 and third in 2000 by rarely blitzing. Last week the Jets won in Oakland when, on the decisive final series with the Raiders needing a field goal to win, New York/B stopped them cold with four straight plays without blitzing.
But the real Ted Cottrell must have been replaced with a sinister android this weekend. It was Oakland 24, New York/B 17 with seven minutes remaining, Raiders facing third and eight on the Jets'$2 42. Play it straight, get a stop, and Oakland will likely punt, handing the ball to a Jets offense that had won late comebacks three of the previous four weeks. Instead, it's a blitz! A corner and a linebacker cross the line; 20-yard completion to Jerry Porter, who ran to the spot the LB vacated. Two plays later Jerry Rice catches for a touchdown, and the Jets are in a hole of their own digging.
Now it's Oakland 31, New York/B 24 with the Raiders facing third and 11 on their 20 with 1:40 remaining. The Jets had just stuffed two straight runs. The Raiders are sure to run again to grind the clock. Play it straight, get a stop, and Oakland will punt, giving New York/B possession around midfield. Instead, it's a blitz! Not just any blitz but the dreadful, awful, rarely-seen-because-it-always-fails seven-man blitz. Charlie Garner runs 80 yards for the icing touchdown, never so much as touched by a defender. Rarely have two critical coaches' calls been so totally wrong.
Best in a Lost Cause No. 1: Facing fourth and goal at the Raiders'$2 3 and trailing by 14 points in the final quarter, the Jets lined up empty backfield with H-back Richie Anderson and TE Tony Becht bunched off the RT's shoulder. Anderson and Becht both started out for flag routes, then Anderson cut inside behind a Becht quasi-legal pick. Touchdown with three Raider DBs staring at each other confused.
Best in a Lost Cause No. 2: On the next possession, the Jets are again trailing by 14 and again facing fourth and goal. Again Anderson and Becht line up bunch right. Oakland must know what's next, right? This time Wayne Chrebet comes in motion from the right WR position toward the bunch. Anderson and Becht run flag routes out, and Chrebet cuts under their quasi-legal double pick, touchdown in exactly the spot where Anderson had been. Again three Raider DBs staring at each other confused.
Worst Play by a Hyped Player: On Rice's touchdown, he ran a simple up, and Jets CB Aaron Glenn, highly paid and hyped, made no attempt to cover him. Instead Glenn spent the play "looking into the backfield," trying to guess what Rich Gannon would do. Even if New York/B was in "cover two," with Glenn expecting deep help, this doesn't mean he should utterly ignore the greatest receiver in history. Glenn didn't even cover Rice short or jam him, the two jobs of CBs in cover-two. He just stood there staring at Gannon.
San Francisco at Green Bay
Sometimes a game doesn't have a theme, and this didn't. Both teams were well-prepared and performed well; but when the ball bounced, it bounced toward the Packers. Green Bay had great line play on offense and on defense. The Packers made a classic film-study find by noticing that San Francisco CB Jason Webster misplays deep sideline jump-ball situations. Leading 9-7 late in the third, Brett Favre heave-hoed far down the sideline to Corey Bradford with Webster on him. Webster had perfect coverage and position for an interception but, per expectation, totally misplayed his leap, letting the ball go through his hands and for a 51-yard gain that set up a Green Bay six.
The critical bounce came on Jeff Garcia's long pass to an open Terrell Owens inside the Packers'$2 20 with five minutes left. Garcia underthrew slightly, and Packer CB Mike McKenzie beautifully tapped the ball to a teammate for the interception that kept San Francisco from taking a late lead. You can't win playing against a good team and the football gods simultaneously.
Didn't Anybody Watch the Jets-Oakland Game? TMQ hates to keep beating the same drum, but big-blitzing backfired consistently for the Packers and Niners. A Packers safety blitz caused a red-zone sack on third down in the second quarter, but when Green Bay called the same blitz in the third quarter, San Francisco blocked the safety and converted a third and nine. The Packers big-blitzed on third and long later in the third quarter, and the result was a touchdown pass to Tai Streets. In the fourth quarter, Jeff Garcia connected for another long pass to Streets off the safety blitz.
On the game's deciding play—Packers by three, Green Bay facing third and seven in its territory with 3:30 left and San Francisco holding all its timeouts—TMQ whispered to the football gods, "Stop them before they blitz again." Instead six Niner gentlemen cross the line, 37-yard completion to Antonio Freeman, and the rest was formality. Contrapositive proves the rule: On the previous drive, when the Pack faced third and nine, the Niners rushed three and got an incompletion.
Baltimore at Miami
"Field goal! Field goal!" That's what coaches shout at defenders as they take the field suddenly because a turnover hands the opposition the ball in scoring range. Baltimore fumbled the opening kickoff, giving Miami great position; the Ravens' defense held the Marine Mammals to a field goal. In this case surrendering three was a victory for the defense and set the tone for Baltimore domination.
This game came down to fabulous blocking by the Ravens' offensive line, injuries to numerous Miami personnel, and an inexplicable decision by the Dolphins offense to turn into the Tampa Bay offense—no deep passes until desperate. Yet if a perfect Jay Fiedler strike had not clanged off WR James McKnight and into purple hands at the Ravens' goal line early in the fourth, it would have been Baltimore 17, Miami 10, a deafening home crowd and potential fascinating finish. Instead, clang.
Note of this game that although it seemed like the Ravens were pounding for huge gains on every rush, Baltimore recorded an average 4.5 yards per carry, not that much more than the league average of 3.6. But if you average 4.5 per carry and stick with the ground game,you control the ball. There's nothing offensive linemen like more than a commitment to stick with the ground game. Run-blocking is active on the part of OLs: You fire out, and you get credit as running backs always praise their linemen. Pass-blocking is passive: You're just retreating and guarding space, while no receiver has ever said in a post-game press conference, "Man, they really held their blocks while I ran that double Z out."
Miami faithful will spend an unhappy offseason wondering what might have been had a dubious whistle not nullified a Marine Mammal fumble recovery and long runback for six in the second quarter. Last year's Super Bowl might have been different, too, if a dubious call had not wiped out a Giants turnover touchdown late in the half. Inexplicably, the football gods continue to smile on the Ravens.
Best 1960s-Era Drive: For its first touchdown, Baltimore drove 90 yards in 17 plays, during one stretch running on 11 of 12 snaps.
Worst 1960s-Era Drive: Taking over on a turnover at the Miami 41 with 1:09 left in the second, Baltimore ran up the middle on four of five snaps, then doinked a field goal attempt as the half expired. Ravens coaches seemed content to play for the kick, though leading only 7-3.
Best 1960s-Era Call: The old Bart Starr Packers would run up the middle, up the middle, up the middle, and then, on third and one, throw deep. Facing third and one on their 10 with a four-point lead in the third quarter, the Ravens, who would finish with a 1960s-like 50 runs versus 18 passes, heave-hoed the bomb to Travis Taylor for a 45-yard gain. It was the key play in a 99-yard drive that allowed Baltimore to make it 14-3 and pull away.
Stats of the Week: San Francisco became the first 12-4 team not to get a home playoff game.
Stat No. 2: In Philadelphia in the postseason in consecutive years, the Bucs have been outscored 12-52.
Stat No. 3: The Ravens defense has given up just one touchdown in its last five playoff games, Baltimore outscoring opponents 115-26 in those appearances.
Stat No. 4: Since 1997 Miami has been outscored 83-215 in the postseason, losing its last two playoff appearances by a combined 3-47.
Stat No. 5: Stretching back to last year, the Jets are on a combined 1-5 season-ending streak.
National Programming Outrage: ABC gave us a few views of the highly aesthetic Raiderettes, but where, oh CBS, were theshots of the Miami cheerleaders, most aesthetic in the league?
Reader Verse: Submit your haiku or senryu via "The Fray." The first concerns Dallas. (Did you know it finished fourth overall on defense? Neither does anyone else.) The last concerns TMQ's incredibly scientifically advanced estimate that there is a 1-in-500 chance of guessing the exact final score of an NFL game, and therefore since the New York Times has made 512 guesses since TMQ began tracking (see below), it will soon succeed. Yes, in probability each chance exerts no influence on the next; if a coin comes up heads 100 times in a row, the next flip is 50-50 to be heads. But TMQ feels more than strict probability is at work here. It's a harmonic thing.
Call them 'Boys. It's just
fine as a pejorative.
Girls would kick their butts.
—Fran RosenRefresh, refresh, re-
fresh. TMQ finally up;
I can relax now.
—Tom ScottPass intercepted!
Like his 18-wheeled namesake,
Traylor trucks along.
—"Gallifrean"Times near right call? Nope.
Past failures don't help future.
Times chance same each game.
—James Wright
Euphemism of the Week: Health officials say they will soon finish "remediating" the Hart Senate Office Building. Since when did remediate become a better term than clean up? "Hey kids, go remediate your rooms!"
Lack of Euphemism of the Week: Many readers from the Midwest, including "Ruszkowski," wrote in to note an incident from the Jax-Bears game involving TMQ's favorite sports media chick, Bonnie Bernstein of CBS (TMQ's favorite because she is good at what she does, is a babe, and is herself an authentic washed-up jock). Working the sideline and caught in a conversation between booth announcer Dick Enberg and Chicago coach Dick Jauron, Bernstein exclaimed, "Two Dicks, wow!" Bonnie, we know what's on your mind. And really, it's fine with us.
That's the Away Color; What About the Universe's Home Uniform? Two astronomers told the American Astronomical Society they have determined that, seen from the outside, the universe would appear to be pale turquoise in color, owing to a mix of light from hot young blue stars, cool old red stars, and yellow main-sequence stars like our sun. Why, then, space appears to us black, rather than pale turquoise, was left unexplained. Nor did the astronomers comment on the shattering implication—this means the universe is the color of a Jacksonville Jaguars uniform. How do you suppose they are taking that news on Kurt Warner's homeworld? With plans to tint entire galaxies gold and cobalt blue, making the universe look like a Rams uniform, perhaps?
Physicists at the Massachusetts Institute of Technology, trying to simulate aspects of star creation, recently came up with a cosmic gas cloud that resembles Swiss cheese. A NASA press release declared that the research "may eventually lead to vast improvements in highly precise atomic clocks." A turquoise universe? Cheese-powered atomic clocks? Waitress, I need a blueberry-almond martini, quick!
Cheerleader of the Week: Despite a California location and the high aesthetic appeal of the cross-bay Raiderettes, the Forty Niners' Gold Rush fails to rank among the NFL cheerleading elite. Check out, though, Niners cheer-babes Lyndsey Nix, a student majoring in anatomy, and Erin Stonehouse, the former California Collegiate Fitness Champion. (Click here, then on Nix or Stonehouse in bar.)
Combined Efficiency Resplendent: Last year TMQ's proprietary Combined Efficiency Ranking™, which measures the balance between offense and defense, wasn't worth the dynamite to blow it up—the top two finishers failed to reach the playoffs. This year the ranking was as incredibly scientifically advanced as TMQ had dreamed. Here is the final regular-season top five, with 2 being ideal (first offensive plus first defensive) and 62 being the pits (31st in both categories):
Pittsburgh, St. Louis tied at 4: Rams first offensive and third defensive, Steelers third offensive and first defensive.
Baltimore, 16: 14th offensive, second defensive.
San Francisco, 18: fourth offensive, 14th defensive.
Green Bay, 20: seventh offensive, 13th defensive.
Postseason entrants with middling grades:
Oakland, 25: eighth offensive, 17th defensive.
Philadelphia, 26: 18th offensive, eighth defensive.
Marine Mammals, 27: 22nd offensive, fifth defensive.
City of Tampa, 31: 25th offensive, sixth defensive.
Playoff teams with shaky rankings:
New York/B, 42: 23rd offensive, 19th defensive.
Chicago, 43: 27th offensive, 16th defensive.
New England, 44: 20th offensive, 24th defensive.
Note that the Combined Efficiency Ranking™ showed the Ravens, downplayed by most pundits coming into the postseason, would be expected to pound Miami. The Jets, Bears, and Patriots finished sufficiently shaky enough that they trailed two non-playoff teams, San Diego (25) and Kansas City (29), which may not bode well for Chicago and New England this weekend. At the bottom, Carolina just missed a worst-possible ranking of 62, finishing at 61—30th offensive and 31st defensive. There's always next year, Panthers!
Whom the Football Gods Would Destroy, They First Make Washington Coach: Owner/Threat-to-Life-as-We-Know-It Dan Snyder of the Chesapeake Watershed Region Indigenous Persons fired coach Marty Schottenheimer—he'd been there 374 days!—only after trying to weasel out of contractual promises. Schottenheimer signed a four-year deal at $2.5 million annually, with a clause stipulating that if fired, he would receive the balance. This means Snyder owed Schottenheimer $7.5 million for dismissal now. The Owner/Threat-to-Life-as-We-Know-It, who boasted in early 2001 that the clause showed he was fully committed to Schottenheimer, pressured the coach to agree to a settlement of less than the $7.5 million his contract called for.
For his part TMQ believes the rumors, circulated when Schottenheimer signed with the Persons, that this was the outcome Schottenheimer wanted. Marty knew Snyder was a lunatic who fires at whim and so entered the deal on the assumption that he would work a single year, then get a $7.5 million going-away present. Congratulations, Marty! You were smart to rent that house rather than buy. And who cares if Dan Snyder throws $7.5 million down the drain to indulge his petty ego—actually, it's kind of amusing. But let's not forget he gave Kansas City a third-round draft pick to release Schottenheimer from a non-compete clause. Snyder wasn't just wasting money; he was actively harming the team. As usual.
Note to new guy Steve Spurrier, fourth Persons head coach in 14 months: You feel pretty secure, don't you? Schottenheimer, asked in February 2001 about how Snyder tears up and throws away everyone he encounters: "That won't happen to me."
Schottenheimer contract note: Marty's deal called for $10 million and two company cars. Ten million dollars plus a car is like those criminal sentences that are life imprisonment plus a $500 fine. It brought to TMQ's mind the fact that when Larry Bird signed his rookie contract with the Celtics, he called home excitedly not to report the millions but to say, "Mom! Mom! They're giving me a car!"
Jessica Biel's Never-Fail Pickup Line: "Hey, You." According to Marie Claire magazine, a study conducted at the University of Louisiana showed that the two most effective pickup lines for women to use on men are:
"Hi." (97 percent success.)
"Would you like another beer?" (91 percent success.)
We won't ask what the University of Louisiana is doing studying the critical issue of women's pickup lines. After all, recently a Princeton researcher proposed that the universe began not with a Big Bang but a Big Splat in which a "wall of reality" from another dimension impacted our dimension. So if they stay up late at night at Princeton talking about walls of reality going splat, they might as well conduct clinically controlled tests at the University of Louisiana to see which pickup lines cause men to want sex.
TMQ's question about the Louisiana study is the statistical improbability of the claim that the extremely clever, complex women's pickup line "Hi!" only worked 97 percent of the time. You cannot make me believe this line did not work 100 percent of the time. (Female line-testers were attractive, and male subjects heterosexual.) Now as to whether a babe trying to pick up a man should distract him by asking, "Would you like another beer?"—and whether this offer will be self-defeating if the woman's goal is fun later—only clinically controlled university studies can say.
But should DirecTV be part of any female pickup strategy? Reader Jack reports that on a recent episode of Boston Public, former Star Trek mega-babe Jeri Ryan—freed from the prissy Trek realm and now specializing in gratuitous cheesecake scenes—tried to pick up another character with the line, "I have a great body and a satellite dish." TMQ guesses that 100 percent of heterosexual males, including Thomas Merton and Thich Nhat Hanh, including all men on their wedding days with their brides standing at their sides, if offered Jeri Ryan's body would immediately agree. The question is, what would happen once you got back to Ryan's apartment and were forced to choose between her bod and the satellite dish?There might be some really good games on.
Disguised Plug of the Week: TMQ likes to think of himself not as a football columnist but a football critic. Comes word now that, owing to my secret identities as a visiting fellow of the Brookings Institution and contributing editor of the Atlantic Monthly,I've landed on the list of 546 "public intellectuals" at the core of the new book Public Intellectuals: A Study of Decline by federal Judge Richard Posner.
Close textual analysis shows TMQ is the nation's only football critic to be judged a public intellectual. Well, I've always felt I was a "one in 546" kind of guy! When dating Nan Kennelly, now Official Wife of TMQ, she often remarked that I was one of 546 under consideration. (As a leather-miniskirted babe with a secret identity as an analyst for a think tank, Nan got my instant undivided attention by saying, "Hi!") Anyway, TMQ feels pleased to be mentioned, even if the book's thesis is that the people it mentions are declining. You can buy Public Intellectuals here. Don't confuse that with the link to the incredibly cleverly titled Tuesday Morning Quarterback, which is new stuff and not a collection of past columns and is in stores, or you can buy here.
Hidden Indicator: Despite the supposed dominance of Florida in modern football, the three Sunshine State franchises (Jax, Miami, and Tampa) are on a combined 0-6 postseason streak, have been outscored 35-143 during the streak, and have failed to record a touchdown in four of the six games. This is the kind of hidden indicator that is essential to an insider's understanding of the game. Unfortunately, Tuesday Morning Quarterback has no idea what it means.
Running Items Department
New York Times Final-Score Score: The Times goes 0-4 in its quixotic attempt to predict an exact NFL final score, making the Paper of Guesses 0-252 this season and 0-512 since TMQ began tracking. Just seven chances left to avoid a second consecutive shutout year.
Shane Battier Watch: Shane Battier, the first college graduate taken in the 2001 NBA draft, now has 542 points and 96 assists. The Learners' Permit Three—Kwame Brown, Tyson Chandler, and Eddy Curry, the high-school players selected ahead of Battier—have combined for 320 points and 40 assists.
Didn't like my anti-NBA diatribe last week? Your objections will be addressed next week.
Reader Animadversion: Robert Rosen senryuizes,
TMQ silent
on Favre/Strahan contretemps.
Your opinion please?
Anyone who honestly believes what happened was not deliberate must believe that a smart, heady quarterback leading by nine with 2:50 left in a game his team needs to win to lock in a home playoff appearance would audible to a naked bootleg on first and 10.
So the question is, why did Favre lay down for Strahan? Supposedly they are friends, and people say Strahan is a nice guy. And sacks are the shakiest of football stats. (Give me five quarterback pressures over one sack any day.) TMQ's guess is that Favre's true motive was publicity. Fox had featured him hugging Strahan before the game. Favre knew that if there were a sack, he'd be featured after the game, too. It's entertainment as well as sport, and Favre's considerable flair for publicity has brought him millions in endorsement income. Brett simply didn't think the play would look as fake as it did.
Robert Rosen supposes the football gods will punish Favre; not so far. But the Packers' offensive line, which was hoping to shut Strahan out and was instead made to look bad, was livid. Woe unto the quarterback who offends his offensive line.
Speaking of laying down, many from the rainy Northwest expressed dismay that the Vikings made no effort to win the season-finale MNF game against the Ravens, though Minnesota at 5-10 had nothing to lose and a Baltimore win meant elimination of the Seahawks from the playoffs.
Oh, how Vikes laid down. Early in the fourth quarter, they punted from their 44, though trailing by nine points and having nothing to lose. Spectacularly, trailing by nine with 3:33 to play, Minnesota punted from the Baltimore44. Topping it off, when Baltimore lined to punt with 1:53 remaining and the Vikes' sole hope being two scores, auditioning interim Minnesota coach Mike Tice called a return rather than a block attempt—though the Ravens were using an emergency long-snapper and had bollixed two previous punt snaps in the game.
All in all, one might have cried, "Fix!" Except:
The Vikings have a long-established history of laying down. See Randy Moss' incessant boasting about laying down. See the second, third, and fourth quarters of last year's NFC championship game.
NFL coaches have a long-established history of punting when a fourth-down risk is the last chance of winning. The incredibly cleverly titled book Tuesday Morning Quarterback—which is in stores, or you can buy here—analyzes this mystery in detail.
For Minnesota, what that game was about was whether Tice would get coach's job. So he did what established NFL coaches have a long-established history of doing, namely punting even though a fourth-down risk was the last chance of winning. Tice was using what game theorists call the "damage-limiting" strategy. If he took risks and beat the defending Super Bowl champs, great; but if risks backfired and led to blow-out defeat, Tice would be viewed as a guy who got clobbered during his audition game. Instead Tice played for a close defeat, a damage-limiting outcome that would exceed expectations. The result was close enough to close defeat (a Vikes last-second fumble made the final 19-3) that the impression Tice made was favorable. Three days later, he had the job.
So, Seattle fans, the Vikings were not trying to hurt you. Their coach was motivated exclusively by self-interest, just like the models predict. Just like Bill Parcells!
Last Week's Challenge … was to name the first recipient of the Hal Rothman Award for devising serious-sounding reasons to leer at cheesecake (or beefcake, should that be your preference). Last week's column created this award in honor of Rothman, an historian who studies naked showgirls in Las Vegas.
Reader Matt Pierce suggested one Grady McAllister, whose sociological study of Houston's topless clubs begins with the admonition, "In spite of the subject matter, this is not the most exciting material I ever wrote." McAllister's research delved into whether topless dancers believed government should regulate their profession. After four years of observing and interviewing topless dancers, McAllister concluded that they opposed regulation because it would reduce their income. Also, he recommended further study.
Reader Rich Harrington nominates Blaise Cronin, dean of the school of library science at University of Indiana, whose has proposed Internet porn be systematically studied because "if we can put aside moral, ideological, or political positions, here is a significant phenomenon with interesting intellectual angles."
Reader Arthur Stock proposes Slate'sown Scott Shuger, whose article extolling high-end Internet escorts—it's perfectly legal if you pay an escort large sums strictly for companionship, and then romance spontaneously breaks out!—would not have been journalistically sound unless he met and interviewed the two most expensive mega-babe courtesans his laptop could locate. Reader Daniel Abramson nominates Slate'sown Gregg Easterbrook, who uses literary ruses to add mega-babe links to sports criticism. Really, Daniel, you are too kind!
"Captain Ron Voyage" nominates ESPN: The Magazine,whose story on Leilani Rios—a Cal State Fullerton track athlete working her way through college as a stripper—could not have been journalistically sound without a gallery of photographs of the subject's professional endeavors. Photos by a female photographer of course! What a gratuitous, transparent excuse to add cheesecake to an article about the otherwise serious subject of the high cost of college; to see the photos, click here and then on the link headlined "Eye Candy." (Thus a gratuitous, transparent excuse to add cheesecake photos to TMQ; am I a master of literary ruses for gawking, or what?) Voyage speculates that Rios' night job was discovered by other members of the Cal State track team, who stopped by the Flamingo Theater "themselves contending for the Rothman Award as they researched their senior theses in Recreation & Leisure."
Women who have created serious-sounding reasons to leer at beefcake? Reader Julie May nominates Susan Faludi, who after writing Backlash,a manifesto against women's mistreatment, followed up with Stiffed,a manifesto against men's mistreatment. "That bothgenders can be disadvantaged simultaneously is intriguing," May notes. More important, for Stiffed and a highly respectable New Yorker article drawn from it, Faludi delivered a dissertation on how the porn video industry confers money and stardom on women while treating men as mere tools. To authenticate her research, Faludi felt compelled to interview male porn stars, then watch them strip and perform. She penned loving descriptions of their tools and of a certain visually entertaining act of male sexual expression. True Rothman Award spirit!
Next in line for the Hal Rothman Award is—Hal Rothman, whose book about Vegas showgirl culture, Neon Metropolis,is due out soon. Sadly, the book appears to violate the spirit of the Rothman Award by consisting mainly of thoughtful analysis.
Rothman has offered an autographed copy of Neon Metropolis to a TMQ reader, and that copy goes to Stephen Power of Maplewood, N.J., for nominating Supreme Court Justice Potter Stewart, who made of porn the famous comment, "I know it when I see it." Thus—you've got to see it! The court opinion in question, Jacobellis v. Ohio, about a naughty French flick, contained this phrase of seeming boilerplate: "We noted probable jurisdiction of the appeal, 371 U.S. 808, and subsequently restored the case to the calendar for reargument." This means, Power points out, Supreme Court justices thought they were professionally obligated to gawk.
And the stylish TMQ cap goes to Kyle Mantyla of Fairfax, Va., who located the below passage in the book Slouching Towards Gomorrahby former Supreme Court nominee Robert Bork:
One evening at a hotel in New York I flipped around the television channels. Suddenly there on the public access channel was a voluptuous young woman, naked, her body oiled, writhing on the floor while fondling herself intimately. Meanwhile, a man's voice and a print on the screen informed the viewer of a telephone number and limousine service that would acquaint him with young women of similar charms and proclivities. I watched for some time, riveted by the sociological significance of it all.
Judge, the phone number—what was the telephone number? TMQ certainly would have gawked at a voluptuous naked young woman fondling herself. But would TMQ have had the courage to claim his motive was "the sociological significance of it all"? No. For exhibiting such courage, and for creating such a serious-sounding excuse for leering, Robert Bork wins the first annual Hal Rothman Award.
This Week's Challenge … is to name your favorite absurd contemporary euphemism, along the lines of "remediate." Submit via the Fray, including your e-mail address in the unlikely event you are chosen to receive a stylish TMQ cap.
---