Tonight on E! Fashion Emergency: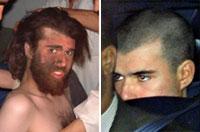 Californian John Walker Lindh is a handsome young man. But months spent fighting for the Taliban have left him with skin that's rough and blotched. "My pores have really taken a beating," Lindh told our fashion team. Throw in nappy hair and a spotty beard, and you've got a fashion emergency. That old look was fine for sleeping in caves and trying to kill Americans, but now John needs a newer, more friendly and upbeat image. "I definitely need a major make-over," agrees soon-to-be-indicted John.
Don't worry, John. It's Fashion Emergency to the rescue, as Emme arrives on the scene with her plus-size enthusiasm. "I am so excited to give John this make-over," she says. "It's time for a fashion jihad!"
With friends like hairstylist Douglas England and boutique owner Deb Portinova, Emme leads John through a whirlwind day that's more fun than burning a kite. John may have converted to Islam, but wait till you see the stylish conversion Emme's friends have up their sleeves. First, Doug gives John a bold new haircut: The shorter look brings out John's face and really helps highlight the fact that he is white. Then, Deb picks out an ensemble from Calvin Klein, choosing clothes that are comfortable, casual, and not filthy rags or turbans. A final touch: The beard is gone ("It looked like I was on tour with Blues Traveler," laughs John), and gone, too, are the rotting, festering sores.
"I think after this fantastic make-over, John will be more than ready for his court appearances," says Emme. "Or a date with that cute little ashna back in Kabul!" she adds with a wink.
Says John, "Praise Allah! My complexion looks awesome!"
---