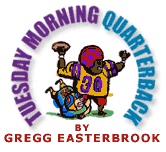 One more weekend left with The NFL As We Know It, since next year the league realigns. Both Central divisions disappear, to be replaced by pairs of North and South. Old cartographic fun will end: The NFC West will no longer sport four of five teams playing east of the Mississippi. New cartographic fun awaits: The Indianapolis Colts, now in the AFC East though located in the Midwest, will move to the AFC South though still, as best as can be determined, located in the Midwest.
These self-same Horsies are one of the big winners of realignment, leaving a frost-bound division—and don't worry about Buffalo, Wilson Stadium will have all its snow shoveled in plenty of time for the September 2002 home opener—to join a new sun-loving grouping. This means Peyton Manning, who played in warm weather in high school (Louisiana) and college (Tennessee), and has always looked bad in the cold, will now perform almost his entire remaining career either indoors (the Colts' dome) or at Southern venues. Peyton will both be happier and perhaps enjoy a longer run. Note that Jim Kelly and Dan Marino, both Pennsylvania tough guys by birth, came out of college the same year. Kelly, who played (and practiced, equally important) in the Erie County cold, had to hang it up four years before Marino, who spent his seasons in the Miami shirtsleeves clime.
City of Tampa will similarly benefit from its exit from the frosty NFC Central, as a previous TMQ explained. Now the Bucs, perennial losers when the kickoff temperature is below 40 degrees Fahrenheit, will almost never play in the cold; endless crowds in sun block and halter tops will be their fate. Meanwhile, the northernmost non-dome clubs—Bay of Green, Buffalo, Chicago, New York A & B, New England, Philly—will pretty much slam into each other week in week out, losing most division-quirk excuses for annual flights toward the Sunbelt. Of course, cold builds character.
Though the league did a good job with realignment, TMQ feels a bit misty for the storied annual home-and-home series now concluding. No more annual sets of Bucs-Packers, Colts-Jets, Pittsburgh-Flaming Thumbtacks or Rams-Falcons games. The good news is that the league did take cartographic liberties to preserve three classic home-and-home rivalries—Raiders-Chiefs, Persons-'Girls and Bills-Dolphins will continue long after you and I have shuffled off this mortal coil and gone on to try to scalp tickets to meet the football gods.
Realignment Folly: The Houston Texans, who debut next year, petitioned to be placed into the same conference as Pittsburgh on the grounds that Texans-Steelers is an established rivalry equal to Raiders-Chiefs. Yes, Oilers-Steelers was once a hot series. But the Texans don't exist.How can they claim an established rivalry?
In other NFL news, here's the difference between the NFL and the BCS: The Bowl Championship Series designed an incredibly scientifically advanced computer formula able to choose, as No. 2 in the country overall, a team that finished third in its own conference. When you see Nebraska take the field at the Rose Bowl, keep this in mind about computer projections on the economy, global warming, etc.
In defense of Nebraska, it might be said that if college were the NFL, there would be no controversy. The Huskers finished with one defeat, Colorado finished with two; in the NFL, it would be undisputed that Nebraska would seed higher in the playoffs, regardless of how many points it lost to Colorado by. This would seem a clinching argument.
Here's why it isn't—Nebraska played eight home games,versus four on the road. The Huskers schedule was a hoax. Colleges devise most of their schedules on the free market: It's whatever you can get opponents to agree to. Nebraska officials essentially bribed teams to come to Lincoln by offering them attractive shares of the automatic-sellout gate receipts; the result is an ersatz record for the Huskers, since the odds of winning at home at much greater than on the road. Nebraska gamed the BCS. Colorado by contrast played six at home, six on the road, and for being a straight-arrow was punished by the BCS computer.
So, if college were the NFL, Nebraska would notbe playing in the Rose Bowl. Nebraska's record would be tossed out by the NFL as counterfeit, and Colorado would be in the title event, where it belongs.
Best of the Week. Best Blitz: TMQ, of course, loves the blitz. Inconsistent, you protest? Kiss 'Em When They're Up, Kick 'Em When They're Down—traditional media saying. (Actually the "kiss" part of that traditional saying is somewhat more Monica-oriented—c.f., any coverage of Web sites in 1998, or anything filed from the White House in the first year of any administration. But, there is the matter of decorum.)
Trailing by 3 in the fourth, the Eagles had the Giants facing third and long. New York/A went empty backfield, and it's a blitz! Six gentlemen cross the line, the interior rushers taking the outside shoulder of blockers—which shoulder you rush is a hidden indicator of any defensive line stunt—causing the OLs to turn out. Jeremiah Trotter advances unblocked up the middle, sack. The Giants punt, and on the next play, Philadelphia scores a 57-yard TD to take control.
Best Blitz No. 2: Denver 20, Oakland 17, third and long on the Raiders 24 with the clock ticking down. It's a blitz! Seven gentlemen cross the line, this tactic rarely seen because it rarely works. But it does here, hurried incompletion. Oakland goes for it on fourth and Denver burns clock, then kicks the figgie. The Raiders somehow end up in view of the Broncos goal line, but don't win.
Best Blitz No. 3: Chicago repeatedly blitzed nervous Ty Detmer of Detroit to good effect, including a long interception returned for 6. But Bears, the constant blitz worked versus a 1-14 team. Don't get any ideas about constant-blitzing against the upper echelon.
Best Blocks: TMQ likes to single out for praise OLs, whose seldom-cited play is key to all great teams. But who can resist a great block by those who never block, like, say, quarterbacks or Randy Moss? Bay of Green trails the Vikings 3-0 in the second, reverse to the Packers' Donald Driver. Brett Favre cleans out the Minnesota defender at the point of attack, Driver goes 31 yards for the touch, and the Packers win is set in motion. Before the Bills go-ahead TD against New York/B, end around to Peerless Price. Alex van Pelt cleans out the Jets defender at the point of attack for a 28-yard gain.
Best Tactics in a Lost Cause: Trailing by a point with their season on the line, the Giants faced third and short at midfield with four minutes left. Run off tackle right with a near tackle pull for 23 yards. Run off tackle right with a near guard pull for 5 yards. Run off tackle right with a near tackle pull for 7 yards. Run off tackle right with a near guard pull 16 yards for the touchdown. They go for 2 to make it a seven-point lead. Hey Eagles, what do you think is coming? Run off tackle right with a near tackle pull for the deuce.
Best Vengeance: Cincinnati's Danny Farmer, cut by the Steelers as a high draft choice, caught the tying touchdown in the closing seconds as the Bengals went on to defeat the Steelers in overtime. By the hammer of Grapthar, he was avenged!
Best Vengeance No. 2: Mike Shanahan, fired by Al Davis as Oakland's head coach in 1989, is 12-2 against the Raiders as Denver's head coach. By the hammer of Grapthar, he is avenged!
Worst of the Week.Worst Pass—Wacky: Trailing City of Tampa 16-7 with 1:32 left in the first half, the Ravens faced second and 1 at midfield, holding all three timeouts. Surely Baltimore would pound the ball for the first and sustain the drive. Instead, it was junky short pass incomplete on second down, junky short pass incomplete on third down. Then the Ravens punted, despite trailing by 9 and but a yard to go.
Worst Pack—Wacky No. 2: Facing fourth and inches against the Chesapeake Watershed Region Indigenous Persons, did the Saint power-run? They lined up in the shotgun; pass deflected, incompletion.
Worst Poise: Leading by 10 in the fourth quarter at home against the Cleveland Browns (Release 2.1), possessor of the lowest-ranked offense in the league, the Flaming Thumbtacks gave up 17 points and lost. And Tennessee, not Baltimore, was No. 1 in defense last year. The Flaming Thumbtacks surrendered a 78-yard pass and had two three-and-outs during the collapse.
Worst Tactics in a Lost Cause: After the Giants series described above, Philadelphia scored to tie the game. New York/A got the ball back with 1:43 left and its season on the line. Maybe—a run off tackle right? Up the middle, incompletion, incompletion, punt. The Eagles move into position for the field goal and the win. (See below.)
Worst Crowd Response: The Jets, playing for a postseason berth, and the Eagles, playing for their first division title since 1988, were repeatedly booed by their home crowds. Sure, tickets are expensive, but New York/B and Philadelphia fans—whose side, precisely, are you on? Showered by boos, the Jets wheezed out and the Eagles were very, very lucky to squeeze out. TMQ hopes New York/B fans asked themselves as they sat idling in the hours-long gridlock to leave the stadium parking lot, Why did I just pay $200 to boo my own team trying for the playoffs in a down-to-the-last-snap game?
Worst Rules Quirk: Illegal procedure and play-clock violation by the offense are "dead ball" fouls that by rule quirk cannot be declined, even if the penalty actually helps the team that commits it. Example: Tampa 16, Baltimore 7 in the third, the Bucs attempt a 48-yard field goal that was short. The Ravens would take possession at the spot of the kick, their 38. But zebras ruled a play-clock violation on Tampa, mandating a replayed down. Backed up 5 yards, the Bucs were out of field goal range, and so punted; Tampa downed the rock at the 6. Instead of having the ball at their 38, the Ravens had it at their 6—because of a penalty against Tampa.
Worst Atlanta Calls No. 1: There were three disputed officials' calls at the goal line in the Falcons-Marine Mammals contest, and Atlanta got the short end of all three. But its own bad call sealed the game. Trailing by 7, the Falcons faced fourth and goal at the Miami 1 with 52 seconds left. On third and goal, Atlanta had run off tackle left and been stuffed. What was the fourth and goal call? Off tackle left, stuffed, game over.
Worst Atlanta Calls No. 2: Trailing by 7 with 46 seconds left in the first half, Atlanta lost a fumble at its own 30. The Falcons promptly called time out, stopping the ticking of the clock for the Marine Mammals. Miami ended up scoring a touchdown on a play run from the 2 with 11 seconds left and the Dolphins out of time outs; had Atlanta not stopped the clock, Miami would have been forced to kick a field goal.
Worst Non-Block: It was Eagles 24, Giants 21 with seven seconds left, New York/A facing elimination with a loss. From their own 20, the Giants lined up for a desperation play. Short pass over the middle to Tiki Barber, Eagles defense closes, Barber no-look laterals to speedster Ron Dixon running sideways on a modified hook-and-ladder. Dixon turns upfield and has only one Philadelphia player to beat, with 6-foot 5-inch WR Joe Jurevicius running ahead as a convoy blocker. This is going to be the best last-second game-winning play since the Music City Miracle! But Jurevicius doesn't bother to block that one last man. He pushes and fences and bumps with him instead of just doing this—knock him down. Dixon has to slow up to evade the one player to beat, and is tackled from behind at the Eagles 4 as the clock double-zeroes.
Stats of the Week. Trent Dilfer is 19-1 in his last 20 starts—that is, when allowed to start by the Bucs (cut), Ravens (released as a free agent), and Hawks (benched for the legendary Matt Hasselbeck).
Stat No. 2: Minnesota and New York/A, last year's NFC championship pair, have both been eliminated.
Stat No. 3: The Chargers finished 5-11 despite outscoring their opponents.
Stat No. 4: Pittsburgh clinched home field advantage despite losing; Oakland has clinched its division title despite losing two straight.
Stat No. 5: On its first five possessions against the Horsies, St. Louis put up five touchdowns and 357 yards. Then the lambda-drive wake of a passing starcruiser disrupted Kurt Warner's fermion quantum-state compressor, and the Rams were held to 42 points total.
Stat No. 6: Marshall Faulk carried or caught eight times in 10 snaps to account for all 77 yards of a Rams touchdown drive. Then the integer-spin-drive wake of a passing scout ship assigned to trail the passing starcruiser disrupted Faulk's hyperon multiplet enhancer, and he was held to only 165 yards total.
Stat No. 7: Your local newspaper may have had this stat, but TMQ can't resist repeating it: Brett Favre is now 30-0 when the kickoff temperature is below freezing. (Fahrenheit, of course—TMQ has not yet converted to euros.) Bay of Green genetics? This gentleman was born in Gulfport, Miss., and played his collegiate ball at Southern Mississippi.
Worst Blame Shifting: Trailing by 5 at the Buffalo 24 with 13 seconds left and no time out, New York/B threw a short pass down the middle. Tick, tick, game over. Very politicianlike, Vinny Testaverde said after the game that he was only running the play that came in from the sidelines but of course did not mean to shift blame.
Shocking Failure To Exploit Women: With everyone doing end-of-the-year wrapups, there have been many retrospectives on the football-like substance of the XFL. You may remember that league folded its tents and stole off into the desert a few days after the XFL championship, which savvy promoters dubbed the Million Dollar Game. Apparently, the thinking was that fans accustomed to $40 million guaranteed contracts for NBA backups would say, "Holy smokes! A million dollars!" At any rate, the event should have been called the $19.95 Special If You Act Before Midnight Tonight Game. Attending the XFL championship was a crowd of 24,153.
Postmortems focused on the low caliber of play—did anyone seriously expect top quality from gentlemen the NFL let go?—while schoolmarmishly scolding the XFL for hiring hot-babe cheerleaders to bump-and-grid in minimalist attire. TMQ thinks the XFL failed because it did not show the cheerleaders enough!
The first weekend's broadcasts offered numerous cheap, exploitive close-ups of the cheerleaders' most aesthetically appealing features. Result of this transparent appeal to base male instinct? Big crowds and high ratings. Then NBC and UPN retreated under a barrage of tut-tutting from pundits, for the remainder of the season rarely showing more than a flash of the female contingent. Ratings plummeted. Millions of men who tuned in hoping to see some totally gratuitous T & A instead encountered nothing but Jesse Ventura and bad football. Hey, these women need to make a living too, and some may have had better claims to being pros than the guys on the field playing. Plus it's not like we are interested in the players for their minds, either. (Sadly, the dedicated, highly professional XFL babes have vanished from the Web along with their teams, though you can still find a small aesthetic sample here.) When XFL broadcasters lost the courage of their convictions regarding jiggle, the football gods punished the enterprise with demise.
Cheesecake Low Point: XFL management flew 83 cheerleaders to the Million Dollar Game. Every one was scantily clad and highly aesthetic, yet NBC only showed them for a few seconds. NBC showed the game instead of half-naked babes.Now you understand why the Old Media are struggling.
Statistical Note: Calculating the crowd-to-cheerleaders quotient from the modest gate, at the XFL finale there was one babe for every 291 in attendance. This is a better ratio than at most college fraternity parties.
Cheesy Situation: In the Jets-Bills game, Eric Moulds looked across the field toward opponent Craig Yeast.
Jax, Jets Ask NFL To Calculate Salary Cap in Euros: Happy New Year's, and the euro becomes the currency of most of Western Europe. I don't know about you, but I'm glad I am not a French or Dutch citizen trading my rock-solid francs and guilders for fuchsia and teal notes watermarked with soaring views of bridges that don't exist. To prevent bickering about whose national landmarks would be featured on euros, the bridges and architecture shown on the new notes are nonexistent generic structures cooked up by artists. "Our Currency Backed by Imaginary Objects," what a confidence-inspiring message the new tender sends. Ah to be in the United Kingdom, where people with their heads screwed on straight voted to steer clear of the euro and keep their rock-solid pound coins with the Latin mottos etched onto the sides. No teal and imaginary bridges for a country that takes the long view of history; there'll always be an English currency!
Reader Senryu: See below for explanation, and submit yours via the "Fray." Note that one declares TMQ "better than studying." Maybe that should be the column's new slogan—"TMQ: Better Than Studying." No wait, make it, "TMQ: Better Than Dental Work."
Searched Packers Web site
for cheerleaders, but found none.
Found 12 titles, though.
—"Flatland Cheesehead"Last final today.
Reading TMQ better
than studying? Yes!
—Brian Kane"Hol…num…sixt…ive…fense
Ten…yar…lty…sti…down…" Oh, drat.
Ref's mike doesn't work.
—JCriswell
Save the Endangered Wildcards! Back when there was distressingly serious talk of fixing the NFL's 2001 schedule crunch by canceling the first wild-card round, many sports types said that round didn't matter because the fifth and sixth seeds rarely advance anyway. Tuesday Morning Quarterback countered that the essence of wild-card weekend is not its effect on the Super Bowl but on the regular season—making most December contests relevant, rather than lackluster exhibition games between pairs of eliminated clubs.
Now the proof is in. Going into last weekend, five playoff slots were still undecided, only 15 of 31 clubs had been eliminated, every team that had clinched was still playing for seeding and only three games had no playoff implications for either team.
Had the wildcard round been cancelled, going into last weekend only three playoffs slots would have still been open, with 20 of 31 clubs eliminated. Some of the clinched teams would have had little chance of improving their seeding and began resting starters. The fabulous prime-time Baltimore-Tampa matchup would have been a woofer with the Bucs out of contention. Five matchups would have been meaningless for both teams. And the league would have faced the travesty that one among the group of Chicago, Green Bay, San Francisco, and St. Louis—all of which have played fabulous years—could not reach the postseason. In fact, there would have been a chance that the exile from this gang of four would finish 12-4 and still be eliminated from the playoffs!
Thank the football gods for the wildcard round.
No TMQ Price Hike: The Washington Post, long a 1950s-esque bargain at a quarter at the news rack, just increased its issue price to 35 cents. That's still a swell deal. But the front-page box conveying this information was headlined not "Price Increase," rather, "Announcement." Announcement? No Post stories are headlined, "President Makes Announcement." It's always, "Cynical White House Operatives Spin Self-Serving Phony Plan." Yet when the media has something untoward to make known about itself, the headline is simply, "Announcement."
TMQ's pricing policy remains: All Predictions Wrong or Your Money Back.
2001 TMQ All-Waivers All-Pro: Pro Bowl squads are coming out and, as usual, they'll be dominated by No. 1 draft picks and hyped players. Many deserve their plane tickets to Hawaii. But the gentlemen who interest TMQ are the ones who have had Hawaii-class seasons despite having been discarded by someone. Thus, the annual Tuesday Morning Quarterback All-Waivers All-Pros. To qualify, a player must have been waived, let go in free agency, or walked on as a "street" free agent unaffiliated with any team. (Free agents their original teams made a bone-fide effort to keep do not qualify.) Asterisk indicates waived outright. Here is the 2001 squad:
Offensive line: Ray Brown*, San Francisco; Tom Nütten* and Adam Timmerman, St. Louis; James Williams, Chicago; Jeff Mitchell, Carolina.
Tight end: Frank Wycheck*, Tennessee.
Wide receivers: Jimmy Smith*, Jacksonville; Jerry Rice*, Oakland.
Running backs: Priest Holmes, Kansas City; Antowain Smith*, New England.
Fullback: Mack Strong, Seattle.
Quarterback: Kurt Warner, St. Louis. Honorable mentions to Jeff Garcia, San Francisco; and Rich Gannon*, Oakland.
Kicker: John Carney, New Orleans.
Returner: Darrien Gordon*, Atlanta.
Defensive line: Ted Washington*, Chicago; Dana Stubblefield*, San Francisco; Sam Adams*, Baltimore; Duane Clemons*, Kansas City.
Linebackers: Jamir Miller, Cleveland; Derek Smith, San Francisco; Mark Fields*, St. Louis.
Defensive backs: Corey Fuller*, Cleveland; Dewayne Washington, Pittsburgh; Troy Brock Marion, Miami; Troy Vincent, Philadelphia.
Punter: Brad Maynard, Chicago.
Special teamer: Nick Ferguson*, New York/B.
TMQ's Christmas List: Still time to sneak in one item, the incredible C-eye Bot robot vacuum cleaner, offered by Discovery Channel. Dave Oreck has nothing like this technology! For a mere $825, the robot vacuum will
[M]ap out its cleaning area by gently bumping into the borders of the cleaning area or by following your computer mouse movements. Just sit and steer and Cye-bot does the rest! Or you can draw a map of the cleaning area with the included Map-n-Zap software CD and program it to vacuum at specific times so it will clean while you're away. Imagine the pleasure of coming home to a freshly vacuumed house.
Imagine the pleasure! TMQ's mega-babe fantasies pale in comparison to imagining the pleasure of spending hours laboriously computer-mapping your "cleaning area," then leaving the house with a robot vacuum cleaner turned on,and coming back later to find—exactly how many lamps laying on the floor smashed? But the pieces would all be vacuumed up.
Major of the Week: Declared major of Tavares Bolden, University of Toledo starting quarterback: "recreation and leisure." Does this involve a rigorous curriculum in pingpong, plus practice rubbing tanning oil onto cheerleaders? Does everybody at Toledo get A's in "recreation and leisure," like everybody now gets A's at Harvard? Last April, TMQ noted that an exceptionally high percentage of NFL draft choices were listed as having majored in "fitness management," which appears to mean walking around in a health club. "Recreation and leisure" is probably for those who couldn't handle the course load in fitness management.
Quote of the Week: "Today's youth are very interested in hydrating themselves." Official of the Culligan Co., telling ESPN why it decided to sponsor the Holiday Bowl. Drinking water is a new idea? And TMQ, an aging boomer, may be out of touch with today's youth, yet somehow doubts they sit around making plans to go get hydrated.
Running Items Department
New York Times Final-Score Score: Once again the Multicolored Lady goes 0-15 in its quixotic attempt to predict an exact final score, bringing the New York Times Final-Score Score to 0-232 this season and 0-492 since Tuesday Morning Quarterback began tracking.
There was rending of garments and gnashing of teeth on West 43rd Street as it was Times predicted: Bucs 16, Ravens 10 and that was the score with less than two minutes remaining and Tampa having possession on the Baltimore 32. Surely the Bucs would kneel to zero the clock, and the Times'quixotic quest would finally end. No, wait, it's a handoff to Mike Alstott, he couldn't possibly run for a last-second 32-yard touchdown against the vaunted Ravens rush defense, could he? Final Tampa 22, Baltimore 10.
Misery loves company: a reader's senryu on the Chicago Tribune'squixotic attempts to predict an exact final score:
Chicago Tribune
just like Paper of Record:
0-for-every week.
—Chris Campbell
Reader Animadversion: Many wrote to protest a missing link to the Barbie-sized Playboy doll, modeled after Playmate of the Year Victoria Silvstedt; here it is. Note that since this 16-inch-high mini-babe is carefully formed to exact scale, this means her breasts are much smaller than Barbie's. Check out the to-scale leg muscles, too; Silvstedt must pump iron. (Inspect the doll site's Rhett Butler doll, and Lucy and Ricky Riccardo matched set, here.)
Many readers pointed out that Oakland Alameda County Stadium does not face doom as a classy name because it is already history. One phrased the lament in haiku,


Alas TMQ
Oakland Alameda now
Network Assoc'ates
—Lance
But is Network Assoc'ates, whatever it makes or sells—good luck figuring it out—getting its money's worth? So far all tech firms that have bought NFL stadium names (PSINet, 3Com, next year's CGMi Field for the Patriots) have immediately begun to experience business trouble. And what about the airlines—American, United, Delta, USAir—that bought NBA stadium names? Or Pro Player, which ceased existing after buying up the former Joe Robbie? TMQ suggests that some enterprising Wharton student do a thesis on whether there is a direct relationship between purchasing stadium licensing rights and plummeting stock price.
Readers Scott and Joe Brent, after conducting a close textual analysis of the Buccaneers cheerleader site, noticed that cheer-babe Tammy Dembo is also an assistant state's attorney. TMQ certainly will not stoop to the obvious strip-search and handcuff jokes.
Reader Anna Hoover proposes the theory that the profusion of cute sideline reporter chicks (Jill Arrington, Bonnie Bernstein, Suzy Kolber, Pam Oliver, Melissa Stark) stems from the fact that for that all-important 15-second coach-trotting-off-at-the-half interview—where the statements are enlightening ones like "we've got to cut down on mental mistakes" and "they're a fine, fine football team"—cute chicks are harder for coaches to trot past than, say, Armen Keteyian or Ron Pitts.
Finally, Mark Romoser notes that many of what appear in Tuesday Morning Quarterback as haiku are not actually haiku, since this form requires both 5-7-5 structure and a reference to nature. (Pro football players do not count as natural.) Verse in 5-7-5 form but lacking a reference to nature, Romoser points out, is properly called "senryu."
Check this true haiku from the incredibly cleverly titled book Tuesday Morning Quarterback, which is new stuff, not a collection of past columns, and which is now in stores, or you can buy here. The true haiku concerns the late, great, lamented, real Mile High Stadium:
Thin air, mountain views.
Visitors, gasping for breath,
Doomed in fourth quarter.
—TMQ, 2001
And check this senryu from the incredibly cleverly titled new book:
It's just inches short.
Commence the chant: "Go! Go! Go!"
Damned if you do and…
—TMQ, 2001
This Week's Challenge: Sharp-eyed readers of "transactions" columns may have noticed that Johnnie Mitchell, one of football's all-time flakes, signed with the tight-end-depleted Saints. Mitchell hasn't played since 1996 and has walked away from the game more times than Frank Sinatra "retired" from singing.
TMQ always liked Mitchell because the Jets took him with the 15th pick overall of the 1992 draft even though hedidn't start in college.A high No. 1 pick who could not break into the lineup for his own college team: Now, what might have been the Jets' clue that maybe this selection was not going to pan out?
This week's challenge is to name other NFL draft picks who went high—first-round only—despite something ridiculous about them. I don't mean busts such as Ryan Leaf. Bust-dom can only be determined later, and a quick trip in TMQ's time machine (it's a Segway time machine, I have to stand on it, the thing corners the corridors of the eons quite nicely, though it sometimes skids on the mists of history) shows that most NFL scouting departments expected Leaf to be a star. I mean players who were drafted in the first round despite not starting in college, being in jail at the time, or having some other bright flashing light next to their names. Submit your ridiculous No. 1 pick nominee via the "Fray," and remember to include your e-mail in the unlikely event you win a stylish TMQ cap. That decision, of course, will be completely arbitrary.
---