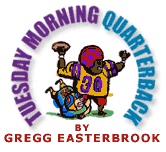 Last week Tuesday Morning Quarterback asked readers to nominate their favorite low-IQ NFL plays. Response was overwhelming. For instance, reader Mike reminded that in 1969, Bears QB Jack Concannon turned to the officials to signal timeout—and as he did the center hiked the ball, which sailed straight up into the air. It was snatched on the fly by Larry Stallings of St. Louis and run back for the deciding touchdown; Concannon was still talking to the officials as Stallings was running.
Ye gods, there have been a lot of dumb plays in NFL history. In saying this we do not mean to take anything away from the current Bills, Cardinals, or Lions! There are so many low-IQ plays, they take up most of this column, except for critical items on risqué cheerleaders, breasts, and lingerie models. See below.
In other NFL news, Jerry Rice, 12-yard touchdown! Jerry Rice, 30-yard touchdown! Jerry Rice, 20-yard touchdown! Man, Niners fans must be celebrating. Say what? Are you seriously telling me the Forty-Niners cut Jerry Rice?
Best Plays of the Week. Best Drive: With a three-point lead over the defending champ Ravens and 9:52 remaining, the Cleveland Browns (Release 2.1) ran on eight of 12 plays, obtaining the icing touchdown while grinding six minutes off the clock. This, though everyone says it is impossible to run on the Ravens.
Best Fake Pass-Wacky: Facing fourth and one on the above-cited drive, Cleveland lined up with a five-wide empty backfield. Can't anyone power-run for a yard anymore? Baltimore jumped into a spread, expecting some junky short-curl thing. The Browns then handed off to a motion WR for an end-around, 12-yard run and the drive's big play.
Best Flag Football Play: Needing a deuce conversion with time expired to force overtime against Carolina, San Francisco ran "the turn"—tight end simply steps across the line and turns around for the world's dinkiest pass. TMQ coaches 12-year-olds in a flag football league, and "the turn" is by a wide margin the most popular two-point play at that level. The Panthers acted liked they'd never seen it.
Best Pickup B-Ball Play: On the second of Marty Booker's three touchdowns, he and another Bear ran a cross. Bucs DB Ronde Barber got tangled up and should have yelled "switch!" the way gentlemen do in playground basketball. Instead Barber tried to fight through the pick, the result being a clear view of the name on the back of Booker's jersey.
Best Officiating: Horsies fans should quit complaining about the inadvertent whistle that nullified Peyton Manning's entertaining stroll-in-the-park touchdown against the Saints. Indianapolis was in an illegal formation—eight on the line—so had the whistle not sounded, replay would have overturned anyway. The inadvertent whistle actually helped the Horsies since zebras put one tick back on the clock, allowing a field goal; the penalty, if called, would have zeroed the clock, as a flag against the offense with fewer than 10 seconds remaining ends a half. A shame, though, that Manning did not get credit for NFL history's first touchdown walk. The line score would have read:
Ind.—Manning 33 walk (Vanderjagt kick), 0:00
Yet the spike ploy Manning used ought to be illegal. Clock-stop spikes were put in to protect quarterbacks. Till about a decade ago, in clock-stop situations the QB was required to throw the ball out of bounds; owing to chaos on hurry-up plays, QBs often took vicious hits doing this. On spikes, defenders are not allowed to hit the passer. Therefore offenses shouldn't be allowed to take advantage, faking a motion that's supposed to make defenders stop. Any spike motion ought to be a whistle.
Best Legal Fake: Jets on the Miami 17, Vinny Testaverde play-faked a run up the middle, then play-faked an end-around, then threw for a touchdown.
Worst Plays of the Week: Trailing 14-0 in the third, the Marine Mammals faced fourth and one on the New York 32. They lined up in a four-wide. Can't anyone power-run for a yard anymore? Jay Fielder rolled out, and it wasn't a gamble for a long gain, which can be justified on fourth and one; the play was a short junky thing to two receivers running short curls. Fielder took a seven-step drop,retreating to the 40 when what was needed was a single yard forward. Then interception, return for touchdown.
Worst Defensive: Trailing Carolina, San Francisco had six ticks left. The Panthers dropped seven gentlemen into coverage, the Niners sent out three. But though seven were available to guard three, Terrell Owens, the Niners' best receiver, streaked one-on-one into the end zone for the touchdown catch.
Worst If You Consider Ryan Leaf a Player: Trailing Philadelphia 13-0, the 'Girls had the ball on their 40 with seven seconds in the half. Did Ryan Leaf lob a Hail Mary? He threw a short out—though the half would end on the play! Intercepted, returned for a touchdown.
Worst Reflex: As space alien Kurt Warner lasered the ball directly to him, fellow space alien Isaac Bruce inexplicably ducked,allowing the pass to zip into the hands of P-Man Terrell Buckley, who returned it for six. Human form still a little confusing, eh "Isaac?"
Stats of the Week: The Eagles pass defense outgained the Dallas pass offense.
Stat No. 2: The Jets pass defense outgained the Jets pass offense.
Stat No. 3: The Jets and Eagles defenses each outscored eight offenses: Cincinnati, Dallas, Denver, Jax, Jets, Miami, New England, and Tennessee.
Stat No. 4: The Lions lost despite 38 points, 478 yards of offense, and 30 first downs.
Stat No. 5: Marty Booker scored more TDs against the Bucs defense than the entire Bears team in the previous five Chicago-Tampa meetings.
Stat No. 6: Miami is 6-3 despite being last in turnover differential.
Stat No. 7: Run-oriented Tampa gained 19 yards rushing at home against the Bears. Yet for months no one wanted free agent DT Ted "Walk-In Freezer" Washington, now Chicago's run-stuff stalwart.
Stat No. 8: The Chesapeake Watershed Region Indigenous Persons were 7-5 last season until Owner/Menace Dan Synder ordered that Jeff George start. The Persons then went on a 1-5 run. Since George was waived, they are 4-3.
Name of the Week: The Browns debuted an RB named Ben Gay.
Buck-Buck-Brawckkkkkkk:Trailing 26-0 in the fourth quarter, Dallas faced fourth and six on the Philadelphia 12. Coaches sent in the field goal unit.
Nostalgia Stat: The Bills retired their first-ever jersey, setting aside forever Jim Kelly's No. 12 during a halftime ceremony, then went on to their seventh consecutive home loss. With Kelly as the starter, Buffalo was 74-23 at home.
Sociological indicator: Last year when the Dolphins retired the No. 13 of Dan Marino, whose accomplishments were about the same as Kelly's—better stats, fewer championships, both whiffed the big game—the Miami ceremony was a nationally televised spectacular featuring rock bands, Broadway staging, fireworks, dry-ice clouds, and gorgeous half-naked dancers. For Sunday's ceremony in Buffalo, Kelly simply walked to the center of the field with his wife, daughter, dad, and handicapped son, then spoke briefly about the importance of loyalty to family. Oh football gods, why did you deny this man a Super Bowl ring?
Rodomontade of the Week: Yes, Randy Moss was great against the Giants—though the inexcusable taunting dance he did during one TD came on a defensive breakdown when he wasn't covered by anyone, and that play had nothing to do with his athletic ability. (Naturally, since it was an easy touchdown, the play was a blitz.)
And what of Moss introducing himself as "aka Superfreak" in the Monday Night Football bit where players state their colleges? Only a coddled star like Moss could get away with this; MNF would have made anyone else re-tape the spot and say, "Randy Moss, Marshall University." Coddling Moss is bad for him and sets a bad example—that the arrogant get away with things. Finally his pop cultural reference is perplexing since in the Rick James song, Superfreak is a woman. Sample lyric:
The girl's a superfreak,
the kind you don't take home to mother.
The kind of girl you read about
in lurid magazines.
Cheerleader of the Week: Reader "Offthekuff" inquires in haiku,
Three more blond babes are
TMQ's cheerleader picks.
Don't you like brunettes?
The whole point of cheerleader babeness is unobtainable showiness, which maxes out at blond. But needless to say, TMQ drools over brunettes and red-heads, too. To prove this, Tuesday Morning Quarterback recommends you go to the Cowboys cheerleaders' swimsuit calendar page, click on the March babe, red-headed gymnastics instructor Ashley Hutchinson, then click either of her upper-left thumbnails, which are the most pleasingly risqué TMQ has seen on any NFL site. Try also the brunet July babe, Brandy Nace, a "student majoring in social relations."
Future historians will surely study the 3,500-word official history of the Cowboys pep squad, which notes every Dallas cheerleader's solemn duty—"This unique group of young women has a deep responsibility: they assume a corporate identity, yet they cannot lose sight of themselves as individuals." Mostly the history officially calls them "girls," not women or the much more precise "babes." Perhaps this means TMQ should dub the Cowboys cheerleaders the 'Girls Girls.
Stop Me Before I Blitz Again! Leading by 10, Atlanta had Bay of Green on the ropes with six minutes left. It's a blitz! Seven gentlemen cross the line, the seven-blitz rarely seen because it rarely works. And it didn't here; 39-yard touchdown pass to Antonio Freeman. Contrapositive proves the rule: The Falcons got their game-icing INT in straight coverage.
AARP Man of the Year: 28-year-old Eddie Kennison announced his retirement a few hours before he was to start a Broncos game.
Local Affiliate Outrage: The Fox affiliate in our nation's capital not only aired the cover-your-eyes Dallas at Philadelphia matchup, it stayed with a contest that became Eagles 36, 'Girls 3 as Panthers-Niners and Packers-Falcons (both Fox-rights matchups) were going down to the final play.
National Programming Outrage: Detroit will host one Thanksgiving Day game at 0-9. Dallas hosts the other at 2-7.
Can It Suck Air Out of Caves? Pundits are talking about a "power vacuum" in Afghanistan. To TMQ, a power vacuum is the incredible Oreck Dual Stack, which "pulls in so much air, two intake tubes are needed." Maybe I should include an Oreck Dual Stack vacuum as a premium if you buy a copy of the incredibly clever titled new book Tuesday Morning Quarterback, which is new stuff, not a collection of past columns, and is now in stores or available here.
Too Cold for Sunbathing on the Shomali Plains, But at Least Now You Won't Be Stoned to Death If You Do: Today's forecast calls for the light of freedom to shine on Kandahar after five years of darkness. In the southern caves region, there will be morning haze from secondary explosions, followed by increasing chance of GPS-guided ordnance. Check current Afghanistan weather conditions here.
Lowest IQ Plays: Tuesday Morning Quarterback proposed Kyle Turley's helmet throw, costing the Saints a game. A reader countered with Leon Lett's 1993 last-second touch of a blocked field goal that cost Dallas a game. TMQ then asked for nominations and was overwhelmed by the below. Criteria specified that the play had to be mentally dumb, as opposed to just an embarrassing mistake. (By the criteria of embarrassing mistakes, we all have low IQ.)
Many, many readers went with the 1978 Giants-Eagles contest, when with a few seconds left, Giants QB Joe Pisarcik needed only to kneel and New York would have won. Instead the Giants tried to run Larry Csonka up the middle; Pisarcik botched the hand-off; Herman Edwards (now coach of the Jets) recovered and returned for the touchdown that gave Philadelphia the game. Don O'Connell vents in haiku,
Dumbest play ever:
Pisarcik hands to Csonka,
Edwards runs it in.
The back story is even dumber. As the Giants huddled with the clock approaching double zeros, offensive coordinator Bob Gibson signaled in the hand-off. Gentlemen in the huddle protested it was crazy to run a play; just kneel down. But the previous week Pisarcik had changed a sideline call, and Gibson told him if he ever did again he would be waived. So though the name Pisarcik has become mud to generations of Giants fans, Gibson was really the chief culprit. Hall-of-Famer Csonka also bears blame. As the team walked toward the line, Csonka whispered to Pisarcik a ridiculous ultomato, that he wouldn't take the ball if the QB tried to give it to him. This contributed to the confusion that caused the drop.
(Linguistics note: An ultimatum is a form of demarche. An ultomato is what Amos and Andy issued in one of their best routines.)
Assuming the dialectic view of historical forces, reader Rob White defends the fiasco as leading to a necessary house-cleaning in the Giants organization. Bob Gibson was fired and never worked as a coach again. By the hammer of Grapthar, Giants fans, you were avenged! Other fallouts included the hiring of Bill Parcells and high draft picks well-used. White's haiku perspective,
Swamp-based fiasco.
But Joe's gift to Herm begot
Simms, Taylor, Parcells.
Many readers proposed last year's play in which Steeler rookie Plaxico Burress caught a pass, fell down untouched, and then—forgetting the primary rules difference between college and pro football—spiked the rock. A Jacksonville player picked up the live ball and ran it back for six as Burress stood emanating waves of befuddlement. "SteveT" notes in haiku,
Burress spikes in err,
opponent returns for touch.
Cowher's brain seizes.
Reader Karen nominates Leon Lett for a second low-IQ distinction: the Super Bowl play in which, running for a seeming fumble-return touchdown against the Bills, Lett began prancing and preening at the 10-yard line, oblivious to the fact that Don Beebe was coming up on him from behind and about to take the ball back.
Reader Rod Hoffman notes that former Steelers WR Dave Smith, the second-most-famous Indiana of Pennsylvania product to perform in the NFL, once combined the above two blunders. In a 1971 game, Smith spiked as he crossed the goal line—except he had mistaken the 5-yard line for the goal line. The ball rolled through the end zone and went over to the opposition as a touchback.
Many, many readers suggested the famous 1964 "Wrong-Way Run" in which Vikings great Jim Marshall recovered a fumble, got spun around, and sprinted the length of the field in the incorrect direction—chased by teammates trying to tackle him! Thinking he had scored a touchdown, Marshall heaved the ball up into the stands; the ruling, safety against Minnesota. This play, a staple of highlight reels, was so charmingly goofy, it's almost a shame to call it dumb. Reader Jim Kiley sums in haiku,
Marshall runs wrong way.
For God's sake, someone stop him!
Niners get safety.
Reader "JCriswell" proposed the 1997 play, in a Giants-Persons contest held at a time when head-butting was the rage, in which Gus Frerotte ran for a touchdown, then celebrated by sprinting to the stadium retaining wall and head-butting it. Frerotte missed the remainder of the game with a neck injury.
Numerous readers suggested the "Bananas Foster" play in a 1990 Steelers-Niners matchup, when Pittsburgh kickoff returner Barry Foster simply watched the ball roll toward his end zone as numerous San Francisco gentlemen bore down, one grabbing the rock and stepping into the end zone for the deciding touchdown. Foster later said he did not know a kickoff is a live ball.
Many readers suggested the "I Keeek a Touchdown" quasi-pass in the 1973 Super Bowl pitting Washington against the undefeated Dolphins. The Marine Mammals led 14-0 with the clock ticking when Cypriot immigrant Garo Yepremian trotted on to attempt a figgie, which was blocked and wound up in his hands. After a moment in which his mental computer scanned for any data on American football rules, Garo casually flipped the ball to the nearest player—who was wearing Washington colors and ran it back for six, briefly endangering the Dolphins' perfect season. Another argument for stricter visa requirements!
(Almost harmonic: Had Yepremian's kick not been bollixed, the 17-0 Dolphins would have capped their perfect season by winning the Super Bowl by a score of 17-0.)
Reader Mike Cojerian suggests the 1995 Dallas-Philadelphia game when, leading by a point, the 'Boys (then actually 'Boys) faced fourth and one on their own 29 with two minutes remaining. Coach Barry Switzer somewhat mysteriously decided to go for it. The run was stuffed, but zebras somewhat mysteriously ruled the ball had not been properly whistled into play, giving Dallas a fresh fourth and one. Switzer went for it again, with the same play and the same result. The Eagles then took over in position for the winning figgie, which they kicked. TMQ remembers looking up to watch the second failed fourth-and-one try and thinking he was viewing a taped replay of the first.
Isn't it interesting that three of the all-time low-IQ plays involve Dallas? And we're talking strictly of on-field activity.
Reader Dave Jackson proposes a charming moment that is not exactly an NFL low but is too good not to relate. It was the 1984 Orange Bowl, Hurricanes versus Cornhuskers. Jackson's family of Patriots fans was watching intently because the then-woeful P-Men held the No. 1 selection in the draft, and several Orange Bowl players were under consideration. Nebraska receiver Irving Fryar streaked into the end zone for what would have been the winning pass and dropped it. Dave reports his late grandfather immediately yelled, "That's it, that's the guy the Patriots are going to pick!" He was right.
The stylish TMQ cap goes to Richard Green of Madison, Wis., whose memorably dumb play comes from the 1962 championship game of the old AFL, old Dallas Texans (now Kansas City Chiefs) against old Houston Oilers (now Tennessee Titans).
Regulation ended tied. Strong gusts were blowing across the field, rendering passes into the wind impossible. As Texans coach Hank Stram sent his captain, Abner Haynes, out for the overtime coin toss, Stram told Haynes if he won to "take the wind"—selecting the upwind goal for the Texans to defend while conceding first possession to Houston. Haynes won, and when the ref asked him his choice, he said, "We'll kick." The ref then turned to the dumbfounded Oilers captain to ask his choice, and of course this gentleman said, "We'll take the wind." Houston ended up with both the ball and the wind advantage.
Dallas went on to prevail in the second overtime—that is, after a quarter changed and the Texans were finally moving with the wind—so Haynes' gaffe did not hurt his team. But given the careful deliberation with which he did something incredibly dumb, this rules as Tuesday Morning Quarterback's lowest IQ NFL play ever.
Haiku of the Week: Submit via the "Fray." As frostbacks continue to assail TMQ, the final two concern Canada's output of QBs and babes. Rich Mahady points out that three Canadians have been Playmate of the Year, including Shannon Tweed, star of B-grade erotica and the unforgettable Cannibal Women in the Avocado Jungle of Death, which launched the career of Bill Maher and which one reviewer described as 90 minutes of "scantily clad heaving bosoms and exposed male torsos."
Niners sev'n and two.
Games decided by a few
can go either way.
—"SageFan" Dallas 'Girls crumble:
Leaf tosses to opponents,
Landry turns in grave.
—Jim Travis
Lions lose another.
Relief—TMQ ignores.
Lions fans pray: No more!
—Dave Truxall James out, Manning sore.
Am dreading final record,
Mora even more.
—Tony Knoderer Frostbacks grow talent.
Theismann, Flutie, Moon, all learned
how in Canada.
—Rich Mahady
Frostbacks grow talent.
Pamela Anderson one,
Shannon Tweed is too.
—Rich Mahady
Next Time Hire Cheerleaders: Naturally, TMQ tuned in the Victoria's Secret lingerie special on ABC. Though as a matter of principle, TMQ favors gratuitous displays of female skin, it's hard to imagine how this hour could have been less appealing. There were the obligatory "personal" interviews with the models, uniformly bland. (At one point the crawl said, "She owns a blue bowling ball.") And there was the obligatory smarmy comic host whose puerile panting comments were supposed to make it all OK by rendering the production juvenile as opposed to erotic. Somehow, in mass culture, smirking about sexuality is OK, but heat is not.
Finally we got to the babes themselves, and TMQ can only say, these are professional beauties? First, tricorder readings suggest the presence of silicon-based life forms. Second, some looked better goin' than comin', if you catch my drift. Most were on the wrong side of emaciation. Fit and trim is one thing, but the Victoria's Secret crew seemed like a doctor should prescribe them milk shakes, if not an IV of Ensure. Half weren't even pretty, and several looked actively awful—yes, TMQ understands that at the pinnacle of high fashion, the goal is to look awful. All were spending too much time indoors under artificial light.
Football cheerleaders, on the other hand, are fit and trim from dancing and working out, not from starving themselves. They spend hours jumping around outdoors, which is healthful. Some can bench-press their body weight. As regards female beauty, TMQ would take the Dolphins, Dallas, Broncos, or Raiders cheerleaders over the Victoria's Secret crew in Dixie minute.
And where, by the way, were the nipples? The whole point was to model lingerie, which is sheer, yet not a visible nipple in the entire hour. The models must have been wearing pads or minipasties. This means Victoria's Secret is simultaneously promoting the notion that the female form should be displayed without inhibition and that the nipple is shameful and should be hidden.
Tuesday Morning Quarterback fails to grok the economics of the entire enterprise. Surely the ABC special lured male viewers, but are they huge buyers of lingerie, even as gifts? Most Victoria's Secret customers must be double-X-chromosome, and therefore the special should have featured the Chippendales.
For the same reason, TMQ has long been puzzled by the frequency of bra ads in newspapers. Maybe it's just because they are noticeable, but two of the newspapers TMQ takes, the New York Times and Washington Post, have bra ad after bra ad, always attractive models showing their goods. In one edition of the Times last week, TMQ counted 28 (meaning 14 bras being modeled). Such ads may catch the eyes of men, but do they really make women want to wear more bras? From newspaper advertising, you'd think the American economy was bra-based. Maybe that's why we are in a slump.
This Week's Star Trek Complaint: Fans are upset that the new serial, Enterprise, opens with a pop song rather than the movie-studio-pumped symphonic trill of previous Treks. Brit tenor Russell Watson, who performs the song, cheerfully told the Web site Zap2it of his Enterpriserendition,  "You're going to get it rammed down your throat for a while. By the time they've watched the 20th episode, they'll be thinking, 'Well, it's not that bad.' " TMQ feels the ditty is OK, but "it's not that bad" falls short of ideal as an endorsement from the performer. One is reminded of the Van Halen musical boast, "I ain't the worst that you've seen." No, but …
TMQ Insider Exclusive: Tuesday Morning Quarterback has learned on an exclusive basis that the league will add a new category to its "probable, questionable, doubtful" pregame listing. The new category will be "inexcusable." Remember, this is a TMQ exclusive.
Running Items Department
ObscureCollege Scores: Widener 56, Christopher Newport 7—Division III playoffs. Well, of course an entire team would beat one single person! Christopher Newport, located in tidewater Virginia, was outgained by 420 yards but became the first first-year NCAA football program to appear in a playoff or bowl. Recently the school's Super Speaker series has brought in:
John Douglas, legendary head of the FBI's Investigative Support Unit.
Abe Lincoln, as portrayed by Jim Getty.
Bonus Obscure Score: Pittsburg of Kansas 20, Nebraska-Omaha 7—Division II playoffs. Pitt State, the "only university in the nation with a gorilla as a mascot," issues Gorilla Cards of electronic Banana Bucks. Unfortunately as the Gorillas advanced, Indiana of Pennsylvania was knocked out of its bracket by Saginaw Valley State, eliminating the chance of a Pittsburg of Kansas versus Indiana of Pennsylvania Division II championship.
New York Times Final-Score Score: Once again the Paper of Guesses goes 0-15 in its quixotic attempt to predict an exact NFL final score, bringing the New York Times Final-Score Score to 0-143 this season and 0-403 since TMQ began tracking.
Several readers noted that columnist Gerry Dulac of the Pittsburgh Post-Gazette, who also engages in quixotic attempts to predict exact final scores, correctly forecast Giants 17, Cardinals 10. So far as TMQ knows, of thousands of attempts, this is the only correct prediction from any media source this season.
Reader Animadversion: Debate continues on how many bottomless pits were in the Star Wars movies and whether any had guard rails. TMQ scores it as three: the bottomless pit around the tractor-beam generator in the Obi-Wan movie, the bottomless pit where the emperor gets dethroned by Darth Vader, and the bottomless pit Darth Maul bounces down. The thing Luke fell into at the base of the cloud city was a chute, not a bottomless pit since it had a bottom, which Luke reached. The chute also had a guard rail complete with flashing warning lights, not that it did Luke much good.
Andrew Milner of Ontario—more frostbacks!—maintains that the bottomless pit in the emperor's chamber did have a guard rail. Writer and cultural archivist Ben Domenech has found the smoking gun: this still from the duel scene in Return of the Jedi, in which Vader is leaning against a guard rail. Though a pretty scrawny one, considering that it surrounds a bottomless pit.
Ian Wilson of Ontario laments TMQ's description of British Columbia and vents in haiku,
Frostback ignorance;
thinks Simon Fraser is cold.
Bring rain gear instead.
Reader Jay Savage conducted a close textual analysis of the Oakland cheerleaders site and notes that Raider babe Kelly Belcher is by profession a certified massage therapist, "which means you can pay her to touch you." TMQ could expense it to Slate as column research! Arrgggghhhhhh, why doesn't the site list her phone number?
This Week's Challenge: The above-cited Dave Smith is introduced as the second-most-famous NFL player from Indiana of Pennsylvania University. Name the first. Or tell me who said, "I keeek a touchdown." Reply via the Fray, and be sure to include your e-mail address in the unlikely event your submission is chosen.
---