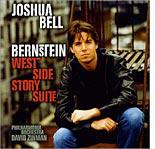 For a man who's been featured in People magazine as one of the "50 Most Beautiful People in the World" and in Glamour magazine as one of its six "It Men of the Millennium," Joshua Bell's a pretty decent violinist. But ask his late teacher Josef Gingold—a student of composer-virtuoso Eugene Ysaye, ex-concertmaster of the Cleveland Orchestra under Maestro George Szell and the greatest American violin teacher of the 20th century (Ivan Galamian notwithstanding)—his opinion on what makes a great musician, and you can expect magazine covers to be pretty low on his list of priorities.
Bell was fed all the proper musical nutrients and now has the gifts—the physical gifts, that is—to nourish the musical community with class and wit. But eight hours a day of études in the hallowed halls of the Meadowmount School of Music or at Indiana University (Gingold's home) only trains your left-hand fingers, your bow arm, and the tiny muscles of your hands. Taste is either in you or it's not.
When Bell burst on the international concert scene some 16 years ago, he played Western-tradition standards to crowds of adoring prodigy-hounds with youthful novelty. However, he's now 33 and has done little but approach great works with superficiality, new derivative compositions with contrived pretensions, and crossover projects of all guises with market-savvy verve. To wit: his Grammy Award of last season for a performance of the violin concerto of contemporary Brahms sound-alike Nicholas Maw. And his previous pop-culture victory was performing the Oscar-winning score to The Red Violin, a piece by the Pulitzer Prized John Corigliano that, while not altogether ridiculous, was, at its heart, a dramatic carpet of tunes meant to give life to the film's cheesy tales of intrigue, romance, and deception.
Or consider Bell's newly released contribution to the canon: a combination of Leonard Bernstein's "Serenade After Plato's 'Symposium,' " Corigliano's arrangement of a Bernstein song from Candide, and a newly written "lite" suite of West Side Story tunes and an arrangement of " Lonely Town"by Tony Award-winning arranger William David Brohn. Of course, Bernstein's skill for fusing populist melody with inventive 20th-century rhythm and harmony is probably still the most engaging effort of any American stage composer. But Brohn's suite based on the piece's themes is a real Golden Era throwback: It sounds like a concoction borne from the slap-job work of a Hollywood arranger who needed to open his variety show with a new, classic medley and had only a few hours to work with. And Bell wastes no time prostituting it like an old-school circus attraction. Watch him play the song "Tonight" during the CD's New York recordings session: his soupy phrasing dripping from musical gravy, fingers flying lightning fast up the fingerboard, double trills spinning fast enough to make your head spin, vibrato oscillating as if it's on Ritalin, body swaying like he's playing for tips in a French restaurant. It's gratuitous.
What's funny is that this is probably just what old Lenny—classical music's most famous drama queen—would have wanted from Bell if he'd OK'd this bastardized series of transcriptions. Look at Bell's rendition of " Maria." He slides into the song's initial tritone with the soupy emotive powers of a Broadway songstress, moving through the first theme with the sort of rubato Bernadette Peters would use to grasp her audience and make them "feel the magic." And his silvery, stratospheric harmonics in Corigliano's arrangement of "Make Our Garden Grow" from Candide evokes that faux-ethereality peppered throughout Steven Sondheim's hit shows like Into the Woods. This is the kind of theater that would make Max Bialystock proud.
But it's exactly this flair for the dramatic that renders Bell a joke in the realm of serious music. Good composers know how to create drama. They write melodies and chords and timbres and rhythms that express what it is that they intend to say. Performers, for all their gifts, are therefore not required to re-compose works with dramatic tricks. They are there to serve the music: to express it the way the composer intended, and then to add their take on it in a respectful manner.
This is the problem with Bell's interpretation of Bernstein's beloved " Serenade." Even today, the "Serenade" brims with the most adorable facets of Leonard Bernstein's personality: his warmth, humor, empathy, and wonderfully conflated attitudes about the meaning of his love and his art. But Bell sleazes these qualities up, making himself the centerpiece in a work that is, at its core, an autobiography of one of music's most cherished souls. Perhaps this is the reason that the CD booklet only features glam portraits of the violinist (did somebody say Zoolander?) and none of Lenny. Or perhaps this is why the CD's Web site doesn't offer audio clips of the "Serenade" like it does for the rest of the record.
Leonard Bernstein had an excuse to be an egomaniac: He was a genius. Bell's excuse—that he has nice hair, that his fingers move fast, and that he can belt out a four-bar melody on his ax with the gusto of Mandy Patinkin—doesn't hold Evian. And in the wake of the death of Isaac Stern, one of this world's deepest violinists, who incidentally premiered the "Serenade" for Lenny, concert music can do without an artist who rides the coattails of his technique to achieve celebrity. Stern, for all of his pomp, was the sort of musician whose interpretations of great works like the "Serenade" made you giggle and cry in public. He filled up scores with sweet sounds and hearty character. Bell's playing makes you feel like you're in an Imax flick about Michael Jordan. Everything is magnified, superfast and superbright, to the point of nausea.
It's possible Bell believes he's doing serious music a service by trying to disguise so-called "meaningful medicine" (the "Serenade") in a spoonful of musical mousse (the West Side Story suite). That would be fine if his interpretations of the medicine held up.
But they don't. And the money Sony Classical spends hyping his career should be going to deeper, equally talented musicians who, with a trip to Bell's hair salon and Barneys, could look as attractive as he does to the record-buying public.
---