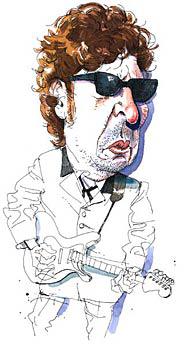 To read the reviews of Bob Dylan's new album, Love and Theft, you would think the rock legend had returned to the salad days of the mid-'60s, when he would churn out a classic every nine months or so. Few if any albums recorded over the past few years have had so many critics fumbling for as many superlatives.
Greil Marcus led the pack with his wildly discursive essay in the Sept. 2 New York Times. In that piece, Marcus, as is his wont, connects Love and Theft to a subterranean tradition of country blues artists from the '20s and '30s that includes Dock Boggs and Charlie Patton—once-forgotten eccentrics that were transformed into modish critical signifiers when Marcus wrote about them in his 1997 book Invisible Republic.
Then Rolling Stone magazine, the most faithful Dylan cheerleader of them all, awarded Love and Theft a five-star rating—a rarified honorific reserved only for outright masterworks. Critic Rob Sheffield, calling Love and Theft a "stone-cold classic," picks up Marcus' cue and links the album's world-weary ruminations to "an America of masquerade and striptease, a world of seedy old-time gin palaces, fast cash, poison whiskey, guilty strangers trying not to make eye contact, pickpockets slapping out-of-towners on the back."
Well, yeah, sure, I guess. If appropriation (theft) can be thought of as a kind of homage (love), then Love and Theft's songs do indeed capture the entropic, elegantly slouched spirit of those old Patton and Boggs recordings. But that hardly qualifies it for a spot in the pantheon of great Dylan albums like Blonde on Blonde, Blood on the Tracks, or even 1997's haunted Time Out of Mind, which featured blood-curdling set-pieces like " Love Sick."
Even for an artist as codependent on the blues as Dylan—who in the past has made elemental song structures sound buoyant and hot-wired— Love and Theft's shopworn 12-bar melodies have the desultory sound of someone who's hit the cruise control button. It does have flashes of greatness; Dylan can still turn a phrase like no one else. "My clothes are wet, tight on my skin/ not as tight as the corner that I've painted myself in," Dylan sings on " Mississippi." And "Moonlight," a breezy shuffle that sounds like a lost Hoagy Carmichael chestnut, seems destined to be added to countless wedding reception mix tapes.
Yet like previous pallid Dylan efforts—Infidels, Oh Mercy, Slow Train Coming—that were hailed as classics upon release but have now been relegated to the dust heap of rock history, Love and Theft has only the surface elements of something special. Dylan's voice sounds committed—he's hitting, rather than just alluding to, the notes—and the band crackles along energetically, but emotionally he's stuck in neutral. To get a sense of how musically indolent and lyrically slack it is, compare Love and Theft to the two albums of vernacular music Dylan recorded in the early '90s: World Gone Wrong and Good as I Been to You.
On those acoustic records, Dylan dug into the murky well of underclass arcana that he had always championed and produced two albums of stirring immediacy. That material, like Good as I Been's "Froggie Went a- Courtin," summoned up something urgent and frisky in Dylan. As an interpreter, he seemed to shed the hard carapace of his cranky persona and let loose a little. That's not the case with the material on Love and Theft. Though it also take its cues from the great American scofflaw songbook, and its songs are peopled by hucksters and emotional castoffs, the tunes are anemic and monochromatic. Cuts like " Lonesome Day Blues" and " Summer Days" have the sludgy momentum of mudslides.
So why has Love and Theft inspired so much praise?
The answer, I think, can be traced back to two recent events. One is Dylan's near-death experience in 1997, when an infection around his heart left critics pondering a Dylan-less universe and obit writers preparing lavish, lengthy encomiums. The other was Dylan's overhyped 60th birthday this past May, which brought his tabloid narrative of decay and renewal full-circle.
Time Out of Mind, an album whose ghostly processionals of impending doom won Dylan a Grammy Award for Album of the Year, was Dylan's best work of the decade. Suddenly, not only was he not dead, he was also relevant again, both People-worthy and creatively rejuvenated.
But as Dylan has grown older, our expectations have changed. In a pop culture world whose standards have sunk so low it seems futile to even carp about it, even serviceable Dylan gets props. So whenever he really puts his heart into something and produces a work like Time Out of Mind, the effect is startling; it's reassuring to know our musty icons can still knock the dust from their muses every once in a while.
What one wants from a great Dylan record is that moment when the ordinary is transmuted into the visionary: the chilling, Buñuelian tableaux of "Visions of Johanna," say, or even foursquare story-songs like " Tangled Up in Blue." It's a palpable, almost physical experience. What Love and Theft provides is a genre exercise, a clutch of wanderer's tales and love laments that effectively capture the craggy ache of vintage white country blues. But it's just that, nothing more.
---