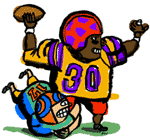 As the NFL determines what to do with its bollixed schedule—whether to postpone the Super Bowl by a week or eliminate the first wild-card round—sports commentators have been weighing in about how little the first round matters. No team seeded fifth or sixth has ever won the Super Bowl, they note, while only one, the 1985 New England Patriots, appeared in the big dance. Since the league adopted the current playoff format in 1990, fifth- and sixth-ranked cards have won 12 of 44 appearances, a .272 composite that trails even the Cincinnati Bengals through the same period. Therefore, many have said, the first wild-card games don't matter anyway.
Oh, ye of little memory for December. The key thing about the first card round is not the fates of the low seeds. The key thing is its effect on the regular season, keeping most of the league in playoff contention in December.
Entering December 2000, no NFL team had clinched a playoff spot while just 12 had been mathematically eliminated. This meant the majority of late regular-season games had significance in the standings. Entering the final two weeks last year, only six had clinched while 11 were still fighting for the remaining slots. Thus the late, determined playoff drives of the Lions, Packers, and Steelers were fascinating to watch; thus the Colts were inspired to prodigious efforts to rescue their season; thus the final outings of the Bills and Jaguars had relevance; thus season-ending games were exciting and important.
Had the fifth and sixth slots in both divisions been eliminated last year, when the final month of play began, fewer than half the league's franchises would have been in contention. With two weeks left, 21 of 31 clubs would have been eliminated. The Bucs, Horsies, Jets, Lions, Packers, and Steelers, all of which played compelling games down the stretch in 2000, would have been redlined and played stinkers with nothing at stake. In fact in the final two weeks of the 2000 season, there would have been just one game—Rams vs. Saints—in which both teams had playoff incentive.
Before the 1990 expansion of the wild-card field, most of the league spent December playing what were in effect exhibitions. The incentive of the final card slots changes that, which is why it is essential to save the full playoff bracket. The big takeoff in NFL ratings and attendance of the last decade has coincided with the enlarged wild-card field in no small part because it makes the final month of the regular season so much more interesting. Ye gods NFL, don't fumble this ball.
In other news: Jerry Rice, 14-yard touchdown catch! Jerry Rice, 33-yard touchdown catch! Man, they must be celebrating in San Francisco. Say what? That black uniform has got to be an optical illusion. Are you trying to tell me the Forty-Niners cut Jerry Rice?
Best Plays of the Week. Best No. 1: Otis Smith of the New England Patriots sets a new NFL record for longest touchdown—in time, not yards—when he holds the field for an incredible 20 seconds in his multiple-cutback, 78-yard INT return against the Colts. This breaks the longest-touchdown time record of 18 seconds set two games ago by DE Chukie Nwokorie of these selfsame Horses. Smith and his teammates, who threw lovely blocks, sensed the opposition was not taking the run-back seriously and gave their all to keep the return going while numerous highly overpaid Indianapolis gentlemen made barely any effort to chase Smith down. Check the end of the play, when Horsies OT Adam Meadows is the last guy with a shot, but instead of trying to tackle Smith he turns and blocks a P-Man.
Worst Plays of the Week. Worst Sequence: Leading Tampa 10-9 at the end of the third, Minnesota had first and goal on the Bucs 2. First snap: pass incomplete to the self-centered, me-first Cris Carter. Second snap: up the middle for 1. Third snap: pass to the self-centered Carter nullified by offensive interference on Carter, who has taken over the Michael Irvin role as leading pusher-offer in the NFL. Loss of 10. Repeat third down: pass incomplete to the me-first Cris Carter. Three of four plays at point-blank range go to Carter, resulting in a net of -10 yards. OK, Carter did have a great catch on the Vikes' winning drive.
Worst No. 2: Leading by three early, the Chesapeake Watershed Region Indigenous Persons faced fourth and inches at the Chiefs'$2 30. They threw. But it wasn't a play-fake designed for a big advance, which can be justified on fourth and short; it was a shaggy-looking crossing pattern designed for a short gain. Jimmy Johnson used to say that if you cannot run the ball for one single yard, you do not deserve to win the game. The Persons did not even try, and did not.
Worst No. 3: Trailing by seven with five minutes to play, the Broncos faced fourth and inches at the Ravens'$2 20. They threw. But it wasn't a play-fake designed for a big advance, which can be justified on fourth and short; it was a shaggy-looking turn-in designed for a short gain. Jimmy Johnson used to say that if you cannot run the ball for one single yard, you do not deserve to win the game. The Broncos did not even try, and did not. Denver, one of the league's best rushing teams, against Baltimore ran 10 snaps needing 3 yards or less for the first. Six were passes.
Best No. 2: Leading Carolina by seven in the third, Green Bay had fourth and inches at the Panthers'$2 7. No pass-wacky nonsense. Power run for the first, and soon the Packers were pulling away.
Best No. 3: Late in the second with the score tied at seven, San Francisco faced fourth and goal on the Jets'$2 1. The Niners kicked the figgie, to much derision from the MNF announcers: With a final of SF 19, NY 17, this derided kick ended up the margin of victory. Not only does it make sense to take points when playing on the road, as the Niners were; generally, you should kick early and go for it late. (Unless trailing big.) Early in the game when it's impossible to predict how scoring will go, just put up points—then you may not have to make all-or-nothing calls later. This principle applies to deuce conversion attempts, too. Another TMQ law of football: Kick Early, Go for It Late.
Best No. 4, Best Defensive: Ahead by one with 42 ticks remaining, the Browns (Release 2.0) had Jax facing second and two at its 30. Last week the Raiders appeared shocked, shocked when the Dolphins worked the sidelines in this situation. Jax tried to work the sidelines, and Cleveland CB Daylon McCutcheon "baited" the Jaguars' backup QB by hanging back, then cutting in front for the pick that iced the game. On its previous possession, two minutes left and first down at the Cleveland 36, rather than grind the clock and attempt the winning figgie as time expired, Jax went pass-wacky on four consecutive snaps. All four clanged to the ground incomplete.
Stats of the Week. Stat No. 1: Seattle recorded its first touchdown of the season at 6:42 p.m. ET on Sept. 30.
Stat No. 2: In Philadelphia, the Cowboys had scoring drives of -4 and -5 yards.
Stat No. 3: Buffalo, Seattle, and Washington have combined for five touchdowns in nine games and have been outscored 269-77.
Stat No. 4: Kurt Warner now has 20 games of 300 or more passing yards in his first 31 starts, which, assuming a 10-year career, puts him on a pace for 110 games of 300 or more. Current record: Dan Marino, 63 in a 17-year career. That polyvalent hadron surge initiator Warner brought with him on the starcruiser from his homeworld sure is coming in handy.
Stop Me Before I Blitz Again! Leading by a point with six minutes remaining, the New York Giants faced third and 16 at the New Orleans 46. All the Saints had to do was play straight coverage (NFL teams convert on average on 15 percent of 15-yards-or-longer downs), and the Giants would stall beyond field-goal range. Instead, it's a blitz! Joe Jurevicius free deep for the touchdown that ices the game.
You Can't See Kurt Warner's Hovercraft Because It's Cloaked: Federal prosecutors recently charged three Veterans Administration employees in Georgia with a five-year embezzlement scheme that netted $6 million spent on "houses, cars, antiques, a Barbie doll collection, a hovercraft and a submarine," according to the Associated Press. Presumably it is so common for U.S. government employees to own hovercraft and submarines that the trio did not arouse suspicion. TMQ wonders if Robert Hanssen was tooling up to FBI headquarters in a hovercraft. For all we know, there's still one sitting in his parking space, and FBI internal security specialists have yet to notice.
The AP report did not specify which make and model of hovercraft the alleged embezzlers obtained or whether it had a CD player. Universal Hovercraft will sell you plans and a build-it-yourself videocassette ("If you have any questions that relate to the construction of your hovercraft you must get this video!") but not the finished article. Hovercraft will someday replace boats, the company maintains, because hovercraft are faster and "pass safely over a swimmer or skier." Airboard of Australia offers single-rider hovercraft platforms, apparently for the highly specialized purpose of getting from one end of a parking lot to the other. Check out the staged photos of smiling models hanging on to these things for dear life. TMQ's favorite from the Airboard FAQs list: "How fast does it go and how do you stop it?"
Through dogged investigation, Tuesday Morning Quarterback has learned which U-boat the VA workers purchased: a SportSub III, "our signature model" at International Venture Corp., world leader in the fast-growing field of personal submarines. Promotional brochures say the SportSub III seats three if combined body weight does not exceed 400 pounds. Based on trends in American girth, this means SportSub IV is what the vessel should really be named. (Specs note "occupants are half buoyant," and TMQ bets they will be!) Top speed is five knots, and max depth 130 feet. Sadly, torpedoes are not available at this time, but certain Ukrainian arms dealers may be able to provide assistance if your intentions are strictly peaceful. No word on whether International Venture is working on an underwater SUV.
Dating rituals note: If you fly your hovercraft to your personal submarine and still cannot get girls, TMQ advises that you consider the priesthood.
Plug of the Week: The incredibly cleverly titled new book Tuesday Morning Quarterback has just arrived in stores, or you can buy it here. This major work of literature contains dozens of new haikus and staggering (possibly, staggered) original insights not found in the column. Among the new haiku:
Can't use bathroom scale.
Press guide lists weight estimate.
The modern DT.
—TMQ, 2001
Also, it's time for some reader haiku. Submit them via "The Fray" using some incredibly clever title such as "Reader Haiku."
Though Maybe the Ravens Should Be Sent to Afghanistan: Given the horribleness of Sept. 11, it's best to let pass some of the less-considered pronouncements depicting football as symbolic of patriotism or national security. Falling into the category of ridiculous, however, is the claim by headline-obsessed New York Sen. Charles Schumer that the Super Bowl should move to Giants Stadium because "I can think of no better way to send a message to the terrorists." Beyond the absurdity of supposing that freedom-hating, child-murdering, misogynist barbarian fanatics will be intimidated by the site selection of a sporting event, the means to "send a message" in this case is ordnance, not NFL broadcasts. Scary thought: Schumer is telling the truth when he says that "I can think of no better."
The Future Lies Ahead: The slogan for the PBS series Evolution was "a journey into where we're from and where we're going." A journey … to where we're going. What other kind of journey is there?
Great Moments in Management No. 1: The tastefully named Gregg Williams, Buffalo's rookie head coach, inherited a team that finished ninth in the league in offense last year. He promptly cut four veteran offensive starters, criticizing them as ineffective, and junked Buffalo's established attack for an all-new scheme. Result? The 0-3 Bills have fallen to 23rd in offense. One starter Williams discarded, Doug Flutie, has his new club undefeated. Another player Williams wanted no part of, RB Antowain Smith, just outperformed Edgerrin James against the Colts, running and catching for 152 yards.
The too-short Flutie is now 24-9 as a starter since returning to the NFL three years ago. Rob Johnson, whom the Bills kept instead of Flutie, is 8-15 in the same period. Johnson has lost his last six straight; Flutie is 5-1 in his last six. Explain again, please, why it was hugely, hugely controversial whom Buffalo management should have kept? Apparently if Bills coaches were offered a night at the Hyatt Regency Lake Tahoe with either Jessica Biel or Dame Judi Dench, they would spend weeks reviewing film, hold agonized press conferences, then pick Dench.
Great Moments in Management No. 2: The decision by the Chesapeake Watershed Region Indigenous Persons to release starting QB Jeff George two weeks into the season may appear to set a record for wackiness, but that record is already held by the team's initial commitment to George. Last season, remember, the Persons were 7-5 entering the home stretch with Pro Bowl QB Brad Johnson at the helm. Owner/Lunatic Dan Snyder ordered that George be named starter. When coach Norv Turner refused, the Owner/Lunatic fired Turner. Under George, the Persons finished out 1-3 and missed the playoffs.
Then in the offseason, Snyder insisted the Persons commit to George long-term, letting Johnson leave in free agency. This despite the fact that George has been run out of town on a rail everywhere he's been: Indy, Atlanta, Oakland, and Minnesota were all immensely relieved to drop him off under the DEPARTURES sign at the airport. Now George is officially a fiasco at Washington, too. His bottom line: 1-6 as a Persons starter. Brad Johnson was 17-12 as a starter with the same team.
In return for ruining their 2001 season, George will still receive almost $4 million in guaranteed payments from the Persons. Since winter of 2000, Owner/Lunatic Snyder has thrown just shy of $20 million at players no longer with the team: George, Deion Sanders, and Mark Carrier. Over a slightly longer period, the Persons have paid out $17 million in bonuses to QBs Heath Shuler, Gus Frerotte, and George while surrendering first-, second-, and third-round draft picks for Johnson—then let all of them go. Now the Persons' starting job falls to Tony Banks, who himself has been run out of town on a rail everywhere he's been.
Has coach Marty Schottenheimer, who supported the George-over-Johnson decision, completely lost it or merely been infected with whatever virus Snyder transmits? And TMQ wonders, how did Snyder become a rich businessman when he possesses such keen judgment? Snyder bought the Persons with funds obtained by selling his marketing firm, Snyder Communications, for a reported $2 billion. One hopes the buyers had the books audited first.
This Week's Star Trek Complaint: Regarding the Enterprise pilot, TMQ agrees that the scene in which the Vulcan mega-babe has to strip to underpants and a no-bra cut-off T-shirt, then slowly rub herself with "decontaminant" as the camera does loving close-ups, was totally gratuitous and transparent. That was the best thing about it! TMQ supports any gratuitous reason for a mega-babe to strip and touch herself. (TMQ also supports transparent.) The sham rationalization for this cheesecake scene didn't bother me. What bothered me was all the other scenes.
Has Dan Snyder taken over the Roddenberry franchise, too? Maybe the series premiere could have been worse, but it's hard to imagine how. (OK, if it had starred Jeff George.) Supposedly we are seeing humanity's first launch of a true starship, but the event has all the high drama of test-driving a used Subaru. Vulcans and humans snarl at each other a lot; new Enterprise crew members have no detectable character traits except rudeness; one joke in two hours. (Essential to the old Captain Kirk episodes was levity.) Apparently in 150 years, human beings will be humorless, impolite, and make every decision by shouting. UPN claims $10 million was spent on the Enterprise pilot; the network should ask for its money back. "Millions for sets but not one cent for writing!" appears to be the new Star Trek motto.
And how are we supposed to figure Klingon evolution? First there was the Klingon look in the Captain Kirk episodes; then a different look in the Captain Picard episodes; then a third appearance in the Captain Kirk theatrical movies; then a fourth look in the Sisko/Janeway epoch. Now in Enterprise, Klingons have the final, fourth look, although the new show is set more than a century before any of the later mutations.
Hidden Indicator of the Week: Eight of the week's losing teams scored either 13 or 14 points. This is the kind of hidden indicator that is essential to an insider's understanding of the game. Unfortunately, Tuesday Morning Quarterback has no idea what it means.
Running Items Department
ObscureCollegeScore of the Week: Bemidji State 47, Northern of South Dakota 46. BSU has one of Earth's prettiest campuses, located on mighty Bemidji Lake in northern Minnesota's thousand-lakes district. Student Amanda Johnson from Deer River, Minn., enthuses on the school's Web site, "I like BSU because of the class sizes, the outstanding psychology program, the environment, and I have trees outside my dorm room that I can see every day!"
Bonus Obscure Score: Denison 52, Kenyon 50 in triple overtime. This contest was tied at 37 at the end of regulation after both teams scored touchdowns in the final minute and both missed extra-point kicks that would have won the game. Located in Granville, Ohio, Denison offers a concentration formally called Queer Studies that speaks of itself exclusively in capital letters. From the course catalog:
QS 400: Senior Seminar. This is a capstone course for the Queer Studies concentration during the fall semester, when it may also serve to help students apply Queer Theory to a senior project or honors project in their chosen major.
No one calls Darwin's idea Evolution Theory. Apparently at Denison, they think they're on to something more important.
Double Bonus Obscure Score: Ferrum 56, Averett 6.
Most Embarrassing Dennis Miller Moment: His monologue has disappeared, and the top-10 Dennis Miller comments section, much promoted last year, is gone from the MNF Web site. Miller is evolving into a faux jock reading stats off the monitor. And is it me or, standing between Al and Dan last night, did Miller look visibly smaller? Maybe he's starting on smaller-pill therapy, in hopes of going down a rabbit hole.
New York Times Final-Score Score: Once again the Paper of Record goes 0-14 in its quixotic attempt to predict an exact final score, bringing the New York Times Final-Score Score to 0-43 for this season and 0-303 since TMQ began tracking.
Misery loves company: The Harmon Forecast, which appears on CBS Sportsline  and is billed as based on an incredibly scientifically advanced "mathematical formula" that picks winners "between 72 and 78 percent of the time," picked the winner for just five of the 14 games this weekend, a scientifically advanced 36 percent success rate.
Reader Animadversion: Reader Mark objected to TMQ's statement that the Colts had used the no-huddle to paste the Bills, inventors of the no-huddle; Mark protested that the Sam Wyche-Boomer Esiason Bengals sometimes ran without a huddle in the late 1980s, just before the Bills' no-huddle epoch. Yes, but the Cincinnati tactic was largely a gimmick designed to catch the defense with too many men on the field. (Substitution rules were different in the 1980s). Buffalo was the first team to run a true no-huddle with the entire game plan called at the line.
Several readers entered into earnest disputation regarding whether an onside kick counts as a fake kick, considering that the ball does end up being kicked. The football gods have spoken, and an onside kick is a fake kick—fakery is its essence.
Last Week's Question. The challenge was to find embedded in the column a quotation from a famous work of literature.
Many readers cited the phrase "all worlds end," from the seventh book of the Chronicles of Narnia. But this was identified in the column as a C.S. Lewis quote, thus hardly likely to be the challenge answer. Several readers jumped on the unattributed quote, "Yet upon this field were reckless illusions driv' down," in the item comparing the Ravens' loss to Cincinnati with Sparta's loss to Thebes in 371 BC. A common source guess was the Iliad and the Odyssey. Mike Henry guessed the quote was from the Greek poet Hermesianax. "Adas" supposed it came from Plutarch's Life of Pelopidas, in the Dryden edition. (Please! I've never cared for that translation.) Clint Laing said the reference must trace to Xenophon's Respublica Lacedaemoniorum. My, how literate is the TMQ audience. However, "Yet upon this field were reckless illusions driv' down" was made up. Though for all TMQ knows, Hermesianax had a popular song based on it, with a title something like, "Baby I Wanna Driv' You Down Tonight."
Reader David Woodbury, cleverly titling his entry "Miss Tennessee Naked" to ensure TMQ would click it, supposed that the item subhead Buck-Buck-Brawckkkkkkk, about timorous punting behavior, is "the very last line of the original draft manuscript of Sally Hobson's classic Chicken Little." Close, because subheads were the key. The subhead There's More of Gravy Than of Grave in You is a line from A Christmas Carol, spoken by Scrooge to Marley's ghost.
This week's stylish TMQ cap goes to Frank Hightower of Boulder, Colo., who both gave the correct answer and, showing excellent literary taste, said he was a buyer of TMQ's incredibly cleverly titled new book, Tuesday Morning Quarterback. TMQ also nods to Tim Lowell, who reported that his favorite of the many Christmas Carol remakes was the WKRP in Cincinnati interpretation with Venus Flytrap as the Ghost of Christmas Present. What a performance Mr. Flytrap gave! Five alert readers pointed out that "there's more of gravy than of grave about you" is the exact quotation, and "Decorum" proposed that the quote from swimsuit-victor Miss Tennessee—"Ever since I was a child I was taught to exercise, even if it was just walking" —must hail from Christmas Carol. Ah, if only our editions of Dickens included swimsuit photos of Miss Tennessee.
UB-TMQ (New Competition): How does it work? If you can't figure it out, we're not going to tell you.
Alright, here's how it works: UB-TMQ. Using The Fray, submit an item or comment (100 words max) that should have run in Tuesday Morning Quarterback. The most amusing will appear in the following week's column, along with the author's name and hometown, and each honoree may receive one of the highly coveted TMQ caps. All decisions regarding merit will be completely arbitrary. Be sure to include your e-mail in the unlikely event your submission is chosen.
---