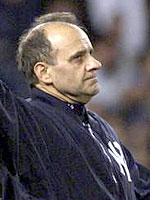 In the disastrous sixth inning of Saturday's Yankees-Mariners game, in which Seattle scored seven runs and took a 9-2 lead, New York manager Joe Torre quickly conceded defeat and began positioning his team for Sunday. He did this by lifting Mike Stanton for Mark Wohlers right after the Mariners busted the game open, not letting his prized setup man waste so much as a single pitch. This accomplished three things:
1) It saved Stanton for games they had a chance to win.
2) It tested Wohlers. And lest there be the slightest doubt about it, let's say it here: He flunked hard, bad, and ugly. The ex-Braves closer will not be seen again in the postseason—or maybe even in pinstripes—unless there's another colossal blowout or an endless extra-innings contest (and even in that case, Torre would probably prefer to hand the ball to sixtysomething pitching coach Mel Stottlemyre).
3) It softened up the Mariners lineup, it seems, for Sunday's starter Roger Clemens. Just look at the way Bret Boone went after Clemens in the first inning of Game 4—he swung and missed at three pitches that came in around neck high. No one has ever hit a neck-high Clemens fastball. No one has probably ever fouled one off. Boone must have been dreaming that Wohlers was still on the mound. Clemens, as it turned out, did not have his best stuff, but the Mariners' bats didn't seem to have any hits left in them. The whole lineup looked wobbly and awkward at the plate.
On Sunday, the Yankee hitters faced little that was either neck high or particularly fast. Seattle starter Paul Abbott, the most unimpressive 17-4 pitcher of all time, walked eight of the 21 batters he faced. Yet the Yankees made odd choices—choices that show that while they may have defeated the Oakland A's in the first round of the playoffs, they failed to pick up at least one of their opponents' winning habits. The A's are one of the few teams that understand how overvalued stolen bases are. Their theory is that an even relatively small chance of getting thrown out is just not worth it because you're taking the bat out of your hitter's hands. For the same reason, they don't lay down a lot of sacrifice bunts, either.
In the first three innings of yesterday's game, the Yankees lost two runners on the base paths (one on a pathetic stolen-base attempt by Bernie Williams that, let's hope for his sake, was a botched hit and run) and also bunted for a sacrifice, essentially wasting one out per inning against a pitcher who was laboring from the first pitch. Why would they do this? Why would they not look at a chucker like Abbott and think, "We can drive this dude out of the game in three innings or less"? Their failure to think big in terms of their own offensive prowess gave life to Abbott, and he survived five innings without allowing a hit. He neutralized the huge advantage—think Clemens versus Abbott, who wins that war?—the Yankees had to be counting on.
When Clemens and Abbott exited after the fifth, the game was scoreless, and from that point forward, should have belonged to the Mariners. Seattle has a deep bullpen, an array of crafty, powerful throwers. The Yankees' pen is extraordinary on the front line—Mariano Rivera, Mike Stanton, and Ramiro Mendoza—but then it drops off a cliff. There's Wohlers and then there's … oh, never mind, just remember to switch off the TV set when you see Torre signal to the pen with an expression of deep worry and pre-emptive regret etched on his face.
By foundering against the all-ready-to-founder-himself Abbott, the Yankees put themselves in a position where they had to beat the Seattle bullpen. (They did, of course, thanks to an improbable home run by Alfonso Soriano, New York's newest postseason hero.) Why does this team prefer to push themselves to the brink of losing before emerging on top? Do they have to do it this way? Tonight is the test. They can close out the series at home with Andy Pettitte scheduled to throw against Aaron Sele, another gigantic edge in starting pitching. The Yankees can and should attack from the outset. Forget stolen bases. Forget bunts. Take it to Sele. If the Yankees don't, they've got Freddy Garcia and Jamie Moyer waiting for them in Seattle. Not to mention the fact that every game the series goes longer is another day of rest for the Diamondbacks.
---