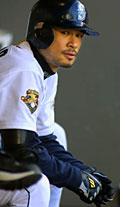 When it comes to winning a big game against a superior opponent, there is a fair amount a football or basketball coach can do to give their undermanned team a chance to win. They can draw up a totally new offense; they can recklessly blitz or full-court press every time the other team has the ball. And if that fails, they can scream their lungs out and hope to inspire or even frighten their team to an improbable victory. There is no guarantee that any of this will work—most times, it doesn't—but there's no shortage of schemes and tactics to try out.
Baseball, on the other hand, is like those battle scenes you see in Civil War movies, the ones where the troops methodically march up to the firing line in columns and blast away at each other. No element of surprise, no strategy, just let her rip and see who's left standing when the ammo runs out. When the playoffs begin, the baseball manager's job is just about done. The lineup will be the same, or nearly the same, for every game. He will go with his top three or four starters, and there will be little dispute about who these guys are. Rousing pre-game speeches are rare. So are moments of strategic genius. Yes, there will be some key, nail-biting junctures when the manager will have to decide whether to bunt or hit and run or whether to leave his tiring starter in for one more out. But even these decisions will be largely conditioned by what he's done all year. In the playoffs, it's not time to break out and start doing something new. The manager is supposed to keep doing whatever it was that got his team there.
Bearing that in mind, then, we start our assessment of the baseball playoffs with the idea that there are no prescriptions to offer any of the various underdogs. We can only construct a vision of what might happen, and that vision begins by subtracting the four National League clubs, the whole lot of them, from the outset. For all intents and purposes, Barry Bonds took the National League pennant this year. The Braves are worn out, the Cardinals lack pep and desire, the Astros have always enjoyed caving in the playoffs, and the Diamondbacks pin their hopes on just two arms and one bat. (OK, not the worst proposition in the world, considering the quality of Arizona's two arms. Some teams, like the '88 Dodgers, have won on the strength of just one hot pitcher. So let's allow Arizona a slight glimmer of hope.)
The story this year belongs to the American League; it seems almost certain that's where baseball's next world champions will come from, as they have for eight of the last 10 World Series. But which team? The obvious favorites are the Mariners. With a lineup that in spring training looked good for maybe 85 wins, they have played great baseball almost nonstop, and there's no cold, hard reason to believe their run will end short of the World Series. They still seem far from unbeatable talent-wise, but it's the intangibles that keep expectations high. The Mariners have grown accustomed to doing what it takes to win games, in small ways and big, and there is no more powerful force in baseball. So, under what scenarios might the other AL teams possibly overcome Seattle?
We'll start with the Mariners' first-round opponent, the Cleveland Indians. The best game of the entire 2001 Major League Baseball season, one of the greatest non-playoff games of all time, was the Indians' frenetic comeback from 12 runs down to beat the Mariners 15-14 in 11 innings on Aug. 5. It is asking too much that such a feat ever be duplicated again, much less in a little five-game showdown of theirs, but this memorable game provides the template for how the Indians can get past the Mariners: wild slugfests that chew up every arm on the staff. Just one slugfest early in the series could skew the balance of power because suddenly both teams' bullpens will be shot—and if your bullpen is, like Cleveland's, somewhat shot to begin with, it can't hurt. On offense, the Indians can go toe-to-toe with Seattle; the clubs were second and first respectively in hitting. And the Indians hit many more home runs, 212 to 169.
If Cleveland needs slugfests, Oakland needs pitching duels. Their top three starters (Mark Mulder, Tim Hudson, and Barry Zito) are sensational, poised to eclipse even the Braves' vaunted triumvirate this year (though it'll be a miracle if Oakland can afford to keep them all in the green and gold for the duration of their careers). Even the A's fourth starter, Cory Lidle, showed good, steady stuff this season, rising improbably from the Devil Rays scrapheap. The A's pitchers will have to keep the games close because the Oakland attack is wimpier than it looks. First baseman Jason Giambi is a powerhouse, but even after General Manager Billy Beane's extensive retooling, there are some surprising holes in the lineup: a catcher who can't hit; a spunky rookie at second base who started strong but faded. Guys they really depend on to produce runs, such as Jermaine Dye and Johnny Damon, are decent hitters, but do they strike fear in the hearts of pitchers? Not the ones they'll be facing in the postseason.
As for the Yankees, they first have to get through Oakland, who made them look creaky and vulnerable in their last encounter of the regular season (not to mention last year's first-round playoff series). New York has a better chance than you might think, though. The key to Oakland's success as a team is that Beane builds his roster around two essential, but often overlooked, talents—patience at the plate and control on the mound. In other words, your hitters ought to draw a lot of walks, and your pitchers ought not to allow them. If you do that, you minimize your chances of beating yourself and maximize the chances of the other team beating themselves. Beautiful.
The Yankees, however, are probably the least susceptible of all the teams in the league to a strategy like this. That's because they're a deeply experienced club, and they excel at nothing if not discipline. It's how and why they've won four of the last five years, and it's the key to them beating Oakland and then Seattle. If the Yankees play the way they want, every game will be painstakingly tight; they'll depend on the other team to blow it on a mistake—a hanging curve, a bobbled grounder—before they do. The Yankees have a rotation as good as anyone's, better, in fact, if Mike Mussina continues his dominating ways into the playoffs. There is also, of course, the fearless headhunter Roger Clemens, and closer Mariano Rivera, historically flawless in the postseason. If hobbled former standouts like El Duque and Paul O'Neill play through their ailments and contribute in any significant way at all, there's a decent chance the Yankees will make it five of six. Don't bet against it.
---