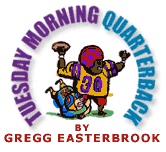 In the Super Bowl, Brandon Stokley of the Ravens streaks past cornerback/tawdry pitchman Jason Sehorn of the Giants for a long touchdown catch and the game's first score. Sehorn turns and waves in theatrical disgust toward the nearest safety, as if to tell the crowd, "Blown coverage, his fault." In last week's Thursday game, Eric Moulds of the Bills streaks past CB Fernando Bryant of Jax for a long touchdown; Bryant turns and histrionically points at the safety. In Sunday's Detroit-Tennessee contest, fourth and 10 with a minute remaining, Desmond Howard streaks past CB Andre Dyson of the Flaming Thumbtacks for the long touchdown that ties it; Dyson turns and makes exaggerated gestures of disgust toward the safety.
Increasingly when cornerbacks get scorched, they transfer blame to safeties by self-pitying crowd gestures. But somehow TMQ doubts that corners are always in position and safeties are always out of position. In this media age, the cornerback imperative has shifted from cover the receiver to cover your ass.
Take the Detroit-Tennessee play. The Thumbtacks could not have been in a coverage that called for Dyson to "release" his man deep to a safety because there were two WRs on the side Dyson was defending and one of the Titan safeties was blitzing; by numbers, Dyson must have been man-on and required to stick with Howard. (And don't get TMQ started about why, with fourth and 10 and a stop that means the game's over, Tennessee called a safety blitz rather than straight coverage.) Dyson blew the assignment, and his instinct was to blame a co-worker. He's only following the example of the much publicized Sehorn, who when he made the first blunder of the Super Bowl, rather than thump his chest to signify "my fault," immediately pointed the finger at a teammate.
And it's always corners gesticulating at safeties, which may be the NFL's class structure. Cornerbacks earn more—starting CBs average $2 million per year versus $1.2 million for starting safeties. So being higher-alpha, the CBs get to shift blame, whereas if a safety points at a CB, he is calling out his better. Instructive in this regard is that it's become common for quarterbacks to express histrionic exasperation when a receiver drops a pass. But WRs are expected to be stoic if they are open and the QB sails the ball into the dirt. Money status is the explanation. Starting quarterbacks average $3.9 million annually versus $1.8 million for starting WRs.
There is no shame in making a mistake: You can't play sports, or do anything else, without the occasional boneheaded slip-up. There is virtue in teamwork—which entails admitting your errors and standing fast with colleagues who err. But just as blame-shifting now is the rule in politics and big business, it's become the rule among cornerbacks, for whom no wind of blame can blow. Corners should stop whining and either be in position or keep within the family any instances when teammates are not. Fans and sportswriters should stop falling for it when a corner melodramatically points to a safety to distract everyone from the scorch marks on his own jersey.
In other NFL news, too short Doug Flutie is now 25-11 as a starter since returning to the league three years ago, a figure bested only by Kurt Warner in that span. On Sunday the Broncos, who normally play coverage-based defense, blitzed Flutie like mad without effect. The occasional blitz that comes as a surprise is unpleasant for any quarterback. But the expected blitz is something else altogether—good QBs want to be blitzed because this means receivers will be man-to-man, every QB's first choice. As the Denver blitz intensified in the second half, the too short Flutie had a sly look on his face that may be characterized as, "Please don't throw me into that blitz patch."
Best Plays of the Week: Honoring the sports lore that says you cannot dance with the champ, you gotta knock him down, last week the Packers, holding a slim lead, risked a field goal shot in order to try an extra snap with seconds left in the first half. They scored a touchdown and were on their way to a win over defending champion Baltimore. This week the Browns (Release 2.0) faced these selfsame Ravens. Leading by a slim four points in the third, the Browns had fourth and one on the Baltimore 30. They went for it, converted, and on the next play scored the touch that provided the winning margin.
Best Because Refs Didn't Notice: The Bears play-faked with goal-to-go against the Bengals, and lumbering tight end Fred Baxter caught for six. But to make the run fake convincing, Baxter first fired downfield and smashed into the LB covering him. Thus Chicago should have been flagged for offensive interference. Refs have a blind spot about offensive interference when it first appears the player is run-blocking.
Best and Worst Simultaneously: The Rams lined up Kurt Warner split wide and RB Trung Canidate behind center; Canidate ran the direct snap for a touchdown, Warner looking bemused from the flank. As TMQ explained in a column last year, when QBs split wide on trick plays, such gentlemen can safely be ignored. This is a best for the endlessly creative Rams offense and a worst for the Jets defense because it covered Warner while ignoring Canidate. And a note to maybe 50,000 sportscasters—the man's name is Canidate, not "Candidate."
Worst Plays of the Week: Game scoreless in the first at Minneapolis, the Packers faced fourth and two on the Minnesota 8. An immutable TMQ law of football dictates: Kick Early, Go for It Late. This is especially true on the road, where getting on the board early helps. Instead the Packers went for it and failed, then went on to lose.
Worst No. 2: Trailing by 17 with six minutes remaining, Denver faced fourth and 15 at the Bolts'$2 24. They kicked and missed; game over. Yes, a 17-point deficit means you must score three times. But the Broncs were at the desperation point, and only changing the flow of the contest with a TD might have saved them. Thus Denver failed to observe the second clause of the law: Kick Early, Go for It Late.
Best to Worst Sequence: Carolina had three first-and-goal situations against the Chesapeake Watershed Region Indigenous Persons. For the initial opportunity, the Panthers play-faked; touchdown to a lumbering tight end. This followed the law of goal-line situations, Regular Pass Does Not Equal Victory: At the end zone only play fakes, power runs, and roll-outs work because the defense has so little territory to protect that regular pass plays become impossible. Yet on its second and third goal-to-go chances, Carolina called regular passes. Result? Two interceptions, and a Panthers loss by three.
Best to Worst Single Play: Needing a touchdown to tie, the Chiefs took possession on their own 1 with 1:05 remaining. They moved all the way to the Cardinals'$2 1—a 98-yard drive—to set up a final do-or-die snap with the clock almost at zero. Did they play-fake, power-run, or roll out? Regular pass; interception.
Worst Trifling With the Football Gods: Leading by 24 late in the third against the Jets, the Rams onside-kicked. They recovered and won (after all, Fake Kick = Victory) but would have won anyway. The football gods will be not amused by such poor sportsmanship. Watch for woe to befall St. Louis.
Stats of the Week: The Giants outgained Philadelphia 213 yards to 57 in the first half and still lost.
Stat No. 2: The Persons recorded their third touchdown of the season at 3:34 p.m. ET on Oct. 20.
Stat No. 3: St. Louis has won both games against New York state (Giants, Jets) while Baltimore has lost both games against Ohio (Cincinnati, Cleveland).
Stat No. 4: Stretching back to last season, the Steelers are on a 13-5 run—if all in one season, a conference championship year.
Stat No. 5: In two meetings over four weeks, the Patriots outscored the Horsies 82-30. Aye caramba. Kansas City is 1-5 despite having been outscored by just six total points.
Stat No. 6: When the Arizona (CAUTION: MAY CONTAIN FOOTBALL-LIKE SUBSTANCE) Cardinals achieved a 15-point edge over Kansas City, it was the first time in three and a half seasons the Az-Men held a two-touchdown lead.
Nedney Unit Active! Joe Nedney, last season's Tuesday Morning Quarterback Player of the Year, has hit long last-second game-winning kicks for the Flaming Thumbtacks on consecutive weeks. Appellation note: The ultimate place-kicker name would be "Olindo Nedney."
I Don't Wish To Alarm You But … The Bears are in first place.
Harmonic Convergence: David Patten of the Patriots, a waiver-wire gentleman, became the first player since Walter Payton in 1979 to run for a touchdown, catch for a touchdown, and throw for a touchdown in the same game. Patten performed his feat on Oct. 21—the same day as Payton.
Mega-Babe of the Week: Recently InStyle, a mainstream magazine, pushed the boundary in the correct direction by featuring Kate Hudson nude on the cover (hands strategically placed). The accompanying in-depth interview boiled down to this from Hudson: "I love being naked." There was also a data box about the photo shoot, which TMQ feels moved to quote:
Makeup: "We wanted her to look natural and tastefully sexy," says makeup artist Genevieve. Laura Mercier Sun Dust bronzing powder was applied all over Hudson's body to achieve a sun-kissed look.Accessories: Many pairs of shoes and lots of jewelry.Clothes: None.
Tastefully nude! And if that wasn't really her tan, TMQ's only complaint is that he was not the one who applied the Laura Mercier Sun Dust. The idea that a woman is most erotic when nude but wearing shoes is something our seminar will address later in the semester.
The cover line of InStyle asked, "What's Sexy Now?" Incredible, up-to-the-minute answer—what's sexy now are naked babes. Curiously, all mega-babes who posed for the issue were in various stages of undress, while all celebrity hunks who posed were fully clothed.
At least equality was achieved in the accompanying in-depth interviews, which were uniformly idiotic. Asked what's sexy, mega-babe Kate Beckinsale said she is turned on by corsets because "I love the underneath-ness of them." Mega-hunk Mark Ruffalo opined, "It's the way you move yourself while climbing a tree that's sexy." Heather Locklear decreed that "Jeans are always sexy, whether you wear them loose, tight, high, low or just down around your ankles." Greg Kinnear declared, "Music and sexuality are very compatible and, when they're done right, completely interchangeable."
Music and sex are definitely not interchangeable, or else there would be Bose speakers everywhere.
Professor, the Genetic Engineering Experiment Is Working: Pittsburgh's 250-pound Jerome Bettis outran two skinny DBs on a touchdown jaunt, and Minnesota's 265-pound Daunte Culpepper outran two skinny DBs on a touchdown jaunt.
Plug of the Week: The incredibly cleverly titled Tuesday Morning Quarterback is now in stores, or you can buy it here. New stuff, not a collection of past columns. Among the new haiku:
Headphones slam to ground.
Clipboard sails, expletives heard.
Loss on fourth and one.
—TMQ, 2001
It's a Double Reverse! That's what Phil Simms, Chris Berman, and others who should know better said Sunday when the Bolts had a RB start left, then a WR come back right, then WR Curtis Conway end up running left for 28 yards. But watch the pea very closely to see which cup it is under! Doug Flutie never actually handed off to the RB. The football only changed direction once, from the first WR to Conway, and thus it was a single reverse, though a darn spiffy one. Tuesday Morning Quarterback continues to maintain, as per a column last January, that no NFL team in the modern era has run an actual double reverse, which requires the ball to change direction twice.
Reader Haiku: Submit yours via "The Fray." The second below concerns the Super Bowl appearance of the Flaming Thumbtacks, the fourth the Herman Edwards halftime tirade that inspired the Jets' comeback over Miami:
Kordell of Pittsburgh,
allegedly a QB.
Bring us back Bradshaw.
—"harvardgoy"Cruel, cruel genetics—
If only Kevin Dyson
were slightly taller.
—Anton SiriusCris Carter races,
end zone bound, but fumbles ball.
Is it Daunte's fault?
—James KogutkiewiczDown big at the half,
Herm's screams wake up Jets Jets Jets.
Why no pre-game yell?
—Matt Cohen
West Coast Offense Calls for Quick Three-Step Mixed Metaphors: Detroit coach Marty Mornhinweg on whether Ty Detmer or Charlie Batch should start at QB: "I don't want to play musical chairs, so I need one of them to take the bull by the horns and run with it."
Hidden Indictor: Four teams had someone other than a quarterback throw a pass—a receiver (Patriots), a punter (Falcons), a tight end (Titans), and a running back (Steelers). All four teams won their games; no losing team had a non-QB attempt a pass. This is the kind of hidden indicator that is essential to an insider's understanding of the game. Unfortunately, Tuesday Morning Quarterback has no idea what it means.
Running Items Department
ObscureCollegeScore of the Week: Kutztown 21, Cheyney 6. Pennsylvania's Kutztown University, "conveniently located midway between Reading and Allentown," is seeking a new president: Check out the exhaustive 13-step  screening process  that exceeds the vetting of Supreme Court nominees. The school asks students to subscribe to the New York Times, which strikes TMQ as admirable. Kutztown's  FAQs page contains such up-to-the-minute questions as, "Can I register over the phone?"
Bonus Obscure Score: Ithaca 66, Utica 0. With a campus in the gorgeous Finger Lakes region of central New York, Ithaca boasts an enrollment of 2,700 men and 3,500 women. Why wasn't the ratio like that when TMQ went to school? Its $19,192 tuition is considered a bargain for a private liberal-arts college, a disquieting thought. Ithaca offers a major in gerontology, and among the  course requirements  is 344-20700 Death and Immortality. At Ithaca you can study immortality?
Most Embarrassing Dennis Miller Moment: Bad enough that ABC detracted from a good Giants-Eagles contest to feature Regis Philbin in the booth, but Miller schlurping up to him? The whole point of Dennis Miller used to be that he made no truck with people like Philbin; now he curries their favor. Not only is Miller grating as an MNF announcer, the show is ruining him as a comedian.
Obscure College Game of the Year Countdown: The upcoming Obscure Game of the Year—California of Pennsylvania at Indiana of Pennsylvania on Nov. 3—has generated a reader haiku:
Could Cal. of Pa. or
Ind. of Pa. this year defeat
Joe Pa of Pa. State?
—"Arrow"
Not this weekend, at least! Indiana of Pennsylvania thumped Edinboro 21-6 to remain unbeaten approaching the Obscure College Game of the Year, while California of Pennsylvania was tripped by Lock Haven, 24-21, and dropped to 4-2. Good news: The movement to change California of Pennsylvania's designation to Eberly University—some people have the nerve to think California of Pennsylvania is a silly name!—is running into opposition in the Harrisburg statehouse. California of Pennsylvania forever!
New York Times Final-Score Score: The Paper of Record goes 0-13 in its quixotic attempt to predict an exact final score, bringing the New York Times Final-Score Score to 0-85 for this season and 0-345 since TMQ began tracking. Reader Brian Golden's generic prediction of Home Team 24, Visiting Team 10 whiffed at 0-13 in its debut week.
Misery loves company: Columnist Ron Reid of the Philadelphia Inquirer  predicts final scores and went 0-11 for the Sunday picks TMQ checked. Does your hometown newspaper engage in a quixotic attempt to predict final scores? If so, let TMQ know via The Fray, and we'll find more company for the New York Times. (This works only if your hometown paper posts its NFL predictions on the Web.)
Reader Animadversion: Several readers protested that Owner/Putz Dan Snyder of the Persons did not fire defensive coach Ray Rhodes after Rhodes led his charges to a finish of fourth overall. Rather, when Snyder fired Rhodes' boss, Norv Turner, Rhodes decided to leave, too, sensing the approaching disaster that has since occurred. Rhodes is happily in Denver, with two time zones between him and the owner/putz.
Many readers protested TMQ's admission that his interest in celebrity mega-babes is "one-dimensional." The noteworthy parts of celebrity mega-babes, these readers maintained, are three-dimensional. Reader "uno who" stated the concern in haiku:
Only in Flatland
Would a celebrity babe
Have one dimension.
Actually Flatland, fantasy realm of the 19th-century author Edwin Abbott, had two dimensions, and the noteworthy parts of mega-babes can be represented two-dimensionally. But TMQ takes the point.
Many, many readers protested the statement that Detroit's season was "over" at 0-4, pointing out that the 1992 Lightning Bolts opened 0-4 and made the playoffs, the only NFL team ever to accomplish that turnaround. Reader Ed stated the concern in haiku:
Done at oh and four?
Erroneous fact, no doubt.
Chargers, Ninety-two.
A touch, a touch, I do confess. But I knew the 1992 Chargers, the 1992 Chargers were friends of mine, and 2001 Lions, you are no 1992 Chargers. Anyway, Detroit is now 0-5, and its season is: Over. Check out the Chargers' featured cheerleader of the week, elementary schoolteacher Stacey Rogne, who even rendered in two dimensions has noteworthy three-dimensional attributes. Why weren't there teachers like this when TMQ went to school?
UB-TMQ: This week's stylish cap goes to Matt Cohen of Dix Hills, N.Y., who devised a Safire-esque objection to TMQ's warnings about "the sinister plans of Kurt Warner's homeworld, Mithrall, to invade Earth." This sentence was a grammatical loser, Cohen writes, "unless you are suggesting that Mithrall, the planet itself, is going to invade Earth, presumably destroying both entities in a large collision."
This Week's Challenge: Embedded in this column is quotation from a great work of literature. (And I don't mean the incredibly cleverly titled Tuesday Morning Quarterback, but thanks for thinking that.) Identify, append a clever comment, and submit via The Fray. Responses will be honored on a completely arbitrary basis; you may get your name and hometown in the column, plus one of the stylish new TMQ caps, but we promise nothing. Remember to include your e-mail in the remote event your submission in chosen.
---