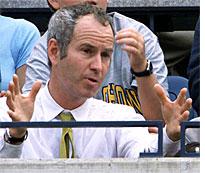 To liven up their coverage of the U.S. Open, CBS and USA Network have once again employed the services of John McEnroe, whose presence in the broadcast booth is, according to many tennis aficionados, ample reason to tune in. "Unparalleled," raves Sports Illustrated's Jon Wertheim. "The Tim McCarver of tennis, the undisputed master of his craft," says the New York Times Magazine. After hearing McEnroe call a match for the BBC, Rob Hughes of the Sunday Times gushed, "He can see and relate to aspects of a top player's performance before even the competitor himself is aware of it. He can articulate the nuances of Centre Court and put it into a few words quicker than any co-commentator can detect it."
Personally, I've never known McEnroe to be anything other than an insufferable blowhard on television. But with so many declaring his color commentary to be a feast for the ears, I decided to spend an hour hanging on his every word. When this year's Wimbledon men's final between Goran Ivanisevic and Patrick Rafter, which McEnroe covered for NBC, went into a fifth set, I jotted down every sentence that came off McEnroe's tongue. What gems did he serve up during that riveting fifth set, an occasion tailor-made for some on-air poetry?
"Both players have not given anything."
"He's got to juice it up now; it's all or nothing this game."
"Goran is continuing to hit a lot of excellent groundstrokes."
"He's got the game back on track now."
"He's had to work a lot harder this game than he wanted to."
"You knew that was going to drop in; you could just sense it."
"This crowd is playing such a positive part in this match; it's just energizing these two."
Checking your sneakers for grass stains? Feeling the heat from that Ivanisevic forehand? And while spitting out one banality after another, McEnroe repeatedly missed opportunities to shed insight on the action below. For instance, at 5-5 in the decisive set, Rafter's first serve, rock solid to that point, suddenly went AWOL. But only after the problem became painfully obvious—Rafter faulted on four consecutive first serves—did McEnroe finally chime in, "He's missing first serves; not a good thing." But he made no effort to diagnose the problem nor did he think to explain its significance: Rafter's sudden show of vulnerability buoyed Ivanisevic at just about the point when the Croat might have been expected to crack.
Other times, McEnroe came across as downright dimwitted. As the fifth set rolled on, his partner in the booth, Ted Robinson, noted that the closest Wimbledon men's final of the Open era (a record that was about to be eclipsed by Ivanisevic-Rafter) was the 1980 final that pitted McEnroe against Bjorn Borg. Presumably, McEnroe was aware that NBC had sent him to London and put him up in a swank hotel for two weeks because the network believed he had some wisdom to impart from his own experiences at the All-England Club. But the only response Robinson—and viewers—got was silence.
So, why the grossly inflated reputation? Chalk it up to the sense of doom that perennially hangs over tennis, particularly the men's game. Diehard tennis fans know the sport has limited appeal and live in fear that it is just one more dull match, one more boring champion, away from competing with cricket for headlines. McEnroe has long been a magnet for attention, and given that the rest of humanity seems to think he is the only interesting personality men's tennis has produced in a quarter century—witness the laudatory profiles, with the same "McEnroe: The Tortured Genius" storylines that ran last year in both The New Yorker and the New York Times Magazine—it's easy to understand why his continued involvement with the game is thought to be so vital. It's almost as if tennis enthusiasts fear that if they don't sufficiently flatter him, he'll stalk off and take the entire audience with him.
In fact, McEnroe, with all of his obnoxious bluster, is hurting tennis more than he is helping it. While men's tennis has seen finer days, most observers would agree that the level of athleticism has never been better and that not only Pete Sampras but also Andre Agassi, and perhaps even Rafter, rank alongside the game's greats. Yet at a press conference prior to Wimbledon three years ago, McEnroe declared that the current state of the sport "embarrassed" him (Tennis' Peter Bodo spoke for many when he responded, "Good, now we're even"). When given a chance in 1999 to revive interest in the Davis Cup as U.S. team captain, McEnroe not only alienated Sampras and Agassi into quitting the team but himself stomped off just a year after he landed the job.
Even McEnroe's most ardent defenders are at a loss to explain his pathological contempt for Venus and Serena Williams. In The New Yorker interview, he claimed that "any good male college player could beat the Williams sisters, and so could any man on the seniors tour." True or not—and I think it's probably not—who cares? Later, in a column he penned for the Daily Telegraph, he complained that the sisters "have no respect for anyone in the game" and that "you just don't see their kind of behavior in other sports." This from John McEnroe? The mind reels.
Despite so much evidence to the contrary, the tortured genius is still regarded as the sport's premier ambassador. The notion of McEnroe as cure-all will reach its reductio ad absurdum at this year's Open: Following the women's final on Sept. 8, he is scheduled to play an exhibition against fellow geezer Boris Becker. Hopefully, the idiocy of this spectacle, in which McEnroe will snort and snarl, heap endless abuse on the poor sap in the chair, and otherwise parody himself, will finally convince the sport's commissars and chroniclers that McEnroe is no cure for whatever it is that ails tennis. And maybe then they will stop pretending that behind the microphone he is anything more than another inarticulate ex-jock.
---