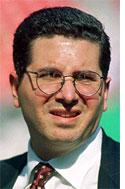 The end of summer is a special time for Washington, D.C., sports fans, our moment of giddy anticipation. The Redskins open the regular season Sunday, prompting us to wonder: Can they really play as lamely as they have in preseason? Can they choke even more grandly than they did last year?
Meanwhile, the NBA Wizards are heading to training camp. They haven't won a playoff game for 12 seasons. Can they make it lucky 13? Smart money says they can!
And the Baltimore Orioles—for masochistic reasons, Washingtonians still think of the O's as our hometown team—are engaged in their usual nail-biting contest for fourth place, and not even Cal Ripken's retirement tour can make them worth watching. (The second-tier teams are doing their part, too: The Washington Mystics finished their WNBA season in last place again, missing the playoffs for the third time in their four years in the league. And D.C. United is the caboose of Major League Soccer for the second season in a row.)
In my three decades as a fan, Washington has degenerated from one of America's best sports cities to the worst. It's true that Washington doesn't have the comic hopelessness of a Tampa or New Orleans. What we have is worse. A city like New Orleans wears its ineptitude like a comfortable old bathrobe. They know nothing but losing, so it never surprises them. They don't understand that 8-8 is not a winning record. We do. Washington suffers more because we have something to remember. In the '70s, the Wizards (then Bullets) won one NBA title, almost won two more, and contended every year. From the late '60s through the mid-'80s, the Orioles compiled the best record in baseball, played in six World Series, and won half of them. And the Redskins, my darling Redskins, took home three Super Bowl titles between 1983 and 1992.
Besides, these other benighted cities have an excuse. Tampa and San Diego are small media markets, and they have (relatively) poor owners who can't afford free agents. Washington has a big TV market, scads of fans, and owners with piles of money. What happened?
Fans tend to divide into two camps. Nostalgists long for the good old days of loyal owners and stars who spent their entire career playing for one team. Modernists insist that free agency, ultra-rich owners, and astronomical salaries have made pro sports more exciting than ever. Washington is proof that both models are flawed. The Wizards have the most loyal and traditional owner in pro sports, yet they are unredeemably rotten. The Redskins and Orioles, meanwhile, have ultra-rich owners who have paid platinum salaries to bus-loads of free agents, and they still can't win. (Notice that I leave one team out of this dismal survey, the NHL's Washington Capitals. Click for more on them.)
Wealthy, meddlesome new owners—the kind who are supposed to spend their way to championships—have dragged the Skins and Orioles to the bottom. Daniel Snyder of the Skins and Peter Angelos of the O's brought huge bank to their teams, spent millions fast on free agents, generated monster buzz, and promised wins immediately. The Skins of the '80s under Joe Gibbs were patient, loyal, and stolid, an organization of disciplined, lovable veterans: Art Monk, Darrell Green, Monte Coleman, the Hogs. The new Redskins under Snyder funneled zillions to Deion Sanders and other free agents. Loyalty doesn't interest Snyder: He dumped a respectable quarterback in Brad Johnson for Jeff George and unloaded passionate old-timers who wanted to stay, notably Brian Mitchell. (Not that throwing the geezers overboard is such a bad idea: The NFL punishes teams that stick with their vets with 6-10 records.) The Skins jacked ticket prices to infinity and abandoned their small but fabulous downtown stadium for a lifeless suburban monstrosity. (The stadium, to be fair, predates Snyder.)
Snyder set expectations Super Bowl-high, and, spoiled by the Gibbs era, we actually believed. When the team could barely manage eight wins, committed moronic penalties, stank on special teams, and consistently got outhustled, fans were outraged. We were repulsed by the new gang of unfamiliar, overpaid, lazy stars.
The Orioles have taken a similar path to hell. In their heyday, the Orioles trained their minor leaguers in the "Oriole Way." Their farm system, baseball's best, fed a steady supply of fundamentally sound, hard-working ball players to Baltimore. Angelos all but jettisoned the farm system and stacked the lineup with free agents (including horrors like Albert Belle). Promising young players were dispatched in trades. The "Oriole Way" became: Earn $10 million a year, hit .260, miss 70 games with an injury, and whine about the fans.
Angelos, who can't bear any challenge to his fat ego, dumped a superb manager, Davey Johnson, then alienated or refused to pay market value for the best players on the team: Mike Mussina, Rafael Palmeiro, and Roberto Alomar—the core of what could be a World Series champion—fled town after Angelos slighted them. It's only now that the best players have left that the Orioles are tolerable again. It's much easier to watch journeymen hustle their way to 95 losses a season than it was to watch surly ex-all-stars stroll their way to the same record. (Angelos' ego has also prevented D.C. from landing a MLB franchise of its own. In other words, he has kept D.C. from having a good baseball team twice.)
The Redskins and Orioles have been ruined by the blights of modern sports: unsentimentality, overreliance on free agents, and obnoxious rich owners. But the Wizards prove that the reverse is just as bad. They have been degraded by too much loyalty. Longtime owner Abe Pollin is one of the treasures of Washington, a philanthropist and a sweetheart. His greatest charity, however, has been employing the kindly but woeful Wes Unseld for decades as a Wizards chieftain. Pollin adores Unseld for his brilliance as a Bullets star in the '70s and views him as the heart of the basketball team. But as coach, director of player personnel, and general manager, Unseld drove the Wizards further and further into the ground.
Under the direction of Unseld and his equally incompetent colleagues, the Wizards wasted draft picks on freaks—Manute Bol, Gheorghe Muresan—and head cases—John "Hot Plate" Williams. The Wizards became notorious as a team other franchises wanted to trade with, cheerfully dealing players who then blossomed elsewhere: Tom Gugliotta, Rasheed Wallace, and—sin of all sins—Chris Webber. In exchange, the Wizards received creaky veterans like Mitch Richmond and Rod Strickland. Obsessed with having players who were good citizens, Pollin and Unseld unloaded troublemakers Wallace and Webber, even though they could have won the Wizards a championship by now. (They didn't dump just the talented players; they dumped the exciting ones. The Wizards play basketball that is both bad and dreary.) Pollin finally agreed to shelve Unseld when Michael Jordan bought into the franchise in 1999, but it will take years to undo all his mistakes.
(The Washington Post's cheerleading sports section also bears responsibility for our decline and fall. Its unwillingness to criticize hometown teams even when they stink has allowed rotten coaches and players to linger far too long. A good tabloid would have tarred and feathered Unseld and Skins coach Norv Turner and gotten them fired five years sooner.)
The greatest tragedy of the D.C. decline is this: Washington, thanks to its brew of politics and media, is a most cynical city. But sports have always been officially off-limits: Genuine enthusiasm was not merely permitted at Skins and Orioles games; it was required. The collapse has brought a bitter joylessness to fans. In the D.C. disintegration, we see the corrosive impact of money, the triumph of the individual over the team, the constant, mendacious spinning that everything really is all right. Our teams, in other words, have been afflicted by exactly the same miserable qualities that foul Washington politics. So it is no wonder that we are becoming as cynical about our Skins as we are about our senators.
---