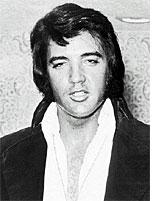 When it comes to the late-period Elvis—you know, the one that played the best rooms in Las Vegas and ate far too many carbs from 1969 till his porcelain-kissing demise in 1977—I no longer get the joke. Because for millions of kitsch-lovin' American ironists, Nixon-era Elvis is just that—a big fat joke.
At the time, Elvis was reviled by hipsters for capitulating to the meretricious tastes of Middle America, doling out lounge act schmaltz in a kind of heavy-lidded torpor, then cashing fat checks that helped manager Col. Tom Parker pay off his gambling debts. These days, of course, those very same hipsters, or at least their spiritual kin, venerate this incarnation of Elvis—creatively spent, a lapsed idol, too rich and lazy to give a damn anymore—as an icon of sublime foolishness, an endearing, if eminently ridiculous, artifact of disposable consumer culture.
I, too, slung the PC, anti-Vegas Elvis bias around like a pair of fuzzy car dice for years, reveling in the myriad ways pop culture spat out countless variations on Elvis bashing. Then last year I had an epiphany, if listening to a recording of Elvis singing Tony Joe White's " Polk Salad Annie" in the main room of the old MGM International Hotel qualifies as an epiphanic moment.
"Polk Salad Annie" was featured on last year's Elvis: That's the Way It Is, an expanded three-CD reissue of Elvis'$2 1969 Vegas debut at the International; the 1970 documentary film of the concert was also reissued on DVD. A top-10 hit for White in the summer of '69, "Polk Salad Annie" (which can also be found on the new four-CD box set, Elvis Live in Las Vegas) is a thick slab of Southern corn pone served up with lusty brio by Elvis, who wrests about as much conviction out of White's "backwoods belle in Cajun country" narrative as is humanly possible. Listening to the rest of That's the Way It Is and then the 89 tracks of Elvis Live in Las Vegas, I was struck by how exuberantly exciting it all was—certainly far better than his detractors have ever acknowledged.
Elvis' Vegas phase was made possible by the success of his now-immortal 1968 comeback TV special, Singer Presents Elvis. That NBC show, which racked up huge Nielsen numbers when it was broadcast Dec. 3, put Elvis back on the pop-cultural map. Granted, Singer Presents Elvis is not really as strong as people remember it to be (too many sub-Gower Champion production numbers), but the informal jam session, in which Elvis tears the roof off the joint with rough-hewn versions of songs from his back catalog, has lost none of its galvanic power.
This is the Elvis that we see in That's the Way It Is—supremely self-assured, fighting trim, and so charismatic he threatens to blow the carbon lights out. A lot was at stake for Elvis, and he knew it. His Vegas band was the best he'd ever worked with: Guitarist James Burton remains one of the most venerated players in rock history, pianist Glen D. Hardin was a veteran of Buddy Holly's band, and rookie drummer Ron Tutt was a turbo-powered steamroller. For his backing vocalists, he used the Sweet Inspirations, the vocal group that sang on some of Aretha Franklin's greatest Atlantic sides.
Fortified by the '68 comeback, Elvis was in strong voice for that first Vegas gig, secure in his new role as an emissary of cool for middle-aged crowds wearing double-knit pantsuits. After a lost decade pumping out puerile movies with soundtracks that featured howlers like "Do the Clam" and "Song of the Shrimp," Elvis in Vegas was a dormant spirit reborn, a great performer summoning the feral, spontaneous passion that many felt had abandoned him the day he signed his first movie contract.
With his A-list band providing sturdy, wide-screen arrangements behind him, Elvis pours everything he's got into the material. His Vegas set lists alternated '50s-era hits with new smashes like "Suspicious Minds" and "In the Ghetto" and mature contemporary songs that made sense for a thirtysomething Elvis to sing—Cynthia Weil and Barry Mann's "I Just Can't Help Believin'," Joe South's "Walk a Mile in My Shoes," Hank Cochran's "Make the World Go Away." There's real pathos in Elvis' voice when he inhabits the role of an itinerant laborer in "Twenty Days and Twenty Nights" and an appealingly bumptious bravado on Ray Charles' " I've Got a Woman."
Just check his version of " You Gave Me a Mountain," Marty Robbins' tale of a father's separation from his only child on Live in Las Vegas. On this track, taken from a 1972 show, Elvis sings the verses in an intimate voice that barely registers above a whisper, only to let it rip in a husky, declamatory growl on the chorus. Elvis' artfully controlled intonation—from shared confidence to affirming benediction—turns Robbins' melodrama into a powerful meditation on family and faith.
So let the Vegas Elvis jokesters have their black-light posters and wraparound Ray Bans; while they continue to perpetuate the phony myth, I'll continue to marvel at the effortless artistry and emotional resonance of the real thing.
---