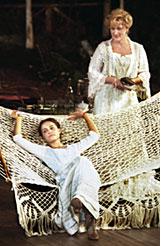 The New York Shakespeare Festival's production of The Seagull, which is playing now in Central Park, marks the reductio ad absurdum of a trend that has been creeping like a rash over the theater the last few seasons. In case you haven't heard, Meryl Streep has returned to the stage after a 20-year absence, and she's brought half of the planet's TV and movie stars with her: Kevin Kline, John Goodman, Natalie Portman, Philip Seymour Hoffman, Christopher Walken, and Marcia Gay Harden all have roles, and Mike Nichols directs.
There has always been some crossover between stage and screen, of course, but never before like this. In the last year or so, we've had (among many, many others) Matthew Broderick and Nathan Lane in The Producers; Tom Selleck in A Thousand Clowns; Lea Thompson, Gina Gershon, and Brooke Shields in Cabaret; Will & Grace star Eric McCormack in The Music Man; Dick Cavett and Luke Perry in The Rocky Horror Show; Kelsey Grammer in Macbeth; Reba McEntire and Crystal Bernard in Annie Get Your Gun; Sebastian Bach and David Hasselhoff in Jekyll and Hyde—and remember, this is just New York. In the San Francisco equivalent of The Seagull, Sean Penn, Nick Nolte, Woody Harrelson, and Cheech Marin starred in the premiere of a new Sam Shepard play earlier this year, and Chris O'Donnell last month appeared in The Man Who Had All the Luck at the Williamstown theater festival.
The benefits to theater generally and the movie stars themselves are obvious: Like Fred Astaire and Ginger Rogers, it's a mutual exchange of classiness for sex. Kevin Spacey, for example, burnished his already shiny credentials two seasons ago with a Tony-nominated turn in The Iceman Cometh; and producers know that a familiar name on the marquee is a good way to attract the all-important crowd of tourists bent on experiencing the glamour of Broadway. (The Seagull has tourists and New Yorkers alike camping out overnight and has been turning them away by the thousands.) But all this trading of sex and class does more harm than good. It amounts to dumping more and more sugar into an increasingly bitter tea.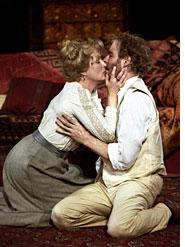 It's easy to over-generalize when talking about the damage caused to the stage by the influx of movie stars. Meryl Streep, for example, is certainly a famous movie star, but her Yale training and successful pre-Hollywood stage career make her a major theater talent as well. Drama school deans everywhere should hold up the mesmerizing scene in The Seagull in which she tries to convince Trigorin (Kevin Kline) not to leave her as unassailable proof of why young actors should seek formal training. Streep is the best thing about this production—though that may not be saying much, as I'm sure I'm not the only one disappointed by it. To be fair, I saw an early preview; so it's possible that there's still time for the show to work out some of its kinks—uneven performances, shaky handling of the play's melodrama, lack of a sense of ensemble. Then again, half of the performances are previews, so it doesn't matter all that much if the show improves by "opening night."
Leaving the notable exceptions—Streep, Spacey, Kline—aside, adding movie stars tends to be a recipe for mediocre theater. Even with microphones, which compensate for a lack of vocal training, and an audience that may or may not know real stage acting when it sees it, movie stars on stage rarely rise above the gently damning reviews they tend to receive, which often say that they "acquit" themselves or are "credible." (The exceptions on the other side tend to be particularly vicious: One critic wrote that Luke Perry "can't sing, can't act, can't dance," another wrote that the best thing that could be said about Kelsey Grammer's Macbeth is that "he seems to know his lines and declaims them loudly.")
Half a century ago, theater people (and the public, for that matter) looked down their noses at film and television far more so than they do today. Alfred Lunt and Lynn Fontanne, the most famous and talented acting couple from the 1930s to the 1960s, made only one film, The Guardsman. Though it won both of them an Oscar nomination, they never made another. "I can be bought," Lunt said, "but not bored." But as the economics of New York theater grew more dire, and the overall quality of film work improved, the Hollywood paychecks became harder to turn down. When Marlon Brando left theater for Hollywood, he never looked back.
Today the historic reversal is more or less complete. Producers looking for "name" actors who can draw a crowd have left aspiring stage actors little choice but to go west in search of film and TV credits to increase their chances of landing a plum role. Even the old tradition of an understudy stepping up when a star leaves the production no longer applies: Annie Get Your Gun, The Dinner Party, and Jekyll and Hyde are but three recent examples of shows which featured a revolving door of movie stars. While a stint on Hollywood's soundstages may beef up an actor's résumé and his bank account, it's unlikely to do much else: All that time spent learning how to make love to the camera is time that won't be spent learning how to make people in the back row of a Broadway house understand what you're doing onstage.
These days, the question you normally ask when deciding which new movie to see is the one you increasingly ask when deciding which show to see: "Who's in it?" To a certain extent, of course, this question has been asked by theatergoers for a century (this accounts for Lunt and Fontanne's popularity, for example). But the growing importance of the question for producers and theatergoers alike, and the fact that the answers more and more tend to be the names of actors who have parachuted in from Burbank, represents the most dangerous aspect of Hollywood on the Hudson. Theater has seen its relevance wane since the rise of television and film because it has failed to distinguish itself from them. It hasn't succeeded in generating the kinds of shows that audiences can't find at a lower cost and in a more comfortable environment, one that encourages the consumption of popcorn. (Many of Broadway's attempted remedies have been worse than the disease—I give you the synthetic spectacles of Andrew Lloyd Webber.) At a time when the people who care most about theater's future ought to be searching for ways to reinforce the distinctions between theater and film, they increasingly hire actors who elide the difference even more. Perversely, the mediocre movie-star theater of David Hasselhoff and Luke Perry is less harmful than the high-quality movie-star theater of the Streeps and the Spaceys: It's when the sugar succeeds in masking the bitterness that people forget the trouble theater is in.
This is not to suggest that Meryl Streep should be barred from Broadway. Her talent is too great for that. It's only to say that in our excitement to see her we can't lose sight of the fact that Hollywood on the Hudson is a false high and a cheap laugh, a distraction from the difficult work of reviving the theater, which hasn't yet begun. To paraphrase Treplev, the doomed writer in The Seagull, if we can't create a theater that doesn't rely on movie stars to thrive, "then we had better have nothing at all."
---