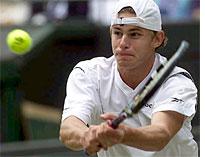 The Canadian Open is the Rodney Dangerfield of tennis tournaments. Although a so-called "Tennis Masters Series" event—one of nine tournaments just a step below the grand slams that all the top players are required to enter—it comes a full month before the U.S. Open, far too early for the big boys to view it as a warm-up for the last slam of the year. Thus, most years, a painfully large percentage of tennis's biggest stars either duck the thing altogether, by claiming a bogus injury, or lose to a nobody in the first round and head straight for the airport. In the 2001 edition of the Canadian Open, which was held in Montreal last week, Pete Sampras was among those who chose the former route, while Andre Agassi and Marat Safin chose the latter.
Which is not to say that this year's Canadian Open was a bore. On the contrary, it was suffused with that deeply pleasurable feeling that comes when you suddenly realize that you have been handed an unexpected gift: a glimpse of the future. By the second round of the tournament, the whole place had been captivated by the newest, rawest, most exciting American tennis talent to emerge since Sampras and Agassi were teen-agers. His name is Andy Roddick. He is 18 years old. Mark my words: He's going to be the salvation of American tennis.
Roddick hails from Omaha, Neb. He looks to be about 6 foot 1, with the general physique—and swagger—of a high-school quarterback, which he would probably be if he were still in high school. I have no idea when Roddick abandoned school, but it's pretty clear that he's been a full-time tennis player for some time. Last year, for instance, he won both the junior Australian Open and junior U.S. Open without so much as dropping a set. In his first year as a professional, he's already ranked 27th in the world—and he's already attracting big crowds when he plays. In his second-round match, against former world No. 1 Carlos Moya, which was played on a side court, the place was absolutely packed with fans eager to see him play. Photographers from the Canadian dailies jostled to take his picture, completely ignoring his opponent. Kids lined up to get his autograph.
So what's Roddick got? For starters, he's got two serious weapons: a monster serve and a killer forehand. His serve is one of the reasons people swarm to see him: It's as hard as any on the tour. During his third-round match, against Gustavo Kuerten—the current No. 1 in the world—he blasted one that was clocked at 145 mph, the second-fastest ever recorded. His forehand is also an absolute rocket and allows him to hit winners even when he's pinned deep on the baseline. But he's not just a baseline player (thank goodness); he likes coming to net, and he's got a wonderfully feathery touch with his volleys.
But he's also got something else: charisma. He's both exciting—he loves trying spectacular shots, even when they're ill-advised—and excitable. He shouts at himself when he's frustrated. He calls himself A-Rod. He dives for balls, even on hard courts. When he reached his first match point against Moya he did a little jig on the court and then encouraged the spectators to clap louder. (We happily complied.) Then, when he lost serve late in the third and final set, he smashed his racket against the ground, breaking it into pieces. I know this is going to sound a little strange, but it was the most endearing racket-smash I've ever seen. After he finally won the match, he gave the broken racket to a kid in the stands. The place went nuts.
After polishing off Moya in three sets, Roddick did the same to Kuerten in the third round. He simply overwhelmed the No. 1 player with his energy and power and was never broken the entire match. (He lost the first set in a tiebreaker.) On Center Court, where the match was played, he was the same excitable kid, and by the third set, I turned to my wife and kids, who were completely entranced by Roddick, and said, "It's rock 'n' roll tennis." The next day, Roddick was the talk of Montreal.
As it happens, Roddick lost in the quarterfinals, to a 27-year-old journeyman named Andrei Pavel—who was having the week of his life and eventually won the tournament. Pavel played a very smart match and exposed Roddick's flaws. As a junior, his serve and forehand won him so many matches that he didn't have to worry about polishing the rest of his game. Thus, his backhand is only adequate—and Pavel worked his backhand side hard. More important, Roddick's return of serve is extremely erratic, and as a result he never broke Pavel, even though he had plenty of chances. And, like any 18-year-old, he lacks patience, so if you engage him in a long rally, he'll eventually decide to end it—and either make a brilliant shot or a stupid one. Against Pavel, he hit too many stupid ones. But these are all problems that will be overcome with more experience. Two years from now, when he has a better sense of how to play the game, he's going to have tournaments when he is completely untouchable.
Which is why, when the match against Pavel ended, none of the journalists or photographers crowded around the winner. They all wanted time from the loser, who angrily (and futilely) tried to duck the post-match TV interviews. Even the next day, the TV guys were still talking about Roddick—after the match, reported one of them, he had played video games and then pingpong for two hours. Well, what do you expect? He's a teen-ager.
Kuerten, who beat Roddick in Cincinnati a few days ago—they played in the first round of the tournament following the Canadian Open—was surprisingly sanguine about losing to the new phenom. "Tennis could use a new American star," he told the press after the match. "Without a top American, the U.S. loses interest in tennis." Sad but true. Which is another reason so many people are rooting for him. Tennis needs him every bit as much as he needs tennis.
---