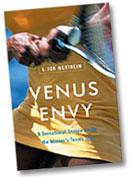 In 1973, New York Times reporter Grace Lichtenstein wrote A Long Way Baby, tennis's first "season on the tour" chronicle. The highlight of the book—and of the season—was Billie Jean King's "Battle of the Sexes" with Bobby Riggs—a carnival-like match between a 29-year-old star and a 55-year-old clown that brought more attention to the women's game than years of political agitation and athletic achievement. In many ways, Lichtenstein was ahead of her time: She served up some eye-popping behind-the-scenes scandal—drugs, sex, gluttony—but because women's tennis was still an athletic backwater, no one paid much attention.
Fast-forward 27 years to the 2000 season chronicled by Sports Illustrated's L. Jon Wertheim in his new book Venus Envy. Women's tennis, by far the most lucrative women's professional sport, now enjoys record attendance levels and TV audiences that compare favorably with the NHL's. Polls show that more than 75 percent of tennis fans favor the women's game over the men's. In other words, the market is ripe for a juicy tennis tell-all. But while the game has become more popular, it has also become—horror of horrors for the thrill-seeking reader—squeaky clean.
Just as a 1973 night at the circus transformed the women's tour from a girl-power ghetto to a national talking point, contemporary women's tennis has achieved its buzz not so much from on-court exploits as from peddling the allure of nubile flesh—aided by a group of players who, for the most part, are more than willing to vamp. A decade or so after Lichtenstein's book, the Women's Tennis Association made its first attempts to femme up the tour's image by issuing a calendar showing players in makeup. All but a few of the women looked extremely uncomfortable—if they seemed less tomboyish than usual, it was only because they looked like drag queens. Today's crop of stars is stronger and more muscular than ever before, but they're also younger and much more glamorous. (Of course, there are exceptions: Wertheim recounts, how, after Lindsay Davenport won the Australian Open, an official had to browbeat the reluctant champ into dolling up for the winner's off-court photo shoot.)
Lichtenstein was a news reporter who hoped to find that the fledging pro tour represented the glorious feminist revolution. She discovered it was actually a jock revolution. And like a lot of jock revolutions, much of the behind-the-scenes behavior was unseemly. She revealed that most players made very little money, that all but the most successful lodged with local residents when they played tournaments, that they gorged on fast food, that they smoked in the locker room, and that some of them drank and smoked dope while on the tour.
Writing in spin-controlled 2000, it's much harder for a writer to serve up a scandal. Wertheim mentions a couple of the business brouhahas that bedevil the game, but there's not a lot to them. For example, he recounts how, after Anke Huber had been permitted a Tuesday start to a tournament in Oklahoma City because she was jet-lagged after playing until Saturday in Leipzig, Germany, her opponent, Alexandra Stevenson, was able to demand that the match be played on Monday night because the tournament was owned by IMG and she was an IMG client, while Huber was with a rival firm. Stevenson earned a rare victory, but the spectators were robbed of a real competition. On another occasion, he notes that after Anna Kournikova pulled out of a U.S. tournament citing a desire to curtail her playing schedule, she played a "lucrative exhibition" in Mexico City instead.
During Wimbledon this year, the British papers made much of Wertheim's revelations (as he acknowledges, the story was broken by Top 20 player Nathalie Tauziat in her French-language book Les Dessous du Tennis Féminin—The Underside of Women's Tennis) about the WTA's "Commitment List"—a ranking that pays bonuses to athletes if they compete in a minimum number of tournaments each year. The rankings are determined by a committee of tournament directors rather than the performance-based computer rankings, which often means that lower-ranked players with va-va-voom (think: Kournikova) earn more de facto appearance money than higher-achieving athletes with lower Q-ratings. It isn't surprising that women who get smaller bonuses than lower-ranked players would be upset, but even Wertheim concedes that it's reasonable for tournament sponsors and organizers to prefer marketable players who draw spectators.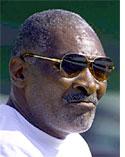 Other than a few knocks at high-handed Kournikova (tennis writers come pretty low in her journalistic hierarchy, so he doesn't have a lot to lose there), Wertheim gives all the players positive profiles. It's hard to know if this is because he needs to protect his access to players, or if they're just too bland to criticize. In fact, Venus Envy's most salacious bits don't involve a player, but rather the dreaded tennis parent, Venus and Serena Williams' father, Richard. Wertheim uses basic investigative techniques to debunk Williams' blowhard claims that he was the son of a sharecropper and a standout high-school athlete. By simply reporting the barefaced lies, ridiculous exaggerations, and outrageous statements that seem to compose the bulk of Williams' utterances, Wertheim justifies his claim that Richard Williams is "a tennis father from outer space." He repeats Williams' anti-Semitic remarks, his bizarre telephone answering machine messages, and the ugly comments he made after Venus'$2 2000 U.S. Open victory. And yet, Wertheim still observes:
Question his methods, question his behavior, and question his sanity, but the man has done—twice!—what countless tennis parents before him have not been able to do: nurture a prodigiously talented, well-adjusted champion, without making sacrifices at the altar of junior tennis.
Without much to chew on, Wertheim's book becomes a collection of distant, but often witty, observations. He depicts Martina Navratilova "lustily embrac[ing] more causes than an Oberlin freshman," and describes Wimbledon's schizoid identity as "half Merchant Ivory, half Jerry Springer." A fine example of his hoist-by-their-own-petard style comes in his account of a Kournikova moment at Wimbledon:
At a press conference sponsored by Berlei bras, she took questions from the throng of reporters. Asked whether she was wearing an engagement ring, she snapped. "My private life is private." Without any irony, she then said, "I'm here to talk about my bras."
We've come a long way, baby.
---