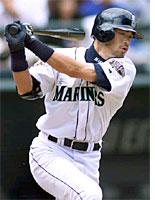 Ask a group of baseball fans to name the leading MVP candidates this year, and Seattle's 27-year-old "rookie," Ichiro Suzuki, is bound to come up. Last month, after all, Texas Rangers catcher Ivan Rodriguez, himself a former American League MVP, declared, "Right now, [Ichiro's] the best player in the big leagues." This followed earlier claims from Mets skipper Bobby Valentine and franchise player Mike Piazza that the Japanese star was one of the five best players in the world. "That's not just hype," Piazza insisted. "I totally believe it." Even the American League managers have pitched in, voting him the best base-runner, the second-best hitter, and the third-best defensive outfielder in the league in Baseball America's survey. All of which proves only one thing: that Ichiro is one of the most overrated baseball players playing today. And that's not just hype.
To hear it from the press, "lightning-swift" Ichiro has an "eye-catching swing" in which he "hoists" his bat "the way an artist might hold up his thumb to study a subject" and then produces infield hits "diabolically pounded into the dirt." This is a poetic way of saying that Ichiro is a slap-hitter with little power (more than one-fifth of his hits are infield singles; more than 70 percent of his at-bats result in ground balls) and an impatient eye at the plate (he rarely walks). His considerable speed enables him to stretch his fair share of gappers into doubles and triples, but he is essentially a singles hitter. In other words, he is the Wee Willie Keeler of his age—diminutive and quick, a contact hitter with a batting average in the .340s, largely through "hitting 'em where they ain't."
Before the All-Star Game, the Dallas Morning News crowed that "no one can get him out." In fact, though, Ichiro has made 373 outs, more than all but five players (Johnny Damon, Garret Anderson, the Blue Jays' Alex Gonzalez, Darin Erstad, and Miguel Tejada) in the AL, and more than all but nine players in the major leagues. He may be on track for 240-plus hits, but his on-base percentage (.381), the real aptitude test for a leadoff hitter, is not in the top 15 in the American League. His next-door neighbor in that category? Detroit's Bobby Higginson. And while it's true that Ichiro's speed has helped place him among the leaders in triples, he has just six home runs in his 573 at bats—all of which makes for a perfectly respectable slugging average of .462, good for 37th best in the league. Or, in other words, almost as good as Scott Brosius.
But Ichiro's particular strengths, if you take it from the sportswriters, lie not in conventional, straightforward numbers (on-base percentage, slugging average) that are fundamentally tied to scoring runs and thus winning ballgames. His strengths are revealed in the more obscure numbers—the ones that aren't, well, so obviously useful.
The Detroit Free Press, for instance, has explained that Ichiro is the AL's best leadoff hitter "for two reasons: he strikes out less than any hitter in the league—which means he's always putting the ball in play—and he's among the fastest players in the league." Fair enough on the latter point (though it should be noted that he's second in the majors in times caught stealing). And in the case of the former, it's true that Ichiro, with just 40 whiffs, has averaged a healthy 15 trips to the plate between strikeouts. But what does this really mean? Is it somehow better that Ichiro has grounded out more often than any other player, as long as he's not getting fanned? The elite company in the unfannable category includes such luminaries as Sandy Alomar Jr. and Einar Diaz, after Ichiro, in the American League, and Juan Pierre, Fernando Vina, and Lenny Harris in the NL. Between the five of them they've got 11 home runs.
Another role of the leadoff man—more useful, certainly, than simply not striking out—has traditionally been to work the pitcher, to make him show you a few pitches. Rickey Henderson, the greatest leadoff batter of them all, is famous for his lengthy at-bats and averaged four and a half pitches per trip throughout his prime. But Ichiro, who sees the fewest pitches (3.4) per time at-bat in the American League, works opposing pitchers less hard than anyone else.
So, if Ichiro's not the messiah he's made out to be, what explains the Mariners' success this year? Well, for starters, Edgar Martinez is—and has for six years been—the Mariners' best hitter. Then there's John Olerud, a better, more patient hitter than Ichiro (and also voted the best fielder at his position by the league's managers); Bret Boone, a surprising but nearly comparable replacement for the departed Alex Rodriguez in the middle of the infield; and Freddy Garcia, who has developed into a legitimate Cy Young candidate. Mike Cameron, an outfield partner of Ichiro's, is a better base-stealer and has put up some impressive power numbers.
Ichiro is having a great season, especially for a rookie, however old. He is not the MVP, though, and he's a long way from being one of the five best players in the world. He might be one of the five best players on his team. And that's no insult. 
---