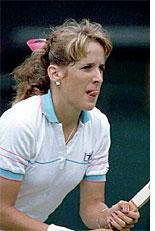 As you get older, police officers, millionaires, and sports stars seem to get younger. For fans of women's tennis, this sensation kicks in around 26. In this year's Wimbledon women's singles tournament, the average age of the semifinalists was 22 years, eight months; on the men's side, the average age of the final four was 29 years, one month. No woman over 25 has won a grand-slam singles title since Steffi Graf triumphed in the 1999 French Open. What's behind tennis's adolescent revolution? Shouldn't game experience and physical maturity count for something on the court?
There have always been teen-age sensations in the women's game—in 1887, the dawn of tennis time, Lottie Dodd won the Wimbledon title at 15, and in the modern era, 1950s superstar Maureen "Little Mo" Connolly took nine grand-slam titles in a three-year career that ended in a horse-riding accident before her 20th birthday. Precocious prodigies popped up once every couple of decades, then suddenly around 1978, an apparently endless series of talented teens—Pam Shriver, Tracy Austin, Andrea Jaeger, Carling Bassett—appeared. Though this first group failed to fulfill their early promise, the next class learned from their flameouts. These kids ate right and worked out from the start. The new, larger-headed rackets gave them the power of grown women even before their bodies developed. The young players spent their lives in the company of experienced coaches: Monica Seles' parents moved the entire family from Yugoslavia to Nick Bollettieri's tennis academy in Florida when she was 12, an upheaval that's virtually the norm these days.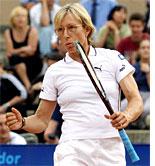 Most of the great players of the early open era—Margaret Court, Billie Jean King, Chris Evert, and Martina Navratilova—played into their mid-30s. But in this year's pre-Wimbledon rankings, there was just one top-20 player over 30. (No. 10 Nathalie Tauziat will be 34 in October, but her presence in the upper echelons is a testament to old-fashioned persistence rather than outstanding performances.) Last week, Richard Williams hinted that his 21-year-old daughter Venus, the Wimbledon champion and world No. 2, would be retiring soon.
So, it's not just that players are winning young, they're also leaving the game earlier. Why? To be sure, the game takes a physical toll on the body—although the Women's Tennis Association limits the number of tournaments teen pros can play each year, it's reasonable to assume that the intensity of the circuit's schedule is at least partially responsible for the injuries that have beset many of the top young players in the last few years—but much of the fatigue is mental.
Professional tennis just isn't much fun for mature women: The two-week grand-slam events are the longest stops on an endlessly spinning international circuit; the rest of the time it's four or five days of hotels, tennis courts, and media appearances in a different city every week. As kids came to dominate the game, what little camaraderie there'd been withered, as parents chaperoned their tots and other players traveled with entourages. Many of the youngsters graduated from tennis academies rather than high schools, and they're not the best conversationalists. And unlike golfers, who generally know their next tee-time, only the competitors in the first match of the day know what time they'll be playing. The resulting hours of locker-room boredom take a toll on even the liveliest minds.
It's a lonely life: Tournament tennis is single-elimination competition, and players often avoid developing friendships—even with their doubles partners—so they won't lose the killer instinct at match point.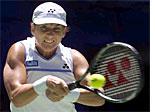 Who needs the attention? Since a crazed Steffi Graf fan stabbed Monica Seles in the back during a 1993 match, tennis players have become more conscious of the physical risks they face. Seles won eight grand slam singles titles by the time she was 19. Since the incident—which shook her so much she left the game for more than two years—she's lost her air of invulnerability. This April, a Florida man was sentenced to a two-year prison term for stalking Martina Hingis. And players can forget any semblance of a private life once they've reached the top—the tabloid press's enthusiasm for digging up dirt on the athletes and their families is boundless.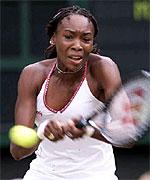 Why play once they knowyour name? Jennifer Capriati signed multimillion-dollar endorsement deals at 13; she and Martina Hingis both surpassed $1 million in prize money just months after their 16th birthdays. Last year, Venus Williams received $40 million from Reebok for a three-year endorsement deal; if her father's hints are to be believed, she'll walk away from the game once the contract is fulfilled. According to Williams père, "She can make a lot more money out of rather than in tennis." In her official tour biography, Venus says she "hopes not to be involved in tennis in any way after her career." And the Anna Kournikova phenomenon proves you don't need to win tournaments to get your name—and photo—in the media. Kournikova, tennis's pinup girl, was the world's No. 1 doubles player in 1999, but she's never won a WTA tour singles title. Still, she has made millions from endorsements and was ranked No. 54 on this year's Forbes "Celebrity 100"—higher than any other sportswoman.
Of course, many of the same concerns apply just as much to the men's game. Don't be fooled by the graybeard grass-court specialists who contested the Wimbledon semis: The average age of the men's Top 5 is 23 years, 10 months—just 15 months older than the women's. Perhaps tennis is like everything else in life: Women mature earlier—and get into trouble earlier—but sooner or later, guys face the same problems.
---