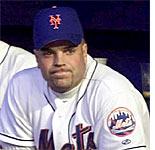 Nothing lights up the sports radio switchboards in New York quite like the question of whether Mets catcher Mike Piazza, who will be 33 by season's end, should be moved to first base to prolong his career. The debate is pointless, at least as far as the Mets are concerned. Mike Piazza should be moved—not to another position but to another team. Traded, dealt, sent off to a contender, right now, before Major League Baseball's trading deadline passes on Tuesday.
The Mets signaled their intention to throw in the towel with the trade of middle relievers Turk Wendell and Dennis Cook to the Phillies on Friday. Now it's time to show they're really serious. Sure, Piazza remains a brilliant hitter, hard worker, and if not exactly a born leader, certainly a positive presence in the clubhouse. The problem is that he has been thoroughly screwed by Mets management, marooned on a team that is very bad and getting worse. Piazza is in danger of becoming the baseball version of Patrick Ewing, another Big Apple superstar whose club surrounded him with spare parts, always coming up just short, and then unceremoniously dumped him when he passed his prime.
The Mets outlook is just as bleak. Over the last couple of years, General Manager Steve Phillips has shown an extraordinary gift for bestowing huge contracts on veterans sliding toward the end of their careers. He has done this for one reason: Piazza, the cornerstone of the franchise, is peaking, or perhaps beginning a downward slide of his own. Faced with a narrow window of opportunity, the Mets have decided that they can't afford to give their young prospects time to develop. But with Piazza's $13 million salary on the books, they also can't afford, say, Alex Rodriguez. So they've compromised, setting their sights on "proven" (read: over the hill) veterans for whom they only have to pay moderately high salaries. So instead of Mike Hampton, the Mets wind up with Steve Trachsel (5-10, 5.42 ERA), who had to return to the minors this year to relearn the difference between pitching in a game and pitching in batting practice.
Don't ask about the farm system. The Mets traded away most of their top-rated prospects in recent years to acquire these aging veterans, and truth be known, most of those prospects didn't turn out to be all that good anyway (does the name Jason Tyner ring a bell?). Without an adequate supporting cast in the majors or the minors, Piazza will be in his mid- to late-30s before the Mets can pose a credible threat. And if he stays at catcher, which he seems hellbent on doing, his skills will be in sharp decline by then and his trade value ground down to not much. (Remember, the Knicks netted only Glen Rice, an aging semi-star, and Luc Longley, who is contemplating retirement, for Ewing.)
What, on the other hand, could the Mets expect if they traded Piazza now? Any two or three prized prospects their scouts desire. Putting Piazza on the market would throw the American League into chaos—contenders would not only want him for themselves, they'd want to make sure he didn't land with a rival. The Mets could start by calling up the Yankees and offering Piazza for superstar-in-waiting Nick Johnson, a first baseman who's biding his time with the Yanks' Triple A affiliate, and a couple of young pitchers. Ordinarily, a deal like this would be completely out of the question, given cross-town rivalries, but a panicked George Steinbrenner could be goaded into pulling the trigger if he thought Piazza was headed for Cleveland or Boston.
Now consider the payoff of such a swap: The Mets free themselves from Todd Zeile's (.266, six homers) death grip at first base and land a couple of young arms to boot. Meanwhile, the Yankees enjoy the insane luxury of alternating Jorge Posada and Piazza at catcher and first base, extending both players' careers and practically locking up championship rings for the next two or three years. At which point, with any luck, the Mets might be ready to contend again.
Now back to reality. As long as Piazza stays with the team, management will be tempted to keep acquiring veterans in the hope that one more addition, a big bat, a powerful arm, will boost them back into contention. The rumor mill now has the Mets dealing some of their surplus of starting pitching (huh? what?) for a slugging outfielder. Good grief. They need much more than that. If, on the other hand, they trade Piazza now, they can get a handful of hot prospects, then spend the off-season dumping overpriced veterans and begin next season with a new, young team that will lose a lot of games but might one day do more than just show up for the World Series. 
---