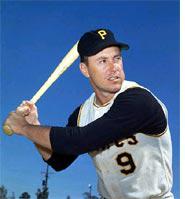 Upon patient interrogation, the case for Bill Mazeroski's membership in the Baseball Hall of Fame falls to pieces. Maz, who will be inducted on Aug. 5, owns one of the spottiest track records in Hall history. When grilled about Maz's .260 lifetime batting average, his supporters quote Bill James to say that the Pittsburgh Pirate second baseman's defensive stats are "probably the best of any player in baseball history, at any position." And what about Mazeroski's electrifying ninth-inning home run in Game 7 of the 1960 World Series, surely the most timely piece of hitting in the history of the Fall Classic? A Hall of Fame without Bill Mazeroski, his admirers assure us, just isn't a Hall of Fame. A Hall of Fame with Mazeroski is, well … And that's where it ends. Most of the baseball world (if not quite 75 percent of its writers) is sure that Bill Mazeroski belongs in the Hall of Fame.
But instead of sending Bill Mazeroski to Cooperstown, the sportswriters and veterans committee who make the picks should dispatch an arsonist. For six decades, these electors have been defining baseball greatness down with their indulgent and sentimental selections, operating without any consistent notion of what constitutes a Hall of Fame career. The result: a desecrated Hall of Fame, cluttered with dozens of marginal players. In fact, the Hall could justify building a new wing just to house the incoming mediocrities. But rather than building new wings, we should rescue the Hall's precious memorabilia, herd its docents to safety, and torch baseball's most cherished institution to the ground—ashes to ashes, bust to bust—and start all over.
When did the Hall of Fame go south? To answer that question, we must travel back to 1936, when the Hall was newly erected and the writers enshrined its first five occupants: Babe Ruth, Ty Cobb, Walter Johnson, Honus Wagner, and Christy Mathewson. This pantheon should have set the standards for future inductees. The electors should have had to ask themselves if a petitioner to the Hall of Fame was better than the worst player in the Hall. At this point, the worst of the greatest was probably Mathewson, so any new nominee should have been better than him to gain admittance. If worse than Mathewson but good enough to join the Hall, the electors should have had the honesty to recalibrate its standards and say that the new player was the new benchmark—the new worst of the greatest.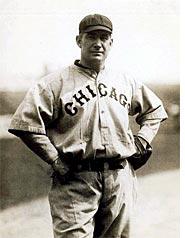 No one, mind you, ever applied this logic. In 1937, the writers enshrined the Hall's next player, Philadelphia Phillies and Athletics second baseman Nap Lajoie. Lajoie was clearly inferior to Mathewson, but instead of establishing Lajoie as the new "worst of the best," the Hall lowered its standards the next year by electing Grover Cleveland Alexander—clearly a lesser player than Lajoie. Now, both Lajoie and Alexander were great players, and both deserve their places in Cooperstown. But the electors' refusal to establish any sort of objective measure of what a Hall of Fame career was supposed to look like put the Hall on a fast train to hell. By 1945, the Hall was inducting baseball nobodies Roger Bresnahan and Hughie Jennings. Bresnahan's baseball legacy, God bless him, is that he was maybe the second white catcher to wear shin guards. (Click for an explanation.) From 1897 to 1915, he batted .279, a respectable average for the Dead Ball Era, and collected 1,252 hits. But his occasional bursts of greatness never added up to a career of sustained excellence. Jennings has an identical, which is to say an inadequate, dossier. Appearing in just 1,285 games, he never led the league in an important offensive category, though he was beaned 51 times, which remains a major league record. James calls him "no better than the fourth-best shortstop of the 1890s"—and only one of his three betters is in the Hall.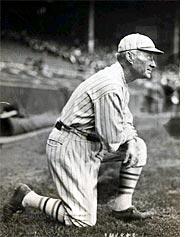 Jennings and Bresnahan were among the first players enshrined by the veterans committee, a cabal of retired players, executives, and writers charged with honoring the players the writers overlooked. Unfortunately, the veterans committee quickly became an avenue by which nice guys with subpar stats could sneak into the Hall. When Jennings managed Detroit, he captured fans' hearts by performing exotic rituals in the first base coaching box. Bresnahan had a truckload of sentiment on his side: He was Christy Mathewson's old battery mate, had coached for Hall of Fame manager John McGraw, and then died on Dec. 4, 1944, just months before the committee convened. Baseball liked these men, the veterans committee liked them, and, despite lackluster careers, they couldn't imagine having a Hall of Fame without them.
More weak bats, stiff gloves, and painfully short careers followed, all courtesy of the committee's soft standards: Chick Hafey, George Kelly, and Ross Youngs (who, in fairness, died before he could put together a great career), to name just a few. Their enshrinement so lowered the standards of admittance as to make them meaningless. In an ideal Hall, a nominee like Mazeroski would place just above or just below the worst of the best to qualify. But because the electors have packed the Hall with so many below-average players, Maz practically soars above them. With the gulf between Babe Ruth and Roger Bresnahan so wide, the Hall continues stuffing more and more players into the comfortable middle.
The most urgent reason to eliminate the Hall of Fame as we know it is to banish Bresnahan, Jennings, and their entire tier of mediocrity, to scrape these barnacles off the glory that should be the Hall of Fame. Then we can start again back in 1936, this time sticking scrupulously to the formula above. Bresnahan. Jennings. Hafey.
Gas. Matches. Ignite.
Next week, "Sports Nut" will clear the rubble and propose a better way for baseball to select its Hall of Famers. Check back then to see who we evict and who we enshrine.
---