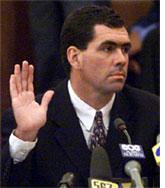 In April last year, South Africa's respected and successful cricket captain, Hansie Cronje, shocked the world with the admission that he took money from bookies. South Africa's Mail & Guardian summed up the general feeling with the blunt headline, "F*** You Hansie Cronje." That was just the beginning. Cricket has been reeling from a series of corruption scandals as new evidence and allegations have streamed in and old heroes have fallen.
International cricket—precisely because it's international—is finding it exceptionally difficult to root out corruption. This is the problem with a globalized game: Once a sport expands out of a single national jurisdiction and beyond the watchful eye of a single controlling body, it faces new challenges, new dangers, and new pitfalls.
The same is true for any number of international problems—environmental pollution, disease, drug trafficking, and others. What international cricket is discovering is that sports are not exempt from the patterns of international affairs. What's true for global warming is true for cricket corruption:
1. No individual country can address the problem by itself. The corruption of international cricket stretches back as far as 1980. Over the past decade, as many as 50 matches have been tainted. Powered by India's multibillion-dollar illegal cricket-gambling industry, the corruption is concentrated in the subcontinent (it is estimated that, during some games, one out of three cell-phone calls in Mumbai is for cricket betting). But it has spread far beyond India, enveloping umpires, administrators, even groundsmen—but most of all, players.
The corruption of players has not led to outright match-fixing, for the most part. Because of the spectacular popularity of spread betting, which allows bets on any one of hundreds of discrete incidents in a game, cricket corruption has consisted primarily of fixing specific incidents, such as the number of runs a certain batsman makes. It's a wonderful way for bookies to make money because, unlike the match result, these incidents are under one player's control. (The system is not foolproof. In one of the most absurd moments of the past year, one top South African batsman revealed that he had accepted money to score exactly 20 runs, only to forget and score a brilliant 74.) In general, though, it has proved to be an exceptionally lucrative practice and encouraged the bookies' deep penetration of the game.
So far, about a dozen countries, from Australia to the United Arab Emirates, have launched police investigations or judicial inquiries into cricket corruption. But the corruption's international nature explodes these domestic mechanisms. How does a Pakistani commission investigate a match between Pakistan and Sri Lanka; played in Singapore; with Zimbabwean, English, and South African umpires; and with Indian bookies in the background? Domestic probes are hamstrung because they cannot get hold of most of the witnesses and much of the evidence.
2. Cooperation among countries has been poor so far. The two countries where cricket corruption is most endemic—India and Pakistan—are more likely to exchange Molotov cocktails than dossiers on cricket corruption. The mistrust extends to other countries as well. Race tensions from colonial times linger and complicate relations between some of the Asian countries, on the one hand, and England and Australia, on the other. Beyond diplomatic tensions, there is bureaucratic inertia, arcane regulations on the sharing of evidence, and the reluctance of police forces to share information, especially with foreigners. Despite rather good relations between South Africa and India, for example, South Africa's King Commission was unable to get its hands on a critical audiotape of a conversation between Indian bookies and Cronje. And no country will let its players testify elsewhere.
3. Governments have an incentive not to punish their own offenders. If governments or cricket boards punish their corrupt players, they lose some of their top cricketers, and their national teams become weaker. That's a blow to national pride as well as a loss in prize money and sponsorship and attendance revenues.
A good deal of the corruption—providing information or fixing insignificant incidents—may not even weaken the team. The more serious corruption tends to occur in less important games, such as when a team is up 4-1 in a seven-game series. A corrupt superstar is still a superstar, and no country wants to lose him.
Despite all the probes and allegations, only a handful of players have been severely punished. And of these, only two—Cronje and the Indian cricketer Ajay Jadeja—were active international players. Otherwise, the long arm of justice has fallen in Pakistan on a retired player and a marginal player who hadn't made the national team for four years, and in India on a retiring player, a retired player, and a long-retired player.
Clearly, what's good for a team is not what's good for the game. That's why baseball didn't leave its 1920s fight against corruption up to individual teams. But the White Sox and the Yankees didn't represent sovereign countries.
4. The relevant international body is weak. Cricket's governing body, the International Cricket Council, is little more than a loose alliance of national cricket boards. The ICC coordinates rules and policies, but it is dependent on its member countries and unprepared to impose its will on them. This makes the ICC ill equipped to take forceful action and root out international corruption.
This is slowly changing, and a recent report explicitly calls for "a modern, regulatory body with the power to lead and direct international cricket." Still, it's unlikely that the ICC—or any other international sports body—will ever be granted the full powers of a domestic sports body. And without those powers, the fight against corruption for any international game will be long, difficult, and frustrating.
The most global sport, soccer, is less susceptible to the problems facing cricket. That's because soccer is not primarily an international game, even though it's played everywhere. Most of the soccer that is played and avidly supported takes place in domestic leagues. So, in the past couple of years, there have been corruption scandals in England, Italy, Lebanon, Singapore, Georgia, and Vietnam, but those were domestic, not international, problems. But if corruption were to infect soccer's international games, the sport would likely find itself with the same slew of problems that cricket has now.
Perhaps it's just as well that baseball invites only two countries to its World Series. 
---