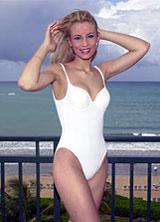 When the reigning Miss France, Elodie Gossuin, was rumored last week to be a postoperative transsexual, organizers of the Miss Universe pageant—in which Gossuin was competing—responded to the bombshell as if it were, well, the end of the universe. "This would not be good," pageant owner Donald Trump told reporters. A pageant spokeswoman put it more bluntly: "If she turns out to be a man, we'll put her on the first plane to France."
Gossuin passed her chromosome test, which was no doubt welcome news for her—pageant rules specifically require that contestants be born female—and good news for the pageant, which received plenty of free publicity. But it also raised the question: Why not allow transsexuals to compete?
It's not as though the no-crossover rule protects the natural purity of competition. Many competitors have had more plastic surgery than Zsa Zsa Gabor. Venezuela—which has won four Miss Universe contests since 1979—sequesters all of its candidates in its own Soviet-styled beauty academy. With help from corporate sponsors, Venezuelan beauties spend approximately $60,000 apiece for five months of full-time preparation, extensive plastic and dental surgery, and a steady diet of tuna. A competitor may have her teeth altered, gums adjusted, nose fixed, eyebrows raised, breasts augmented, thighs recontoured, or anything else she deems necessary to win.
And it's not as if the pageant is fending off contestants with an unfair advantage. Beauty pageants are not a sport. While a sex-changed woman might have an edge on a tennis court, there's certainly no advantage when it comes to a swimsuit round. The number of transsexuals who could compete at this level is probably equal to the number of women with a chance at making the NBA.
So, just what is Miss Universe protecting? The body image of young girls? Venezuela's 1996 Miss Universe, Alicia Machado, was publicly put on an exercise bicycle for gaining 15 pounds after winning her crown. Machado later told reporters she threw up for weeks as part of her contest preparation and came in 9 pounds below what doctors consider a healthy weight for women. More likely, the pageant is protecting itself. After all, if a completely manufactured woman one day makes it to the ultimate beauty show, what will that say about the other women competing for the crown?
Of course, Miss Universe is a private organization, and—like the Boy Scouts—they can write their rules to exclude just about anyone. (Only natural-born women between 18 and 27 are eligible for the title. So in addition to transsexuals, the pageant protects us from spinsters like Cindy Crawford competing for the crown. Thank goodness!) But if the pageant really wanted to live up to its name, it would let the best women compete—even if the occasional contestant wore a tux to her high-school prom.
---