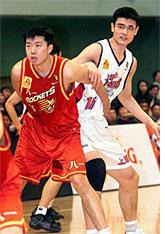 Since the day Chinese giant Yao Ming blocked 12 shots in a half at the 1998 Asian Junior Championships, he has been front and center in the minds of NBA general managers intent on importing him to the United States. The hype increased after the 7-foot-5-inch Yao swatted Gary Payton and a couple of other Dream Teamers in the opening 90 seconds of their encounter this past summer in Sydney. Talent scouts with household names, such as Michael Jordan and Bill Walton, gave him rave reviews, and he has since been anointed as basketball's next big thing by ESPN: The Magazine, HBO, and the NBA's house organ, Inside Stuff. Although Yao's team, the Shanghai Sharks, refused to release him last week for this year's NBA draft, it's only a matter of time before he comes stateside—no doubt accompanied by publicity shots of him sharing some Kung Pao chalupa with compatriot Wang Zhizhi in Big D. Will the piercing of the silk curtain change the NBA?
Not anytime soon. All the drooling makes you wonder if anyone actually watched the next 8 1/2 minutes of the U.S.-China game, during which Yao picked up four fouls (a feat matched not only by Wang but also by the third 7-footer in China's lineup, Menk Bateer. That's 12 fouls in 10 minutes by 21 feet of player.) This wasn't Shaq, Duncan, or Hakeem that Yao was hacking, either—it was a quasi-healthy Alonzo Mourning and a fully healthy Vin Baker—your average Tuesday night in the NBA pivot. And in China's next Olympic contest, New Zealand outscored the Big Red Machine in the lane despite not having a player taller than 6 feet 9 inches.
The best thing that can be said about Yao is that he's only 20, which means he still has plenty of time to improve his game. His footwork is awkward to the point of clumsiness, he has little or no post game, he doesn't have a soft shooting touch, and he combines a Mr. Punyverse physique with a lack of aggressiveness. Essentially, he's Ralph Sampson without the experience of big-time competition. The last thing Yao needs at this stage is more time in China, where his main competition next season will come from a handful of Americans that couldn't make it in the Philippines leagues.
Still, Yao does have good defensive instincts, and he is a natural shot-blocker. And anyone 7 feet 5 inches will get his share of garbage baskets when not forced into the auxiliary parking lots by the musclemen around the league. But if you have a lottery pick in 2002, do you really want to use it on a player who won't be able to help you on both sides of the floor for several seasons, if ever?
Yes. Despite his lantern jaw and fearsome glare, Yao is quite affable, with passable English and a coachable personality. Unlike Wang, who mouths platitudes about wanting to improve the standard of play in his country, Yao genuinely means it, and he will assist the cultural exchange programs that are sure to be a byproduct of his coming west. More to the point, his larger-than-life persona should lead mainland China and the greater Chinese diaspora to embrace American sports in the same all-encompassing manner in which they have embraced the other tendrils of U.S. popular culture. This will allow David Stern and his fellow opium traders to increase their presence in China from a mere toehold of pirated Bulls jerseys to a full-fledged money-printing machine. It can't be long until Yao Ming bobble-head dolls are included in Happy Meals at McDonald's throughout the Middle Kingdom.
But until Yao shows up in the NBA, it's Wang's World. So far, Wang hasn't served as much more than a 7-foot-1-inch totem of inclusiveness on the Mavericks bench. His flaws are many—poor footwork, iffy fundamentals (besides shooting), horrible rebounding given his size. Equally troubling is his attitude. Wang is nowhere near as popular as Yao in China, mainly due to his standoffish personality and perceived arrogance. Wang's selfishness and me-first attitude may not stand out in an NBA locker room, but since he needs to work extremely hard merely to become decent, the Mavs had better hope he left his ego with customs.
On the positive side, Wang's game is suited to the wide-open style of the Western Conference. He runs the floor extremely well, and with his sweet touch he could be devastating spotting up in transition and shooting over smaller wing defenders. He has the tools to be a decent role player in Dallas.
But don't expect an influx of last-name-firsts into the league after Wang and Yao. Menk, the third member of China's so-called "Great Wall," is barely more mobile than the centuries-old edifice. When Menk tangled with Moses Malone a couple of years ago in an NBA Legends tour of China, it wasn't immediately apparent which player had 20 years of service behind him. Hu Weidong, a tall, rangy gunner who was the 1999 Asian Championship MVP, might be able to serve as a Dell Curry type, coming in when a long ball is required, but he's otherwise too slow to compete. And forget about any other perimeter players across the continent, including those from "West Asia," as the Middle East is known. Compared to the hyperspeed of the NBA, they may as well be playing underwater. It will require far earlier and more frequent competition with Americans for the next generation of Asian players to be able to keep up with the Allen Iversons of the world.
There is one intriguing possibility, one shrouded in mystery, hidden in about the only place NBA scouts haven't set up permanent base camp—North Korea. His name is Ri Myung Hoon, and he is 7 feet 9 inches, which would make him the tallest player in league history. Like Bigfoot, he is glimpsed only occasionally, on grainy videotape, which feeds his myth. But if Yao is a lottery pick, surely Ri is a project some team will undertake. Despite the fact that it is probably as difficult for Ri to get a good meal as a decent pickup game, he has proven himself ready for the big time in at least one area: He has said that he wants to be known by the Great Satanic name of Michael. Michael Ri. Even in the most hermetically sealed of despotic states, His Airness is the real power on the throne.
---