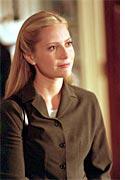 Remember Ainsley Hayes? The brainy Republican bombshell, played by Emily Procter, who burst onto the scene of The West Wing last October in an episode called "In This White House"? By trouncing Sam in a televised talk-show showdown, Ainsley came to the attention of President Bartlet. Impressed with her smarts and her sense of civic duty, he immediately offered her a position as assistant White House counsel—to the extreme consternation of his entire, and entirely liberal, staff. In the next episode, she was assigned to an ugly basement office; a couple of irate underlings left a dead plant on her desk with a card that read, "BITCH."
Ainsley overcame. She brought a bracing presence that Aaron Sorkin's White House had been sorely missing. Her smart, conservative, principled voice articulated an ethic of respect for other people that did not depend on ideological agreement. These qualities stood in stark contrast to what Chris Lehmann, writing in the Atlantic Monthly, has called the show's "obsession with feeling," as well as its default disdain for right-leaning radio hosts and fundamentalist Christians. These tendencies have undermined The West Wing's credibility as a political drama, even though they have been key elements of its appeal to liberal viewers.
Ainsley's appearance seemed a brilliant way for the show to develop a more sophisticated political orientation. I thought Ainsley might become the show's go-to girl for those times when Martin Sheen's morality got too Manichean, his stances too knee-jerk liberal. Dressing down a fellow staffer, she said: "Your gun control policy doesn't have anything to do with public safety, and it's certainly not about personal freedom. It's about, you don't like the people who do like guns."
Then she disappeared—banished to her basement office, no doubt, so that she wouldn't get in the way of The West Wing's myopic, melodramatic self-righteousness, which seems to deepen with each passing week. To be fair, the current story line is about President Bartlet's announcement of his hitherto-secret case of multiple sclerosis, a situation that has him calling only on his most trusted advisers—i.e., not the ones who work in the basement. But he does need lawyers, now more than ever. I don't know whether Ainsley will be in Wednesday's season finale, but it seems unlikely since she's barely been seen for more than a month.
The West Wing needs more of Ainsley, to save the show from being swallowed by its own assumptions, and to restore the vigorous, surprising drama that it was in its first season. The nation needs more of Ainsley, too. When she appeared last fall, she offered satisfying fictional succor to those of us, of all political persuasions, who worried about the legacy of the recount's bitter name-calling. Republican or Democrat, you couldn't help but listen to Ainsley Hayes—because you couldn't help but like and respect her. That was true of everyone, apparently, except for the folks who created her.
---