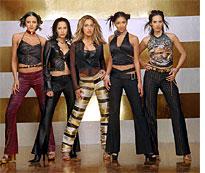 By most critical accounts, Josie and the Pussycats is a grade-A rip on the music industry. Everything we've long suspected—subliminal messages in the lyrics, rampant corporate exploitation, a conspiratorial Carson Daly—comes to life as the Pussycats painfully learn the ropes of the business. But even as the all-girl Kitties are groomed to replace the film's boy band, one music-business conspiracy manages to pass through the movie unspoken: Pop groups don't mix boys and girls.
The idea of single-sex pop acts is so heavily ingrained in the music business you've probably never noticed it. But consider today's top pop groups—Backstreet Boys, 'N Sync, Destiny's Child, Dream, 98 Degrees. Not one is coed. And look at pop groups from the '50's on: the Supremes, the Temptations, the Four Tops, Martha and the Vandellas, the Shirelles, Frankie Lymon & the Teenagers. All single-sex. Even pseudo-documentary programs like Making the Band and Popstars, about aspiring pop groups, take for granted that viewers will understand why record labels cast all boys or all girls.
Oddly enough, coed bands are nothing new in rock and hip-hop. Smashing Pumpkins, No Doubt, Garbage, the Fugees, Hole, the Corrs, Save Ferris, A Perfect Circle, 10,000 Maniacs, and Arrested Development have all succeeded at differing levels using coed crews—not to mention the success decades ago of the Mamas and the Papas, the Pretenders, and Fleetwood Mac.
But pop acts operate under vastly different standards. For one thing, they don't play instruments onstage. (Well, the Pussycats do, but they have to conceal the fact that they're not actually singing.) Groups are assembled using the old barbershop quartet formula of mixing different vocal ranges in the hope of creating an overall sound. And these days there's a greater emphasis on a group's overall look. Pop star wardrobes are carefully coordinated and dance moves choreographed to reflect a subtle sexuality, racy enough for teeny-boppers, but not blatant enough to offend parental sensibilities.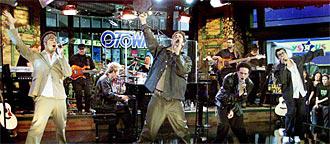 So, why the segregation? For starters, it's hard to croon convincingly about the pop world's staple subject—teen-age yearning and heartache—if you're harmonizing with the object of your affection. That's why, when Boys II Men join with Mariah Carey or 'N Sync pairs up with Britney Spears (and that's yet to happen in a studio), the songs have nothing to do with young love. Boys II Men's collaboration with Carey, "One Sweet Day," is a song about death—not exactly how most bands would utilize one of pop music's sexiest singers.
Which brings us to the second problem with coed pop groups: They're not sexy enough. In pop music, ever conformist and eager to please, there are only two real pop acts: girl groups espousing "Girl Power" while trying to be your daughter's best friend, and boy groups with perfect hair and teeth eager for a place on her bedroom wall. Mix the two, and the result is confusion. The few coed pop acts today have all the edge of Up With People. Britain's S Club 7 (four girls, three boys)—created by the former manager of the Spice Girls—and Sweden's A*Teens (two girls, two boys) have found some success in Europe, but they haven't caught on in the States. S Club 7 have their own Monkees-style TV series airing in 100 countries, and A*Teens' album Teen Spirit peaked in the Billboard Top 50. But S Club's album 7 has slid to 90th while A*Teens have fallen to 96th—not a good sign that either group will become mainstays on anyone's list of big-time acts.
But really, could they expect to? Other than the occasional married duo (Sonny & Cher) or family group (Donny & Marie) there's not enough variety to know. Christina Aguilera and Ricky Martin's recent duet was a flop, showing that when men and women share a pop stage, they check their sexuality at the door. If Britney and Justin merely dating is outrageous enough for tabloid pages, would record executives ever be willing to let everybody's favorite Catholic schoolgirl take the stage with her hot honey and beg, "Hit me baby one more time?"
The collaborative result could be scandalous. Or—even worse—it might not be interesting at all.
---