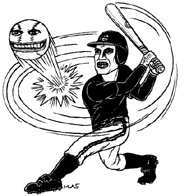 Full disclosure: I am a Red Sox fan. I readily acknowledge that I can't think about the Yankees rationally, and I'm simultaneously convinced that the Sox will win the World Series going away and that they'll finish in the cellar. I recognize that National League baseball is superior, but I can't get myself to care about it as much as I should. That said, on with the preview—American League East first, of course.
AL East
New York Yankees: It's madness not to pick them. They'll win the pennant, again, because they're fielding the same team, plus Mike Mussina. The starting rotation is scary, Mariano Rivera never blows saves, and the offense is solid top-to-bottom (though not spectacular—the team batting average last year was only a point higher than the league average). What could go wrong with the Yankees? There's always the idea that this is finally the year they grow too old. Clemens dominated during the second half and playoffs last season, and he works out like a maniac in the off-season, but he's 38 and injury-prone. Paul O'Neill still drove in 100 runs (exactly), but he's also 38 and starting to show it. Scott Brosius, Orlando Hernandez, and Tino Martinez are in their mid-30s.
Toronto Blue Jays: Second place was a tossup between the Jays and the Red Sox until Nomar Garciaparra was lost for half the season. Toronto doesn't have a starter even half as good as Pedro Martinez, but the bottom of the two rotations are mostly comparable: .500 pitchers with the potential to do better but no solid evidence that they ever will. The Jays offense has unfathomable power. Five guys hit more than 30 home runs: Carlos Delgado (41 homers), Brad Fullmer (32), Tony Batista (41, though he will have trouble duplicating that), and Jose Cruz (31). Three others hit more than 20 (Darrin Fletcher, Shannon Stewart, and Raul Mondesi). Expect Mondesi to hit more this season.
Boston Red Sox: Spring was pretty ugly for the Sox. The Garciaparra injury is devastating. But there is more. Manny Ramirez, the savior, was hurt and showed that his attitude could be a problem (which is especially significant because he plays next to the stormy Carl Everett). David Cone isn't ready and might never be. Rolando Arrojo pitched himself and his hefty contract into long relief. The offense could still be explosive with Ramirez and Everett, not to mention Dante Bichette and the underrated Chris Stynes. And Pedro Martinez is Pedro Martinez (he gave up one run and one walk this spring). Hideo Nomo eats innings, and the two young starters Tomo Okha and Paxton Crawford looked good last year in brief big-league stints. But they're untested, and a team usually can't win without its franchise player.
Tampa Bay Devil Rays: The real question here is: Are the Orioles really worse than the Devil Rays? Yes. The Devil Rays at least have the potential to be decent. Juan Guzman and Wilson Alvarez would have made a good one-two seven years ago (combined record in 1993, 29-11). They don't now (combined record last year, 0-1), but maybe, just maybe, they'll stay healthy and pitch well (of course, neither is healthy enough for the Opening Day roster). Likewise, Greg Vaughn could hit 50 homers (28 last year) and Vinny Castilla could hit 40 (six last year). Ben Grieve is a good young player, and Fred McGriff will probably knock in 100 runs again. Still, there's not a single impact player on the roster. And the bullpen sucks.
Baltimore Orioles: They lost Albert Belle to arthritis, Brady Anderson is on the way down, and the rest of the lineup puts up dime-a-dozen .275/15/65-type numbers. Pat Hentgen is a solid pitcher, but not a real No. 1 (and definitely not a Mike Mussina replacement). Although Sidney Ponson is still improving, Jose Mercedez isn't as good as his record, and the other two spots will go to kids who posted bad records and high ERAs last year. It's bad. Real bad. Remember when we thought Baltimore was a big-market team? At least the fans can squeeze some joy out of Camden Yards and Cal Ripken Jr.
AL Central
Cleveland Indians: It's boring to pick the Indians, but when a team can lose Manny Ramirez and shrug because it replaced him with Juan Gonzalez, it can't do anything but win. The offense is still explosive, Kenny Lofton can still lead off, and Roberto Alomar is still one of the best all-around players in the game. Ellis Burks and Travis Fryman (when he returns from the DL) can still hit. Jim Thome has tremendous power, even though he'll strike out 200 times again. The middle infield is a defensive marvel. The rotation is good at the top (Bartolo Colon, Dave Burba, Chuck Finley) and probably good enough at the bottom (most likely Steve Karsay and Steve Woodard). But Cleveland is no lock. The Indians have plenty of weaknesses for a Kansas City or a Chicago to exploit. The catching tandem of Einar Diaz and Eddie Taubensee doesn't recall Sandy Alomar, circa 1997. The bullpen is iffy. Bob Wickman isn't a real closer.
Kansas City Royals: This is a risky pick because the White Sox are supposed to finish second or even win the division. But it's impossible not to like the Royals. The rotation is full of no-names, but they're young, they'll eat innings, and they'll keep the offense in games. Speaking of keeping the offense in games, the bullpen isn't great, but it's nothing like the one that blew 56 saves over the past two seasons. Roberto Hernandez is a legitimate closer, and Doug Henry is a tested setup guy. The offense has some holes (for instance, the Carlos Febles/Ray Sanchez double-play combination hits like the middle infielders of yore, not the Jeff Kents and Alex Rodriguezes of today), but Mike Sweeney and Jermaine Dye are as productive as any middle of the order in the league (combined 262 RBI last season). Joe Randa is a solid hitter, and Carlos Beltran is sure to improve on last season (though he probably won't match 1999). The Royals will be tested early: They play the Yankees six of their first nine games.
Chicago White Sox: The Sox are much better than a third-place team, but the Central is going to be wild, and somebody has to finish third. David Wells is aging, but he threw almost 230 innings last year. The rest of the rotation is solid. Jim Parque and Cal Eldred won't be all stars, but they'll win games. Offensively, Frank Thomas appears to be over his mid-career slump, Magglio Ordonez is a bona fide star, and the supporting cast is very good. Ray Durham scores runs and has a little power. Carlos Lee, Paul Konerko, and Jose Valentin each drove in 90 runs last season. Catching could be a problem if Sandy Alomar gets hurt, which is a good bet. Five out of their first eight games are against the Indians, so if one team is much better than the other, fans will know early.
Detroit Tigers: Despite the brief wild-card chase last season, Detroit just isn't very good. The loss of Nomo and Gonzales hurts a lot. Still, unlike the Twins, they at least have a major-league offense. Tony Clark, Dean Palmer, and Bobby Higginson have real power. Deivi Cruz is a comer, Roger Cedeno is superfast, Mitch Meluskey is a good hitting catcher (though not a good catching catcher, which could be a problem), and Damian Easley can hit a little. The rotation is average, but all the starters have experience and have, for the most part, been able to stay healthy.
Minnesota Twins: It's conceivable that the Twins won't finish in the cellar. Conceivable, but not likely. No 100-RBI guys. No 20-home-run guys. Minnesota stinks. Even so, there is some good news: A few of the young players (Christian Guzman, Luis Rivas, Jacque Jones) have potential, and Brad Radke and Eric Milton would make a pretty good top of the rotation on any team.
AL West
Oakland Athletics: The Athletics are still young (they never seem to get older), but they have experience, and they are talented. Tim Hudson is only 25, but he won 20 games last season. Barry Zito, 22 and lefthanded, posted an ERA under 3.00 in half a season. Gil Heredia is the only veteran on the staff, and he's very reliable in the three spot. The bullpen could pose some problems, especially because Jason Isringhausen has yet to prove himself as a closer. Another powerful offense: Jason Giambi may not hit 43 homers again, but he'll be close. Miguel Tejada, only 24, is turning into a legitimate star. Eric Chavez (23) and Terrence Long (25) have respectable power, and Johnny Damon gives them an elite leadoff man.
Seattle Mariners: Having lost almost all their stars, how can they win? With pitching. Although the Mariners lack a front-line starter, Aaron Sele gets wins, Freddy Garcia is ready to be an ace, and Jamie Moyer is as reliable as they come. The bullpen is even better. Kazuhiro Sasaki saved 37 of 40, and the setup combination of Jeff Nelson, Arthur Rhodes, and Jose Paniagua is stifling. The offense is not great: John Olerud is a tough out, but he lacks power. Mike Cameron still has the potential to break out (but it seems less likely every year), and Bret Boone gives them some production from the middle infield. Edgar Martinez had another monster season, and as a full-time DH, his age is less of a factor. The wild card is Ichiro Suzuki. He was a star in Japan, and he has all the tools, but who knows if he can produce as a major-leaguer?
Texas Rangers: After paying $252 million for Alex Rodriguez, you'd expect the Rangers to be better. Throw in Ivan Rodriguez, Rafael Palmeiro, and Andres Galarraga (if he's not too old at 39), and the Rangers have a potent offense. But is it potent enough to overcome the pitching staff? Last year, the team ERA was a half run higher than the league average, and they didn't upgrade at all. Rick Helling and Kenny Rogers are just OK. The bottom three guys—Darren Oliver, Doug Davis, and Ryan Glynn—are unproven at best, and the bullpen is spotty. Tim Crabtree will be given a chance to close, but he was 2-7 last year with an ERA above 5.00. If Ken Caminiti and/or Rusty Greer return to their former brilliance (more likely for Greer), then the offense could be good enough to counteract the pitching, but they'll never win a playoff series until they bolster the staff.
Anaheim Angels: Another big power team with a woeful pitching staff, and the Angels' staff is even worse than the Rangers'. Plus the loss of Mo Vaughn leaves them less powerful than they should have been. Aside from a weak middle infield, the lineup has real power all around. Troy Glaus, only 24, led the league with 47 home runs last season (but he knocked in only 102). The outfield (Tim Salmon, Darrin Erstad, and Garret Anderson), which combined for 94 homers and 314 RBI last season, is one of the best in the league. The top two pitchers only lasted half a season each last year, the third guy (Ismael Valdez) was 2-7, and Pat Rapp, who gives up home runs in bunches, posted a 5.90 ERA in a bigger ballpark. Troy Percival is not the closer he once was.
NL East
Atlanta Braves: They've won the division nine years straight. Why stop now? John Smoltz remains a big question mark, but the Braves starters are still better than most. Maddux and Glavine are awesome. Kevin Millwood should rebound from an off year, and John Burkett is a terrific fourth or fifth starter. The bullpen, though not great, is good enough. The Joneses, Andruw and Chipper, are tremendous in the three and four slots. Andruw (.302/36/104) is still only 23, so he should get even better. Brian Jordan should improve over last season, B.J. Surhoff and Rico Brogna have been consistent producers during their careers, and the middle infield of Rafael Furcal and Quilvio Veras makes the top of the order super speedy. The usual question applies: Why doesn't this team win it all?
New York Mets: They did OK replacing Mike Hampton with Kevin Appier and Steve Trachsel, but the staff still won't be the same without him. Mike Piazza is great, and Edgardo Alfonzo is in his prime, but Todd Zeile and Robin Ventura are only decent at the corners. Rey Ordonez is a defensive wizard, but that doesn't make up for his lack of offense. The outfield of Timo Perez, Benny Agbayani, and Jay Payton isn't exactly top-of-the-line. Good for them that they won the pennant last year, but the Mets just aren't as good as the Braves.
Florida Marlins: If the pitching staff comes together, they could challenge the Mets for second place. Ryan Dempster seems to be the real deal at the top of the rotation (16-10, and a good ERA for a losing team as a 22-year-old). The rest of the staff has close to no major-league experience. The offense is better than last year, both because the young hitters are a year older and because Charles Johnson is much better than last year's catching platoon. After struggling in the minors for a while, Preston Wilson has shown that he's the genuine article. He could have a 40/40 season. Mike Lowell, Derek Lee, and Cliff Floyd are all .300/25/80-type hitters, and Mark Kotsay is not far behind. Luis Castillo is a prototypical leadoff man: He's fast and he gets on base (he'd be even better if he struck out less). [Correction, April 3: Mark Kotsay won't be putting up any numbers for the Marlins. He was traded to the Padres last week.]
Montreal Expos: It's hard not to pick them last (they're not much different from last season's team that lost 95 games), but the pitching is not terrible, and there are a few impact players on offense (most notably the incomparable Vlad Guererro, .345/44/123). Javier Vasquez, just 24, is poised to become a top-of-the-line starter. The loss of Carl Pavano hurts, but Tony Armas has good stuff, and Britt Reames looked good in his brief major-league stint last year. And perhaps Hideki Irabu can prove something this year (perhaps not). Besides Guererro, Jose Vidro and a newly acquired (and healthy) Fernando Tatis give the offense a chance to score some runs.
Philadelphia Phillies: Too many questions. The outfield could be great: Pat Burrell and Bobby Abreu have potential, but they haven't produced yet (though Abreu is getting close). Doug Glanville was good last year, but he was great the year before. Scott Rolen and Mike Lieberthal will be impact players if they can avoid injuries. Travis Lee has had a great spring, but he's running out of chances. The rest of the lineup (Jimmy Rollins and Marlon Anderson) is pretty weak. The rotation has potential, too. Robert Person has great stuff, and Bruce Chen is still young, but Omar Daal lost 19 games last year, and he's penciled in as the No. 1 starter (Daal, it should be noted, had a good spring and is not as bad as he was in 2000). The bullpen is better, but while it includes two formerly great closers (Ricky Bottalico and Jose Mesa), neither of them can fill the role anymore.
NL Central
St. Louis Cardinals: The Cardinals have no holes to fill (except possibly the not-so-spectacular bullpen). Darryl Kile isn't dominating, but he won 20 games last season. Rick Ankiel should break out this season. The bottom three starters of Ankiel, Andy Benes, and Matt Morris could be the top three in plenty of rotations. Mark McGwire should hit at least 50 home runs, and Jim Edmonds, who hit 42 homers last year, is in his prime. Fernando Vina and Edgar Renteria make a great double-play combination that can hit. Ray Lankford (though not what he once was), J.D. Drew, and Craig Paquette all have decent power. The team is balanced enough to weather a few injuries, but its players (other than McGwire) don't have a history of getting hurt.
Houston Astros: Another all hit, no pitch team. The outfield of Moises Alou, Richard Hidalgo, and Lance Berkman combined for 95 home runs last season, and Berkman only played half the season. Throw in Jeff Bagwell and Craig Biggio (assuming his lackluster 2000 season was a fluke), and you've got a lot of runs. Too bad none of the starting pitchers bested even the league ERA average last year. Scott Elarton figures to be the No. 1 guy, and while he won 17 last season, he gives up a lot of hits. Jose Lima lost 16 games and posted an ERA approaching 7.00. Wade Miller and Kent Bottenfield are average at best. Billy Wagner had surgery, and whether he returns to form is anybody's guess. Most of the rest of the pen is coming off injuries (Mike Jackson, Doug Brocail, Jay Powell).
Milwaukee Brewers: The staff isn't terrible. Jeff D'Amico posted a 2.66 ERA in half a season last year, and Jamey Wright and Jimmy Haynes should eat innings. The offense doesn't have a top-level talent, but the middle of the order can produce. Geoff Jenkins, Richie Sexson, Jeromy Burnitz, and Jeffrey Hammonds all at least approach 30-homer power. The bullpen should keep the team close, especially if Curtis Leskanic settles into the closer role. Not sure they deserve the third-place prediction, but the bottom four in the central are a huddled, middling mass.
Cincinnati Reds: Ken Griffey Jr. wasn't all that bad last season (he did hit 40 home runs), and he should be much better this year (if he gets over his nagging hamstring). But there's not much around him. Dmitri Young and Sean Casey are second-tier stars, Barry Larkin (though he hit .300 again last year) is not the run producer he once was, and Pokey Reese fell off badly after an outstanding 1999. Pete Harnisch should be solid at the top of the rotation, but the rest of the crew is worrisome. Chris Reitsma has great stuff, but he's never pitched above AA.
Chicago Cubs: Chicago has definitely improved over last year, but they were awful last year. This year they might be mediocre. They have the dominant hitter in the league in Sammy Sosa (but is he a distraction?) and a potential dominating ace in Kerry Wood (but will he come back?). Tom Gordon could be a great closer again, but he could have nothing left after more than a year on the shelf. The offensive supporting cast is OK. Eric Young is a great leadoff guy, and Todd Hundley, Rondell White, and Matt Stairs are respectable run producers. But Ron Coomer and Bill Mueller lack power at the corners, and Damon Buford is not an offensive threat in center field. Jon Lieber can pitch in the second slot, but Kevin Tapani is getting old, and Jason Bere and Julian Tavarez are questionable.
Pittsburgh Pirates: This team hasn't changed much from the one that went 69-93 last year. New manager Lloyd McClendon might shake things up a little after the long, losing Gene Lamont era, but the only off-season acquisition was Derek Bell, who had a terrible second-half last season (and whose stats were worse than John Vander Wal's, whom he will be replacing). Jason Kendall is a great all-around catcher (and still only 26), and Brian Giles is a legitimate power hitter. But Kris Benson, who is poised to develop into the dominating ace the scouts think he should be, is injured to start the season. And the supporting cast of pitchers and hitters just isn't impressive. At least there's a nice, new park to look forward to.
NL West
Colorado Rockies: The Rockies finished just above .500 last year, and in the off-season they added a No. 1 (Mike Hampton) and a No. 2 (Denny Neagle), plus Ron Villone, who can start in the fifth spot. And if Larry Walker stays healthy for more than half a season, the offense gets much better. Todd Helton had Triple Crown-type numbers last season, Jeff Cirillo is a solid run-producer (though he could show more power), and Neifi Perez can hit for a shortstop. The bullpen is just OK, and there are other questions: Can Todd Walker finally deliver on his promise? Is Juan Pierre ready to be the starting center fielder?
Los Angeles Dodgers: The Dodgers always underachieve, but they've got a great pitching staff and enough offense to compete for the division title. Kevin Brown is dominating. Chan Ho Park is dominating. Darren Dreifort is ready to be dominating. Andy Ashby will be better than last year (and even last year he wasn't bad for a fourth starter). Gary Sheffield is a clutch hitter (but he's also a jerk), Adrian Beltre is turning into one (when will he be healthy enough to return to the lineup?), and Shawn Green should improve over last season (inexplicably mediocre). Eric Karros hits 30 homers and drives in 100 runs every year.
Arizona Diamondbacks: Randy Johnson struck out 347 batters last season. Curt Schilling had an off year, but he should finally be recovered from his 1999 shoulder surgery. Brian Anderson is a good No. 3, and Armando Reynoso is good enough. The offense, however, lacks pop. Luis Gonzalez and Steve Finley are 30-homer guys, and Matt Williams might be, depending on his health. But Jay Bell and Mark Grace are showing their age, and Reggie Sanders is too inconsistent to count on. Tony Womack is super fast, but he doesn't get on base enough. Still, that pitching staff …
San Francisco Giants: The Giants aren't a legit fourth-place team. Everybody in this division competes except San Diego. None of the starters are true aces (though Livian Hernandez comes very close), but the rotation has depth down to the four spot. The bullpen is pretty good. Robb Nen is nearly unhittable in the ninth. The offense will suffer from the loss of Ellis Burks. Barry Bonds had another monster year, and Jeff Kent won the MVP award, but aside from them, the lineup isn't productive. J.T. Snow lacks power for a first baseman. Rich Aurilia is a good hitting shortstop, but he's not a real impact player. Russ Davis has power, but he still hasn't proven himself after many opportunities. Marvin Benard needs to get on base more, and the catching tandem of Doug Mirabelli and Bobby Estalella is inconsistent (though the platoon knocked in over 80 runs last year).
San Diego Padres: The rotation could be decent, but decent won't cut it in this division. Woody Williams is a solid veteran, Adam Eaton has great stuff, and Matt Clement keeps the team in games. The bullpen isn't bad either, especially with Trevor Hoffman closing games. But the offense is weak. Phil Nevin has developed into a legitimate power threat, but he can't carry the team. If he's healthy, Gwynn should hit .350 again, but his defense isn't good enough, and he has absolutely no power. Ryan Klesko could drive in 100 runs, but the rest of the lineup doesn't get it done. Damian Jackson, Mike Darr, and Ben Davis are untested at best. Alex Arias was a sub-Mendoza line shortstop last season, even in the post-Mendoza line major leagues. [Correction, April 3: Matt Clement won't be keeping the Padres in games. He was traded to the Marlins last week.]
Wild Cards: Blue Jays and Dodgers
World Series: Yankees versus Cardinals, and the Cardinals will win it. The rotation isn't as good as the Yanks', but the offense has more power, and maybe New York really will play old.
---