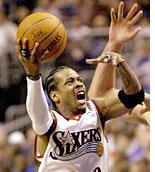 There is nobody in the NBA who can stop Allen Iverson one-on-one. And don't expect to see many more performances like the one he had Saturday against Indiana. Iverson will be shooting more and scoring more from here on out. To beat his Philadelphia 76ers, then, will require a concerted team effort, specifically three things: 1) a scrambling, help-oriented defense; 2) a pair of starting guards who can score, so that Iverson has to work on both sides of the floor; 3) depth, particularly in the backcourt, so that the starters can rough up Iverson a bit and take him off his game. Here's how the teams in the East stack up in that regard:
7. Indiana Pacers. Forget the strong finish. Forget the last-second heave by Reggie Miller that got them game one. This was a disastrous season for Indiana, and it will be over soon. Isiah Thomas has proved himself to be not a coach but a con artist. Miller, who used to rival Patrick Ewing as the league's worst superstar, has dropped into the NBA's middle ranks (along with Ewing). If someone is going to carry the team past the Sixers in a first-round shocker, it's Jalen Rose. But they've been hoping for a couple of years now that Rose would take over the team, and it hasn't happened. Don't expect it to happen now.
6. Charlotte Hornets. They've got a surprisingly complete team—quick, explosive guards, a legitimate one-on-one scorer at the three-spot (Jamal Mashburn), and bulk up front. They are capable of playing great ball, as they did against Miami in game one, and then turning right around and looking as if they're stepping on the court together for the first time, particularly on D. Week before last, the sodden Knicks, playing without Allan Houston, scorched them for 113 points. Can't have that. The Heat should regroup and cruise past the Hornets in the opening round.
5. Toronto Raptors. There's a reasonable chance that Vince Carter will rebound from an atrocious game one and single-handedly beat the Knicks in the first round. But even if he does, he'll be so bullied and beat-up, he won't have anything left for Iverson in round two. Not to mention that their help defense was nonexistent against New York yesterday. How many times were they going to let Alvin Williams get burned by Allan Houston? Imagine what Iverson will be able to get away with.
4. Orlando Magic. Somehow, last season seems like a greater achievement, even though the record improved this year. Doc Rivers possesses greater power to motivate his team than any other coach, but to get deep into the playoffs, he ought to institute this rule: Nobody so much as looks at the basket until Tracy McGrady touches the ball. McGrady may actually be better than Iverson, but he doesn't have that "give me the ball or I'll kill each and every one of you" personality that makes Iverson great.
3. Milwaukee Bucks. Milwaukee has deadly offensive weapons but also two ruinous handicaps: no meaningful playoff experience as a team and a coach who, in his Sonic days, perfected the art of the First Round Collapse. They'll probably go further this year, but clubs that play this kind of helter-skelter ball generally don't go far. And that must make commissioner David Stern breathe easy. Nothing would sink the NBA's suddenly buoyant TV ratings faster than a surprise run to the finals by Milwaukee.
2. Miami Heat. Their top five are the best in the league, they play inspired, asphyxiating D, and Eddie Jones can cover Iverson as well as anyone. But let's not mince words—that was a sad, sad showing against the Hornets on Saturday. If Tim Hardaway can't recover, the Heat is toast. But here's betting that he does and that Pat Riley has his team mean and angry for game two tonight. The problem is health—Hardaway's and Mourning's—and the bench. Mad-chucker Cedric Ceballos has the most offensive pop coming off the pine, and that is not good. Still, Riley has a way of squeezing effective minutes out of has-beens like Dan Majerle and never-wases like Bruce Bowen. Don't be surprised if one of them plays the hero in a game five against Charlotte.
1. New York Knicks. There are a million good reasons to bet against New York this year. Age, injuries, dysfunctional personalities, the Knicks have it all. Not to mention bad management. They inexplicably traded their best backcourt defender, Chris Childs, for the nailed-to-the-floor Mark Jackson, whom Jeff Van Gundy can beat off the dribble. Iverson and the Sixers made the Knicks look truly pitiful several times during the season. Still, there's legitimate hope. Here's why: In the postseason, you have to play the same team several times in a row, and this is where the Knicks' big advantage kicks in. Their team defense is still the tops in the league, and over a long series, the Knicks have an unparalleled talent for grinding opponents down into dust. They can beat Philly in seven, provided they get past Toronto in five.
If Iverson and the Sixers recover from their game one debacle, then somehow manage to get past the Knicks and the Heat, they'll be seriously dragging by the finals. They can do it, though. In fact, there's every reason to suspect that the NBA playoffs will go like this year's NCAA tournament: lots of talk of Cinderella teams, some great early upsets that get everyone hallucinating about improbable match-ups, and then the inevitable meeting of the big favorites. Which means, of course, the Sixers vs. the Lakers. David Stern has to be praying for it, and there's no reason not to pray along with him.
---