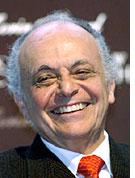 A few weeks ago, the New York Philharmonic concluded its three-year search for a conductor by naming Lorin Maazel as its next music director. The choice made international headlines, but to casual observers, the brouhaha was probably a mystery. So what if the New York Philharmonic has a new conductor? Who is this Lorin Maazel character, and how is he different from any of the other seemingly interchangeable, 60-plus-year-old maestros traveling the orchestral circuit?
Until the early 20th century, there were no "conductors," as distinct from composers and performers. The profession arose in response to the proliferation of recordings and the decline of amateur musical knowledge, and now the cult of the conductor has grown to be one of classical music's central articles of faith. At its heart is the notion that a great orchestra requires the presence of a great maestro. After all, when we attend a concert, most of us do not do so with our eyes closed. Instead, we watch the conductor as a living, breathing conduit of the music being played on stage. We are impressed by his balletic choreography; we are charmed by his charisma; we are stirred by how he is stirred; we swoon at his power; and we shower him with our applause and gratitude. And all the more so if he is a silver-haired man with a European accent. The older he is, the more he seems to embody the rich history from which the music springs; the more accented his English, the closer he is to the source of that history. (That Americans have no classical music of our own is a ludicrous canard, yet one that persists and partly accounts for our collective desire to see our orchestras led by foreigners.)
Meanwhile, the conductor, one should always remember, does not play a single note. Anyone interested in seeing just how musically superfluous a baton-flailing maestro can be should check out a concert or a recording by the Orpheus Chamber Orchestra, a self-directed group that still manages to produce exciting, richly nuanced, widely applauded interpretations. (Click here for its performance of the opening of Tchaikovsky's Serenade for Strings.)
So, why hire conductors at all? For one thing, a good conductor can bring surgical precision and expertise to an orchestra. He can mold an ensemble's sound to create a precise color, timbre, rhythm, or tempo. Historical examples abound, such as Leopold Stokowski's early infusion of the Philadelphia Orchestra with a fabled lushness that would still be the envy of many modern orchestras (click here for several selections). More recently, the outgoing Christoph von Dohnányi has been widely credited for molding the Cleveland Orchestra's sleek, versatile sound. Conductors are also important for sorting out complicated 20th-century scores, with their mind-bending rhythms and counterintuitive harmony. (Click here, on Track 1, for an excerpt of Dohnányi conducting Webern's Passacaglia, opus 1, an example of the challenging repertoire with which he has built his reputation.) Sure, the musicians might eventually figure it out themselves, but rehearsal time is fantastically expensive, and things simply get done faster with an expert manager calling the shots.
Orchestral players can be ruthless judges when it comes to conductors, and within the first quarter-hour of a rehearsal, most professional ensembles will have already reached their verdict. This was where Lorin Maazel scored a home run with the New York Philharmonic. After their initial trial meeting in November, players were reportedly talking like giddy teen-agers returning from a first date. "Those concerts were two of the most exhilarating weeks of my career," the principal oboist Joseph Robinson told Newsday. "All of my preconceptions were dispelled in the face of his musical authority."
It's true that, at 70, Maazel fulfills most of the requirements for Great Conductor status, including a kinetic platform manner that prompted one New York Times critic to joke that the philharmonic might attract younger audiences by marketing a Lorin Maazel action figure. And while he lacks a foreign accent—he was born in Paris but to American parents—much of his career has been spent on European soil, including posts with the Vienna State Opera and Bavarian Radio Symphony Orchestra. His discography, too, is vast. (Click here, on Track 8, to hear him conducting the Vienna Philharmonic in the Finale from Dvorak's Symphony No. 9.)
But while Maazel's appointment is likely to continue to thrill the orchestra's board and its musicians, the local critics, myself included, have been less sanguine about his impending arrival. Writing in Newsday, Justin Davidson called the choice "numbingly uninspired" and characterized Maazel as "so perennial, so redundantly qualified and so obsessively managerial that he practically deserves a job in the Bush administration." The problem isn't his technical skills, which are unimpeachable, nor his particular interpretations, but rather the broader package. Many saw the opening of the philharmonic's post as a chance for the orchestra to take a bold step forward, to choose someone who might bring a youthful swagger, new synergy, new repertoire, and new enthusiasm, which is what seems to be happening elsewhere in the orchestral world. Just take a look at the West Coast orchestras, which are led by the youngish, innovative Esa-Pekka Salonen in Los Angeles and the maverick Michael Tilson Thomas in San Francisco. Both have made eloquent cases for the music of our time and helped to create an environment of burgeoning artistic creativity. Instead, the philharmonic chose someone who looks an awful lot like its current audience: older and conservative. Maazel is a musician at the end of his career. Before he was invited to New York, he had publicly stated that he would not be seeking any additional appointments. Apparently the New York Philharmonic was an exception.
---