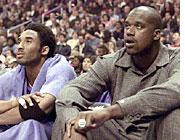 Kobe thinks Shaq is lazy on defense. Shaq thinks Kobe is a ball hog. Kobe wants the ball when the game is on the line. Shaq wants to be the focal point of the offense. The ongoing feud between the Los Angeles Lakers' Kobe Bryant and Shaquille O'Neal has filled column inches in sports pages and airtime on talk radio. But there's one thing it hasn't done: hurt the Lakers. They're one of the league's top teams, a shoo-in for the playoffs, and well-positioned to defend their NBA title (assuming Kobe recovers from his ankle injury). The Lakers are proving something that's rarely acknowledged: Bad sports can make good teammates.
Don't believe me? Check out these storied feuding teams:
The Oakland A's: The great, mustachioed "Fighting A's" dominated Major League Baseball in the early 1970s, winning five straight division titles and three straight World Series. The A's were famous for brawling in the clubhouse and sniping in the newspapers among themselves and with owner Charlie Finley. Rollie Fingers and John "Blue Moon" Odom got into a fistfight before the first game of the '74 World Series. But that didn't prevent the A's from winning in five.
The New York Yankees: Reggie Jackson brought clubhouse feuding from the A's to the Yankees in 1977. In his first season with the team, Jackson set the modern standard for player-manager feuding by practically coming to blows with Billy Martin during a dugout screaming match in Boston (a mark that was later eclipsed by Latrell Sprewell). But Jackson ended that season by clubbing home runs on four straight pitches en route to a World Series championship, a feat the Yankees repeated the following year.
The Philadelphia Phillies: The 1980 Phillies were once described by their manager Dallas Green as 25 different players who couldn't stand each other. The team weathered a drug scandal when a physician for its Reading, Pa., farm club was busted for prescribing amphetamines to select Phillies players (who, in turn, were called "Pillies"). Nor could the players stand their bullying manager, who ridiculed lazy and overweight athletes in the tabloids. Legend has it that hatred toward Green propelled the Phillies to their World Series title. As Green explained of the Phillies' success, "Winning helps erase bitterness." But bitterness doesn't erase winning.
The New York Mets: In the mid-'80s, Darryl Strawberry, Keith Hernandez, and manager Davey Johnson dominated headlines with their soap-opera antics, but the Mets won the '86 World Series even as Hernandez sipped beer in the clubhouse during the crucial rally. Johnson was so fond of feuding that he exported the tactic to other teams. When he managed the Cincinnati Reds, Nike was so certain that Johnson's feud with owner Marge Schott would lead to his dismissal that the company quit sending him red cleats to match the team's uniforms. (Nike was correct, despite the fact that Johnson took the Reds to the National League Championship Series.) And after a tumultuous winning season with the Baltimore Orioles in 1997, Johnson faxed owner/nemesis Peter Angelos his resignation the same day he was named American League Manager of the Year. The Mets' opponents in the 1986 World Series, the Boston Red Sox, were feuding winners in their own right. So much did the players loathe each other's company that the team's unofficial slogan was "25 cabs for 25 players."
The Buffalo Bills: Feuding winners aren't limited to baseball. The "Bickering Bills" built a dynasty on internecine squabbling, reaching four straight Super Bowls in the early 1990s. The Bills may have had more feuds per capita than any other team. First, quarterback Jim Kelly called offensive lineman Howard Ballard a "weak link" for allowing a sack. Then running back Thurman Thomas criticized Kelly for criticizing Ballard. Asked in an interview to identify the team's weakest position, Thomas replied, "Quarterback." When he wasn't bad-mouthing his line and his backfield, Kelly had running feuds with wide receivers Andre Reed and Chris Burkett. Many believe Burkett was cut at Kelly's prompting. On defense, there were sideline fights between Bruce Smith and Cornelius Bennett. And two Bills assistant coaches got into a fistfight while watching game film.
The Philadelphia 76ers: The team most likely to wrest the Lakers' title has a star, Allen Iverson, who is notorious for feuding with players, coaches, and league management. A nasty feud between Iverson and Jerry Stackhouse came to blows before a Knicks game in 1997. Then Iverson's entourage got into a fight with Stackhouse's. When Stackhouse was traded, Iverson turned his guns on Sixers coach Larry Brown. "Controversy is going to be with Allen Iverson his whole career," Iverson once mused. "It just doesn't affect me on the court. I'm all about winning."
The truth is, feuding can spark competitiveness, put a player's pride at stake, and motivate rich, spoiled athletes to play hard when nothing else will. Coaches recognize and exploit this. Scotty Bowman, who led the Detroit Red Wings, Montreal Canadiens, and Pittsburgh Penguins to Stanley Cup victories, is famous for manipulating players' psyches by pitting them against each other. Michael Jordan relies on this tactic with the lowly Washington Wizards (with limited success so far). As a profile of Jordan in a recent Washington Post Magazine revealed, he prevents his coaches from breaking up practice fights because he wants to breed just this sort of intensity in his players.
The real problem with a high-profile feud is that one teammate might decide to pack up and leave. But that's unlikely to happen with the Lakers. Despite their animosity, Shaq and Kobe got along fine after winning the championship last year, dousing each other with champagne in the locker room and carrying on as champions do. If they repeat this year, expect a similar reconciliation. Winning has a way of doing that. 
---