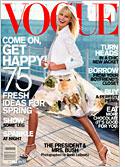 Blond, blissful Karolina Kurkova is on the cover of February's Vogue, wearing white leather, a rose-camouflage mosquito net, and a look of ethereal jubilation. She has good reason to smile; with any luck, the cover model is coming back.
For years, at least since the unwritten Editrices' Decree of 1994, celebrities have replaced models on the covers of beauty, fashion, and even some general interest magazines. (Here's a quick tour of current newsstands. Elle: Madonna. Allure: Catherine Zeta-Jones. InStyle: Jennifer Lopez. Cosmo: Debra Messing. Vanity Fair: Julianne Moore. Talk: Heather Graham.) That shift has dramatically and unexpectedly altered the line economics of running a magazine. Hachette, Condé Nast, and Hearst used to have to pay top dollar for cover models. Now—in theory at least—cover celebrities cost them nothing. Unlike models, movie stars with a New Project will sweat out costume changes and the ministrations of Kevyn Aucoin for little more than mango slices and the satisfaction of doing their contractual part to increase a movie studio's bottom line.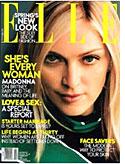 For publishers of magazines like Vogue and Elle, this must have seemed at first like an elegant fix—a square, moneyless deal. And celebrities now seem to regard free covers as part of their star compact; no celebrity has yet echoed Linda Evangelista, whose Bartlett's-quality declaration—"I don't get out of bed for less than $10,000"—must be the only epigram ever attributed to a supermodel.
Still, as New York's tireless celebrity wranglers can attest, the new deal has become a Faustian bargain. Magazines are still paying for their covers; they're just using a different, more expensive currency. Evangelista rates might have been exorbitant, but deals with models were clean payment for professional services. When the model was done, so was the deal. Now the costs are all hidden, and the steepest of them are often paid by readers.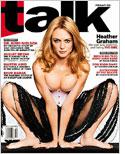 Without good covers, magazines risk low newsstand sales, and the pool of celebrities who qualify for those covers—ones with movies or records coming out—is not, month to month, inexhaustible. The struggle to get the right one is therefore always fierce, requiring foresight about the caprices of stardom, corporate espionage with other magazines, and an often weeks-long compatibility check among the celebrity and the photographer, stylists, and profile writer—not to mention the Versailleslike crossing and double-crossing of PR people.
All that finesse takes finessers: The '80s institution of the special projects editor has been augmented on many mastheads by entertainment editors, credit and location coordinators, and bookings directors, many of whom spend the better part of the production cycle chasing covers. One editor has said that, at times, as much as 30 percent of her magazine's resources have been devoted to getting covers. And that figure doesn't include the editing, writing, and shooting of actual magazine stories—the ones that represent payola to PR agencies for covers (an inside story on a TV teen, for example, in exchange for a titan movie star on a future cover; a small profile of a singer as apology to an agency for an earlier cancelled cover). At worst, the content of magazines becomes a refracted record of cover deals laboriously done or botched.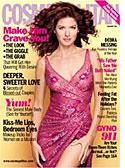 When mastheads get out of balance, when too much of a magazine's budget is being spent on a single page, when content is in danger of being driven by PR extortion, what counts as a "story" changes, and writers and editors suffer. Because magazines compete for stories and staff, this affects the whole ecosystem of magazines.
But the appearance of Kurkova on the cover of Vogue may be a good sign. She's got the smile of someone who is cashing a check. Let's hope that work for hire is a clean new look for spring.
---