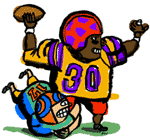 All season long, Tuesday Morning Quarterback has said the Vikings are a Potemkin team designed to roll up big margins on the second echelon but waiting to be exposed in a pressure game. TMQ has also been saying Minnesota headman Dennis Green, to quote an earlier column, has the Walter Mitty quality of showing you can be an NFL coach without having the slightest idea what you're doing. Thus Sunday's obliteration of Minnesota by the Giants for the NFC title was Exactly What I Predicted!*
(*Note: all TMQ predictions guaranteed to be valid except when not valid.)
All season long, Tuesday Morning Quarterback has said Baltimore is an irresistible steamroller of a team, plus dignified and sportsmanlike, while warning that Oakland is a papier-mâché club that is sure to crumple under pressure. Thus Sunday's stomping of the Raiders by the Ravens for the AFC title was Exactly What I Predicted!*
(*Actually, I never wrote any of the above about Oakland and Baltimore. I was just hoping you wouldn't go back and check.)
Ye gods, did Sunday ever separate the men, both players and coaches, from the individuals who merely have XY chromosome pairs. Let's start with the Jersey/A-Minnesota matchup.
Absolutely everyone, including every Giants fan, expected the Jersey/A game plan to be based on power running. Instead the home team came out throwing—five times on the first six plays, two for touchdowns. The Vikings had prepared a run-stuffing defensive game plan, with seven or eight in the box and the corners soft. How did Minnesota adjust when Jersey/A threw instead? No reaction whatsoever. Minnesota stayed in its run-oriented defensive set as Giants QB Kerry Collins tossed the ball up and down the field, breaking his team's postseason passing-yards record in the second quarter. The corker came when the Giants took possession on their own 23, leading 27-0, 3:31 remaining in the first half. Despite spending the previous 26:29 being pummeled by the pass, the Vikings lined up in a run defense. Collins proceeded to throw on nine of 11 plays of the drive, tossing for a touchdown with 19 seconds left and an out-of-body-experience 34-0 halftime lead over the favored Vikings.
Why didn't Dennis Green order his defense to start playing the pass? Because Green—lifetime 4-8 in the playoffs, every year coming up with a new justification why regular season success is what "really" matters—stayed home in Minneapolis to work on the wording of press releases. That's certainly the way it seemed. When the Giants jumped to a 14-0 lead after their first two possessions, heads began to sag on the Viking sideline. Green should have called his charges together and pumped them up, reminded them there was an entire game to go. Instead he took no action, staring off into space. It's the championship—don't just stand there, do something! Trailing 24-0 in the second quarter, the Vikes faced fourth and inches on their 34. Green sent in the punting unit! TMQ could not believe his eyes. You're down 24, it's the championship, you must take some chances, and you will never see a better chance than fourth and inches. When players quit on a game, as many Vikings did Sunday, they are denounced, as many Vikings were Monday in the nation's sports pages. How come when coaches quit on a game, as Green did by ordering that punt, they aren't denounced?
Wait, Green just was denounced here.
As for Oakland-Baltimore, TMQ notes it was the second straight playoff contest in which a Ravens defender knocked the opposition QB off the field with a blatant late, dirty hit that was not flagged by the refs. Against Tennessee, Ray Lewis got away with a hit that was both late and helmet-to-helmet, putting Steve McNair on the sideline. No yellow. Against Oakland, Tony Siragusa got away with a hit that was both late and the "pile-driver" move, specifically forbidden by NFL rules, putting Rich Gannon on the sideline. No yellow. Both QBs were ineffective on their returns. How is Baltimore getting away with these cheap shots? See TMQ's speculation in Reader Animadversions.
But beyond the league's coddling of Baltimore's dirty play, Oakland has mainly itself to blame. The Raiders dropped two touchdown passes. They ran the Single Worst Play of the NFL season. (See below.) With extra time off at the bye and with an easy victory a week ago over the Dolphins that allowed the Raiders to rest their starters in the fourth quarter (while the Ravens were getting hammered until the final play at Tennessee), Oakland nevertheless appeared unprepared while Baltimore was ready. TMQ lays this at the feet of Jon "I Was a Teen-Aged Coach" Gruden, who lost the postseason psyche match to Brian Billick by a wide margin.
Ah well, at least all this leaves a nice narrative for the Super Bowl. Namely, Good vs. Evil: the plucky, underrated Giants versus the boastful, dirty-playing Ravens.
Best Plays of the Championships: Best No. 1. After scoring on their opening possession, Jersey/A recovered a fumbled kickoff at the Minnesota 18. The Giants went straight to the end zone, sending FB Greg Comella, who hadn't scored all year, into the right corner where he caught the pass for six.
Best No. 2. Leading 17-0 in the second with the ball on their 44, the G-Men were holding a nice hand but might have gone conservative—Collins' last deep pass had been picked off. Nine of 10 coaches would have started pounding the ball. Instead Jersey/A OC Sean Payton called a deep "shot" route for WR Ron Dixon, who caught it for 43 yards, setting up the touchdown that made it 24-0 and turned the game into a runaway.
Best No. 3. Last week, TMQ noted that when Jersey/A tackle Luke Petitgout went out injured and known reserve Mike Rosenthal came in, Giants coaches did not move the action away from him, as the Eagles clearly expected, but ran three straight plays right behind his tail for 33 yards. Sunday, Jersey/A tackle Lomas Brown went out injured and Rosenthal subbed. Giants coaches did not move the action away from him, as the Vikings clearly expected, but immediately ran a play behind his tail for 17 yards.
Worst Plays of the Championships: Worst No. 1. With the game scoreless in the second quarter, Oakland had Baltimore pinned on its 4, facing third and 18. Down and distance strongly favored Raider defenders. All they needed was to play straight coverage and get a stop—NFL teams converted less than 10 percent of third and 15 or more this season—and the punt would give them excellent field position. Surely Oakland would line up in The Stick, its innovative, consistently effective long-yardage defense that rushes just three but places an impenetrable barrier of five DBs at the first-down stick. Surely the Raiders wouldn't blitz. Surely their coaches couldn't be that stupid.
No, no, no, no, no, no, no, no, no, no! Five gentlemen cross the line. The Ravens have called a quick slant, every team's standard anti-blitz play. The ball zings to TE Shannon Sharpe in the short middle—exactly where Raiders MLB Greg Biekert would have been if he hadn't blitzed. Inexplicably the Raider safeties have choked up, not played off as one should on a blitz to backstop any breakaway. Safety Marquez Pope, with a clean shot at Sharpe, jumps out of his way as if the runner were radioactive. Sharpe gets a nice downfield block, and he's headed to the house, 96 yards, longest completion in postseason history. For the Ravens, magnifico. For the Raiders, the Single Worst Play of the NFL season.
Worst No. 2. Trailing 10-0 on the first possession of the second half, the Raiders faced third and goal at the Baltimore 7. Get a touchdown, and an energized home crowd might make things dicey for the visitors. Rich Gannon hit Randy Jordan on both hands in the end zone, and he dropped the ball as if it were a live ferret. Oakland had to settle for 10-3 rather than 10-7.
Worst No. 3. On the key snap of their fourth quarter comeback attempt, Raiders sub QB Bobby Hoying hit Andre Rison—who a few weeks ago was boasting and preening about being better than Jerry Rice—on the numbers at the Ravens'$2 1, and Rison dropped the ball as if it were made of depleted uranium.
Stats of the Championships: Stat No. 1. Plodding G-Man QB Kerry Collins out-threw flashy, hyped Viking QB Daunte Culpepper by 381 yards to 78 yards and five TDs to zero. The Vikings were outgained by 404 yards, including by a total of 352 yards in the decisive first half. Ye gods!
Stat No. 2. The two championship winners outscored the two losers by a combined 57-3. Yumpin' yimminy!
Stat No. 3. Oakland scored just three points. The last time the team appeared in an AFC championship game in 1991, it was also held to three points. Jiminy cricket!
Stat No. 4. Minnesota has now honked the NFC championship game twice in the last three years. Holy cats and little fishes!
Stat No. 5. The Ravens are Super Bowl-bound despite being just 12 of 44 on third down conversions in the playoffs. Aye carumba!
Pro Bowl Recount, Please: Pro Bowl OT Korey Stringer of the Vikings gave up sacks on consecutive snaps. On Baltimore's killer pass to Shannon Sharpe, Raiders Pro Bowl CB Charles Woodson had 70 yards in which to make up five yards and catch Sharpe from behind. Woodson, who boasts and brags about his speed, not only failed to catch him—Sharpe is a tight end—but visibly gave up at about the Raiders'$2 30. (You never give up on breakaways; the runner might stumble.) Early in the fourth when there was still a chance, after Oakland stopped the Ravens on third and long, Woodson strutted over to a Baltimore player, engaged in a pointless yakking duel, and then shoved the player in front of an official. The flag for this moment of moronic self-indulgence gave Baltimore a first down. It's a measure of how the Oakland coaching staff gave up on the game that Woodson was not pulled from the field and screamed at. Oakland coaches watched this fiasco passively.
Sod of the Week: There wasn't a blinding blizzard in Jersey, as the Giants faithful had hoped, but the grungy Meadowlands sod was at its worst ever, which slowed the dome-based Vikings as much as snow might have. Bills kicker Steve Christie said after playing on the surface earlier in the year, "It's so much like sand that all you need is an umbrella, and you could have a picnic."
Travel Agent Success of the Week: Unlike the Dolphins, who waited until the last conceivable instant to fly to Oakland and then played jet-lagged, the Ravens flew out two days before the game, adjusted their body clocks, and played fresh. Maybe the Dolphins booked their tickets on Priceline.com.
Siesta of the Week: One of TMQ's unhappy realizations when this column began was that it would be necessary to stay awake during games rather than spending Sunday afternoons in a pleasing stupor. Thanks to the Giants'$2 41-0 lead, however, the fourth quarter of the NFC championship was nap time.
Poor Sport of the Week: After the Giants' blowout, Viking WR Randy Moss denounced his teammates as unmotivated. Moss himself had just two catches for 18 yards, and in the second quarter he pulled up on a pass he might have caught in order to avoid being hit by a safety. Instead, the Giants intercepted. After the blowout, Moss declared himself qualified for the Super Bowl but his teammates unworthy, adding that Sunday's embarrassment "must say something about us." What you mean us, paleface? Playing poorly and then putting the blame on others says something about you.
Information Economy Detail of the Week: Giants QB Kerry Collins received the game plan for the NFC championship by fax.
New Jersey Resplendent: America's glorious football state is now a combined 23-11 on the season, with Jersey/A playing for the crown. For all the hype the media have pumped out in recent years about Florida being the new apex of football, TMQ doesn't notice many Sunshine State teams booking flights to XXXV.
Stop Me Before I Blitz Again! Last week's column warned that the Vikings were covering defensive deficiencies by DB-blitzing but that this would backfire if tried in the Meadowlands. The G-People, TMQ noted, are the sole team in the league that has come out ahead by DB-blitzing this year, and as a result their offense sees the tactic often in practice and, Br'er Rabbit-like, wants to be DB-blitzed. What happened? In the decisive first half, Minnesota DB-blitzed three times. Each time the Giants completed long-yardage passes for the first down, one setting up a touchdown. The Giants also DB-blitzed three times, resulting in two incompletions and a fumble recovery.
Cover of the Week: The Giants beat the spread by 43 points.
Tears of the Week: Dick Vermeil, who cried at last year's Rams press conference to announce he was "retiring" from coaching, cried at this week's Chiefs press conference to announce his inevitable "surprise" comeback. All these tears seem to work; Kansas City gave him $3.3 million per year. Maybe everybody should cry at press conferences.
Tuesday Morning Quarterback continues to be annoyed by the practice of players and coaches announcing they are retiring when what they really mean is that they will no longer play or coach, not that they will enter true retirement—a life of shuffleboard on cruises, etc. There's got to be another verb for what happens when players and coaches depart from sports but go on to other careers. TMQ suggests they say they are "expatriating."
Maybe QBs Should Block for Tackles: Check the All-Pro team voting, and what jumps out is that the offensive tackles are almost all high draft choices (11 of 13 receiving votes were first-round picks, seven "lottery" selections at or near the top of the draft) while only three of the six quarterbacks were No. 1s, with two never drafted at all. So general managers, use your first-rounders on OTs, and pick up QBs off waivers. Low draft picks also dominated the safety and center positions.
TMQ's Never Last More Than Two: Here is an actual disclaimer from the Viagra ad in the January Atlantic Monthly: "You should call a doctor immediately if you have an erection that lasts more than four hours." Call a doctor? In this situation, call the Miami Dolphins cheerleaders!
More Proof of Oliver Stone's Grasp of Reality: Eagles RB Darnell Autry, a drama major at Northwestern, took two years off from the NFL to try to break into the movies. Autry was rejected at a casting call for the Oliver Stone football film Any Given Sunday, told he did not look enough like an NFL player.
Haiku Corner: Benedictions for clubs. Of the last pair, the first was submitted to "The Fray" as a lament for the Jets' playoff elimination loss to the Ravens, the second submitted by another reader in answer.
Patriot season ends
Drew, tired, heads home head down
Hits one last sack: bed.
—Scott Braly
Afflicted all year
By lethal Keyshawn virus,
Bucs at last succumb.
—"Teminence"
A dream year indeed!
Saints year calls for TMQ
Verbatim: Ye Gods!
—James Maumus
Just emerging from
Stupor. How did Jersey/B
Lose to Baltimore?
—Stephen Power
Here is the reason:
The Vinny we know and love
Hit DBs in stride.
—Brodie Jarrell
Harmonic Haiku Stat of the Year: Reader Peter Hesse, in a Fray entry instantly opened because it was headlined "Pics of Cindy Crawford and Jessica Alba Naked," pointed out a fun weirdness—all Monday Night Football games this season were won by the home team, except for the three games involving the Chesapeake Watershed Region Indigenous Persons, who lost both times they appeared at home on Monday night and won the only time they appeared on the road. Hesse summed this finding,
Home teams win every
Monday Night game except when
The Persons perform.
Hidden Indicator: Small example of poor Vikings preparation: When the Giants lined up in a "trips" on their fourth play, setting three receivers left, Minnesota DBs looked terribly confused and gave up a 46-yard TD pass. The Vikings hadn't played the Giants since December 1999, when the G-Man offense was conservative and predictable. Minnesota seemed to assume nothing had changed. But anyone who's watched Giants film this year knows they have loosened up, including by using trips formations on several occasions.
Small examples of poor Oakland preparation: Facing third and inches in the second, game scoreless, the Raiders came out in a heavy-jumbo set—three tight ends, everyone clustered in—and ran straight up the middle. Anyone who has watched Baltimore film knows no team has successfully run heavy-jumbo against the Ravens this season. Loss of yardage, punt, Baltimore scores on its possession. (On a third and inches in the fourth, the Raiders went spread and converted.) Twice in the first half, the Raiders bollixed line calls so badly that the left OT—key protector of the QB—turned inside to double-team someone, leaving a small Raiders RB alone to block a blitzing LB. Both blown line calls led to sacks, including one in which Rich Gannon aggravated an existing shoulder injury.
What these hidden indicators show is that while you might be able to get away with halfhearted preparation during the regular season and still post a winning record, in the playoffs, he who does not pay attention to every detail does not jog up the tunnel victorious.
Running Items Department
New York Times Final-Score Score: The Paper of Record goes 0-2 in its quixotic attempt to predict an exact final score, bringing the New York Times Final-Score Score to 0-258 for the season. The pressure is really on now—just one last chance at redemption.
Staff at the Multicolored Lady may be somewhat assuaged to learn that Sporting News assembled a panel of eight gentlemen described as "football experts"—not just sportswriters, experts—to predict exact final scores of the championship round. Needless to say, the SN experts went 0-16. Title inflation note: Being an "expert" sounds like you would get an intern. Therefore TMQ would like Microsoft to declare him an "expert."
Reader Animadversion: Regarding TMQ's transparently prurient item that used the Rams' game-killing punt muff against New Orleans as a cheap way to get references to Jennifer Lopez and muff into the same sentence, reader Michael Zalar wrote, "I put the terms 'Jennifer Lopez' and 'muff' into a search engine and came up with 2,270 matches. Surprisingly, none of them seemed to concern football."
Several readers objected to my calling Ray Lewis the "chief thug" of the Baltimore Ravens and suggesting the football world has been too eager to forget the January 2000 double killing at which he was present. First, on the "thug" point, why was there no flag when Lewis put an obvious late hit on Steve McNair in the Ravens-Titans game? Well, refs can make random mistakes. But TMQ suspects the refs are intimidated by the Ravens because they know the chief Raven is a thug and they know that the league doesn't care. At minimum, Lewis stood by and watched as two people were being killed. Excellent player, sure, but one who is violent, seeks to intimidate, associates with violent low-lifes and has had troubles with the law, which is pretty much the definition of thug.
As to what happened in the legal case, many readers seem to believe (and the NFL strongly wants people to believe) Lewis was found innocent. Not exactly. Murder charges against him were dropped in return for his pleading guilty to obstruction of justice. Obstruction of justice is not a mortal sin like murder, but it pulls up short of innocence.
Here is what happened "in the light most favorable" to Lewis, as lawyers say, based on his own statements in court. Lewis went out gallivanting with two friends, one of whom had been boasting about fighting knives he had just bought. The friends got into an argument with two men they met near a nightclub, and fisticuffs began. The friends killed the two men using the knives. Lewis did not participate directly but stood by watching without doing anything to prevent the killings, not even yelling for help. Lewis then fled with the friends, leaving the two bodies in the street, and when caught denied everything to police.
An Atlanta jury acquitted Lewis' friends on the grounds they were acting in self-defense, though the two dead men were unarmed and the evidence that the friends' lives were endangered was debatable. (The friends said the dead men started the fight, an unknown since the victims could not give their version. Generally, when someone else strikes first, juries tolerate escalation in self-defense.) As to why, if it was legitimate self-defense, Lewis and the friends fled and lied, it's understandable that someone who has just been present at a fight to the death might in the immediate aftermath be disorientated and act irrationally. But your head should clear the next day. It took Lewis weeks to come clean.
The league and media reaction to all this has bordered on bizarre. From the moment the Lewis charges were announced, the Ravens seemed more concerned with the salary-cap and draft-day strategy ramifications of a conviction than with whether one of their employees had abetted murder. From the moment Lewis pleaded to the lesser charge, the media have gone out of their way not just to praise his play but to hold him up as some kind of hero for "courage" in resuming his sports career. Though physically taxing, what happens on the football field is artificial and unrelated to true courage. True courage would be stepping in to stop the fight. And who wouldn't resume a career that pays $4.7 million annually?
Perhaps it is fair to say that Lewis was guilty mainly of bad judgment for associating with the wrong kind of people. But a large, powerful man who stands by and does nothing while people are killed and then lies about it isn't a hero in any universe TMQ wants to live in. After the Titans-Ravens game, the New York Times ran a laudatory article headlined, "Ray Lewis Triumphs After a Trying Year." It's been a pretty trying year for the dead guys, too.
TMQ Trivia Challenge: Last week's question:
Which of the following is not an actual modern era postseason record:
—Fewest yards rushing, minus-4: Detroit vs. Green Bay, 1994.
—Fewest pass completions, three: Miami vs. Oakland, 1973.
—Most career fumbles, 16: Warren Moon.
—Most career interceptions, 28: Jim Kelly.
—Worst passing percentage, 19 percent (five of 27): Bucs vs. Rams, 1979.
—Most total turnovers per game, 14: Oilers (nine) vs. Steelers (five), 1978.
Many readers, recalling a previous trick question Trivia Challenge that asked which of numerous records was not actual when in fact they were all actual, assumed TMQ couldn't possibly be going back to the well again and so scoured the record books for the phony one, proposing many fanciful answers. But hey, in football, aren't you supposed to keep running the same play until they stop you? This was indeed the same trick: All the records cited are actual. The Challenge goes to Michael Christian of Ann Arbor, Mich., who defied the odds and asserted they were all correct.
Reader Paul Decker noted that while it's true the Marine Mammals only had three completions in the 1973 AFC championship game against Oakland, it happened in the process of a 27-10 Miami victory dominated by Larry Csonka runs. Decker adds that the Dolphins went on to beat Minnesota in the Super Bowl that year with only six pass completions but a rushing attack that ground out 196 yards. Jamie DeVriend noted that depending on the definition of "modern," the record for passing futility might fall to the Eagles, who completed only two passes in the 1948 championship game against the Chicago (CAUTION: DID CONTAIN FOOTBALL-LIKE SUBSTANCE) Cardinals, won by Philadelphia 7-0 in a snowstorm. Jamie—entire faculty departments exist to argue over the definition of the word modern!
Here is this week's Trivia Challenge:
With the season almost wound down, the football-addicted are advised to spend the winter months reading great works of philosophy and theology. Or they can stoop to watching the new XFL, which promises to be to the NFL what Fox's Thong Babe Island is to PBS' The NewsHour with Jim Lehrer.
The last attempt to establish a competitor to the NFL was the USFL, which folded its tent and stole off into the desert in 1986. To agents this league was known as the Useful because it triggered salary bidding wars. Despite the long-ago demise of the Useful, three former USFL players performed in the NFL this season. Name these gentlemen.
Submit your answers via The Fray, titling them something clever like Trivia Answer. And be sure to include your e-mail address in case you win the prize, which is a day helping position models for the Sports Illustrated swimsuit issue. Wait, sorry, owing to Bush administration attempts to create a recession in the swimwear market, the prize has just been changed to having your name in next week's column.
---