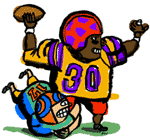 The gods did this to us in the Peloponnesian War, too—pitted an arrogant, cold-blooded team with a great defense (Sparta) against a virtuous underdog representing all that is good (Athens). The gods wanted to know if virtue could triumph, and they found out when Alcibiades of Athens went pass-wacky by staging the disastrous siege of Syracuse, setting in motion the fall of the city of philosophers and its disappearance from the stage of world history. Malevolent Sparta prevailed and was praised by the cowering as the gods chortled at the fate the mortals had brought upon themselves.
Anyway that's what TMQ was thinking, analogy-wise, during last night's Super Bowl.
Baltimore won so decisively there is no doubt it is the best team, and it honored Super Bowl lore by saving its best game for last. Yet the Ravens are also the NFL's Sparta, malicious and reeking hubris, and it was shameful to behold CBS and the rest of the sports world supplicating before them last night, pretending not to know what Sparta is like at heart. Using the Ravens as their vehicle, the football gods toyed with humankind, and humankind responded poorly—especially mediakind. Now we can only take solace that he whom the gods puff up, the gods destroy.
Oh, and the game? Aye caramba, Baltimore has a good defense, and aye caramba, did it ever win the coaching-prep battle.
Example No. 1: The Ravens, who rarely blitz, came out blitzing, sending men on 10 occasions while the game was still contested, causing five incompletions and a sack while giving up only one long gain. Meanwhile Jersey/A, the only team in the league to come out ahead by consistent blitzing this season, blitzed only twice while the game was contested, allowing the mistake-prone Trent Dilfer plenty of time to unload the ball.
Example No. 2: Considering that the Ravens are so hard to run against, the Giants needed an aerial game plan. But they went pass-wacky, coming out with the deep-strike, down-the-field stuff that had worked so well in the NFC title game against the weak Vikings DBs. The Ravens, however, are not the Vikings. To make matters worse, Jersey/A had bad field position in the first quarter. Attempting deep strikes from bad field position got the Giants off on the wrong foot and allowed the Ravens, after a series of three-and-outs and punt exchanges, to start a drive in Jersey/A territory and score the early TD that rattled the Giants' nerves. The one form of passing that has given the Ravens trouble this year has been quick rhythm throws from spread sets (Remember the Baltimore-Jersey/B game?), yet this wasn't in the Giants' game plan. G-Men coaches seemed to believe that one fabulous game against Minnesota had converted them into Air New Jersey. Baltimore studied the Giants-Minnesota tape carefully, and there was no element of surprise when Jersey/A tried the same trick two games in succession.
Best Plays of the Super Bowl: Best No. 1. With the game scoreless, Baltimore came out in a slot right and went deep for a TD to total unknown Brandon Stokley, who had 11 catches in the regular season. Going deep to the least-expected target on the field is an old college-level trick. The Giants acted liked they'd never seen it. It helped that Stokley was being covered by Tawdry Pitchman/Relentless Self-Promoter/Spare-Time CB Jason Sehorn (see below).
Best No. 2. Late in the second, leading 7-0, Baltimore faced third and two deep in its territory. The G-Men held all their timeouts and had a chance for excellent field position. Giants DB Dave Thomas lined up directly on top of journeyman Ravens WR Qadry Ismail, practically begging Dilfer to throw deep to him. He did, for a 44-yard gain that set up a field goal.
Worst Plays of the Super Bowl: Worst No.1. With Baltimore leading 7-0, Giants QB Kerry Collins had time to set up and hit Ike Hilliard open down the middle for at least a 40-yard gain and perhaps a touchdown. Collins sailed the ball beyond his reach.
Worst No.2. Driving to the Baltimore 29 with a minute left in the half and trailing 10-0, the G-Men would have liked a TD but had to get a field goal. On first down, Collins threw a heave-ho into double coverage, INT.
Worst Zebra Play of the Super Bowl: Baltimore leading 7-0, Jessie Armstead intercepted a Dilfer screen pass and ran it back for a touchdown that would have knotted the score and given the Ravens something to be nervous about. The zebras flagged Jersey/A DT Keith Hamilton for contact with RB Jamal Lewis, the intended screen target, and the play was called back. Hamilton did hit Lewis, but pass interference is legal behind the line of scrimmage. The refs first signaled pass interference, then changed the call to defensive holding—a shaky, marginal flag given the contact and the best single thing to happen to the Ravens in the game.
Single Worst Play of the Super Bowl: Baltimore 10, Giants 0 late in the third, ball on the G-Men's 44. Kerry Collins hits Ravens DB Duane Starks in stride, and he took it back for the TD that turned the game into a runaway. The consecutive kickoff TDs on the next two plays were fun to watch, but it was the Starks' INT runback that determined this game's fate. Starks "jumped the route," breaking toward Collins when he saw Giants WR Amani Toomer stop. Purists can debate which was worse, the pass or Toomer standing and watching it happen rather than trying to break up the INT.
Toast, With Jam: Jason Sehorn, endlessly coddled by Jersey/A management, played one of the worst games in Super Bowl history. Sehorn gave up a 38-yard TD pass to third-stringer Stokley while also letting marginal WR Pat Johnson get behind him for what could have been two more long TDs, one Johnson dropped and another that Dilfer overthrew. Sehorn, who sometimes skips practice to make media and endorsement appearances, leading up to the Super Bowl was busy filming a Charles Schwab commercial and talking to anyone with a camera about his "spontaneous" stunt of proposing to "surprised" TV babe Angie Harmon on the Jay Leno Show. Less than an hour after the final gun sounded at Tampa, Sehorn was already dressed in a trendy double-breasted suit with his hair looking quite styled, telling a cluster of TV types, "We should have come out and played better." What you mean we, paleface?
Stats of the Super Bowl: Stat No. 1. In four playoff games, Baltimore outscored its opponents by a combined 95-23, yielding just one offensive touchdown. Jiminy cricket.
Stat No. 2. The Giants ran just three plays in Ravens territory and were held to 36 yards of offense in the second half. Their total of punts (11) and turnovers (5) exceeded their first downs (11). Yumpin' jiminy.
Stat No. 3. Jersey/A averaged 2 yards per pass attempt, with four INTs. It averaged 4.1 yards per rush attempt, with no rushing fumbles. And yet the G-Men called 39 passes and 16 rushes, this pass-over-rush ratio holding long before the game was out of reach.
Stat No. 4. The Ravens scored seven touchdowns on kick or interception returns in their final five games.
Stat No. 5. The Ravens won the Super Bowl despite being 15 of 50 on third-down conversions in the playoffs and averaging just 225 yards of offense.
Super Bowl Moment Beyond Satire: As Norman Schwarzkopf and Gulf War veterans looked on, Greg Gumbel proclaimed to 200 million people, "And now the National Anthem, produced by Rickey Minor."
Super Bowl Moments of CBS Shame: Shame No.1. During the primary broadcast, 6 p.m. to 11 p.m. EST, CBS mentions of Ray Lewis' involvement in a double killing: zero. CBS comments praising Lewis: TMQ stopped counting at 28. Including, gushing to him as he was awarded the MVP, "Who would have thought that from Super Bowl night last year you would come to this?" Super Bowl night last year was when Lewis, by his own admission, watched two helpless men being killed, did nothing, and then lied about it. Not that any viewer would have known that from the CBS coverage.
Shame No. 2. After Lewis (three total tackles) was voted MVP by a groveling media panel, he was described in a gushing post-game schlurp by Gumbel as "a truly grateful person." You'd be grateful, too, if you'd been involved in a double killing, escaped punishment, and then been lavished with adoration by the national press. Yes, Lewis is a tremendous linebacker, but that does not mean dozens of major publications, plus CBS—once the network of high standards and now seemingly determined to win the race to the bottom—should be holding up to kids for praise someone society ought to view with disdain. (Lewis played in the Super Bowl on probation for obstruction of justice, not that any viewer would have known from the CBS coverage.) TMQ can think of only one word to describe the sports media's knee-pads approach to Lewis this week, and it rhymes with "door."
TMQ's Super Bowl MVP: Ravens defensive tackle Sam Adams, who shut down the middle while chipping off blockers so that Ray Lewis could make the flashy plays and three tackles that the media swooned over. Adams had one of the best seasons of any NFL performer and selflessly executed the Baltimore defensive scheme, which calls for him to tie up OLs so that linebackers can run to the ball uncontested. If only Adams had been at a murder and lied about it, he, too, might get media adoration.
Expect a Defense Budget Increase: Both the B2 bomber and the Air Force Thunderbirds exhibition team flew over the stadium.
Maryland Resplendent: For all the hype about Florida and California ruling contemporary football, these sunny states of halter tops, blackouts, and recounts ended the NFL season a combined 40-52 while the Northeastern Yankee domains of Maryland, New Jersey, and Pennsylvania finished 1-2-3 in TMQ's state rankings, a combined 50-29, and took the Super Bowl crown. The final state rankings:
Maryland: 24-12, .667
New Jersey: 23-12, .657
Pennsylvania: 21-13, .617
Missouri: 17-16, .515
All single-team states (New York, etc.): 104-110, .486
Florida: 20-22, .476
California: 20-30, .400
Ohio, cradle of football: 7-25, .219
The Football Gods Chortled: Showing the kind of loyalty and concern for the team for which he is famous, Deion Sanders announced he would attend the Cincinnati Reds' camp, suspending his football training and, if he makes it back to the majors, missing the first half of the NFL season. Apparently that canny businessman, Owner/Megalomaniac Dan Snyder of the Chesapeake Watershed Region Indigenous Persons, handed Deion an $8 million bonus last June without getting a clause in the deal barring him from keeping the cash and jumping back to baseball.
Gorzon's Last Memo:
From: Gorzon the Inexplicable, First Illuminate of Mithrall
To: Bio-operative TMQ4499, "Gregg Easterbrook" The Galactic Hegemony (Devastating Star Clusters Since 50 Million BC©) has finished its evaluation of this column. Mainly, we are disturbed that you have consistently revealed that our bio-agent KurWar7733, "Kurt Warner," was sent to Earth to ingratiate himself into human culture as a sports hero as part of preparation for an invasion. Revealing this information could have spoiled our entire attack plan! Fortunately, it appears the Earth authorities do not believe anything they read in Slate.  Originally, the signal to begin the invasion was to have been the final gun sounding on Super Bowl XXXV. "Kurt Warner," whom we assumed would repeat as MVP, would have been on network television being interviewed at that time and was programmed to have used his celebrity to reassure the public, "Ignore those lights you see in the sky! Everything is fine!" Then the Rams got eliminated in the wild-card round. As I told our fleet commanders, we'll just have to "wait till next year." Our attack cruisers remain on station behind Mars and will continue to cause any U.S. probes sent that way to "mysteriously" fail. The invasion will be rescheduled depending on results in upcoming NFL seasons. Because I'm sentimental, I would like to put the utter annihilation of Earth on hold until the Bills win a Super Bowl. But I doubt we can wait that long.  Additionally, agent TMQ4499, the Hegemony (Not Your Father's Intergalactic Conspiracy!®) finds your column has contained too little on subjects of interest to alien civilizations, such as repair of sidereal phased-boson transducer arrays, and far too much about Cindy Crawford, Jennifer Lopez, and the assets of certain cheerleaders. Seriously, how can you gawk at such repulsive organisms? I checked out the Dallas Cowboys cheerleaders  on your recommendation and practically lost my lunch! It's a good thing I had swallowed that live throcmort hours earlier, and it was already down to my fourth rumen. You consider these babes? Where are their tentacles, where is the vestigial proboscis that gives a real babe her va-va-vooooom? Although I do like the fact that, if you click on the boobs of any cheerleader at the Dallas site, it opens a little personality profile that includes her favorite color, ideal date, and "my last meal would be ________." Now there's a real Texas question. But to think that human males actually fantasize about engaging in primitive mating rituals with such top-heavy organisms! It's almost as crazy as being obsessed with football. Overall, though, the Galactic Hegemony (Did Somebody Say Invasion?™) is pleased with your column, especially its documentation of the inherent faults of defensive-back blitzing. That's the sort of thing the big media conglomerates just won't report! The Illuminates have decided to confer a reward fitting to your efforts. You are instructed to check into a suite at the Hyatt Regency Lake Tahoe. Our bio-agent AnnKour6622, "Anna Kournikova," will meet you there and immediately disrobe! You may then engage in unlimited mating rituals. But rather than appear in the repulsive human female form she has taken as part of the Earth infiltration project, as your extraspecial reward, "Anna Kournikova" will appear to you exclusively in her true, delightfully sensuous 12-tentacled form. Her vestigial proboscis will be yours to do with as you wish! Have a great offseason. 
Licensing Fees Left on Two! Next season the league will require quarterbacks to change the standard snap cadence from "Hut! Hut!" to "Hype! Hype!"
Plans To Clone Dan Snyder Are on Hold Until It Can Be Determined Whether He Is Human: The NFL imbedded tiny strands of genetically engineered DNA into Super Bowl game balls so that they can be positively identified, increasing the income the league earns by selling the balls to collectors. Isn't it interesting that the NFL will go to any length to make sure we know precisely which ball was used on which play but insists it hasn't the slightest way of knowing what happened at the Ray Lewis murders?
Last Dan Snyder Item: The Owner/Megalomaniac has now fired 90 coaches and front-office and management personnel in less than two years since taking over the Persons, including firing many of his own hires. Dan Synder Feat of the Year: giving that $8 million to the fading, underperforming Sanders at a time when no other team had even made Sanders an offer, let alone dangled bags of money. Snyder declared Sanders "the ultimate weapon." Deion unilaterally disarmed.
Last Cardinals Item: In the run-up to the 2000 season, the Arizona (CAUTION: MAY CONTAIN FOOTBALL-LIKE SUBSTANCE) Cardinals said without irony that center Mike Gruttadauria was their "big name" free-agent signing. Twelve letters—not bad. This offseason, if you're shopping for big names, how about Obafeni Ayanbadejo (Ravens), Tshimanga Biakabutuka (Carolina), Blake Brockermeyer (Bears), Brody Heffner-Liddiard (Dolphins), or Alshermond Singleton (Bucs)?
Lions, Dolphins To Clash at Mike Kinsley Field: With PSI Net in financial trouble, the company may relinquish its identification rights to PSI Net Stadium, the Ravens' ballpark, putting the name of this structure back onto the market. Pro Player Stadium, where the Dolphins perform, already has its name for sale because the Pro Player apparel line went out of business; apparently millions for a stadium affiliation wasn't such a canny deal promotion-wise. The TWA Dome, where the Rams play, is now named after a bankrupt airline about to be swallowed by a competitor. Debate continues in Denver regarding whether to apply the storied title Mile High Stadium to the team's new field or to sell a naming right in order to pay back some of the public expense of construction.
TMQ suggests all these arenas be christened Your Trademark Here Stadium. Porticos would be set up with Times Square-style electronic message boards that could change stadium names at a moment's notice. Naming rights could then be auctioned on a weekly basis, maximizing revenue and allowing sponsors to tailor their image-making.
Why, after all, should a big corporation spend lavishly to have its name on a stadium in the week the Ravens are playing the Chargers or some other woofer? But when the next Tennessee at St. Louis game is held, the Fortune 500 might compete briskly to have the week's stadium name tie-in. Hollywood might rent ballpark names to tie in to movie openings: Greg Gumbel could say, "CBS welcomes you to the Broncos-Raiders game here at Lethal Bimbo Three: The Swimsuit Conspiracy, Now Opening Everywhere Stadium." Stadium name futures could be traded, or sold at deep discount for unwanted weeks, allowing small-money players into the action: "Fox welcomes you to the Chargers-Seahawks game here at the National Compulsive Yawn Awareness Foundation Stadium." TMQ would buy naming rights for the next Bengals at Cardinals game so that for one Sunday, the field could officially be known as Cover Your Eyes Stadium.
Final Haiku Corner:
Strong men shudder as
Weak souls quake: Dilfer. Collins. 
Super Bowl QBs.
—Eddie Scott 
TMQ's Offseason Points: While NFL stadium attendance is the best ever, ratings for television—a more important source of revenue—are shaky. As we head into the free agency period and players begin to jump teams like genetically engineered burgers jump off the griddle at your favorite fast food joint, Tuesday Morning Quarterback would like to make two points:
First, free agency has hurt the quality of the game by encouraging players to engage in "look-ma-I'm-dancing" behavior with their next contract in mind while discouraging team cohesion and selfless play in the interest of the team. Watch NFL film closely this year, and the one thing that jumps out is the decline in OL play on most teams. Offensive line coordination is subtle and hard to see, but the OL requires the most teamwork of any football unit, and this builds with time. Free agency now shuffles lines so often—four of Tampa's five OL starters were new this year—that clumsy play is now the norm rather than the exception. The same phenomenon can be seen at other positions: good athletes not together long enough to learn to play cohesively. Though individual NFL games are often still fabulous, overall the quality of the product is declining, so naturally consumers (viewers) are buying less of it.
Next, how great do you suppose television-series ratings would be if actors constantly jumped from show to show? If Dennis Franz jumped from NYPD Blue to Spin City, and to top it off kept playing the same character? You'd turn on Spin City, and Heather Locklear would be, first, fully clothed—and what's the point of that—and second, listening to a glum Detective Sipowicz speak in a monotone about how freak accidents and rare diseases have recently killed everyone he has ever met. The next week you'd turn on Star Trek: Voyager, and Captain Janeway would be talking to Tim Allen, who would be playing not an alien emissary from the Galactic Hegemony (When You Wish Upon a Star, Invasions Come True™) but his Home Improvement character, belt and all.
Basically that is what happens when athletes constantly change teams: They disorient you by showing up in other places, doing exactly what they used to do somewhere else. Free agency hasn't even necessarily helped bad franchises (if it please the court, Exhibits A and B, the Cincinnati Bengals and Los Angeles Clippers, and your Honor, I rest my case); it's just made the top teams approximately interchangeable along a three-to-five year time axis. Major league baseball has already gotten to the point at which it's so hard to figure out who is playing for whom that the sport could give up on team structure entirely and reconstitute as a rotisserie league where all players are unaffiliated individuals competing exclusively for stats. Endless altering of who's in which uniform suggests that neither what the athlete did at the old team nor does now at the new one means much except for his own income, and reduced interest should not come as a huge surprise.
(Bad television notes: To create an all-purpose NYPD Blue line of dialogue, simply put the phrases "jammed up," "on the job," and "the House" into any sentence in any order. To write an instant Voyager episode, use this generic plot: While the shuttlecraft crashes on an away mission staged for no reason other than to necessitate a rescue, the holodeck inadvertently takes over the ship. Seven of Nine denies her feelings. The Doctor programs himself with yet another "cute" human trait. To save the day, Janeway and Tuvok must crawl through a series of tunnels and push some buttons really fast.)
Canton Update: TMQ salutes the selection committee for giving three of this year's seven slots to offensive linemen, the most OLs ever chosen. But that still leaves the NFL Hall of Fame with 39 running backs and quarterbacks compared to 27 OLs, though teams typically play twice as many offensive linemen as RBs and QBs combined. More OL affirmative action is required.
Team Name Change Proposal: Since the Texans don't start playing till 2002, there is still time to change their name to the Rolling Blackouts.
Ultimate Hidden Indicator: Teams that were leading on the final play won 100 percent of their games. This is the kind of hidden indicator that is essential to an insider's—oh, forget it. 
Running Items Department
Final New York Times Final-Score Score: Seeking to improve its odds, the Times ran dueling Super Bowl predictions—Giants over Ravens and Ravens over Giants. Since these were the only possible outcomes, the Multicolored Lady pretty much covered its bases. But both quixotic attempts to predict the final score were wrong, bringing the final New York Times Final-Score Score to 0-260 for the year, a perfect season!
Times sportswriter Mike Freeman can take solace in having in August picked the Ravens to win the trophy, along with ESPN commentator Joe Theismann, the only other big-media commentator who called the Ravens in preseason. Though TMQ in August presciently described the Ravens as "a destiny team." All right, I'm leaving out words to create the appearance of prescience: Actually I wrote, "Baltimore feels in some way like a destiny team."
Other Final Failed Predictions: The Sporting News' panel of seven gentlemen whom the magazine identifies as "football experts" made quixotic attempts to predict the exact final score of the Super Bowl, and all were wrong. The Sporting News also asked 35 celebrities, from Dan Rather to model Cindy Margolis, to predict the exact final score, and all were wrong—0-35, though all 35 predictions focused on the same game! One of the celebrities, Monica Lewinsky, identified by the Sporting News as "a former White House intern" (oh, you mean that Monica Lewinsky) said she liked Jersey/A because of Jason Sehorn. Maybe the Giants will start taking locker room interns; TMQ bets the players could see their way clear to that. Margolis, identified by the Sporting News as "the most downloaded woman on the Web," picked the Ravens but was wrong about the final. Whether Margolis really ought to be the most-electronically-gawked-at babe in known world history you must judge for yourself. TMQ is not sold since tricorder readings suggest the presence of a silicon-based life form. TMQ does like Cindy's Web store, though, which offers an "autographed headshot" for $10 and a "limited edition" bikini pose for $49.95. (Limited, surely, to the number that can be sold.)
Most Embarrassing Disney Senior Management Moment: The Don Ohlmeyer-Dennis Miller fiasco drove Monday Night Football ratings to the lowest level ever, despite a run of fabulous games. Using canny business acumen, Disney just renewed the pair for another year. The announcement contained some blather about how MNF viewers need time to get used to Miller. That should be easy since there are fewer of them every week!
Reader Animadversion: Relative to college team nicknames, TMQ asked of the University of Delaware, how do you cheer up a Blue Hen? Drew Ames suggested, "Goose her." Bob Krasner replied in haiku:  
For cheering Blue Hens 
I have found that food works best 
But not an omelet.
Several readers noted that by being the Blue Hens, Delaware is one of the few schools with a female nickname image. This caused Mark Nelson to ask, "Are Delaware women's teams called the Lady Blue Hens?" The University of South Carolina, whose men's teams are the Gamecocks, bravely continues to call its women's teams the Lady Gamecocks, despite the extremely common ellipsis of that designation. To top it off, the school's mascot is named Cocky. TMQ assumes Cocky is intended to be male, but, this being the 21st century, who knows who's under that costume and what she may be wearing for recreational purposes? Check Cocky out here.
On the topic of disinformation, TMQ has often wondered whether made-up sports stats acquire lives of their own. When you hear TV announcers say that a team has just set the record for most consecutive quarters without a screen left, how do you have any idea whether it's true? As a test, last week's TMQ contained a line of disinformation. Did you catch it? "Of the 68 teams to have taken the field in the 34 Super Bowls so far, 18 of them—26 percent—failed to score a touchdown." Actually only one Super Bowl team failed to score a touchdown, Miami in 1972. (Eighteen Super Bowl teams did fail to record a passing TD; I based the phony stat on a real one for quasi-credibility.) Last week's column generated hundreds of e-mails but just two readers, Brodie Jarrell and "Mark," called TMQ on the plant: Gentlemen, if you had been the supervisors of Aldrich Ames, Cold War history might have been different. The plan is to watch and see if this disinformation acquires a life of its own and shows up in future Super Bowl writing.
On TMQ's complaint about announcers screaming "wide open!" far more often than justified, reader Ray Lynch wrote, "I guess you don't watch many Cincinnati Bengals games. At least two receivers are wide open! on every play."
For the item on college nicknames, several readers questioned why TMQ passed on the obvious opportunity to get the Beavers of Oregon—or Beaver College, for that matter—into the same sentence as the name of some mega-babe sex goddess. Now do I seem like the kind of writer who would stoop so low for a prurient cheap shot appealing solely to the salacious instincts of readers? Of course! But I didn't think of it at the time. Reader "Mr. Fabulous" points out that Whittier College, a Quaker school, calls its teams the Poets because, apparently, the school feels that relative to a Quaker, a Poet is menacing. Mr. Fabulous suggests instead the Whittier Nixons, which sounds truly menacing. Academic schedule note: On July 16, Beaver College will change its name to Arcadia University in order to end a generation of bad jokes. No word on whether Jennifer Lopez will be the final commencement speaker.
Regarding TMQ's complaint that announcers say "double reverse" to describe plays that are actually single reverses, reader "Meriadoc" notes that pundits say politicians have committed a "flip-flop" when actually they mean a flip. A flip-flop, Meriadoc points out, would bring you back to your original position. Then you could be accused of consistency!
Finally, reader Bill Brueggeman writes to note that Cheetah was a monkey, not a chimpanzee. TMQ apologizes to all lower primates, lower primates being the column's core audience.
Final TMQ Trivia Challenge: Last week's Challenge: 
Several NFL players share the dubious distinction of dressing for three Super Bowls but not participating in a single play. Name any one of these gentlemen.  
Many readers knew that Jason Garrett, who held the clipboard three times for the Cowboys at the Super Bowl without ever getting his uniform dirty, would be headed to Tampa as the Giants' third quarterback, giving him his fourth chance to dress for the big dance but not play—the record, so far as TMQ can determine. Other readers noted that Gale Gilbert dressed for two Super Bowls for the Bills without playing, then taped up and did not play for the Chargers in their Super Bowl appearance. Bob Berry, the Vikings' third QB during their Super Bowl run in the 1970s, also achieved the dubious distinction of three big dance dress-ups without a snap. There may have been others, too, but since they were offensive linemen or special teams players, everyone has utterly forgotten them, even members of their own families. Of the many correct answers, this Challenge is awarded on a completely arbitrary basis to Jeff Varty of Calgary, Alberta.
Frostback wins an NFL contest? Aye caramba. Things are getting out of hand. It must be time to end this mad TMQ experiment. And so …
TMQ Sign-Off: As this column folds its tent and steals into the desert, Tuesday Morning Quarterback advises you to use the offseason to read great works of philosophy and theology. Exercise regularly. Give generously. Join a faith-based community service organization. Meditate. Get in touch with the spiritual themes in your life. Improve your diet: The USDA recommends four servings daily of fresh fruits or vegetables, three servings of complex carbohydrates, two servings of dairy or meat, and no more than one serving of fats or sweets. Take long walks and appreciate the glories of nature. Stop and smell the flowers or, if you are a Texan, the oil refineries. Spend more time with your family or, if you are Jesse Jackson, with your families.
Do all these things during the offseason, and then you can feel morally superior when you plunk yourself in front of the television on Sunday afternoons next fall to eat caramel-ranch-'n'-asiago-sprayed genetically engineered Tostitos, drink dark-light blueberry-pineapple half-pale microbrewed ale, and scream, "Go for it!"
Plus take some life advice from TMQ: Resist the urge to blitz. Chances are the down and distance are in your favor. And don't wear ridiculous K2 survival gear, unless you are actually headed to K2.
As the winter months drag on and you glance down at your edition of the Summa Theologica and realize you have only made it to page 249—eo modo tradere secundum quod congruit ad eruditionem incipientium, arrggghhhhh, was he drinking dark-light half-pale ale when he wrote this?—just bear something in mind. The 2001 NFL season kicks off, and all the hype, absurdity, and ritualized time-wasting begins anew, in but 217 days.
Ye gods.
---