When the Kansas City Royals traded their talented leadoff hitter, Johnny Damon, to Oakland Monday, the local sportswriters shed a few tears and pronounced the national pastime sick. "In the old-time baseball world, they never would have traded Damon," one Kansas City Star columnist mourned. "They would have kept him here, and he would have been a good player for a long time, and they would have inducted him into the Royals Hall of Fame."
Every sports columnist in every city tells the same sob story. Player leaves team. Twelve-year-old boy gets heart ripped out. Writer blames free agency.
Free agency forced the Royals to trade Damon or risk losing him at the end of next season for nothing. Free agency also enticed Alex Rodriguez to betray the Seattle Mariners for 252 million pieces of silver. The anti-free-agent mantra is familiar: Money breeds players without loyalty, who hold their home city and its fans in contempt. The fans and the city return the animus, and wham! Baseball becomes a game of mercenaries, a volatile enterprise in which players zip from team to team so fast that fans forget who they're rooting for from one season to the next.
True enough, free agency allows players to shop their services on the open market, meaning they'll probably switch teams a few times over the course of a career. But the rosters of baseball's ballyhooed golden age were hardly more stable. In the 1950s, the owners ran baseball like Carnegie ran steel. Scurrilous fat cats broke up their teams for money and suffocated civic consciousness in the deal. The difference in the 21st century? Now the players file for divorce. Their greed can be harder to stomach because we want to like them, even idolize them, but face it: Baseball volatility is as old as Abner Doubleday.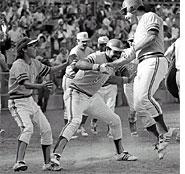 Take this very unscientific comparative analysis of some pre- and post-free-agency rosters. Start with the last pre-free-agency dynasty, the 1971-76 Oakland Athletics. Those A's were a very stable team, a model of the sweet bygone era. Joe Rudi (left field), Reggie Jackson (right), Sal Bando (third), Bert Campaneris (shortstop), Vida Blue (pitcher), and Rollie Fingers (pitcher) put on an Oakland uniform every year during that stretch. Billy North (center), Ken Holtzman (pitcher), and Catfish Hunter (pitcher) were around for most of it, too. (Though Hunter was one of the first players lost to free agency.) For the most part, a lineup you could get to know and love, despite its reputation for cantankerousness. A model of pre-free-agency comity, right?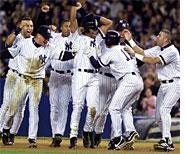 Right. But the current New York Yankees dynasty, though built on free-agent acquisitions, is as stable as the reserve-clause Athletics dynasty. The 2000 Yanks, who just won the Series for the umpteenth time, are basically the same players that first won it all in 1996. Bernie Williams and Paul O'Neill are fixtures in center and right (though left has been something of a trouble spot). Tino Martinez owns first base. Derek Jeter will stay at short forever. Second has been tricky only because Chuck Knoblauch went crazy and can't make the throw anymore. Sure, the pitching staff loses a David Wells here and picks up a Roger Clemens there (incidentally, not a free-agent transaction), but Andy Pettitte, David Cone, Orlando Hernandez, and Mariano Rivera have been mainstays, though Cone won't be back next season.
What about all those midseason Yankees acquisitions, Jose Canseco, David Justice, and Denny Neagle? A scandal, yes, but nothing new. Back in the good old days, the Yanks picked up a ringer for the stretch run every year (Johnny Mize, Johnny Hopp, and Johnny Sain in 1949, 1950, and 1951).
But dynasties are not the best case studies for volatility. The stinky teams are. Like today's basement-dwellers, the crappy teams of yesteryear didn't happily take the field with the same rosters every year. They rotated stinkers. A lot.
Check out the 1955-1960 Washington Senators, a wonderfully godawful team. The 1955 club lost 101 games in a 154-game season. Eddie Yost (third), Jim Lemon (right field), Roy Sievers (left), and Camillo Pascual (pitcher) managed to survive the lean years. The rest of the team was a revolving door of no-talent also-rans like Herbie Plews, Tom Umphlett, and Jose Valdivielso. The Senators used five starting second basemen and three starting shortstops in that span. The catchers who started on those teams: Ed Fitzgerald (1955), Clint Courtney (1956, 1958), Lou Berberet (1957), Hal Naragon (1959), and Earl Battey (1960).
Compare the current Montreal Expos. No question, they're a farm team for the rest of the major leagues (Pedro Martinez, Henry Rodriguez, Jeff Fassero, and Wil Cordero, to name only a few). But Rondell White has been there since 1993, Ugueth Urbina is a fixture out of the bullpen, and the extraordinary Vlad Guerrero hasn't been sold off for a gaggle of no-name minor-leaguers and a year's supply of escargot. (At least not yet.) [Correction, Jan. 12: Rondell White was traded to the Cubs last year.] If a standard exists by which the Expos can be judged stable, it is the horrid teams of the golden age. The old Kansas City Athletics hemorrhaged good ballplayers all over the league. They saved the Yankees dynasty by transfusing Clete Boyer, Bobby Shantz, Roger Maris, Hector Lopez, and Ralph Terry in the span of four years.
The owners of yesteryear moved players around in the interest of the bottom line or, on winning ball clubs, kept them around for the same reason. Now the players get a say in the matter, and they get rich in the bargain. It may seem ridiculous and wrong for middle relievers to earn $4 million a year, but it's the American way. And at least George Steinbrenner doesn't get the money instead. 
---