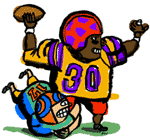 From: Gorzon the Inexplicable, Prime Illuminate of Mithrall and Vizier Totipotent of the Galactic Hegemony
To: Bio-Agent KurWar7733, "Kurt Warner"
Subject: Third-Down Progression Reads
Bio-agent Warner, everything had been going exactly as planned. What in the tentacles of the silicon elders happened in the Carolina game?
Till Sunday, our plan had been flawless. First the star-cruiser arrived at the target world bearing your genome clones from the operations base of the Galactic Hegemony (Devastating Star Clusters Since 50 Million BC®), located in the seemingly "empty" football-shaped sector of Cygnus A. To see how thoroughly our cloaking fields have fooled Earth authorities about the football-shaped sector of Cygnus A, click here. Then you assumed the form of a human athlete and used nano-implant technology to win the Super Bowl and Most Valuable Player trophy. NFL referees check for stick-um and hard casts, but they don't look for biogenic phased-lepton Higgs field projectors, do they?
This year, as your statistics accelerated toward the supernatural, we arranged for you to fake an injury—as if a four-dimensional tesseract construct could be injured by a three-dimensional impact!—so that the defending champions would decline when your backup took the field. Sure enough, St. Louis lost three straight home games with a mere human quarterback, answering any claims your success was "just the Rams system." Starting Sunday, you were to build your legend even further with a miraculous comeback. Instead four INTs. The elders are not pleased.
Meanwhile, football continues to grow in popularity back here in the homeworld. Everyone watches all the games, even the Chiefs-Patriots matchup. We sit on the couch drinking lymph-grog, clapping our flukes, and screaming, "Go for it!" Everything Dennis Miller says is so funny—we always know exactly what he's talking about. The sideline shots of the cheerleaders are aesthetically revolting, of course, but it is heartwarming to know there is one silicon-based life form on Earth. And all the juvenile pupa are slithering around wearing NFL caps—it's the rage. Though they insist on wearing them with the brim forwards—what is it with the young today?
Of course you know some of our other attempts to place bio-agents into key positions in human society have met with mixed success. MonicaLew5588 might have succeeded in toppling the American government if only it had not been for our lack of knowledge of the specifics of human mating rituals. Who would have believed they could do it standing up, let alone conscious? Our operatives, however, have since obtained extensive information about human mating rituals from something called Blockbuster.
And the genomic transformation of AnnKor6622 malfunctioned for reasons our tech pods are trying to determine. Resulting bio-agent "Anna Kournikova" did not, as planned, receive the superior athletic ability that would enable her to dominate tennis as you dominate football. Worse, Anna's physical appearance came out too repulsive for words. I still have the nude photographs we took of her during the mating-rituals orientation session. Nude images of Anna Kournikova are so utterly hideous I just have to get rid of them. Do you suppose anyone on Earth would want these pictures?
Kurt, the Illuminates feel you need work on your progression reads. You had the Rams on the Panthers'$2 15-yard line midway through the third, ready to start the spectacular comeback but telegraphed the pass to Bruce, allowing an interception run back 88 yards for Carolina. Proehl was open over the middle! As all space aliens know, when the primary receiver is doubled, you've got to come off him quickly. Just leave your occipital synthetic-aperture radar on, and you will always track the position of every player. Leave it on! Don't give us any of that romantic Earth BS that the Force will guide you.
Well, enough for now. The master plan is still in effect: You lead Rams to numerous Super Bowls, acquire national fame, run for the U.S. Senate, and persuade America not to build space-based defenses. Succeed, and "Anna Kournikova" will be yours in her true, 12-tentacled form. Fail, and the penalty is 1,000 years in the boiling ammonia pits of Aldebaran Four. But don't let that make you nervous.
Best Plays of the Week: Best No. 1. They must be reading TMQ because all coaching staffs visiting cold weather cities came out in varsity jackets and baseball caps, a total reversal from overdressing on the cold Sunday two weeks ago. Up at Buffalo, where Miami had never won a game played after Thanksgiving, it was well below freezing and Mammals QB Jay Fiedler jogged onto the field for initial warm-ups in shorts and a long-sleeved T-shirt; his team went on to win by 27. Fiedler's shorts were the single best play of the weekend.
Best No. 2. Holding a 20-3 lead over Indianapolis, the Jets weirdly used four-wide or five-wide formations throughout the second half rather than pound the ball to grind the clock. Yet it worked, Curtis Martin running for 203 yards from spread sets. Good strategy is anything you can walk away from.
Best No. 3. Packer Antonio Freeman's back-of-the-end-zone reception—body sideways out of bounds but toes amazingly kept in—against the Bears joins his falling-down, off-the-helmet, off-the-sternum touchdown against the Vikings to give him two seemingly physically impossible catches in the same season.
Worst Plays of the Week: Worst No. 1. Trailing Pittsburgh 21-20, the Raiders had first down at midfield with 22 seconds left, needing 15 yards for position to attempt the winning field goal. But they did not follow Raider legend Ken Stabler's rule: Throw down the middle in the final seconds because the defense will expect throws to the sideline. Rich Gannon threw three straight toward the sideline (including the final pass, on which he forgot it was fourth down), and the drive fizzled.
Worst No. 2. Trailing 24-0 on the first possession of the second half, the Bills faced fourth and inches at their own 27. They punted, Miami scored on its possession, and the game was over. A team down 24-0 must take chances; fourth and inches isn't much of a chance to take. When coaches signal a punt in situations like this, what they are telling players is that they've already given up and are counting the minutes till they can hit the bar for a nice honeydew-caramel crème de menthe martini. If players quit on a game, reaction is fiercely negative. How come it's OK when coaches quit?
Stats of the Week: Stat No. 1. Denver rookie Mike Anderson, a 27-year-old former Marine who did not play high school football, ran for 251 yards, the fourth best pro total ever.
Stat No. 2. The Browns (Release 2.0) recorded two first downs. Ye gods.
Stalin on Peachtree Street: Coach Dan Reeves benched starting QB Chris Chandler for saying everyone on the 3-11 team needed to work harder, "including the coaching staff." Atlanta proceeded to lose 30-10 to woeful Seattle. Reeves also described the Falcons as "a worker's paradise" and denied reports of starvation among the kulaks.
Fight Song Revise: Fans of the Chesapeake Watershed Region Indigenous Persons sing the team's fight song after each score, though this season they have engaged in the ritual less often than expected. TMQ proposes an updated lyric, which fits the melody:
Hail to the Indigenous Persons.
Hail, nominal effort.
Highly overpaid underachievers
Fight! To shift the blame.
During the Persons' loss to Jersey/A when starting QB Brad Johnson was yanked, Owner/Twerp Daniel Snyder who has openly lobbied for backup Jeff George—Snyder seems unaware there is a reason why George has been cut by numerous teams—jumped up and pumped his fists in the air. Quarterback controversies are bad enough, but a quarterback controversy prompted by the owner? The football gods take note of such things. Compensating virtue: One step closer to the inevitable Snyder public meltdown.
Who-Dats of the Week: Who No. 1. Pittsburgh's defense has been stellar, allowing just 15 PPG despite the Steelers' years of free-agency losses and bad drafts. On the bad draft front, Pittsburgh has spent two consecutive "lottery picks"—No. 1s near the top of the draft—on Troy Edwards and Plaxico Burress, receivers with a combined zero touchdowns. Yet the team's who-dat defense, which starts unknowns such as Kimo von Oelhoffen, consistently excels.
Who No. 2. Denver has run up 1,021 yards of offense in the last two weeks despite average personnel, a backup QB, and the unknown Anderson subbing for Hall of Famer Terrell Davis. The key has been bravura blocking by the team's who-dem OLs such as tackle Lennie Friedman of West Milford, N. J. The Broncos are despised by the rest of the league because they coach blockers to attack the knees of defensive linemen and try to cause injury, forcing defenders to spend their energy protecting themselves. Why officials let Denver get away with this dirty tactic has never been clear, but it sure works. Additionally, anyone who watches Denver game film sees that the team's OLs are relentless, always moving and looking for someone to block even after the runner has passed them. Compare this to the overpaid, underachieving offensive lines of clubs such as Buffalo and Seattle, whose blockers quit on plays and stand around looking even before the runner reaches the hole.
If Intellectuals Wrote Football Columns: From Søren Kierkegaard's column, "Fear and Tackling:"
From my earliest youth, I have known that I must be an Arizona Cardinals fan. I remember discovering a football annual, hidden from me by my cold and distant father. I read in shock that the Cardinals have had only one playoff victory in 53 years and had lost 112 games in the last decade. My naïve hopes for the future were dashed as I gazed in horrified fixation on Arizona draft choices and player transactions. The Cardinals were atrocious, ill-managed, sluggish, unpopular, and their OLs quit on plays. I knew then and there that I must embrace them.Now my love for the Cardinals is the mistress of my heart. Each Monday when I look at the newspapers, I can be assured I will find Arizona in last place and read it was clobbered again in embarrassing fashion. What relief to see they even lost to Cincinnati! Whenever I log on to sports Web sites to check NFL statistics, I can be sure Cardinals' players' names will appear only in categories such as "punts" and "sacks allowed": The failure of the team helps me face the pointless despondency of my own wretched existence. Let other cities have winning season after winning season, creating the tantalizing illusion of purpose. Through the Az-Men, I know what life really is. One must literally be a lunatic to follow the Cardinals. It is a destiny I welcome.Some might say the Cardinals are cursed by fate. No! Their role is a noble beacon of pointlessness. They are the truth in a world of enticing illusions. The very constancy of their despair grants me an anchor in the insanity of this life. The tantalizing winning teams will lead fans on and then crush their spirits at the last, just as illusions of justice or beauty always crush believers. The Cardinals, by contrast, will always be awful. In them my soul finds solace.Every time I drag myself unworthy to a home Cardinals game, I look up worshipfully at the arches of Sun Devil Stadium, emblazoned with the warning, CAUTION: MAY CONTAIN FOOTBALL-LIKE SUBTANCE. I enter and cheer wildly as the team fumbles and jumps offside, secure in the knowledge I will not be embarrassed because hardly anyone goes to Cardinals home games. Good seats are always available at the stadium of existential despair! I cry out to the Az-Men in celebration. And then I make a leap: a leap of fake.
Waived Gentlemen of the Week: Waived No. 1. TMQ salutes Chris Carter, who became the second NFL player ever to catch 1,000 tosses and the first waived player ever to do this. Carter, one of the top performers in pro football history, was once released by the Eagles. Some of the best NFL players have been cut. Next week when the Pro Bowl squads are announced, Tuesday Morning Quarterback plans to pick an All-Waivers Team.
Waived No. 2. Kicker Joe Nedney, who's been cut by two teams this season, nailed three for three Sunday and is now up to 30 of 33 on field-goal attempts in 2000.
Combined Failures of the Week: The Bills and Persons, the top teams for combined efficiency (Persons best at 12, 8th offensive and 4th defensive; Buffalo tied for second at 17, 14th offensive and 3rd defensive), both suffered embarrassing, listless home loses and fell to 7-6. How can these teams be superior in yardage yet on the brink of elimination?
Often when a team does well in yards but falters in the standings, the reason lies in turnovers and field-goal attempts. This seems to explain the Persons, who are average in giveaway/takeaway and whose revolving-door kicker corps has caused three Ls this season with misses in the closing seconds. Additionally, the Persons are burdened by the hyper Napoleon complex of Owner/Twerp Snyder, whose runaway self-importance drags down everyone around him. Surely Snyder will suffer for his ego fit of firing coach Norv Turner with just three games remaining. Danny, why not hold your breath until you turn blue?
The Bills, in contrast, are not only at the top in yardage but plus-eight in giveaway/takeaway and sport a fearless clutch field-goal kicker having a Pro Bowl season. How, then, to explain their woe? Oh ye of little faith in the football gods: Buffalo is being punished for the way it treated Bruce Smith and Thurman Thomas.
Stop Me Before I Blitz Again: The Colts trailed Jersey/B by just 20-17 with four minutes left, Jets ball on the Indianapolis 18, third and eight, down and distance favoring the defense. All the Colts needed was a stop: The Jets kick a field goal, and a touchdown on the final possession will win it for Indianapolis. But it's a blitz! The Colts send a cornerback, and the man he would have covered catches a 16-yard pass to the 2, setting up the icing touchdown.
Push To Activate: An NFL absurdity is the inactive list. Teams have 53 gentlemen, but only 45 may tape up for games plus the third-string quarterback, who can step on the field only if the first two QBs are dragged off injured. This means that each week, six players watch from the sidelines in street clothes (or in ridiculous K2 survival gear). So far as anyone can determine, the sole function of the inactive list is to compel owners to pay players not to perform since inactives get their regular game-day check.
The absurdity of the inactive list dates to previous NFL regimes under which rosters were smaller and coaches were allowed a set number of annual "moves" back and forth from injured reserve. As the NFL season grew to 16 weeks, it became obvious more games would mean more injuries, so more backups would be required. The antediluvian element of the owners' cohort hated larger rosters, however, since this entailed more salaries, just as some owners opposed down-and-distance specialization on the grounds it would cause coaches to want more bodies. Through the decades before the 1990s, several owners insisted 43 or 45 was the "correct" figure for an NFL roster as if biblically given. (College teams have 90-person rosters; for the pros, the correct figure is the maximum the league will fund.) When the "moves" system was discarded in 1991, the antediluvian owner element insisted something had to be done to screw the players enlarging the rosters. The inactive list was invented.
Because of the inactive list, coaches have fewer warm bodies to perform on special teams; this forces starters to play special teams, increasing the frequency of injuries to starters, which shafts the fans. The bizarre status of third-string QBs—dressed but forbidden to play—slows their development into capable quarterbacks (the NFL's single most valuable commodity) and means punters end up holding for placement tries. If reserve QBs were holders, exciting fake kicks would be more common.
Being paid to do nothing may sound like a union idea, but labor hates the inactive rule—even the most marginal athlete wants to get his uniform dirty—and last week, NFL Players Association head Gene Upshaw called for elimination of the inactive list. TMQ agrees: Let all play, unless their limbs are in casts. Free the Inactive Six! The only possible effects of this change would be to reduce injuries and improve games. So the league probably won't do it.
Haiku Corner: Staff and reader verse:
The football gods wax
Wroth. Bush, Gore distracting from
What really matters.

—TMQ, 2000
Donovan McNabb
Has a five-syllable name
Perfect for haiku.

—Beth Jerome
Pity Dick Jauron
Bears Shane and Cade throwing bad
Jim Miller much missed.

—Steve Gozdecki
Fiedler at the helm
Jay related to Arthur
Conduct us to scores.

—Chris Lipe
And a limerick:
There once was a Bear named Allen, James
Who ran, fumbled, cried in the rain.
He was running so well,
Then it all went to hell.
Next week he'll probably do it a-gain.

—Markous Snyder
Keep submitting your verse, via "The Fray."
Pull of the Week: Finally deciding the San Francisco cap-evasion case, the commissioner docked the team a fifth pick in the 2001 draft and a third in 2002. This leniency once again demonstrates that the Niners are the league's best-connected club politically. In trades, NFL teams discount draft choices to present value by one round per future year: A general manager offering a third-round 2002 pick in trade would receive a fourth-round 2001 pick. Thus the Niners were effectively fined a fourth-round pick (present value of the 2002 third-rounder) and a fifth-round pick for three instances of cap violation while a few months ago the Steelers were fined a greater amount (a 2001 third-round pick) for one single violation. What does Niner management have on Paul Tagliabue, one wonders?
Quote of the Week: The Associated Press primary dispatch described the Arizona-Cincinnati contest as "a ragged game befitting the NFL's two worst teams since 1990." Now, your mother taught you that if you can't think of anything nice to say, don't say anything. But considering the Cardinals and Bengals—this was nice!
Hidden Indicator of the Week: This is the 80th season of NFL madness, and in that period there have been 10,695 games played in 136 stadiums by 81 teams scoring 408,066 points with 18,301 gentlemen participating. Rounded, the figures show a games-to-stadiums ratio of 79:1, a points-to-players ratio of 22:1, and a teams-to-seasons ratio of an eerie 1:1. These are the sorts of hidden indicators essential to an insider's understanding of the sport. Unfortunately, Tuesday Morning Quarterback has no idea what any of them mean.
Running Items Department
Obscure College Playoff Scores: Appalachian State 17, Western Kentucky 14 (Division I-AA playoff). Bloomsburg 58, UC Davis 48 (Division II semifinal). Hardin-Simmons 33, Trinity of Texas 30 (Division III quarterfinal).
Most Embarrassing Don Ohlmeyer Moment: Kansas City-New England was the year's first woofer MNF matchup, and the self-mocking opening roll was, in truth, pretty funny. But this tells you the Ohlmeyer-Dennis Miller nexus came into the season expecting to ridicule Monday Night's own product and didn't know how to adjust when most of the games turned out to be fabulous.
New York Times Final-Score Score: Once again the Paper of Record goes 0-15 in its quixotic attempt to predict an exact final score, bringing the New York Times Final-Score Score to 0-203 for the season. Reader Brad Hammill's generic final score—Home Team 20, Visiting Team 14—also whiffs, bringing this item to 0-117 since inception.
Honored Guest Predictions: Friends, it has happened. The Rochester, N.Y, Democrat and Chronicle, one of the many papers that engages in quixotic attempts to predict exact NFL final scores, in its Friday edition forecast Jets 27, Indianapolis 17, the actual final. (All its other predictions were completely wrong.) Congratulations to the Democrat and Chronicle: Surely this was a team effort in which everyone associated with the paper gave 110 percent.
Reader Animadversions: A reader screen-named Jake protests that TMQ has never done an item on "the complete lack of gay coaches in the NFL." Jake, how do you know there is a complete lack of gay coaches? Jake continues, "There are many gays and lesbians who settle for jobs as hairdressers and ballet dancers when what they really want is to coach in the NFL." Jake finds the situation to be discrimination. Setting aside the cheap shot about how certain teams would play rougher if coached by lesbians, TMQ notes that society tolerates forms of discrimination in sports that it would never allow elsewhere. This will be a subject on an upcoming column.
TMQ Trivia Challenge: TMQ did such a poor job of wording last week's question that a perfect answer was impossible. Here was the question:
An above item mentions 14 recent 1,000-yard seasons by backs weighing less than 200 pounds, crediting eight to Thurman Thomas. That leaves six unaccounted for. Name the gentlemen who accomplished them.
Well, "recent" is pretty vague. Many readers suggested Barry Sanders as key to the answer, but according to The Official Encyclopedia of the NFL, Sanders played at 203 pounds. The six names TMQ was looking for were James Brooks, Warrick Dunn, Charlie Garner, Gaston Green, Napoleon Kaufman, and Erric Pegram. But Tony Dorsett and Joe Morris also qualify, depending on what "recent" means. Abashed, TMQ awards this challenge to Mark Longbrake of Seattle, who sent in both a detailed initial entry and a hand recounted entry.
Here is this week's much better-worded challenge:
A while back, TMQ proposed that 2-0 in overtime would be the ultimate football score. Sadly, this seems improbable in the NCAA overtime format: The team with the ball would have to suffer a 75-yard loss. But though there's never been a 2-0 OT professional game, there was one NFL contest decided by a safety in sudden death. Give the game date, the combatants, the final score—and name the gentleman who recorded the winning deuce.
Submit your entries to  The Fray, titling them "Trivia Answer (Well-Worded)." Remember to include your e-mail address in the totally improbable chance that Judge Sanders Sauls declares you the winner.
---