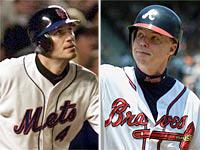 The uncertain results of the 2000 All-Star balloting are threatening to produce a sporting crisis which challenges the legitimacy of our national pastime.
New York Met Robin Ventura apparently won the popular vote for National League third basemen. In spite of this, Atlanta Brave Chipper Jones was named the starter based on the initial vote count, which was Jones 1,553,944, Ventura 745,120. But voting irregularities at Shea Stadium indicate that as many as 813,000 Ventura votes may have been discounted—enough to make Ventura the starter. Mets fans punched the holes in their ballots using their fingernails, unaware that ballpoint pens, car keys, or toothpicks more effectively prevent hanging chad. Nine-year-old Scottie McCallon personally filled out 67 ballots at a single game, and now he is not sure whether those votes counted. Many Long Islanders worry they accidentally voted for Jeff Cirillo when they meant to vote for Ventura.
Jones has conducted himself honorably, with the laudable goal, shared by everyone, of ensuring that the election is settled as quickly as possible. He has also proceeded, in some of his statements and actions, as if his election is assured. In fact, he went 3-for-3 with a solo home run in the game itself, which the American League won 6-3. This is premature.
To preserve the dignity and legitimacy of Major League Baseball, it is essential to remove any hint of inaccuracy in the final result. The quickest way to resolve the crisis—which has nothing to do with the merits of the American League over the National League—is to ask the people who know best: the fans of the New York Mets. Those who voted that season should be asked to vote again as soon as possible, without scrutiny. And there should be an accurate hand count in certain seat sections under question, particularly the right-field bleachers. Then a make-up All-Star Game at Turner Field should be held during the bye week between the NFL's conference championship games and the Super Bowl.
Both leagues should pledge to abide by the result of the make-up game, without recourse to Bud Selig or Donald Fehr. This is the quickest, fairest, and most sportsmanlike way to remove the taint of controversy from the new starting third baseman, whoever he may be.
NOTHING LESS, WE BELIEVE, CAN PRESERVE THE FAITH OF THE FANS UPON WHICH OUR ENTIRE PASTIME RESTS.
LET THE FANS DECIDE.
—Emergency Committee of Concerned Fans 2000
(Click here  to add your name.) 
---