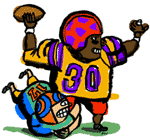 Bill Walsh coaching disciples go into each game armed with The Script, a list of the first 15 plays to run. Walsh disciples are trained to stick to The Script regardless of down and distance, except for fourth down. Right now two Script teams reside high on the landfill in offensive stats: the Broncos at second overall, with disciple Mike Shanahan, and the Niners at fifth overall, with disciple Steve Mariucci. A Script game plan helped the Broncos roll up 538 total yards on Sunday despite average offensive personnel. Brett Favre used a Script during his Super Bowl years. Joe Montana and Steve Young were Script quarterbacks, and life pretty much seemed to work out OK for them. Yet despite the track record of The Script, most coaches do not employ this approach. Why? Your guess is as good as TMQ's. (Technical note: This means you will be wrong.)
This column also uses a Script approach. Here, on an exclusive basis—exclusive because no one else would carry it—is The Script employed by Tuesday Morning Quarterback:
1) Wild, sweeping generalization.
2) Sentence that appears to refer to A but actually refers to B.
3) Counterintuitive assertion.
4) Wry allusion.
5) Incredibly detailed statistic that readers assume to be true.
6) Mention of Kurt Warner's star-cruiser, given pseudo-scientific gloss by terms from physics chosen at random à la any Star Trek: Voyager episode.
7) Unfalsifiable claim about football tactics, meaning of life, etc.
8) Leering reference to Cindy Crawford, Jennifer Lopez, or Cindy Crawford with Jennifer Lopez.
9) Bondage reference. (Tasteful.)
10) Knowing use of sports terminology to suggest expertise.
11) Cheap shot.
12) Joke reworded from previous column.
13) Insertion of phrase, "Ye gods." (Relevance optional.)
14) Haiku. (Literary merit optional.)
15) Astonishingly complicated trivia question that someone will answer in 30 seconds.
Best Plays of the Week: Best No. 1. Taking possession at their own 14, three minutes left, trailing by four on the road at the Colts, the Marine Mammals seemed doomed. But last year in Indianapolis, the Dolphins were in a nearly identical last-gasp situation, and the Colts let them off the hook by blitzing, blitzing, blitzing, creating big-play opportunities for the winning comeback. One of those cartoon light bulbs must have gone off in Miami coaches' minds. Mammal coaches called the sort of passes designed to counteract blitzes, and sure enough the Colts cooperated by blitzing on six of nine downs on the final drive. Miami flew down the field as if Indianapolis wasn't there, scoring the winning six with 1:09 left.
Best No. 2. How to resist that urge to blitz? Trailing 10-7, Atlanta faced third and 15. The Raiders rushed just three while putting five defensive backs in a straight line across the field at the first-down marker. The Falcons had no choice but to throw under, and the receiver was tackled short. This defensive set is a rare pure innovation—a formation no one has seen before. Let's see if it catches on.
Best No. 3. A week ago, Minnesota stung Carolina with a classy-looking play series in which there was a fake end-around while the RB took a screen or went straight up the middle. Like Borg drones, the Panthers adapted. Last night against Green Bay, Carolina ran a classy-looking fake end-around in which the RB went straight up the middle for a 26-yard touchdown.
Worst Plays of the Week: Worst No. 1. The cover-your-eyes Bengals trailed Pittsburgh 38-21 in the third when a shotgun snap sailed over QB Akili Smith's head. Smith chased the ball, and, failing to recover it, this extremely highly paid gentleman simply sat down on the field and watched as Steelers LB Jason Gildon scooped up the live rock and ran it back for six.
Worst No. 2. Last week the Rams made their fatal mistake on a play that was first and goal at the 5, trailing the Chesapeake Watershed Region Indigenous Persons by 11 in the fourth. Rather than a power-run, play-action, or roll-out, the defending champs simply used a regular pass from a regular set—the worst possible goal-line call—and gave up the INT that iced it for the opposition. This Sunday, trailing the Saints by seven in the fourth, St. Louis lined up with first and goal on the 5. Surely the Rams learned from the identical situation the previous game, right? St. Louis ran a regular pass from a regular set: sack, fumble, turnover.
Worst No. 3. Score tied at 31, four minutes to go, Denver had the ball on its own 20. Seattle lined up with seven players in the "box," the space defined by the OLs and TE. Seven men in the box is a run defense that dares the opponent to throw. Denver ran anyway, and third-string tailback Mike Anderson went 80 yards for the winning touchdown; no Seattle defender even touched him.
Stats of the Week: Stat No. 1. Chicago RB James Allen fumbled three times in 25 carries.
Stat No. 2. The Bucs received a punt and were sacked by the Bills on three consecutive snaps, then punted back. The possession consisted entirely of sacks.
Stat No. 3. Eagles quarterback Donovan McNabb personally out-rushed 13 teams.
The Football Gods Chuckled: Kansas City RB Tony Richardson had a nice run to the goal line against the Bolts. He rolled into the end zone, jumped up, and wildly spiked the ball to celebrate his touchdown—except he'd been stopped on the one. The spike cost the Chiefs 15 yards (spiking is unsportsmanlike conduct unless the player has scored), causing them to settle for a field goal in a game they ultimately lost by a point.
Who-Dats of the Week: Who-Dat No. 1. The Saints rose to 8-4 despite losing their QB and star RB in successive games. Inexperienced replacement QB Aaron Brooks threw an INT on his first pro pass last week, but TMQ urged readers to take him seriously; on Sunday, Brooks tossed for one touchdown and ran for another. Though the football gods were surely displeased to observe Brooks waving the ball at Rams players as he crossed the goal line. Accomplished veterans are punished for such rodomontade: What do we suppose will happen to he who taunts the defending champions in his very first career start? Let us see if the football gods send a sign.
Who-Dat No. 2. The Eagles are highly impressive at 9-4, even considering they received the league's easiest schedule based on the NFL schedule-strength formula. What is especially impressive about Philadelphia is that the team has a passing game despite WRs named: Torrance Small, Charles Johnson, Todd Pinkston, and Na Brown. Who dem?
Who-Dat No. 3. The Panthers ran up 31 points on MNF despite starting these gentlemen on offense: Brad Hoover, Chris Hetherington, Jeno James, Matt Campbell, Frank Garcia, Jamar Nesbit, Chris Terry, Kris Mangum, Isaac Byrd, Muhsin Muhammad, and Steve Beuerlein. Now, be honest: Other than Beuerlein and Muhammad, had you ever heard of any of them? Hoover, an undrafted rookie from what-dat Western Carolina University ("one of the nation's 100 most-wired campuses," according to its Web site), had 117 yards rushing in his first career start.
Stop Me Before I Blitz Again: In the second quarter, the Raiders faced second and 12, odds favoring the defense. Atlanta blitzed seven, including a DB, and Rich Gannon threw 28 yards to Tim Brown for the touchdown that started the rout.
If Intellectuals Were Football Columnists (New item): From Catherine MacKinnon's football column, "Silenced Cheers":
It is impossible for me to express the totality of my disgust regarding the Oakland-Atlanta game. The Raiders used oppressive power to degrade and dominate the weaker Falcons. Exploiting unfair biological advantages, Oakland males repeatedly compelled Atlanta players to assume passive, submissive positions, such as flat on their faces. The Raiders "forced" the ball into Falcons territory, violating the personal space of defenders; fans screamed for the latter-day gladiators to "force it down their throats," and do not attempt to tell me the sexual imagery here is a mere figure of speech. Oakland players aggressively thrust themselves toward Falcons players who, replays clearly showed, were never asked for consent. There was no attempt to gently stroke and tease Atlanta's defenses in order to secure voluntary agreement for later thrusts—assuming the notion of "voluntary" can ever apply to a power-structure arrangement in which the team with the superior record is allowed to have its way with a franchise conditioned to view itself as one of the league's "losers." Atlanta players who attempted to show assertive self-dignity were silenced, pump-faked or knocked on their keisters.If this contest were to have been fair, why weren't the best players from both sides divided equally just before kickoff and then challenged to show that they could win their opponent's genuine, voluntary consent for scoring? Because there is no such thing as true consent to be scored upon in football games! And the idea that losing players are glad to be in the NFL or even actually "like it" and want to play again shows only they have been socially conditioned to accept losing roles. Equally socially conditioned are the cheerleaders who objectify themselves and the media representatives who misuse their so-called First Amendment "rights" to file deceptive reports tricking the public into believing that the results were determined by merit and that the cheerleaders actually engaged in voluntary competition to win their demeaning positions, rather than being drugged and forced. All cheerleaders are in reality drugged and forced, the media simply will not report this: they are degraded twice, first when issued those skirts, second when "enthusiastically" performing cartwheels.Until such time as the First Amendment is abolished and no inappropriate comment may be written or spoken by anyone for any reason (in an ideal society, I would be sole judge of what is appropriate); until football players are compelled by government to take estrogen injections to feminize their physiques; and until the domination concept of "scoring" is replaced by female-led group consensus, I can only view NFL games with contempt. Besides the networks don't show the guys' behinds enough, and I took the Falcons plus 11 and lost my shirt.
Indigenous Wild Fowl of the Week: One festive holiday tradition is that Dallas and Detroit play at home every Thanksgiving. It's festive, all right—if you are Dallas or Detroit. This custom, begun years ago by the teams themselves when they switched home dates to T-Day, gives the Cowboys and Lions an annual advantage over the 29 other teams. Opponents for Thanksgiving must play Sunday, prepare on a three-day "short week" basis and then travel; Dallas and Detroit have a short week, too, but don't have to travel and get the home-crowd buzz to compensate for exhaustion. Over the last 20 years, the hosts are a combined 25-15 on T-Day; essentially, the tradition allows Dallas and Detroit to start each season with a half-game bonus in the standings. Detroit and Dallas at home each Thanksgiving is the sole exception the NFL makes to its random-scheduling policy. Other franchises have asked the NFL to rotate the Thanksgiving host slot to equalize the advantage it creates. But the league refuses because the status quo confers a slight advantage on the NFC over the AFC (both Dallas and Detroit are N teams), and favoritism to the NFC remains a dark side of NFL internal politics.
Creaking Old Guy Feat of the Week: In the off-season, the Persons released Brian Mitchell, the league's all-time return yardage leader, in order to free up salary cap space for a $10 million bonus for erratic LB LaVar Arrington. Mitchell took his release in ill humor, as he should have. In the Eagles-Persons game Sunday, the 33-year-old, 210-pound Mitchell, now with Philadelphia, hit the 22-year-old, 250-pound Arrington so hard that Arrington had to sit out the rest of the game with ringing ears.
Miscellaneous Persons Insults: During the above-cited tilt, injured Chesapeake RB Stephen Davis walked the sidelines wearing a turtleneck sweater, jean jacket, and parka, though it was 58 F at kickoff, striking a new low on the Ridiculous K2 Survival Gear ? Victory scale. The Persons lost when kicker Eddie Murray honked a field goal to tie with a minute remaining, this being the third time in the last 13 games, stretching back to last season, that Owner/Twerp Daniel Snyder's crew has gone home with an L owing to a blown FG in the closing seconds. Could this persistent kicking malfunction have anything to do with the fact that the Persons have waived no fewer than four place-kickers during the period? Bet Murray felt real secure and confident lining up for that try.
Great Moments in Management: The Bears have changed starting quarterbacks eight times since Dick Jauron became head coach. And look how well it's working! The team is 9-19 in that span.
Endless Game of the Week: Score at the end of regulation: Bush by 1,784. Score at the end of the first overtime: Bush by 327. Score at the end of the second overtime: Bush by 300. Score at the end of the third overtime: Bush by 930. Score at the end of the fourth overtime: Bush by 537. Wait, the officials are signaling for a fifth overtime! Gore's down and distance: backed up on his 1 with an apparently infinite amount of time to play but needs a 99-yard Hail Mary followed by a 532-point conversion.
Retirement of the Week: It looks like the end of the road for Thurman Thomas. Few players have received more attention for screw-ups and less for achievements. Thomas is known mainly for losing his helmet at the Super Bowl and for an insufferable youthful ego: He once refused to attend a league-sponsored media event, claiming the press wasn't giving him enough attention, on the very day Sporting News named him Player of the Year. Yet when Thomas matured from a loudmouth into a team leader, little was said. Sportswriters endlessly condescended to him as an "all-purpose back," code for not a manly-man "pure" runner: though Thomas rushed for more yards than Jim Brown, Earl Campbell, Larry Csonka, Leroy Kelly, Jim Taylor, and similar "pure" backs and had to run over countless enormous, ill-tempered gentlemen to do so. Generally, RBs who are good receivers have this held against them by the sports media when the rushing pantheon is discussed, while running backs who can't catch are revered for being "pure" runners. Witness Marshall Faulk, who rarely gets credit for his ball-carrying accomplishments, versus endless media praise for Jerome Bettis, a liability on passing downs.
And while the sports media don't give enough credit to the RB running-receiving combination, they put no store at all in whether backs throw blocks. In his latter years in Buffalo, when no longer the third-down go-to option, Thomas developed into one of the best blitz-blocking RBs ever. This transition was remarkable both given his size (198 pounds) and the fact that star backs hate to block. Star backs believe that because the human body can absorb only so many hits, every block they throw is one carry subtracted from their career stats. Probably this theory is right; by volunteering to block (he could have pulled rank), Thomas cost himself one or two rungs on the all-time rushing Top 10. Nevertheless, as Thomas matured into a man, he became a blocker because it was what his team needed at the time, and he never complained about the role. Because this growing up was admirable, the sports media pretty much said nothing.
Thomas' final numbers: 1st all-time postseason points, 1st all-time postseason yards from scrimmage, 6th all-time yards from scrimmage, 9th all-time rushing, only player ever to lead the league in yards from scrimmage four consecutive years, only back ever to start in four straight Super Bowls. Since the mid-1980s, 14 players weighing less than 200 pounds have rushed for more than 1,000 yards, and eight of them are Thurman Thomas. Attention, Hall of Fame voters: first ballot, please.
Haiku Corner: Readers lament the fallen and the falling:
First Ricky, now Jeff.
God—what do you have against
the New Orleans Saints?
—"Sad Man"
Ricky break, Blake break
Show Sainthood isn't easy
Could it be—SATAN?
—"Bob K"
Couch is done, Ty too
Penderson under center
Cleveland wins no more.
—Kristofer Newman
Now at four and eight
are the Hawks miserable
or just plain lousy?
—Jerry Neufeld
Teams visit the Vet
Losing players left and right
Eagles should get grass.
—Brodie Jarrell
The Vet-bound should be pleased by Philadelphia's announcement that it will replace its aircraft-carrier-deck-like playing surface this off-season with something vaguely similar to living vascular organisms.
Readers are invited to continue submitting haiku and other verses via "The Fray," slugging entries "Football Haiku," "Football Psalms," and so on.
Actual Pain in the Butt: Jets back Curtis Martin missed a week of practice with a strained gluteus maximus.
Hidden Indicator of the Week: Coaches always preach the running game: On Sunday, six of the 15 losing teams rushed for more yards than the winners. This is the kind of hidden indicator that is essential to an insider's understanding of the sport. Unfortunately, Tuesday Morning Quarterback has no idea what it means.
Running Items Department
Obscure College Scores: Alas, most obscure college teams have folded their tents and stolen off into the desert until 2001, when those pleasing, life-affirming rituals of colliding gentlemen, stupefied crowds, and car alarms going off in the parking lot will begin anew, reminding us of the eternal cycle of—well, better stop before I go haiku. Happily, obscure playoffs remain. Obscure Playoff Score of the Week: Appalachian State 33, Troy State 30 (Division I-AA first round). Bonus Obscure Playoff Score: Bloomsburg 38, Northwood 14 (Division II semifinal). Double Bonus Obscure Playoff Score: Mount Union 59, Ohio Northern 28 (Division III second round).
Most Embarrassing Dennis Miller Moment: Suspended out of respect for human rights violations in the Republic of Chad.
Most Embarrassing Don Ohlmeyer Moment: The idiotic "gotta go to work" segment has reappeared on the opening roll of Monday Night Footbal1. This segment, let the record reflect, was Ohlmeyer's idea.
New York Times Final-Score Score: Once again the Paper of Record goes 0-15 in its quixotic attempt to predict an exact final score, bringing the New York Times Final-Score Score to 0-188 for the season. Times predicted: Flaming Thumbtacks 28, Jacksonville 21. Actual: Jax 16, T's 13. Times predicted: Packers 19, Panthers 10. Actual: Panthers 31, Packers 14. Reader Brad Hammill's generic final score—Home Team 20, Visiting Team 14—also whiffs, bringing this item to 0-102 since its inception.
The first New York Times Final-Score Score haiku was received!
Paper of Record
Zero of 188
Is half-right a tie?
—Topher Connors
Reader Animadversion: Kevin Kowalczyk points out that Tampa Bay lost at Chicago despite running a successful fake kick, thus violating TMQ's law, Fake Kick = Victory. One reader even supplied a haiku on this point!
TMQ is wrong
Tampa Bay faked a punt and
Still they lost to Bears.
—Steve Wolfram
But as last week's column pointed out, in that self-same contest the Bucs, fretting about the cold, wore heavy North Face parkas on the sidelines—kicker Martin Gramatica sported an alpine-skier full face mask that barely had slits for his eyes—despite a game time temperature of 37 F, thus violating a TMQ canon, Ridiculous K2 Survival Gear ? Victory. Another reader supplied a haiku on that point!
Temp below 40
Bucs staff wears balaclavas
Defeat is certain.
—Jamie DeVriend
What happens when two Tuesday Morning Quarterback laws clash in the same game? Only the football gods could answer such a question. Let us await a sign.
Another reader protested that when woeful Ryan Leaf flashed an apparent six-gun-shooter gesture in the Bolts-Broncos game, he was actually making the Australian-rules signal for touchdown. TMQ admits he is not fully conversant with Australian gesticulation. But then the Denver players aren't either since many were openly angry about the gesture. More important, it seems even the football gods do not know this since they punished Leaf's hubris by causing his team to build a big lead, then lose anyway. Could it be that U.S. and Australian football have different gods? Maybe there's some cultural diversity thing working here. Again, let us await a sign.
Finally, astute readers pointed out that on TMQ's proprietary "combined efficiency" ratings (combination of offensive and defensive performance), the very worst team was not mentioned. Sorry, I skipped them because they had the bye last week. The most awful combined-efficiency club is the Seattle Seahawks, which rate a pitiful 59 (28th offensive, 31st defensive) on a scale whose worst possible score is 62. This from a team that cleaned house in the off-season because coach Mike Holmgren pronounced that last season's division-winning finish wasn't good enough. Ye gods.
Trivia Challenge: Last week's challenge:
Of the following, identify any inaccurate statement about pro football days of yore:
—A touchdown was worth five points.
—Offensive linemen were eligible receivers.
—Pudge Heffelfinger was the first gentleman ever paid to play football.
—There was a team called the Chicago Bullies.
—Officials had horns, not whistles.
—The Duluth Eskimos immortalized the "fumblerooski" in which the ball is deliberately left on the ground.
—Helmets were optional.
—Roughing the passer was legal.
Most entrants caught the fact that there was never a Chicago Bullies, though few knew there was, in reality, a Columbus Bullies. For that matter, the NFL once had a New York Yankees. Few guessed that helmets were optional as recently as 1943. Über-trivia-meister Mark Longbrake pointed out that Pudge Heffelfinger, who became the first professional football player in 1892, drew $500 per game—$8,998 in current dollars, according to the handy Inflation Calculator. Baltimore's Jonathan Ogden, the highest-paid player this year on an actual-take basis according to the NFL Players Association, receives $1,031,270 per game, or 115 times the real-dollar value of Heffelfinger's pay.
And though many guessed the Duluth Eskimos (actual former franchise) did not invent the fumblerooski, few knew who did. Mastery of the fumblerooski is generally credited to the Nebraska Cornhuskers, who scored a touchdown on this gimmick in the 1984 Orange Bowl with a guard running the ball in. To view the Orange Bowl fumblerooski, click here.
Acting in bipartisan spirit but on a completely arbitrary basis, TMQ awards this trivia challenge to John Giorgis of Tacoma Park, Md. And now this week's Trivia Challenge:
The Thurman Thomas item above mentions 14 recent 1,000-yard seasons by backs weighing less than 200 pounds, crediting eight to Thomas. That leaves six unaccounted for. Name the gentlemen who accomplished them.
Submit your answers via The Fray, slugging them "Trivia Answer (Bribe Included)." And remember to supply your e-mail address in the incredibly remote chance that the Florida legislature, United Nations Security Council, or the Elders of Zion certify you have won.
---