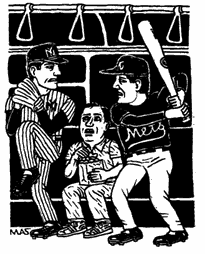 Jump the turnstile. This World Series is Evel Knievel versus Muhammad Ali.
From last year's extra-inning heroics against the Diamondbacks and Braves, to Armando Benitez's ninth-inning gopher to J.T. Snow that nearly left their hearts in San Francisco, to dropping two leads in Game 2 at St. Louis, these daredevil Mets laugh at death. In the past two years, they've won more playoff games in their last at-bat than the rest of the teams combined—three out of seven wins so far this year. With Japan minor-league castoff Timo Perez leading off (due to a lucky injury) and everybody moved up one spot, their offense is revved for any canyon.
The Yankees no longer float like a butterfly, but when the bell rings, they still sting like a bee. They limped through September, dropping 15 of 18, many by football scores, faced an elimination game in Oakland, and were on their way to another against the Mariners before David Justice launched his team to the Series for the third time. The champs are mad because people dare doubt them.
These teams have more connections than Grand Central Station, but the big difference is that the Yankees have done it before. The Mets show signs of destiny and character, the Yankees have champions' instincts, and they beat the Mets four out of six times this season, which sounds about right. They also have Joe Torre, who managed the Mets before he became baseball's Buddha, versus Bobby Valentine, who wants to manage the Dodgers (succeeding previous pennant-winning Met skipper, Davey Johnson) and live near the other cartoon characters.
The Mets' left-handed pitching, decisive against the Cards and Giants, shouldn't stifle Yankee lefty bats. A southpaw served Justice's bomb. The Andy Pettitte versus Mike Hampton opener at Yankee Stadium—two hot lefties in a park built for portside arms and bats—promises to be a classic. The Mets will use Yankee-washout-turned-big-game-ace Al Leiter, another lefty, in Games 2 and 6 at The Stadium versus headhunter Roger "Take the Cannoli" Clemenza, fresh off the postseason outing of his life.
The Yankees look decidedly superior from there, with October immortal El Duque Orlando Hernandez against scab Rick Reed, and Met killer Denny Neagle against Bobby Jones, who landed hard after catching lightning with a one-hitter against the Giants. The Mets can hope Neagle's lousy month continues and that Chuck Knoblauch, forced out of DH comfort at Shea Stadium, tosses a couple of balls into the stands from second base.
Series usually come down to the bullpens. The Mets' middle relief, featuring regular-season lefty starter Glendon Rusch, has been brilliant. The Yankee pen has been shaky all year and needed El Duque to get a big out versus Oakland. It'll be a state secret until game day, but expect Jose Canseco back to counter the Mets' three left-handed relievers.
At closer, Yankee Mariano Rivera just set a postseason record with 33 consecutive scoreless innings (previous holders: Whitey Ford and Babe Ruth). The Mariners scored against him, so the Mets can't even figure he's due.
The Mets have Benitez: 106 strikeouts and 39 hits in 76 regular-season innings, but a 3-for-8 train wreck in postseason save opportunities. As an Oriole, Benitez yielded the home run to Yankee fan Jeffrey Maier in 1996 and a pair of crucial bombs against the Indians in 1997. Benitez has thrown well just once with the game on the line this October, and Bernie Williams is 6-for-7 against him.
John Franco—lefty, 40, lifelong Mets fan from Brooklyn, No. 2 on the all-time save list—was the closer until he broke a pinkie last year. He picked up Benitez in the Snow Bowl, but looked his age against the Cardinals. For the kid who saved milk-carton panels for tickets to Shea, leapfrogging Benitez and lifting the Mets over the Yankees would be pure poetry. But, as with oranges, there ain't no rhyme for baseball.
On the other hand, a guy named Trevor Berbick finished Ali, and these Mets are better than that. 
---