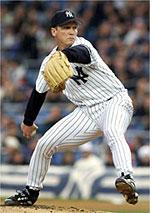 In the fevered days leading up to the Subway Series, there was much speculation that Yankees manager Joe Torre would give the starting nod for Game 4 to his former ace David Cone, whose ability to get hitters out mysteriously vanished this season. You have to pitch pretty damn bad to go 4-14 on a pennant-winning team. Cone had been left on the postseason roster for what had appeared to be sentimental reasons; his last, best hope was mop-up duty or maybe a 25-inning game. But when lefthander Denny Neagle cratered against Seattle, Cone's season, and in all likelihood his whole career, suddenly had life again. Somebody had to start Game 4, and none of the options looked all that appealing. Why not Cone?
Torre fueled the speculation when, in an unusual move, he named the starters for Games 1, 2, and 3, but marked the slot for Game 4 as "undecided." The effect of this on both Cone and Neagle had to be brutal. Why had Torre put off the decision? It seemed incredibly out of character, especially when compared to the behavior of Mets manager Bobby Valentine. After all, Valentine had to feel some serious trepidation about penciling in his own Game 4 starter. He could have gone with rookie Glendon Rusch or ol' not-so-reliable Bobby Jones, a guy whose "fastball" bears close resemblance to batting-practice fare. Valentine, a manager not known for his deft handling of clubhouse matters, didn't let his pitchers twist in the wind. Jones had miraculously one-hit the Giants in the division playoffs, and he was the choice, that was that.
Cone's renewed hope flickered until Monday when Torre finally let it be known that Neagle would start Game 4. The manager could not possibly feel good about this. At times this season, Neagle rivaled Cone for sheer can't-get-out-of-the-fourth-inning ineptitude, and the lefthander's weaknesses were on full display against Seattle. The day after Roger Clemens had blown the Mariners off the plate, Neagle kept trying to dance his pitches on the outside corner, like a rookie accustomed to fooling minor-league hitters with anything that's in the vicinity of the plate. Seattle hitters just worked the count in their favor and waited for Neagle to come over the plate, or they took bases on balls. Torre, it is said, just cannot bear this sort of gutless pitching, and there seems to be little or no chance that Neagle will be back in pinstripes next season (especially after he did them the favor of turning down an absurdly lucrative extension offered during the season).
But as gutless and heartless and useless as Neagle has been, he still ranks higher than Cone, at least in Torre's book. One can only guess that the coaches took a look at Cone's stuff during a recent workout and advised against ever letting him take the mound again. But this leaves Torre in an awkward and strangely revealing position. As the Yankees dominated baseball over the last five years, he got the most out of his players by being consistent and predictable about everything he did. For a franchise owned by George Steinbrenner, this has been of inestimable value; he has buffered his players from George's madness in a way that none of his predecessors had ever been able to. He is certainly not the greatest field manager—Bobby Valentine is much more imaginative and clever about game tactics—but his talents in the clubhouse put the overspending Yankees on top and kept them there.
This unpleasant business with Cone, though, shows a more calculating side of Torre. He wants to win much more fiercely than his menschy, hangdog demeanor would suggest. The likelihood is that Cone would get blown out by the Mets, but there's a chance that he'd somehow pull it together and escape with one last victory. Many Yankee fans, and certainly all of the beat writers who have relied on his wit and candor to break up the tedium of covering a team of vacant personalities, would take the odds on Cone in Game 4, however long. But Torre won't, and you get the feeling that's just the way Steinbrenner would have handled it himself.
---