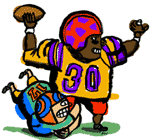 In its preseason preview, TMQ described the Jacksonville Jaguars, which last season posted the best record in the AFC and entered this season as a Super Bowl favorite in many quarters, as "the most bloated, overrated team in the league." Now it turns out that assessment was too generous! Jax is 2-4 and has two straight defeats at home. Stretching back to last season, when the team lost the AFC championship on its own field, Jax is 2-5 in its most recent contests, including three home losses. Sunday night against the Ravens, extremely highly paid Jax players fumbled eight times, and just to prove that as no fluke also tossed three interceptions.
Jax seemed strong last year owing to a candy schedule, but its current skid traces directly to the most disastrous event in team history: the Jaguars'$2 62-7 victory over Miami in the AFC divisional playoff round last January. After this megawin many Jax players bragged, bragged, bragged about how they were kings of the world. But only one team may brag at only one point in the NFL season—those gentlemen who have just won the Super Bowl obtain the right to say whatever they wish. Anyone else who sings his own praises is disciplined by the football gods. Jax's punishment has now begun.
It's only going to get worse for these paper Jaguars. The team is already a stunning $30 million over the projected 2001 salary cap, having thrown money wildly in order to secure its present, underperforming roster. Jax used numerous contract gimmicks to shift payment of cap charges into the future, as if the bill would never come due. But next winter it will. For instance, bust linebacker Bryce Paup will count $3.6 million against the Jacksonville cap in 2001—even though Paup has already been cut and isn't playing for Jax this year, let alone next. Last winter's roster purges at Buffalo and San Francisco were caused by cap overage of about $12 million per team, which looks like cab fare compared to the Jax situation. To trim $30 million off its payroll, Jax will have to cut so many players it may have trouble filling out a 53-man roster. The coming cap collapse is the hidden reason for persistent rumors that poor-sport coach Tom Coughlin will flee to the Notre Dame head coaching job the instant the NFL season ends, leaving the Jax wreckage for someone else to deal with. Maybe, but why would Notre Dame want a guy who exceeds an unlimited budget, then sets the fine example of screaming insults at the opposing team?
One apparent lesson of the Jax decline: Cut costs on the offensive line. Though Tuesday Morning Quarterback, like all NFL purists, believes offensive line play to be the essence of football success (only QB efficiency matters more), this year the low-paid lines are doing notably better than the high-paid ones. Jax has the NFL's most overpriced OL: Its tackles each hold contracts worth $50 million-plus on paper, yet the team has already surrendered 27 sacks. Buffalo, with the second-most overpriced OL (a $30-million guard, a $26-million tackle, a $13-million center, and a $12-million guard), has given up 22 sacks. Meanwhile the Niners, fielding a who-dat platoon of OLs with nary a megabucks deal among the starters, have surrendered just three sacks. The Giants, who line up with relatively low-paid retreads (three of their OL starters were let go by other teams), have allowed just eight sacks.
Best Plays of the Week: Best No. 1. On the final down of the first half, with the ball at midfield, the P-Men sent in seldom-used quarterback Michael Bishop, who had not thrown a pass all season. Since big-arm QB Drew Bledsoe came out for the play and Bishop has a reputation as a wacky scrambler, the Colts assumed he was sent in to run. Instead Bishop dropped back and threw a standard Hail Mary, which the P-Men's Tony Simmons caught for a touchdown at 00:00, helping propel New England's upset of Indianapolis.
Best No. 2. Oakland's safety Anthony Dorsett blocked the short field-goal attempt by the Niners that would have won the Raiders-San Francisco game in OT. The game looked so over that Niners sideline personnel had practically already left for the locker room. Oakland then won on a Rich Gannon toss to Tim Brown. Dorsett is Tony's son; a journeyman till this year, he now starts for the Raiders and has at last earned the right to pronounce his name dor-SETT instead of DOR-sett. (You Pittsburgh fans will get that one.)
Worst Plays of the Week: Worst No. 1. With the score tied, 30 seconds remaining in regulation, and the ball deep in his own end, Eagles quarterback Donovan McNabb was chased and, rather than throw the ball away and let the game go to OT, put up a wild heave-ho that traveled toward no player other than senior citizen Darrell Green of the Maryland Indigenous Persons. Green returned the INT to position for the Persons' winning figgie as time expired. At age 40, Green remains the fastest player on the Persons. Fun fact: Green owns a vintage '60s Volkswagen Beetle (the pre-Internet-based color choice model) and says the reason he likes the car is that he can beat it in a 40-yard dash.
Worst No. 2. Two weeks ago, Tampa Bay lost a shocker at home to the New Jersey/B squad when Frequent Fumbler Mike Alstott put the rock on the ground with a minute to go, and then Jets RB Curtis Martin hit a halfback pass for the winning touchdown. Last night in Minneapolis, as Tampa faced fourth and one on its 47 with six minutes left and trailing by four, somehow the thoughts "Alstott" and "halfback pass" merged in the minds of Bucs coaches. They ran the halfback pass for Alstott—career zero for one passing—and he delivered himself a heave-ho in the general direction of, well, maybe he was aiming for Darrell Green. Minnesota took over and marched for the clinching field goal.
Worst No. 3. Against Detroit, three-time MVP Brett Favre threw a pick returned for six in the second quarter, and then in the fourth, with the Pack trailing by a touchdown, threw picks on consecutive plays from scrimmage. To prove these plays were no flukes, Favre also fumbled twice. Ye gods.
Worst No. 4. In the first quarter against the Niners, Oakland lined up in a trick formation with RB Napoleon Kaufman split almost at the sideline. The inexperienced Niners defense, which starts four rookies, left Kaufman completely uncovered—nothing but grasslike substance between him and six. Raiders QB Gannon quick-snapped to get the ball out to Kaufman before the Niners could notice their blunder and react. The short pass arrived on target, and Kaufman dropped it like he'd been thrown a rabid ferret. Just to prove this was no fluke, on the next Raiders possession, Kaufman fumbled a handoff.
Retired Numbers of the Week: Last month the Dolphins retired Dan Marino's number, bringing to two the jerseys that the Marine Mammals have set aside perpetually. Like Miami, most clubs rarely retire a number: The Steelers, despite their 1970s dynasty team, have but one prohibited integer, that of Ernie Stautner. Three clubs—Buffalo, Dallas, and Oakland—do not retire numbers at all.
Then there are the Chicago Bears. Numbers 3, 5, 7, 28, 34, 40, 41, 42, 51, 56, 61, 66, and 77 all cannot be worn by current Bears because they hang in recognition of gentlemen past. And Mike Singletary isn't even on that list! This leads to a perpetual number-crunch when Chicago is handing out jerseys. Fortunately, in order to avoid making the situation worse, the Bears have a strict team policy of not developing any more great players.
Stat of the Week: Atlanta, playing at home against the Giants, rolled up 13 yards rushing on 14 attempts. Ye gods.
Psychological Ploy of the Week: With the University of Colorado at 0-4, coach Gary Barnett ordered school logos removed from team helmets, telling players they could not wear the logos again until they proved themselves worthy. Colorado proceeded to beat heavily favored Texas A&M on the road. TMQ therefore suggests:
1. The Bengals should have the stripes removed from their helmets until they win a game or complete a drive, whichever comes first.
2. The Giants should have the stylized "NY" emblem on their helmets changed into a stylized "NJ" until they prove they are truly worthy of pretending to be from New York.
3. The Browns, the only franchise with a no-logo helmet, should put something onto their helmets until they prove they are worthy of not having anything.
League To Rank Teams by SATs: While DE Marcellus Wiley (Columbia) was chasing QB Jay Fiedler (Dartmouth) around in the Bills-Miami game, C Matt Birk (Harvard) was starting for the Vikes, DT Seth Payne (Cornell) starting for Jax, FB Chris Hetherington (Yale) playing for the Panthers, LB Isaiah Kacyvenski (Harvard) and FB Jim Finn (Penn) covering kicks for Seattle and Indianapolis, and QB Jason Garrett (Princeton) carrying the clipboard for the Giants. Eight Ivy leaguers—what is the NFL coming to? Are there no more standards? Or to flip it around, couldn't any of these guys get into medical school?
Nedney Unit Active! Regarding the item on placekicker Joe Nedney, some readers wrote in to assert that the subhead—"Gorzon, Activate the Nedney Unit!"—fell somewhat short of fully self-explanatory.
First, the latest on Nedney: He went 8-for-10 in field goal attempts for the Broncos and was rewarded by being cut. On Sunday, Nedney went 4-for-5 for his new team, the Panthers. So far, the Earth authorities suspect nothing.
As for Gorzon, all I can say at this time is that the star-cruiser that brought Kurt Warner here from his homeworld is capable of moving forward and backward in time simultaneously—sort of like the Al Gore personality reinvention team. A malfunction of the temporal paradox damping field on the ship caused a word from a future TMQ to appear in a past column, and that word was Gorzon. A future TMQ will reveal the shocking truth about Warner's homeworld, including the identity of Gorzon. Be afraid. Be somewhat afraid.
Hidden Indicator of the Week: So far this year three teams (the Jets, Lions, and Patriots) have hit long Hail Mary touchdowns on the last play of the first half, but no team has hit a Hail Mary on the last play of the second half, including Tampa's close-but-no-cigars on the final down against the Vikes on Monday night. This is the kind of hidden indicator that is essential to an insider's understanding of the NFL. Unfortunately, Tuesday Morning Quarterback has no idea what it means.
Running Items Department
Most Embarrassing Don Ohlmeyer Moment: (New item.) Monday Night Football begins with: images of Martin Luther King Jr.'s "I have a dream" speech, of the bridge at Selma, Ala., of King's "content of our character" declaration. This has got to be some kind of mistake, right? No, it is Don Ohlmeyer declaring that last night's Tampa-Minnesota game—the first NFL contest to square off two black head coaches and two black starting QBs—is actually an event in the civil rights struggle!
Yes, the black coach/black QB moment was significant: perhaps one-zillionth of 1 percent as significant as King or Selma. After the images of King and Selma flashed, viewers saw Vikes and Bucs coaches talking very seriously about such critical civil rights issues as home field advantage in the NFC Central.
There's a weird sense among many like Ohlmeyer in the Hollywood-network establishment that they have a special claim on King's legacy because television helped advance his cause. Maybe, but to use that special claim for football promotion is beyond distasteful. An NFL game equated in significance with Dr. King—what's next, Nelson Mandela endorses Taco Bell?
Most Embarrassing Dennis Miller Moment: Since even stripping off his shirt on camera (which Miller did last night) can't come close in desperation to using Selma footage as a MNF intro, TMQ for humanitarian reasons proclaims a temporary moratorium on Miller.
New York Times Final-Score Score: Once again the Paper of Record goes 0-14 in its quixotic attempt to predict an exact final score, bringing the Times Final-Score Score to 0-85 for the season. Times predicted: Bears 16, Saints 10. Actual: Saints 31, Bears 10. Times predicted: Jets 28, Steelers 10. Actual: Steelers 20, Jets 3. Times predicted: Colts 23, Patriots 17. Actual: Patriots 24, Colts 16. Readers continue to write in suggesting that the Times has covert betting-based motives for attempting to predict an exact final score; more on this soon.
Obscure College Score of the Week: Georgetown of Kentucky 71, Cumberland of Kentucky 9. Bonus Obscure Score: Catawba 24, Tusculum 19. Double Bonus Obscure Score: Kutztown 17, East Stroudsburg 16.
Obscure College Physically Impossible Feat: As Menlo College was bowing 37-32 to Cal Lutheran, Menlo's Zamir Amin threw for 731 yards. Surely the tentacled, silicon-based lifeforms on Kurt Warner's homeworld took note.
TMQ Trivia Challenge: Last week TMQ mused that unlike the rockets in missile-defense tests, Trivia Challenge answers are coming in ever faster with ever greater accuracy. This week the first correct answer, from Chad Hart of Ames, Iowa, came scorching in a mind-boggling 5 minutes, 33 seconds after the column posted.
Realistically, such a feat could only have been accomplished if this gentleman spent Tuesday sitting at his screen, football encyclopedias at the ready, browser set to www.slate.com, endlessly pressing the "refresh" button so that he could read Tuesday Morning Quarterback the very instant it appeared.
Chad—you have your priorities in order!
Because, however, Mr. Hart is a previous winner, and since it has been previously warned that all rules for the Challenge are completely arbitrary, TMQ gives this week's nod to the second correct reply from Wanda Montagna of Fulton, N.Y. Her note added, "I think the column is an absolute riot to read." Wanda—you, too, have your priorities in order! She might receive a TMQ cap at season's end, but that decision will also be completely arbitrary.
One reader screen-named CDS wrote in with an incorrect answer, then a few moments later sent another message saying he'd realized the answer was erroneous and was "withdrawing" it. Now that is trivia decorum! If only the presidential debates were conducted on such a high plane of discourse.
Here was last week's question:
On Sunday the St. Louis Rams rang up 614 yards of total offense. Not too shabby, but a middling effort compared to the best days in NFL annals. Of the four listed below, which is not an actual NFL record for total offense?
735 yards, Los Angeles vs. New York Yanks, September 1951
686 yards, San Francisco vs. Los Angeles Rams, September 1994
683 yards, Pittsburgh vs. Chicago Cardinals, December 1958
682 yards, Chicago vs. New York Giants, November 1943 
Wanda Montagna correctly identified 686 yards by San Francisco in 1994 as the phony record. Though we think of the NFL as having in recent years gone offense-wacky, all the biggest yardage days are well in the past, when men were men, women were women, and you could still tell the ACs from the DCs.
Here is this week's Trivia Challenge:
The Falcons'$2 13 yards rushing (at home!) this week may not seem like much but represents a Herculean effort compared to the worst rushing days in NFL history. Which of the following is not an actual NFL record for running futility? 
-53, Detroit vs. Chicago Cardinals, October 1943
-36, Philadelphia vs. Chicago Bears, November 1939
-33, Philadelphia vs. Brooklyn, October 1943
-24, Seattle vs. Chicago Bears, December 1985
Submit your answers via "The Fray," titling each entry Trivia Answer. Decisions of the judges will be firm, fair, and arbitrary.
---