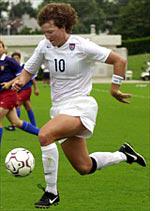 Clive Charles has spoken, and I am crying.
Big tears. Crocodile tears. Perhaps it's time to get out that itty-bitty violin and play a heart-rending lament for the U.S. men's Olympic soccer team.
Charles, the team's coach, was peeved Monday by the lack of recognition his young charges have received in their Australian contests. They have played hard and well and, with their victory over Kuwait, they advanced out of the first round, grabbing a piece of history by being the first U.S. men's team to go so far. But they still aren't getting as much applause as Charles thinks they deserve.
Back home, it's soccer's women who Americans are tuning in to watch. On their shoulders we are already hanging another piece of gold.
"Our result against Cameroon was every bit as good as the women's result against China," Charles told an Associated Press reporter. He was referring to each team's 1-1 draw in their second match. "The only problem is we can't get people to see that."
Instead, people are screaming about the bang-the-goal shots of Tiffeny Milbrett, the stunning acceleration of Shannon MacMillan, the foot antics of Mia Hamm, the closing capability of Julie Foudy. The team is composed mostly of veterans with a few new players in the mix. Their faces, their athletic style, even their haircuts are as familiar as their names.
But, hey, we say, popping open a bottle of brew as we settle in with friends, where's Michelle?
As if on cue, our question gets answered by NBC's commentators. Michelle Akers, the gutsy grande dame of soccer—the woman with the curly bronze mane, the wicked corner kicks, and soaring headers—is not playing in the 2000 Olympiad. She has taken her broken and aching body out of the game. On Aug. 24 she officially retired.
But her spirit, as one of her former teammates attested, is felt on the field and still influences their play. Yet when somebody fails to lunge as hard as she always did or blows a penalty kick that she would have finessed, it's her body they want back. Now. In Australia.
Too bad. When her retirement was announced, Akers said what you'd expect somebody to say who has given 15 of her 34 years to soccer, won nearly every possible honor, undergone more than a dozen knee surgeries, suffered numerous concussions, dislocated her shoulder twice, broken her cheekbone, and had a grueling, eight-year struggle with chronic fatigue syndrome. (In some matches her condition was so desperate she had to have medicines administered by IV during halftime.) She said she'd like a nice quiet vacation in an unpublicized location.
Then, she said, she'll spend more time with Soccer Outreach International, the charitable organization she founded to inspire and motivate kids; involve herself somehow in the currently forming Women's United Soccer Association; train, coach, and become a cowgirl at her farm in Georgia. Sounds like a lot commitments, but I'm guessing that's just retiree-speak for "nothing in particular."
So, getting back to Clive Charles and his team's popularity problems, I offer this modest proposal: Hire Michelle.
No, not in your marketing department. Not in the second tier of administrative offices. And certainly not as some pre-game cheerleader for a sports drink.
Put her at the helm. Make her voice heard. Give her all that responsibility and visibility: Michelle Akers, coach of the U.S. men's soccer team. World Cup team or Olympic team? Doesn't matter. Either appointment would sure give us fans of the females a reason to watch the men at play.
Lest you think these "fans of the females" are all female, it is worth recalling the 1999 Women's World Cup, when 91,000 people packed the Rose Bowl in Pasadena, Calif., for the finals against China, and 40 million viewers tuned in on television. The estrogen-to-testosterone ratio was no greater than 50-50—if even that high.
To be sure, contrasting the popularity of the men's Olympic soccer team to the women's is capricious. Olympic rules state that all but three members of the men's team must be under 23. The reasons for such a zany mandate are complicated. But they have to do with the fact that the best soccer men play professionally on teams throughout the world. Most of their employers don't want them leaving at the start of the season to compete in the Olympics. So the deal struck was to use only the youngest players.
Such a ruling doesn't apply to women. Their chances to play for pay are only now coming into existence. Hence, we get to watch the tried and the true, the women our kids recognize and our men file into the family room to watch: Hamm, Chastain, Fawcett, Foudy, MacMillan, Milbrett. Fifteen members of the 18-member Olympic team were on the 1999 World Cup team, and 11 played in the '96 Olympics. Of such material the deepest influences are made.
It goes without saying that baseball is no longer America's favorite pastime. Our favorite pastime is throwing darts at every men's soccer team the United States ever fielded. None has come close to winning the World Cup and none, some cynics maintain, ever will.
Want to change that? Consult with those Americans who have mastered international competition—not once, but with stunning repetition—and get the best available warrior. Michelle Akers wouldn't only be good for the men, good for the crowds, and good for TV ratings, she would also help us win a battle as elusive as the men's World Cup.
This battle has to do with the belief that women should not coach men. Nobody seems to have a problem when it's the other way around—with men telling women how to play. According to the Feminist Majority Foundation, about half of women's college teams are coached by men. But women coach only 2 percent of men's teams.
It is time to pry open that door and go for the fullest meaning of gender equity. Not just to be nice. But to be smart. To win. "Go hard," according to Akers' favorite motto, "go hard, or go home." 
---