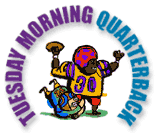 The San Francisco quarterback rolls right against the Cowboys at the goal line. He's under pressure, he lobs it at the corner of the end zone, the receiver leaps: touchdown! That happened on Sunday, but it sure wasn't "The Catch"—1982, Joe Montana to Dwight Clark with Too Tall Jones in pursuit, what a moment. Sunday's pass will go down in football annals as "A Catch"—2000, Jeff Garcia to Terrell Owens with Alonzo Spellman in pursuit. No thanks. To paraphrase Julie Brown, it was a play I'll remember for as long as I can.
San Francisco and Dallas met for some of the best, tensest, and highest-rated games of recent decades, including stirring NFC championship matchups. This weekend's Niners-Boys tilt wasn't even nationally broadcast, since the teams went in a combined 1-5. San Francisco had the most wins of any NFL team during the 1990s (122), while Dallas tied Buffalo for second-most (113). Now both franchises are gasping for air. To top it off, Dallas has already surrendered its No. 1 pick in next year's draft, while San Francisco is expected to lose picks for salary-cap violations. This demonstrates Newton's Third Law of NFL Motion: For every bad team that gets hot, such as the Rams and Ravens, there must be an equal and opposite great team that goes in the tank.
And what was that business of Terrell Owens of the 1-3 Niners strutting and prancing at midfield as if he'd just won Powerball? Hasn't this gentleman looked at the standings lately? (We're assuming here that he can read.) Hard to believe such trash from the Niners, which in the dim mists of history (that is, before shoe contracts) were a classy team. Yesterday, San Francisco announced Owens would be "excused" from next week's game. Not suspended, excused. Maybe he brought in a note from his Mommy. Plus, his agent will have to write on the blackboard 100 times, "My client will not act like a buffoon." Jeesh, how embarrassing.
Monday Night Football complaints below; also, special Dennis Miller solidarity item.
Best Plays of the Week: Best No. 1. By acclamation the play of the week was the Jets' halfback pass, Curtis Martin to Wayne Chrebet, to win the game with 52 seconds left in Tampa. What a call! Two years ago, the Jets missed the playoffs on the season's final day when a halfback pass in the same situation went awry, yet they were not afraid to try again. Martin was the perfect man for the job, since he'd just scored a touchdown by running straight through two Tampa tacklers. The Bucs were obviously worried about him repeating the feat, and the moment Martin took the pitch, safety John Lynch came across the line. Getting the safety to bite on the apparent run is the key to success of the halfback pass. Martin even had the presence of mind to rip his gloves off as the Jets were lining up for the play, so that he could throw correctly. Luckily for him no zebras noticed the dropped gloves, as some call a penalty for equipment on the field. If any of the Bucs noticed Martin ripping off his gloves, it didn't click.
And the fact that the winning pass went to Chrebet—subject of weeklong derision by obnoxious motormouth Keyshawn Johnson—was poetic justice. Johnson, who's made a strange second career of dissing Chrebet and then being outplayed by him, announced that he was a star and Chrebet was a flashlight. On Sunday, Chrebet was the star and Johnson, with one yard of total offense, was a nightlight. The poetic justice was so sweet, it causes your columnist to go haiku:
Speaks with play not mouth
Chrebet stands tallest at end
Keyshawn now looks short.
—TMQ, 2000
Best No. 2. Long bombs seem to work best when teams "max protect," holding eight players back to block. St. Louis demonstrated this principle against the Falcons. Leading 27-13 and facing third and long from their own 15 early in the fourth, Rams coaches called a "go route" to WR Torry Holt, keeping back both backs and a tight end in addition to the regular five blockers. The Falcons rushed four. That meant nine Rams players were behind the line (eight blockers and QB Kurt Warner), while seven Falcons were available to guard just two receivers. Holt blew through the Falcons for an 85-yard touchdown reception that iced the game. Seven on two, and advantage to the two!
Worst Plays of the Week: Worst No. 1. Leading the Jets by three, Tampa had second down on its own 24 with about 1:40 to go. A first down would have won the game for the Bucs, but all Tampa really had to do was dive ahead, grind the clock, and punt; the Jersey contingent would then have had to go the distance in less than a minute, on the road against an excellent defense. Tampa's call? Hand the ball to fullback Mike Alstott, who is on the Frequent Fumbler plan. Last year, Alstott tied Ricky Williams of the Saints for most RB fumbles in the NFC. Alstott promptly put the rock on the ground, setting up the Jets' winning play. Worse, he fumbled after being hemmed in, with no chance of getting away and absolute certainty the Jets would be "tackling the ball," as defenders say of this situation. Alstott was trying to grind out an extra half yard, completely unneeded under the circumstances but engaging a huge risk that someone could tomahawk the pigskin out, exactly what happened.
Worst No. 2. Trailing by seven, New England faced fourth and two at the Miami three with about a minute to play. The P-Men came out with two receivers split right, one of them TE Eric Bjornson, and threw him a fade-lob whose execution was so shaggy, he never even got a hand on the ball. The Marine Mammals had lined up with double-coverage on the tall Bjornson, clearly expecting a lob, but P-Man QB Drew Bledsoe did not check off to something else. New England has now had a chance to win or tie on the final possession of all four of its games and woofed each time.
Stat of the Week No. 1: Through four games Kurt Warner has thrown for 1,557 yards—more than Kordell Stewart passed for all year in 1999—which puts him on a pace for 73,958 yards during the decade. (Actual figure at current pace; Dan Marino's all-time passing record is 61,361 yards.) That neutrino transference array Warner brought with him on the star-cruiser from his homeworld sure is coming in handy!
Stat of the Week No. 2: At this point, criticizing the Cincinnati Bengals for poor performance seems a little like criticizing Sen. Joe Lieberman for his recently announced agreement to make a cameo appearance as a chain-saw killer in the new movie Naked Sorority Slaughterhouse III in return for soft-money donations from Hollywood. Nevertheless we must face the fact that the Bengals not only win less and have been shut out twice, they have been outscored by a combined 74-7. Ye gods.
Stat of the Week No. 3: Pittsburgh has lost 10 of its last 11, stretching back to last season, and this once-storied franchise has not won a division home game since late November 1998. Newton's Third Law of NFL Motion has hit this team hard. Adding to the ignominy, Pittsburgh's victory momentum seems to have been transferred to the annoying Jaguars, in accordance with Newton's Second Law—"the acceleration (a) of a mass (m) by a force (F) is directly proportional to the force and inversely proportional to the mass, expressed as a = F/m"—even though the quality of these paper Jaguars can be expressed by the equation Jax = O/R, where O represents (over) and R represents (rated).  
Historical Note of the Week: Martin's toss to Chrebet was the first time a nonquarterback has won an NFL game with a touchdown pass in the fourth quarter since 1969, when a game-winner was heave-hoed by the most important player in football history, third-string halfback Preston Ridlehuber. For TMQ's paean to this gentleman, "Let Us Now Praise Preston Ridlehuber," click here.
Reader Haikus of the Week: Haikus keep flowing in from those who have entered contemplative states. Reader Bob Krasner offers,
Niners and Cowboys
Combined record two and six
Mighty are fallen
Krasner again,
This year Warner throws
Too many interceptions
Recalled to homeworld?
Reader Tony Nowikowski offers,
In Cincinnati
Paul Brown spinning in his grave
One more Bengals loss
Reader E. Piermont Tuttle writes,
Steak and beer at dawn
WASPs devolve into rednecks
Glorious tailgate
From Bill Oldach,
Obscure references
The sound of one man laughing
Dennis Miller speaks.
Readers are welcome to continue submitting via "The Fray," titling entries "Football Haiku," "Football Heroic Couplet," "Football Veda," and so on, depending on the form.
Quote of the Week: Chicago tackle Blake Brockermeyer, asserting that team's winless status did not faze him: "If we are 0-16, then that's a pretty big bummer. My confidence will be down then." Previously, Brockermeyer was manager of the Lamar Alexander for president campaign.
Hidden Indicator of the Week: The teams that scored the most points on Sunday (the Rams and Niners, with 41) each ran more times than they passed, while the teams that scored the fewest points (the Bengals with zero and the P-Men and AZ-Men with 3) each passed more than they ran. This is the kind of deep, hidden indicator that is essential to an insider's understanding of the NFL. Unfortunately, Tuesday Morning Quarterback has no idea what it means.
Running Items Department
Obscure College Score of the Week: In response to TMQ's questioning the existence of Lenoir-Rhyne College, one reader e-mailed a hyperlink to a MapQuest page purporting to show driving directions from Microsoft headquarters to the campus. "Total estimated time: 51 hours, 12 minutes"—TMQ loves that pseudo-precise "12 minutes." But you can't trust the Web, these kinds of things can be faked. For instance if you seriously believe there's a "Microsoft," then you have fallen for one of the great stock swindles of the—well, perhaps best not to go there.
Tuesday Morning Quarterback remains unconvinced that Lenoir-Rhyne College actually exists. The hoax appears complex, though, since reader Matt Miller sent in a press release, complete with photos, from the last-second victory of Presbyterian College over the alleged Lenoir-Rhyne in a recent game at Clinton, S.C. Presbyterian College wins? It must have been predestined! (They've heard that one before, but I was fated to use it.) Reader Miller also informs that the Presbyterian team is nicknamed the Blue Hose. This does not mean the melancholy courtesans but apparently is a reference to stockings covertly worn by Scotsmen during the 17th century to protest the all-black dress code imposed by Oliver Cromwell. Oh, those wacky, zany 17th-century Scotsmen. And Cromwell—he must have been a Raiders fan!
Know an obscure college nickname that could rival the Blue Hose? Submit it via The Fray, titling your entry "Funny Nickname (Not Mine)."
Obscure College Score of the Week: Slippery Rock 42, Edinboro 7.
Most Embarrassing Dennis Miller Moment: Flowers for Algernon? The Great "Santucci?" Jeesh. Maybe he should be excused for a week.
Dennis Miller Solidarity Item: Many deadly serious, quite somber readers have written in at length to protest the Dennis Miller items. Their arguments boil down to:
1) Sure he rambles incoherently, but so do all football announcers.
2) At least he's trying to crack wise.
3) The pretentious references to Stephen Hawking or Marsilius of Padua (Miller hasn't actually gotten to Marsilius yet, but according to TMQ's calculations, is on a pace to mention him by the Dec. 4 Monday Night game between Kansas City and the Patriots) are not designed to promote Miller by making him seem a fatuous showoff. Actually, they are ironic attempts to spoof other people who utter pretentious references in order to promote themselves.
4) Eventually there will be an awful Monday Night game and Miller will ridicule it on air, and that will be a hysterical great moment for television-age self-irony.
5) So stop ridiculing him.
Tuesday Morning Quarterback is impressed by how extremely seriously some readers take any comments about a guy who is, after all, supposed to be a comedian. TMQ replies to the points in order:
1) Not all announcers ramble, though many aspire to. TMQ recently watched a game announced by Dick Enberg and Dan Dierdorf. The calls were informative, professional, and sometimes witty. And they talked about the game, not about their careers and their egos and which rich people they wanted to impress.
2) Yes, some Miller lines have been genuinely funny: TMQ particularly admired the infinite-pocket crack. Considering that Miller is a highly paid professional, however, the ratio of funny to clunker ought to meet or exceed 1:1.
3) Miller is already perilously close to becoming what he is spoofing. In fact, according to calculations by TMQ, Miller is on a pace to become what he spoofs by the Nov. 6 Monday Night game matching Minnesota and Green Bay.
4) and 5) Since Miller exists to ridicule others, why so touchy about any cracks launched in his direction, huh?
Reading all the reader comments did, however, cause TMQ to experience a moment of ironic solidarity with Miller. We've both got the same problem—audiences don't realize that we're kidding!
Sanders-Hawking Postulate Solved! Last week, TMQ cited the incomprehensible Dennis Miller remark, "Deion Sanders has a sense of the moment like Stephen Hawking," and asked readers to explain what, if anything, this meant. Jim Gardner of Bloomington, Ind.,  offered this Nobel-quality analysis, which will be forwarded to the appropriate authorities in Stockholm:
Dating back to his days at Florida State, Deion has worked closely with Professor Hawking on some of his more esoteric areas of research. It was early on in this relationship that Deion developed a corollary to Hawking's postulate regarding the Hubble Constant and its effect on perception of time. Deion stumbled across something he calls the "Bauble Constant" and recognized that any rise in the Bauble Constant directly accelerated the perception of distance and time (distance, of course, divided by time equals velocity). In layman's terms, what he discovered was that if he wore an excessive amount of jewelry, it looked like he was faster than hell: And in our cosmos, perception is reality. Deion and Hawking had something of a fallingout over this postulate.  Hawking felt the "Bauble Constant" was solely related to the amount of jewelry worn, whereas Deion insisted on the presence of a "g-squared" multiplier (gaudy and garish), which could also increase the constant's value.
New York Times Final-Score Score: The Paper of Record goes 0-14 in its quixotic attempt to predict a final score, bringing its season Final-Score Score to 0-58. Times predicted: Dallas 27, San Francisco 23. Actual: San Francisco 41, Dallas 24. Times predicted: Saints 15, Eagles 14. Actual: Eagles 21, Saints 7. Times predicted: Arizona 17, Green Bay 9. Actual: Green Bay 29, Arizona 3. Times predicted: Colts 30, Jax 26. Actual: Colts 43, Jax 14.
Sinister Times-Israel-San Diego conspiracy? After last week inexorably predicting a San Diego victory at Kansas City—the Bolts lost by 32 points—this week the Times predicted San Diego 19, Seattle 14 and added this player-specific forecast: "Ryan Leaf should make good on his second chance this season as San Diego's starter." The actual was Seattle 20, San Diego 12, and Leaf was yanked after throwing an interception run back for a touchdown. How to explain the Times' touting of the woeful 0-4 Bolts? Obviously, the Israeli government must have some hidden interest in the San Diego franchise. If any reader can propose what this hidden interest may be, send your entry to The Fray, slugging it "Sinister NYT-Israel Sports Page Conspiracy."
TMQ Trivia Challenge: Last week's challenge asked,
Dan Marino was introduced at his number-retirement ceremony by the only other player whose number the Dolphins have retired, Bob Griese. In whose honor was each of the following jerseys put to pasture?

Arizona: No. 99
Denver: No. 18
Green Bay: No. 3
New Jersey Giants: No. 4
San Francisco: No. 73
Reader Greg Narver of Seattle was first with this correct breakdown:
Cardinals No. 99:  Marshall Goldberg
Broncos No. 18:  Frank Tripucka
Packers No. 3:  Tony Canadeo
Giants No. 4:  Tuffy Leemans
49ers No. 73:  Leo Nomellini
Here is this week's challenge:
Walter Payton is the all-time rusher, Reggie White all-time first in sacks, George Blanda all-time first in scoring. Now let's get to some really important records: What gentleman holds the all-time mark for the most two-point conversions?
Send your entries via The Fray, slugging them "Trivia Answer." Each winner might get a Tuesday Morning Quarterback cap at season's end, but remember, the final decision will be completely arbitrary. 
---