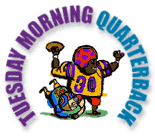 Bartender, comebacks for everyone!
The Jets came back from 19-7 late in the fourth. The Raiders came back from 21-0. The Ravens came back from 23-7. Last year's Super Bowl combatants had to come back: the Rams coming back to win with 23 seconds on the clock, the Tennessee Flaming Ts coming back to tie with 50 seconds left, then to win in overtime. The Cardinals came back to win on the final possession—of course Arizona is in a comeback situation from the opening kickoff. Even the New Orleans Saints won in a last-second comeback.
Merely typing the words, "the New Orleans Saints won in a last-second comeback" holds for TMQ the same thrill and novelty as typing, "collapse of the former Soviet Union" or "quarterly profit announced by Web retailer."
(See complaints about Monday Night Football below; special Dennis Miller denunciations section.)
Best Call of the Week: On the road in Indianapolis, the Raiders had rallied from their 21-0 deficit to take a 31-24 lead at the beginning of the fourth quarter. Oakland had the ball deep in its territory and the home faithful were roaring in the Colts' noisy dome. Worse, far worse, the crowd was armed with towels; strong men grow weak when they glimpse Indianans politely sitting in seats holding towels. (See "New York Times Final-Score Score" below.) Steeling themselves against towel-induced panic, Oakland staged a nearly 10-minute clock-killer drive that ended with the touchdown that put the game away.
TMQ salutes the fact that on this drive, Oakland coaches called runs on 10 of 13 plays. It's astonishing how often, in late-game situations, the team with the lead goes jackrabbit and attempts passes—which fall incomplete and stop the clock from grinding—rather than just mindlessly bashing into the line and sustaining that tick-tick-tick. Oakland dared to be mindless and was rewarded with victory.
Worst Call of the Week: Trailing by six in the opening half, the Eagles had first and goal at the Jersey Giants one. Did they pound the ball once, twice, three times, four times? No, QB Donovan McNabb dropped back, back, back and lost 15 yards on a sack; it turned into a passing series, and Philadelphia had to settle for a field goal.
Then, trailing by 17 in the second half, the Eagles had third and one in Giants territory. Did they pound the ball once, twice? No, they threw incomplete on third and kicked on fourth. Jimmy Johnson used to say that if you can't gain one single yard by running straight ahead, you don't deserve to win. The Eagles didn't even try to gain the key single yards of the game by running, and did not win. Fun fact: After Eagles back Duce Staley had a great opening day, Sportstalk.com declared him an NFL MVP candidate. Staley production this week: 11 yards on seven carries.
The Minkey Is off Their Back: Baltimore took its first-ever lead in the AFC Central on the strength of its first-ever defeat of Jacksonville. Ah, it was good to see Jax coach Tom Coughlin—one of the league's worst sports, he shouts insults at the other team and stomps in anger when the opposition makes good plays the way 6-year-olds do—suffer on the sideline.
Football Haikus of the Week: A sensitive entrant to last week's TMQ Trivia Challenge went the poetry option one better and responded in haiku. (See below.) This threw TMQ into a deeply contemplative, reflective mood in which he dreamed wistfully of the beauty of nature, the fleeting flutelike melody that is life, the taste of beer, and the sight of Cindy Crawford in that movie poster she did half-naked and wearing handcuffs.
Thus it seemed time for a few football haikus. First, to refresh your memory of the form, a classical 5-7-5 haiku goes like this:
On a withered branch
A crow has alighted
Nightfall in autumn.—Basho, 1679
Football haikus go like this:
The fumble bounces
Distant, a raccoon sneezes
Oh, dive for the ballUpon the hash mark
A seagull alights, pensive
Where is that landfill?The cheerleaders' skirts
Lifted by diffident gusts
Long enough, it's good!On Brett Favre's helmet
Beer falls, and the cup crumples
Sideline in autumn—TMQ, 2000
Note: The second canto is dedicated to those courageous men and women who attend games at Meadowlands Stadium, built in a place where God did not intend for any Homo sapiens to be, let alone 80,000 borderline lunatics with painted faces.
Readers are invited to submit their own football haikus via "The Fray." (Literary merit optional.) Enter a deeply meditative mood before composing.
Historical Perspective of the Week: Cumulative records for the Cincinnati Bengals and the Cleveland Browns (Release 2.0) coming into the Battle of Ohio last season and this weekend: 6-24.
These are the teams that represent the state that is home to Canton, Ohio, birthplace of William McKinley and site of the Pro Football Hall of Fame. These are the teams that represent the state that is home to Massillon High School, the most famous prep football program in the nation. (Ticket sales limited to four per person, the school's recorded message will tell you.) After getting a bye on opening day and an extra week to prepare—the league just can't do anything more to help the Bengals, save perhaps allowing them to use CFL rules—and benefiting from the extra pump-up of the first game in a brand-new $453 million cost-overrun palace of a stadium, Cincinnati nevertheless looked listlessly pathetic in losing 24-7 to the team with the worst record in the league last year. TMQ proposes that Massillon High replace the Bengals in the NFL.
Tomato-Based Ploy of the Week: Playing at home, the Buccaneers reached the Bears one and called time. During the pause, Tampa sent its cheerleaders out onto the field to dance in the end zone, inches away from the Chicago defenders. True to the hallowed tradition of Florida cheerleaders, the Bucs babes take an enlightened attitude toward apparel: Why should the sun be wasted on fabric when you can feel it directly on your skin? (TMQ has long believed that skimpy attire empowers women and helps them get in touch with their sensuality.) The Bears defenders gawked and barely seemed to notice when the Bucs returned to run the next play and score. TMQ anticipates that sending the chicks onto the field to distract the visiting team will become a leaguewide ploy. During timeouts in high-pressure playoff games, cheerleaders will be shouting at the opposition, "What am I bid for this phone number!"
Stat of the Week: Ultimately the Bears lost 41-0 to Tampa Bay. Chicago plays Tampa twice a year and has now gone 14 consecutive quarters (3.5 games) without scoring a touchdown against the Bucs defense. Ye gods.
Hidden Indicator of the Week: Last season, through the first two weekends, NFL teams scored 12 touchdowns on punt, kickoff, interception, and fumble returns. This season, through the first two weekends, 17 return TDs were scored. This shows the kind of hidden, underlying trend that is essential to an insider's knowledge of the game. Unfortunately, Tuesday Morning Quarterback has no idea what it is.
Running Items Department
Most Embarrassing Dennis Miller Moment: Once again, the opening monologue was incomprehensible—and we're supposed to be so impressed that he spoke the word "Plantagenet." (Miller was certainly impressed that he spoke it, and repeatedly told us so.) We also got an incomprehensible reference to Hopi psychiatric philosophy and this Beckett-style exchange:
View: Stadium seen from air, swirling electro-graphics.Miller: That's it! [Inaudible.] Lloyd Bucher, man.Al Michaels: Bucher … the Pueblo.Commercial break.
If you can figure out what the capture of the U.S.S. Pueblo in 1968 had to do with anything in the Jets-Patriots game, you are a deep, deep thinker of Miller-esque stature.
Along the way, Miller reassured us of that viselike grasp of NFL detail that we've heard so much about. When Antonio Langham got a pick, Dennis immediately squeaked, "Every time you think he's out of the league, he makes a big interception." Dan Fouts jumped in to note that, ah, Langham hadn't made an interception in two years. Michaels jumped in to note the game date from two years back. Both seemed more than pleased to make their colleague appear an idiot. Some teamwork environment you've created there, Don Ohlmeyer. Were they lying in wait for Miller to look bad, or what?
And here's the Woody joke that he used to open the show. "The new owner of the New York Jets is Woody Johnson. The New England Patriots have a second-year center named Damien Woody. So Al, as is often the case in life, what it's probably gonna come down to is who has the better Woody." Pretty hysterical, huh? ABC has already listed it on its Web site as the No. 1 "Miller Moment" from last night.
But the real problem with Miller isn't the grating comments or the football slips. The real problem is the shamelessness of the self-promotion. Miller must sense that he isn't going to be on long and feel he's got to gush while he has the chance.
Last week, Miller excruciatingly patted himself on the back for his own press coverage.
This week he flacked Drew Carey and the new cast of Spin City. Flack, flack, flack. He gushed about his personal vision for the actor Michael J. Fox, who is ill, but this had nothing to do with the game or the situation or the search for disease cures and everything to do with making Dennis Miller sound like a Hollywood player.
Miller told us with gushing approval how Patriots owner Robert Kraft is "a class act." Why? Because Kraft had complimented Miller and given him a gift. (Dan Dierdorf, once a promising Monday Night Football commentator, started downhill when he began boasting about riding with the owners in their private jets and smoking cigars with them.) When actor Michael Douglas, one of the best-connected people in "the industry," as Hollywood calls itself, entered the booth, Miller slurped so shamelessly that there was practically saliva on the inside of your TV tube.
Dennis Miller isn't a bold, risk-taking, free spirit, he's just another Hollywood toady whose ultimate goal in life is the right party invitations. Put him back on cable where he belongs, please.
New York Times Final-Score Score: The Paper of Record again goes 0-15 in its quixotic attempt to predict an exact final score. Season final-score score: 0-30. Times predicted: Bengals 27, Browns 17. Actual: Browns 24, Bengals 7. Times predicted: Washington 27, Detroit 23. Actual: Detroit 15, Washington 10. Times predicted: Seahawks 30, Rams 28. Actual: Rams 37, Seahawks 34. Times predicted: Colts 26, Raiders 17. Actual: Raiders 38, Colts 31.
Of the latter game, the Times predicted that the Raiders would not only lose but find playing in the Colts' stadium "scary" because "the fans there are loud and wave their white towels in a frenzy." What, the Raiders were supposed to be afraid of towels? Oh, but they're moving towels—who wouldn't be terrified!
TMQ Trivia Challenge
Several entrants to last week's Trivia Challenge had the temerity to complain that the question was too easy, on the grounds that you could find the information using Web search engines. TMQ notes that most entrants who made this complaint then offered the wrong answer. Ask Jeeves, for example, advised one unfortunate entrant that the correct response was Dan Reeves. Dan Reeves may be the answer to some questions (such as, "OK guys, which one of you ordered the boysenberry-almond martini?"), but not to the question TMQ had asked.
The amazing thing about the Internet is that it allows people anywhere in the world, for almost no cost, to very quickly and conveniently find things that are worthless! Such as the wrong information in NFL trivia and other important categories of life.
Here was last week's question:
The sole player ever to get One for the Thumb was Charles Haley, who appeared in five Super Bowls and left with a ring each time. Cornelius Bennett also played in five of the big games, with the opposite result—no rings. In terms of total appearances, both these gentlemen are staring at the taillights of the only player ever to perform in six Super Bowls. Who is he?
Many, many entrants proposed Don Beebe, who was on four Super Bowl teams with Buffalo and two with Green Bay. But, aha! the question asked for the only player ever to perform in six Super Bowls. Beebe was on injured reserve for one of the tilts and inactive for another; he performed in four.
Garry Hoyt of Grapevine, Texas—which sounds like a whistle stop in a remote egg-farming region but is actually a Dallas suburb where fundamentalist Cowboy worshippers recently voted to refuse to ordain women as sportscasters—suggested, "The answer is Al Gore, who played in six Super Bowls before inventing the Internet."
Will Work of Cambridge, Mass., won the challenge by being first to submit the correct answer: Mike Lodish, who played in Buffalo's four Super Bowls, then signed with Denver and promptly played in two more. This raises the question, why wasn't every NFL team trying like mad to get its hands on Mike Lodish? Work's reply came in 64 minutes after the column went up. The fastest (non-winning) reply was received just 11 minutes after the column posted, which makes even TMQ's head spin.
Later, Tuesday Morning Quarterback was thrown into its deeply contemplative mood by reading this reply from Brad Hammill, who phrased his answer as a haiku:
Defensive tackle
With Denver and Buffalo
Mike Lodish in six
Yup, that's 5-7-5 all right. To confirm the validity, the lines were submitted to the Haiku-o-Matic Web site, which verified the lyric structure and replied, "Thank you for your marvelous haiku!" (Haiku types are pretty nonjudgmental, something TMQ is counting on heavily.) Presumably, Hammill's work is now immortalized within the data banks of Haiku-o-Matic. But Brad, you forgot to title your work. TMQ suggests, "Lodish Resplendent." Or is that already the title of a Saul Bellow novella?
And now for this week's Trivia Challenge, designed to cause weeping and laments by those who said last week's was insufficiently hard.
The big Division 1 schools produce most NFL players—429 all-time from Notre Dame, 361 from USC, 267 from Penn State. Then there are the small schools that have, in their histories, produced just one NFL player—the Paducah CCs and Peru States of the world.
Below are the names of four small colleges that have sent only one player to the NFL, followed by the names of four NFL athletes from single-player schools. Match each player to his alma mater.
Schools: Brockport State, Isothermal CC of North Carolina, Mount Senario, Shippensberg. Players: Rob Davis, Percy Howard, Craig Jay, Mike Jones.
Good luck cut-and-pasting that into Ask Jeeves! I was going to add another single-athlete school to the list, Belgrade University (Serbia), but had a sneaking feeling entrants would not need advanced technology to match it with NFL player Momcilo Gavric.
Remember, this is not a contest. The first-read correct reply might receive a TMQ cap at season's end, but the final decision will be completely arbitrary and we promise nothing.
Submit your answers to "The Fray," slugging them "Trivia Answer." If answering in haiku, title the reply "Trivia Haiku." (Good luck fitting "Isothermal CC of North Carolina" into a standard haiku line.) If answering in a full-length epic poem, slug the reply, "Trivia Cantos." 
---