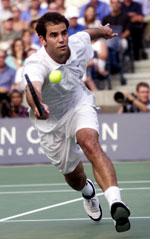 I suppose when a guy you've described in this space just weeks ago as "washed up" winds up in the finals of the U.S. Open, you can't exactly go around saying, "I told you so." On the contrary, I concede right at the top here that Pete Sampras looked anything but washed up at the just-concluded U.S. Open; in fact, by making it to the finals he reclaimed the No. 1 spot in the rankings. On the other hand, after I saw what happened to Sampras in that championship match—where he was handed the most humiliating big-match defeat of his career by 20-year-old Marat Safin—I didn't come away feeling I should eat crow either. Or at least not much crow. For while Sampras may not be washed up, his performance at the U.S. Open clearly showed that he's no longer the player he once was. The Sampras who was once arguably the greatest tennis player in history—that guy, sadly, is gone.
To quickly recap, my original brief against Sampras had three points. First, I felt that Sampras had become bored with tennis and had really only been hanging on in order to break the all-time record for grand slam victories—a goal he accomplished at Wimbledon this summer. His protestations to the contrary, he seemed to be someone who was coming to the realization that there is more to life than hitting little yellow balls—a fatal insight for a professional tennis player. (Just ask Jim Courier or Boris Becker.) Second, I thought that the flaws in his game—his occasionally erratic groundies and, especially, his flabby return of serve—were becoming more pronounced. And third, it was obvious that his body was breaking down.
What did the Open show? I would argue that, even before the finals, it showed that his game is not what it once was. Consider, for instance, his third-round match against Agustin Calleri, an Argentinian ranked 72nd in the world. Yes, Sampras won in straight sets, but he couldn't even break Calleri's serve until the third set. That is to say, he spent most of the match looking quite vulnerable to a tour nobody. And he continued to look vulnerable right up until the second set tiebreaker in his quarterfinals match against Richard Krajicek.
Did you see that tiebreaker, though? It was one of the truly amazing moments at this year's Open, and it clearly showed where I was most wrong in my appraisal: Sampras still has a surprising amount of fire in his belly. Already down a set, Sampras was facing four set points against Krajicek in the second-set tiebreaker. Krajicek, a Sampras-killer if ever there was one (his lifetime record against Pete is 6-3), was serving like a demon. The match looked all but over. But Sampras ran off six straight points with a series of brilliant shots, including some of the best returns he hit in the entire tournament—and cut Krajicek's heart out. You couldn't watch him pull that match out and not realize that he was still hungry to win grand slams. At the time, I thought that tiebreaker against Krajicek would turn out to be the turning point not just for that match but for the entire tournament. Surely, after such a dazzling display, Sampras would find it in him to rise to the occasion in his last two matches, as he had so many times before.
But as we all know now, it wasn't to be. Against Safin in the finals, Sampras could not even muster enough game to make it interesting. When Sampras tried to come to net, Safin passed him with ease. When he tried to trade groundstrokes, Safin out-hit him from the baseline. Sampras not only had trouble with Safin's first serve, he even had trouble with his second serve. Again and again, Sampras would float his pathetic returns and come in behind them—only to see the ball whizzing past him. Even his big weapon—his serve—turned out to be nothing Safin couldn't handle, flicking back 125 mph Sampras serves with contemptuous ease. To me, the most revealing moment in the match was when Sampras delivered a drop shot that looked like a sure winner—and lost the point when Safin came out of nowhere to hit a cross-court winner of his own. On the very next point, Safin hit his own drop-shot winner—and did it with a kind of arrogance that seemed to say, "Look Pete, this is how it's done."
What killed me was listening to the commentators. They kept trying to make excuses for Sampras—even John McEnroe who is usually so cleareyed. Was Sampras hurt, they wondered? Was he tired? Had the rigors of the U.S. Open simply worn him out? And who knows? Maybe it had. But if so, that surely speaks volumes about Sampras' physical decline. After all, he'd had a pretty light load at this year's Open: He hadn't played any five-set matches, nor had he faced a seeded player until the semifinals. If this U.S. Open wore him out, then it's hard to imagine how he's ever going to get through another grand slam.
Of course there is another possibility for what happened in the finals. A great player who is getting on in years (at 29, believe it or not, he's old by tennis standards) got beat by somebody who's younger, stronger, quicker—and maybe better. When you're a professional athlete, that is something you eventually have to face.
Is Sampras washed up? The evidence from the U.S. Open suggests that he isn't. Many athletes can have great moments after they're past their prime, as Sampras did in his match against Krajicek. But will he ever win another slam? The betting here, post-U.S. Open, is exactly what it was when I wrote my original piece: No way.
---