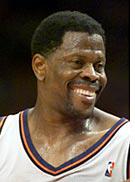 Too late. WAAAY too late.
The Knicks finally traded their superstar center Patrick Ewing—to Seattle—in a complicated four-team trade that gets them, among others, Glen Rice from the Lakers and Luc Longley from the Suns. In so doing, they put a merciful end to Ewing's long, and largely distinguished, career as a Knick. Knicks fans, who have long loved Ewing's "heart," will be pained by his departure, but hardly outraged. It's been clear for some time that he is not the player he once was. Indeed, during the playoffs two years ago, with Ewing unable to play because of an injury, the Knicks made a thoroughly entertaining, and exciting, run to the finals. Despite coach Jeff Van Gundy's protestations to the contrary, they were clearly a better team without Ewing than with him.
The truth is, though, the Knicks would have been far better off getting rid of Ewing years ago—maybe as much as five or six years ago—when he was still worshipped by the fans and before he had slowed down so visibly. Basketball teams do this all the time: They hang on to their stars too long. Sometimes it is because the owner falls in love with his star players and can't bring himself to trade them. Sometimes it is because a player became so closely associated with a team that no one—coaches, fans, management, even opponents—can imagine him ever playing anywhere else. Sentiment, in other words, overtakes judgment. And as nice as that sounds in the otherwise cold, cruel world of professional sports, it is almost always a mistake.
I say this as a longtime Celtic fan who reveled in the glory days of Bird, McHale, and Parish—invariably described as one of the greatest frontcourts in basketball history. And in their 1980s prime they deserved that accolade. But in time, injuries and age began to wear them down—McHale never really recovered from a broken foot he played on during the playoffs one year, and Bird's back essentially gave out on him at least four years before he retired. Yet Celtics management viewed the threesome as so critical to the team's success—and its identity—they refused to break up their vaunted frontcourt even when it was clear that they were never going to win another championship. Had the Celtics traded McHale or Parish—or, yes, even Larry Bird—when they still had something left, the team could have gotten some good young players in return. They could have gotten a future. Instead, the Celtics have been one of the most hapless teams in basketball since McHale and Bird retired. They have no future because they were unwilling to do something hard back in their glory years. (The same thing will happen to Utah once Malone and Stockton retire. Mark my words.)
Now let's look at the Knicks. The perfect time to trade Ewing would have been in 1994, the year the team lost to a pretty mediocre Houston Rockets team in the NBA finals. (That was the year Michael Jordan was playing baseball.) It should have been clear then that that Knicks team was never going to win a championship, and the team needed to start all over. Ewing was still a great player—though a little off his prime—and would have brought any number of big-time young players in return. And he would have broken down someplace else. (In sports trades, there is always an element of the Greater Fool Theory.) But because they waited too long to trade their star center, the Knicks could only land players other teams were trying to unload. Former L.A. Laker Rice, for instance, is an overpaid malcontent who spent last year's finals whining about his lack of playing time. He gives the Knicks a shooting guard—which they absolutely don't need—whose other skills are largely nonexistent. The starting center will be Longley, who is as slow as Ewing—and will thus ensure that the Knicks offense remains as sluggish as ever—but lacks Ewing's shooting, rebounding, and defensive skills. Some trade.
The Knicks are going to be terrible this year. What's worse, though, is they are going to be terrible for years to come. That is the price they are paying for remaining loyal to Ewing all these years. Serves 'em right. 
---