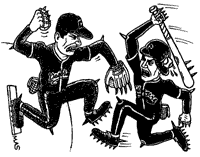 Recently, sports nut Hugo Lindgren proposed a solution to baseball's home run glut: Bring back the spitball. Great idea, but why stop there? In the brave new sports world of bone-crunching tackles and tomahawk dunks (to say nothing of sky diving and street luge), the intellectual flair of the sacrifice bunt just doesn't do the job anymore.
So, what is to be done? Xtreme Major League Baseball, the new American game that blends the sweep of history and the short attention span. Here are just a few of the rules being considered by the XMLB commissioner.
The Mandatory Spitball: Why just allow it? Any pitcher caught serving up a pitch without extra sauce on it earns a yearlong suspension, because punishment in the XMLB is also xtreme. The XMLB encourages the major spitball variations: Vaseline, emery board, razor blade, snot, Grey Poupon, and circular saw.
Charge the Mound: How else will batters counteract the baffling spitball? The league condones violence against pitchers, with a twist borrowed from Canadian baseball, a k a hockey. No bench clearing. The pitcher has to duke it out by himself. Without the excitable Carl Everett backing him up, little Pedro Martinez will have to think twice before throwing his spitter high and tight.
"Soaking": Back in the 1830s, before the Civil War softened the culture, fielders threw the hardball at base runners to get them out. Now they tag them, or even force them out, which is how baseball got its non-contact reputation. Out of respect for tradition, the XMLB brings back this long-dormant rule, with the following update: If the runner catches the ball, the fielder who threw it is ejected from the game.
Sharpened Spikes: Ty Cobb was famous for going into second base with his spikes high, bloodying middle infielders. The XMLB asks players to file down their spikes before giving the file to the pitcher for ball-doctoring purposes. A codicil to this rule: Base runners may not slide into home plate under any circumstances.
No Padded Fences: Pistol Pete Reiser, the Brooklyn Dodgers center fielder who could have been the greatest player ever, had to be carried off the field after crashing into outfield walls 11 times. Now only the ivy-covered wall at Wrigley offers such ruinous potential. The XMLB will also outlaw the warning track. To paraphrase Field of Dreams: You want a warning? Watch out you don't get killed.
The I-Formation: More than one player may occupy a base at a time. The lead runner is eligible to block, but football rules apply. No holding, no tripping, no spearing, no biting.
The XMLB rule book is still in rough draft form. Send your suggestions to slatesports@hotmail.com.  
---