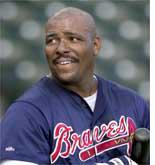 Last year, Bobby Bonilla may have been the single worst player in big-league baseball. He certainly had the worst attitude. Bloated and ill-tempered, he watched passively as his average plunged deep below the Mendoza line and then, in late season, humiliated himself with some truly pathetic pinch-hitting appearances. Just to be as obnoxious as possible, he hung out with Rickey Henderson, the Mets' other resident malcontent. The team ate Bonilla's contract this spring, and it looked like that was that: Bobby Bo's once-bright career had finally been extinguished. Amazingly, he got a call from the defending National League champs, the Atlanta Braves, and has served this season as their part-time left fielder. He is, as he always has been, godawful in the field and, as of Sunday, he's batting just a smidgen above .250, with but a handful of home runs. You'd think a better outfielder would be available on the waiver wire or somewhere in the minors, but Bonilla's been just solid enough to stick with the club and help them in a modest way. If the Braves go on to take the NL pennant, nobody will cite Bobby Bo as the reason why. But his presence on the top club in the National League is proof of what might be called the John McGraw Rule—teams that win consistently are the ones that take whatever talent they can get their hands on, no matter what baggage or bad attitudes come with it, no matter their effect on "team chemistry."
John McGraw, you'll remember, was perhaps the greatest manager in baseball history, guiding the dynastic New York Giants for 30 seasons in the early part of the century. Though he occasionally had great players—like Christy Mathewson and Mel Ott—McGraw was legendary for scraping together a lineup of outcasts: drunks, brawlers, gamblers; players who, for one reason or another, other teams wouldn't touch. They tended to be a volatile bunch. A player of his once beat up the opposing team's manager in the clubhouse after a game. In the midst of World War I, McGraw acquired a pitcher who was facing charges for draft evasion. He signed first baseman Hal Chase, even though all organized baseball suspected him of throwing games. He had a pitcher for a while named Dummy Taylor, who was a deaf-mute. And when he managed the Orioles early in his career, he came close to breaking the game's color line by trying to pass off Charley Grant, a young black ballplayer, as Chief Tokahoma, a Cherokee Indian. McGraw understood three things: Talent is inherently scarce, you should do anything to find it, and team chemistry doesn't mean a thing. Some of McGraw's teams were tightknit, others were made up of guys who hated each other's guts. Nearly all of them won.
Look around and you'll see that the managers and coaches who routinely field winning teams are almost always unafraid of players with dysfunctional personalities: Bill Parcells, Pat Riley, Chuck Daly, Phil Jackson. The last two are the only ones in the NBA who could deal with Dennis Rodman, and they both won championships with him. Teams often blunder when they get rid of players for issues unrelated to their athletic performance. The best move the Knicks ever made was getting the coach-choking Latrell Sprewell. The worst move they made was unloading Anthony Mason, who was traded not because of his countless off-the-court mishaps but because the touchy Patrick Ewing couldn't stand him. The familiar joke about the Oakland A's, when they dominated in the early 1970s, was that on the road 25 guys took 25 cabs to the ballpark. It didn't seem to have any effect on how they played.
Still, this baseball season, writers and broadcasters won't stop genuflecting at the altar of team chemistry. Generally speaking, two kinds of teams have good chemistry—impoverished small-market teams with "teacher" managers, and the good teams. The Yankees, for example, are always talked about that way. So are the Braves. But can we believe it? The Braves, after all, not only have Bobby Bonilla, they also have John Rocker (and staunchly resisted the call to dump him). Over the years, the Yankees have acquired numerous players with dubious reputations—Chuck Knoblauch, Roger Clemens, the departed Chad Curtis and David Wells. None of these guys are scoundrels like McGraw's boys, but they arrived with track records as less than stellar teammates. The Yankees were able to get David Justice, in part, because he started mouthing off about how the Indians ought to throw in the towel this year. That's the good thing about players with bad reps—they come cheap. There's one prominent American Leaguer who's rumored to have been traded from two separate teams for having sex with his teammates' wives. You can't get much worse team chemistry than that. And he's played on his share of winning clubs. John McGraw would've snapped him up in a second. 
---