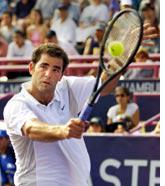 Was it really just five weeks ago that Pete Sampras won Wimbledon for the seventh time in eight years? When he claimed his 13th Grand Slam victory—besting the previous record of 12, set so long ago by Roy Emerson? When he was widely acknowledged as, if not the greatest tennis player who ever lived (which, for the record, is what this particular Sports Nut believes), then at least the second greatest, behind only the legendary Rod Laver?
Yes, in fact, it was a mere five weeks—which is why it seems so startling to ask whether Pete Sampras is finished. Yet, Wimbledon or no, this is the question that practically begs to be asked; even so worshipful a commentator as Patrick McEnroe, who has called a lot of Sampras matches lately for ESPN, is gingerly hinting at it. Sports Nut, who is incapable of gingerly hinting at anything, will say it flat out: Sampras is done. Cooked. Finito. Though he'll probably be seeded second at the U.S. Open (which begins in less than two weeks), the seed will be a kind of honorific: an acknowledgement of past accomplishments rather than a realistic appraisal of the current state of his game. Truth to tell, he'll be lucky to get to the quarterfinals.
What's my evidence? Let's go to the videotape. Have you seen Sampras play this hard-court season? (Hard-court season begins right after Wimbledon, when the men's and women's tours move to the United States and play in a series of tournaments leading up to the U.S. Open.) Perhaps not. His televised matches have tended to be shown in the wee hours of the morning. The only reason Sports Nut has watched them is that Mrs. Sports Nut—better known in our household as Tennis Nut—has taped them for later viewing. So, you'll have to take my word for this: He's been awful.
At last week's tournament in Cincinnati, he beat a young stiff named Taylor Dent—but needed two tie-breakers to do it. His return of serve, which has always been the weakest part of his game, has disappeared entirely. I don't think he broke Dent's serve the entire match. His serve, meanwhile, has gone from being a weapon to a crutch. With his game in disarray, you wonder where he'd be without it. Then, in the next round he was soundly beaten by Tim Henman—who hadn't beaten him in six previous tries. What was startling about that match, though, was Sampras' body language. He seemed to be dragging himself all over the court. Patrick McEnroe kept suggesting that there must be something physically wrong with him—a logical assumption, given Sampras' history—but to me, he simply looked bored. He looked the way Boris Becker used to look in the latter part of his career—even in the middle of a match, tennis just wasn't that interesting anymore.
Of course, even the greatest players can go into short-term slumps, or even lose their passion for the game from time to time (Agassi, of course, is Exhibit A). So, let's take a somewhat longer view. Aside from Wimbledon, Sampras hasn't won a Grand Slam in three years (the Australian in 1997). He hasn't won a U.S. Open in four years. His victories at Wimbledon—where the grass accentuates his strengths and minimizes his weaknesses—have helped disguise the fact that his prime is well past. But it is. His struggles on the much less forgiving hard court—not just this year, but over the past few years—are the real proof.
To those who argue that his hard-court troubles have been mainly the result of injuries—remember last year, when Sampras had to withdraw from the U.S. Open after suffering a herniated disc during a practicesession?—Sports Nut replies: What's your point? An athlete's skill can erode as much because of injury as because of age. Sampras, in fact, isn't all that old, even by the standards of a pro athlete (he just turned 29), but his constant string of injuries has clearly been part of his overall decline. Indeed, one reason he does so well at Wimbledon is that the surface itself is so much easier on his legs and back. Thus, this past year, he suffered some kind of weird leg injury in an early round, but the injury didn't get any worse—and actually got better—as he continued to play the tournament. Hard courts, by contrast, are utterly unforgiving, and Sampras' body tends to break down on the surface. It's always been a mystery to me why someone as clearly intent as Sampras on being viewed as the greatest of all time—which obviously implies having a very long career—has not been willing to get his body in the kind of shape to withstand the rigors of his sport. But he hasn't. (Again, Agassi stands in marked contrast.) And now he's paying the price.
Sports Nut is sad to see Sampras in decline. (Tennis Nut, on the other hand, would like it to be known that she thinks he's a boring player.) At his best, Sampras had the most beautiful game ever—one that combined power and touch and speed and grace. He could serve and volley better than the best serve-and-volleyers, and out-baseline the best baseliners. And his serve was simply one the greatest shots in the history of tennis. When he finally retires, he will leave a yawning void, especially for American tennis, which has absolutely nothing to offer once Sampras and Agassi hang it up. (Jan Michael Gambil, anyone?) On the other hand, here's hoping he quits sooner rather than later—before he becomes a latter-day Willie Mays: greatness that dissolves into embarrassment.
---