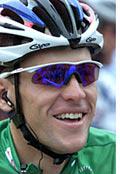 You might think that, having won the Tour de France after nearly dying, Lance Armstrong would just sit back and enjoy the fame, the good wishes, and the money that's coming his way. Even the Tour director, Jean-Marie Leblanc, sees it that way. He has begrudgingly ranked Armstrong only second going into this year's Tour.
In fact, Armstrong has a lot of incentive to win this year's Tour, which started July 1, and he's very likely to do just that. Armstrong represents one of those rare cases when a human-interest story actually obscures a more interesting sports story. Does he have a strong will to live? Sure he does. But a strong will to live isn't exactly a unique trait among young athletes, and it takes a lot more than that to win the 2,403-mile, three-week race.
In 86 editions, the Tour has produced only 18 repeat winners, a ratio of around 20 percent, not much different than the ratio of repeat men's singles winners at the U.S. Open tennis championships. But the margin between winning and losing at the Tour is strikingly narrow. Last year, Armstrong was handed the overall winner's various trophies (which range from a tasteful fruit bowl to some hideous Plexiglas constructions sporting Fiat logos) for completing 20 racing days in the shortest accumulated time: 91 hours, 32 minutes, and 16 seconds. The last-place finisher, a clownish yet oddly beloved Frenchman named Jacky Durand (he's the Jerry Lewis of the Tour), took only three hours, 19 minutes, and nine seconds more, a margin of only 3.6 percent.
What makes the Tour uniquely suited to Armstrong is that it demands a combination of somewhat contradictory talents. There are three types of daily races (stages) in the Tour. The first type is the flat races that generally dominate the first week of the Tour. Flat stages generally finish with the riders in one huge group, making it impossible to gain any time advantage. For Armstrong and the other contenders, their only job is to stay out of trouble.
The next stage is the individual time trials held July 21, what the French never tire of calling "the race of truth." It's also the event where Armstrong has shown the most dramatic improvement. Until 1996, when he got sick, he was just one of the bunch when it came to time-trialing. But last year (after giving his wife's lap dog a good-luck kiss), Armstrong humiliated the current time-trial experts on a 35.1-mile loop around Metz. Alex Zuelle, the second-place finisher and a leading time-trialist, was nearly a minute down, a yawning gap by Tour standards. Armstrong also broke a record on the same course set by the now retired Miguel Induráin, a five-time Tour champ from the early 1990s.
What brought about the change? Armstrong was always physically talented. But before his illness, that natural talent led him to believe that he knew everything about training and racing. While rebuilding his body after cancer treatment, a humbler Armstrong listened to his trainers, adopting a more efficient riding style (he previously had an aversion to riding in low gears) and better training techniques. Among other things, he now races less, rests more, and spends time riding the key portions of the Tour route in advance.
Armstrong's cancer, in a perverse way, also helped him become better at the third stage of the Tour: the mountains. It's rare to find riders who are good at both time trials and mountain racing. Time-trialers rely on power, and the races tend to be held on relatively flat terrain. Mountain racers need to be lighter. So time-trial specialists, such as Britain's Chris Boardman, usually struggle when confronted with the varying pace of mountain stages.
Pre-cancer, Armstrong was known as a climber, but not the right kind. He was unusually good at sprinting up steep, short hills. But that skill was useless on the big Tour climbs that drag uphill for more than 10 miles. The cancer treatment, however, reduced much of Armstrong's upper-body mass (a legacy from his early days as a triathlete). He has lost the muscles that would have been dead weight that he had to haul up the hills.
Armstrong has had a strong season this year. At the Critérium du Dauphiné Libéré, an eight-day mini-preview of the Tour held in the Alps earlier this month, he announced that he wasn't interested in winning. Despite slumming, he finished a strong third (behind Tyler Hamilton, one of his teammates on a very good American squad) and showed good form in the mountains. And, just to make a point, he destroyed the field in the opening time trial.
There are riders on other big teams who have the gift of being able to both climb and dash in the time trial. One of them is Bobby Julich, an American who crashed out of last year's Tour. But he has been sick and injured for much of this season. Armstrong's strongest competition will likely be Jan Ullrich, one of the last products of the former East German sports machine. Ullrich won the Tour three years ago but was out of commission in 1999. But he is not the tactical racer that Armstrong has become—he panics when the race doesn't go his way. He's also tends to show up overweight at the beginning of the season (thanks to his off-season regimen of whipped cream) and use races to get in shape, a habit that's earned him the nickname "Fat-Boy Slim" among the Tour press.
Armstrong has another advantage this year: the power of negative thinking. There's been a cold war between Armstrong and the French press since last year's wildly inaccurate report in Le Monde that Armstrong had tested positive for steroids. But the cycling establishment's skepticism about him dates back much further. Armstrong had joined a French-based team in 1996, just before he got his diagnosis. In public, the team was sympathetic. In private, it sent an agent to Armstrong's hospital to renegotiate his contract. Armstrong vowed revenge and was particularly galled after the rest of Europe's teams turned him down. Before last year's Tour, he recalled telling himself, "I'm going to show them."
He did show them. But Armstrong is aware that last year's victory could still be considered a fluke, a feel-good story. A second Tour de France victory will go a long way to helping him get his revenge. 
---