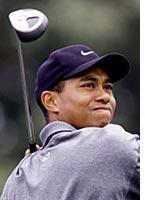 Tiger Woods did more than record his second major win at last summer's PGA—he set up a historical opportunity. When Woods tees it up at this week's U.S. Open at Pebble Beach, he'll know that a win at Pebble, followed by a win in July at in the British Open at St. Andrews, would make him only the fifth man to capture all four legs of golf's Grand Slam. Moreover, he'd have done it the most efficiently (needing the fewest tries) and the most callowly (at the youngest age). This would top Jack Nicklaus, and none too soon. For, amazingly enough, winning the career Grand Slam in this heroic fashion is what Woods needs to keep up, barely, with Nicklaus' pace.
Pebble Beach is revealing on deeper levels, too. The U.S. Open, far more than any other major, has consistently exposed Woods' significant weakness—distance control with his short irons. U.S. Open tracks cannot be overpowered, so unlike the other majors, Woods cannot make up strokes on the field with his length. Make no mistake: The U.S. Open, because it requires a combination of precision and patience, is the key to Woods' place in history. Without proving himself capable of playing the stateside Open game, Woods will never seriously challenge Nicklaus.
First a look at the numbers. If Woods were to win the U.S. and British Opens this summer, he would have won all four tournaments of the Grand Slam by the age of 24, taking just over three years and competing in 15 majors (as a professional) to do it. Such a feat would translate into winning 26.7 percent of the majors he's entered. Nicklaus captured the slam in 1966 at age 26. En route, Nicklaus played in 18 majors and recorded six wins—the 1962 U.S. Open; the PGA in '63; the Masters in '63, '65, and '66; and the 1966 British Open.
Since his 1997 Masters romp, we have heard a great deal about Woods' efforts to control his short irons. In this last year, commentators have been quick to announce a transformation—with good reason, it would seem, given Woods' astounding run. But more than finer iron shots, what we've seen are improvements in Tiger's short game—amazing escape shots with a lob wedge have become almost routine with him. Iron play and short game, historically, stand in inverse relation to each other: Woods reveals his short-game genius because of his errant iron play. Great iron players like Nicklaus, Johnny Miller, and Ben Hogan were known for having poor touches around the green. Tom Watson, erratic and often heavy-handed with his irons, had remarkable feel.
This is not to say that Woods' short irons haven't improved: He throws darts at the soft greens he faces weekly. But the plain fact is that severe, championship-caliber tests of distance control still bother Woods. A Tiger-proofed Augusta has revealed precisely this, as did Pinehurst last year—whose Donald Ross humped greens curb lob-wedge play enough to make chipping resemble short irons. The TPC at Sawgrass is also a great example. Woods won his U.S. Amateur there during a humid August. As a pro, Woods plays the TPC during the spring when the wind dries the course to a crust: He struggles considerably. Pebble Beach shapes up exactly like this. Woods' win on the Pebble Beach course in the February AT&T was in soggy conditions. Pebble in June brings to mind the gale of 1992. And perhaps I am nitpicking here, but who could ignore his trapped-crush 7-iron on the final hole at the Memorial a few weeks ago: Woods called it the worst shot of his life. Hyperbole aside, he was staring down the tournament record on that final swing. It is arguable that on his most high-pressured shot of the week, his last swing in competition before the Open, he reverted to form.
There are two ways to think about distance control: strategy and technique. Courses like Augusta and Pebble, particularly when they get firm, make it absolutely impossible to fire at the flag. To this end, the USGA sets up "sucker pins," which look inviting from the fairway but are essentially hazards: Landing a ball near them almost necessarily leads to bogey. Woods has to know where these are, and he's got to think hard about where to "miss" his shots on the green. Sometimes a 40-foot birdie putt should be seen as a victory. We don't know yet whether Woods is able to see things this way.
Impugning Woods' technique is another matter. They just don't make swings more solid and structurally sound than his. Further, his ball flight has gotten lower and more parabolic, things he says the Nike ball helps with. Both are keys to controlling distance. Still, my thought is of the way Nicklaus seems to caress the golf ball with his irons—the balls stays longer on his clubface. You can see the same action in films of Sam Snead, or even better, Billy Casper (who, amazingly, did it with a draw). The ball still jumps off Woods' clubhead. Great hands are elusive—Patrick Ewing has a soft jumper and fumbles passes—and are very difficult to learn.
By the standards Woods encourages us to judge him by, Pebble Beach marks a crossroads. Consider this: If Woods were to capture the 2000 U.S. and British Opens, he'd still have to win two of the next three majors—potentially another Masters and U.S. Open—to keep pace with Jack at the same point in his career. In short, only by winning four of the next five majors does Woods match the early Nicklaus. Pebble Beach will determine whether Woods can follow the Bear's tracks.
---