Evita
Directed by Alan Parker
Hollywood Pictures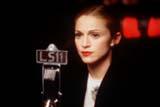 Evita, the long-awaited (industrially speaking) movie version of Andrew Lloyd Webber and Tim Rice's pop opera, which stars Madonna, Jonathan Pryce, and Antonio Banderas, is a musical King Tut. It begins with two funerals, it ends with a funeral, and it invests most of what comes in between with enough pomp to do honor to the burial of Napoleon. And it preserves throughout a perfect funereal tact–as though it would be unseemly, in an assemblage this grand, to ask just what it is that is being celebrated. But anyone who cares to raise the massive lid will, indeed, discover inside a tiny mound of ashes and dust. These are the mortal remains of the 1970s.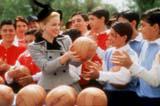 Evita was Lloyd Webber and Rice's third successful collaboration, following Joseph and the Amazing Technicolor Dreamcoat (1968) and Jesus Christ Superstar (1970). The album was released in 1976–the first in a long series of recordings, which now includes the Korean cast album and, of course, the soundtrack of the current movie (Warner Bros.), which happens to be a first-rate recording. The show opened in London in 1978 and on Broadway a year later, and it has been a colossal success. Many famous directors, including Ken Russell and Oliver Stone, and many famous performers, including Barbra Streisand, Liza Minnelli, Meryl Streep, Michelle Pfeiffer, John Travolta, Jeremy Irons, Julio Iglesias, and Vanilla Ice, have at one time or another been associated with plans for the movie version. Madonna, according to a good quickie book on the subject–Evita: Saint or Sinner?, by W.A. Harbinson–began campaigning for her role in 1985. What is the appeal?
It can't be the life of Eva Perón. Most Americans, if requested on the television game show Family Double Dare to explain the difference between Eva Perón and Isabel Perón or accept a physical challenge, would surely accept the physical challenge. The resonance, in North America, of the name Eva Perón (she was the first wife of Argentine President Juan Perón, and died in 1952 at the age of 33; Isabel was Perón's second wife, and became president of Argentina herself in 1974) must be very close to zero.
Could it be the songs? This possibility is almost equally hard to credit. Rice's book reads like a transcript from a Dictaphone. "I'd Be Surprisingly Good for You" is the title of the song Evita delivers on the night she first meets Juan, and there is no irony intended. That's the way the characters speak, as though they were conducting a polite business transaction in a foreign language. "Please go on–you enthrall me! I can understand you perfectly and I like what I hear, what I see, and knowing me, I would be good for you too," Juan begs to point out in reply. It's not exactly "Strangers in the Night." And Lloyd Webber's music is as unmemorable as Rice's words–noisy, harmonically crude, and relentless. Inflecting orchestral music with rock electronics–the initial inspiration behind Lloyd Webber and Rice's collaboration–is an idea whose time has passed.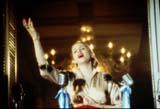 T he source of the appeal is probably precisely the emptiness of the whole thing. Greil Marcus' study of punk, Lipstick Traces, is an exasperating book, but it has some brilliant passages on the mainstream pop culture of the 1970s. The songs of that period, Marcus concludes, have a single theme: "I survived." It's not success they celebrated, or the achievement of peace and love. It's just being there–stayin' alive. Standing on the balcony of the presidential mansion with her arms thrust forward, belting out "Don't Cry for Me Argentina" for the third time to a mass of upturned faces, Evita in the film is the picture of the 1970s pop performer. Once you place the image, you see that Evita is just a south-of-the-border version of her cinematic contemporaries: Barbra Streisand in the remade A Star Is Born (1976), Liza Minnelli in New York, New York (1977), Bette Midler in The Rose (1979). This is not politics. It's arena rock. It doesn't matter who the singer is or what she's singing. What matters is that she's there, still a trouper, still a star. That's all her fans want.
Movie audiences today may want a little more, and the fundamental problem with the movie is that there is nothing in the story, as Rice and Lloyd Webber have designed it, to engage our feelings. It is normally very difficult–in a movie filled with shameless music it is usually next to impossible–not to experience an involuntary pang when the heroine dies. In Evita, though, we feel nothing. Her demise is just part of the spectacle. The movie carries the emotional impact of a music video.
The reason we don't know what to feel about the characters is that we have no idea what the characters feel about each other. Lloyd Webber and Rice were lucky to get Alan Parker to direct the movie (as they had been lucky to get Hal Prince to direct the original show in London–he got better reviews than they did). Parker was, after all, the director of Fame (1980), a movie very close in time-spirit to this one. But he is also technically resourceful (he evidently had a hand in the production of the soundtrack CD), and he is obviously willing, when the job demands it, not to inquire too closely into the motivations of the characters he's been given to work with. In The Making of Evita, a picture book issued to coincide with the movie's release, Parker includes a few of his own storyboard sketches. One is a drawing of Juan appearing at the door of Evita's hospital room as she lies dying near the end of the story. "Perón at door watches–leaves," are Parker's notes for the shot. "Concern? Selfish? Unselfish?" Good questions. Who would know? And what difference does it make?
Considering that it is never apparent what Evita feels for Juan, or what Juan feels for Evita, or what Che, the story's narrator, feels for anyone, the actors do quite well. The English musical star Jonathan Pryce, who plays Juan, is the least effective of the lot, because he is given almost nothing to do, not even a song to sing. But the Spanish actor Antonio Banderas, as Che, has wonderful timing, and he commands a range of expressions–he can be musically angry, funny, confiding, conspiratorial. His version of "Goodnight and Thank You" (a synopsis of Evita's early casting-couch career) is the liveliest turn in the film, and one of the few times when the mood of vacuous grandiosity is successfully transcended. Madonna sings surprisingly well–her voice is much less tinny than usual–and she exudes the one dramatic quality she is capable of exuding, which is self-possession. It is exactly what the role requires, and it is all the role requires. Meryl Streep would have been wasted on this one.
---